Today, we delve into Roland Garros' sustainability efforts and its impact on the world of tennis
As Roland Garros approaches its highly anticipated finals, tennis enthusiasts worldwide eagerly await the thrilling matches that lie ahead. While the focus remains on the exceptional performances of the athletes, it's time to recognize Roland Garros' sustainable efforts that have set the standard for environmentally conscious sporting events.
Victorieuse de Beatriz Haddad Maia dans le dernier carré, la Polonaise défendra son titre et restera n°1. #RolandGarros

— Roland-Garros (@rolandgarros) June 9, 2023
Sustainability in Tennis
Tennis has increasingly recognized the significance of adopting sustainable practices to mitigate the environmental impact of major tournaments. Initiatives like the Green Sports Alliance have catalyzed change, prompting organizations to prioritize sustainability.
Roland Garros has responded admirably, implementing eco-friendly measures that reduce its carbon footprint and set an example for other sporting events.
Roland Garros & Sustainability a successful story
Raising Awareness
Roland-Garros takes sustainability very seriously, and during the tournament, the organization demonstrates its commitment through various initiatives. ENGIE-sponsored Green Teams are on hand to educate spectators on sustainable habits and eco-friendly practices.
---
---
The Fresque Ecologie du Tennis game encourages participation in environmental issues and proposes practical solutions. Moreover, the tournament offers chances to learn and win prizes through a sustainable development quiz and a fun digital treasure hunt called Green Tour.
Reducing Carbon Footprint
Roland-Garros is committed to promoting sustainable and eco-friendly transportation options for its spectators. To achieve this, they have implemented various initiatives, such as providing bicycle parking areas near the stadium entrances, using an official Renault fleet that runs on electric/hybrid power, and promoting cycling routes through the Roland-Garros mobile app.
These efforts aim to encourage low-emission transportation methods and reduce dependence on private vehicles.
It is a conundrum of the ages. Does youth trump experience? Or vice-versa?

All will be revealed on Day 13!#RolandGarros

— Roland-Garros (@rolandgarros) June 9, 2023
Embracing Renewable Energy
Since April 2016, Roland-Garros has been powered by 100% renewable French energy from ENGIE, contributing to the development of renewable energies.
Another great improvement in Roland Garros' sustainability, comes from organic and adaptable solar panels to explore the possibility of consuming energy on a larger scale. Since 2006, the French Tennis Federations energy has been supplied exclusively by the environmentally-friendly Enedis network, with generators available as a backup during power outages.
Sustainable Food Options
In collaboration with the GoodPlanet Foundation, Roland-Garros works with its restaurants and caterers to offer sustainable and responsible food choices.
By prioritizing certified, seasonal, and locally sourced products, they are trying to combat the climate crisis. The public at the tournament can quickly identify food products with a low carbon impact through labels like "Better for the climate" and Eco-score.
Circular Economy Initiatives
The Roland-Garros tournament is committed to promoting a circular economy by banning plastic water bottles, tackling food waste, and implementing efficient recycling systems.
It is the only Grand Slam where players refill their reusable water bottles at changeover, and don't grab a new one from the fridge. Furthermore, any leftover food is given to organizations that help people in need, and they have efficient systems in place for separating waste and recycling.
It's great to see that Roland Garros is doing its part to help the environment by using reusable cups and food containers to reduce non-recyclable waste, and they've got special machines set up to have everything appropriately recycled.
Mental Health Awareness, Inclusivity, and Solidarity
Roland Garros was the first tournament to offer mental health support for tennis players as they constantly face hateful messages – sometimes even death threats – on social media.
If you wish to attend the tournament and you're under 25, you can find affordable ticket options at Roland Garros. Additionally, during Opening Week, 2,500 tickets are donated to charitable organizations.
The tournament also ensures accessibility for people with disabilities, providing specialized staff, wheelchair borrowing services, disabled seating options, and shuttle services.
Notably, advanced technologies like the Sound for All audio immersion tool and quiet rooms are customized to fulfill particular requirements and enhance the overall experience.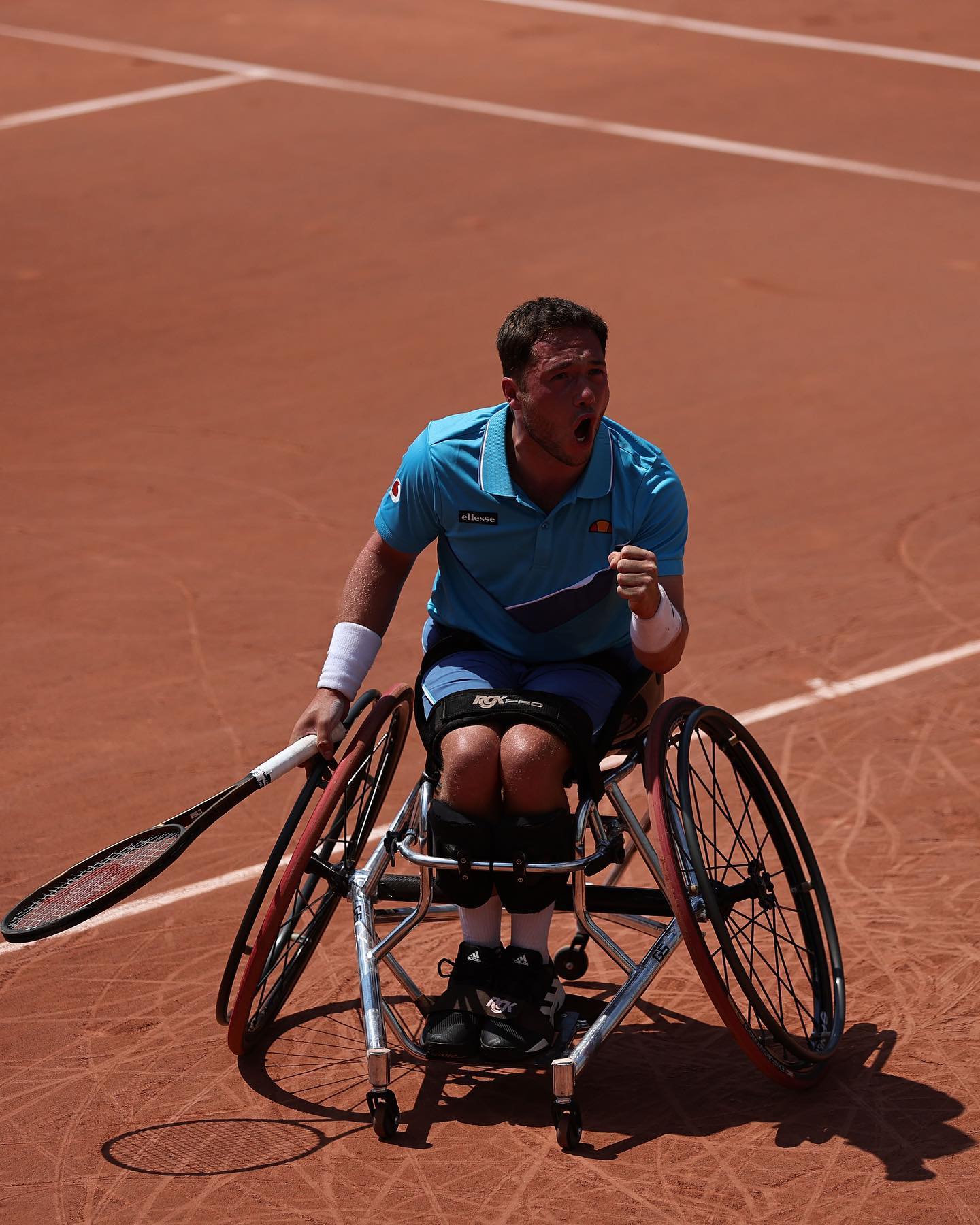 Promoting Biodiversity
Roland-Garros supports reforestation projects through the #Tennis4Climate movement in collaboration with the Provence-Alpes-Côte d'Azur region and the French National Forestry Commission—donations from partners, players, and ball kids fund projects in forests affected by climate change.
It's beautiful to see how the stadium is putting nature first. By establishing natural borders that connect with the nearby parks, setting up insect hotels, and maintaining beehives, they're doing their part to support the environment. These efforts are making a positive impact on the local ecosystems, promoting pollination and the preservation of the area's wildlife. It's great to see such a commitment to sustainability!
Sustainability and Roland Garros – Game Set and Match
As Roland Garros approaches its peak, we're eagerly anticipating the women's final on Saturday between Iga Świątek and Karolína Muchová, as well as this afternoon's thrilling semi-final match between Novak Djokovic and Carlos Alcaraz. However, it's essential to recognize the sustainable efforts that support this prestigious event.
As we applaud the champions on the court, let's also celebrate Roland-Garros' efforts to create a world where sports and sustainability go hand in hand. The game has changed, and like any other major sports event, Roland-Garros should set the example by embracing sustainable practices to ensure a greener future for both sports and our planet.
---
Editor's Note: The opinions expressed here by the authors are their own, not those of Impakter.com. In the cover photo: The Court Simon Mathieu, One of the most sustainable tennis facilities. Photo Credit: Wikimedia.