Two renowned footwear giants face each other in another installment of Impakter's Sustainability Battle of Brands series. In this edition, we explore the eco-conscious efforts of Birkenstock and Havaianas.
While one is celebrated for its comfort and timeless designs, the other stands tall as the quintessential symbol of laid-back summer style with its iconic flip-flops. Which will emerge as the frontrunner in the race for more sustainable footwear?
Birkenstock vs Havaianas
Havaianas' Sustainability Efforts
Originating as a symbol of laid-back summer style, Havaianas has become synonymous with flip-flop fashion worldwide. In 1962, Havaianas made their humble debut as simple rubber flip-flops, taking inspiration from Japanese zōri sandals. By the late 1980s, Havaianas, under parent company Alpargatas, already dominated the domestic flip-flop market, selling an astounding 100 million pairs annually.
The brand's journey took a turn as Havaianas' former owners found themselves entangled in a major corruption scandal that shook Brazil. Brothers Joesley and Wesley Batista, owners of J&F and part of the Batista business empire, were accused of bribing nearly 1,900 politicians to secure government loans for their businesses. As a consequence, the owners eventually sold 86% of their stake in Havaianas. Despite past scandals, Havaianas now highlights its sustainability initiatives, with efforts to reduce waste, use recycled materials, and support circular economy principles.
Low-Carbon and Recycled Materials
The environmental impact of flip-flop production raises concerns, with most made from polyurethane, which derives from crude oil. Adding to the fact that many flip-flops end up in landfills after just one season of use, Havaianas is up against serious environmental concerns. The company claims it has embarked on a mission to follow its products from creation to end-of-life, aiming to reduce waste and embrace low-carbon and recycled materials.
Currently, 97% of Havaianas' sandals boast around 40% reused rubber. Some of its collections, such as the TNS Roots Line, have 60% of its sole and 50% of its upper made from renewable and recycled materials. However, non-sustainable materials like PVC and polyester are still part of production.
Circularity Principles
With a focus on circular economy principles, Havaianas claims to be continually improving waste management in their production processes. It prioritizes the end-of-use cycle, encouraging responsible disposal of old Havaianas to kickstart new sustainable cycles. In their pursuit of a greener planet, the company invites customers to drop off their used flip-flops in designated ReCycle bins at select stores or events.
According to the company's 2021 Sustainability Report: "Following its success in Brazil where the project debuted, ReCycle branched out overseas, in countries including the USA, South Africa, Australia, Portugal, Spain, France, Germany, Italy and Greece, with its first wave amassing some 30,000 pairs collected worldwide."
In June 2023, Havaianas brought visibility to its ReCycle project in the third edition of its beach cleanup initiative Praia + Limpa ("cleaner beach" in Portuguese.) The initiative gathered a group of 128 volunteers and helped remove more than 200 kg of trash off of the beaches of Ilhéus, a city in the northeastern state of Bahia. In an interview with Marie Claire, Havaianas' Global Sustainability Manager Marina Ponzini claimed the company aims to expand its ReCycle project globally and provide recycling sites at 100% of its stores.
Production and Working Conditions
Havaianas' production is concentrated in the northeast of Brazil. The company claims on its website that it works to generate a positive impact on the region through actions implemented by the Alpargatas Institute.
However, while Havaianas showcases information on its official website on its commitment to employees, legal actions have been brought against its parent company on instances where rights have been violated. The Superior Labour Court in Brazil has issued two condemnations against Havaianas' parent company, Alpargatas, for violations of workers' rights. In the first case, Alpargatas was found guilty of not providing a thermal recovery interval for an employee working in extreme heat. While in another case, the court ruled that Alpargatas had to compensate a worker who was required to present a criminal record certificate for employment. Although certain exceptions might justify requesting such certificates, the court considered this requirement discriminatory and awarded the employee damages in this instance.
---
---
Birkenstock's Sustainability Efforts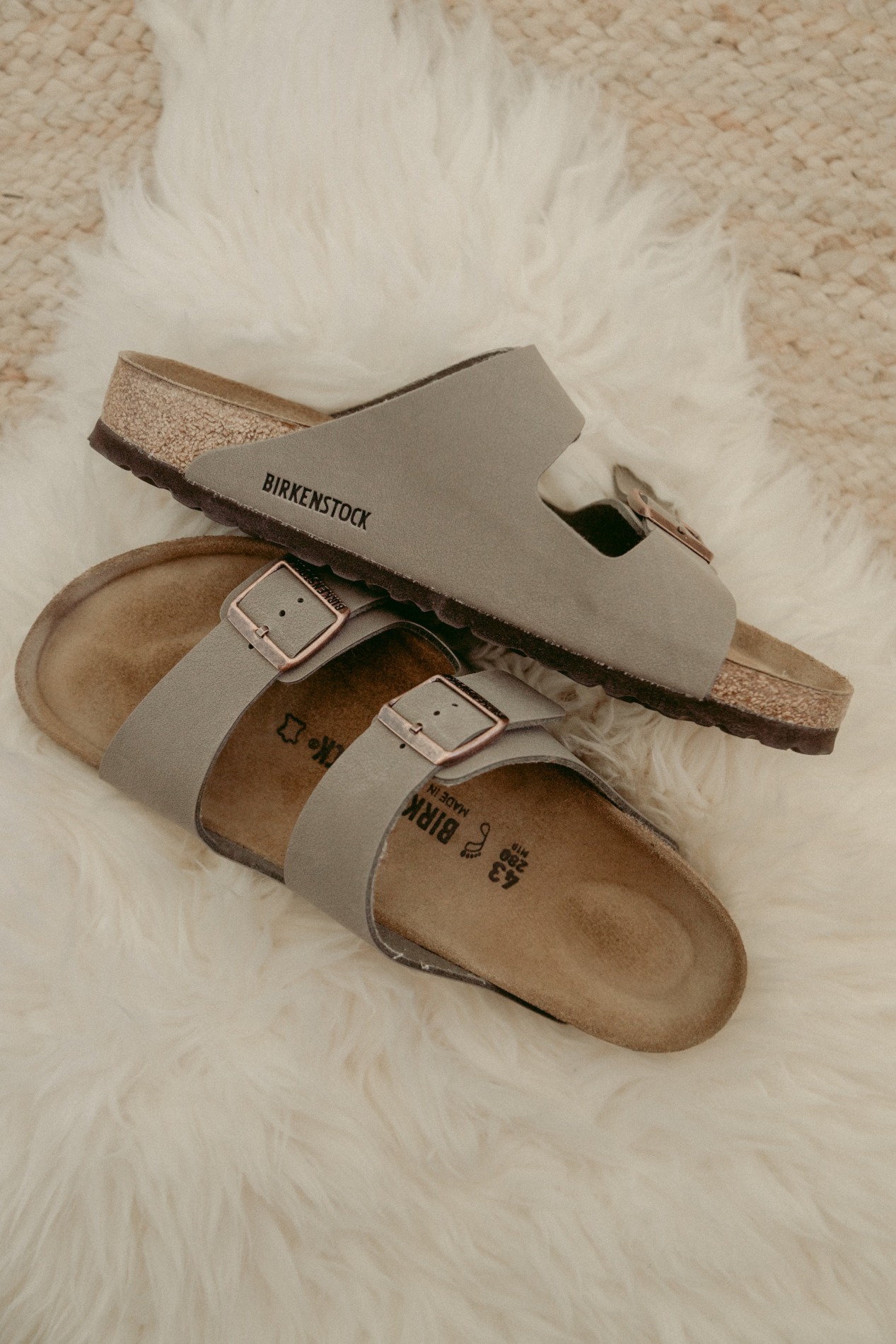 Birkenstock, the renowned footwear brand known for its comfortable and durable sandals, has a rich history that dates back to 1774. It was founded by Johann Adam Birkenstock, a German shoemaker. Over the years, Birkenstock's signature cork footbed and its famous sandals experienced a comeback and reestablished these iconic shoes as a contemporary trend.
However, the company caught the public's attention after selling a majority stake to luxury goods giant LVMH in mid-2021. On one hand, LVMH's Social and Environmental Responsibility Report includes a comprehensive and commendable effort to address ethical issues within the conglomerate's diverse portfolio of brands, which now includes Birkenstock. The report outlines aims such as reducing carbon emissions and adopting renewable energy sources. While some aspects may seem ambiguous, the report delves into great detail on the numerous challenges and initiatives the company intends to tackle. On the other hand, Birkenstock's acquisition also raised ethical concerns, as LVMH has faced criticism in the past regarding social and environmental responsibility.
Natural and Renewable Materials
The brand prides itself on its use of natural and renewable materials in its iconic footbed. Including cork and natural latex, they provide outstanding cushioning and heat insulation. Moreover, Birkenstock boasts a commitment to water-based and solvent-free adhesives, with approximately 98% environmentally friendly adhesives. Its packaging is crafted from 90% recycled materials and the brand's use of jute as a natural stabilizer furthers its sustainability efforts, as jute is also a renewable resource.
However, despite these sustainable practices and the vegan pairs PETA praised, some concerns are still in the air over the use of materials like leather and suede, which are not as eco-friendly. The brand has not published its Animal Welfare Policy, raising concerns about how the company obtains such materials.
Production and Working Conditions
Birkenstock primarily manufactures its products in Germany, where strong employment laws are in place. In an interview with Forbes, CEO Oliver Reichert assured the company's commitment to keeping its "Made in Germany" tags:
 "Our customers expect us to not only fulfill, but to set the highest standards in the industry when it comes to product quality, safe and fair working conditions and sustainability," he said. "This is something that only works if you have full control over the whole value chain. And that's why 'Made in Germany' still means something to us."
However, specific information regarding other production locations and working conditions is lacking on the company's website. With the brand now owned by LVMH, a conglomerate that has faced several accusations of human rights infringements, there may be additional scrutiny regarding labor practices within the supply chain to be considered.
The Final Verdict: Birkenstock vs Havaianas
In a close-fought Sustainability Battle of Brands, Birkenstock and Havaianas went head-to-head in their commitment to eco-conscious practices. Both companies showcased a strong emphasis on sustainable materials and a dedication to producing their iconic footwear in their home countries. However, the verdict favors Birkenstock against Havaianas due to its transparent approach to production and working conditions.
While Havaianas showed great promise due to its initiatives promoting recycling and circular economy principles, the company has also faced challenges in labor court, losing two cases concerning workers' rights. Despite being now part of LVMH, Birkenstock demonstrates a higher level of accountability in its supply chain, as well as a clean track record.
As consumers, let's continue to support and encourage eco-conscious initiatives, pushing the boundaries of sustainability in the fashion industry and driving positive change for a greener and more responsible future.
---
Editor's Note: The opinions expressed here by the authors are their own, not those of Impakter.com. — In the Featured Photo: Birkenstock & Havaianas. Featured Photo Credit: Facebook.