EDITOR'S NOTE: THIS PIECE IS PART OF A SERIES EXPLORING THE SUSTAINABLE DEVELOPMENT GOALS. SEE THE INTRODUCTION TO THE SERIES HERE.

Improving China's Agricultural Market Information
When international food prices began to soar several years ago amid declining global food stocks, the volatility set off panic buying and hoarding in some countries and export restrictions in others, further destabilizing world markets.
The food price crisis and continuing erraticness are stark reminders of the importance of reliable agricultural market information, food security monitoring, and early warning systems.
For China, a major producer and importer of many staple foods, having real-time information on national agricultural production, consumption, stocks, trade and prices, both for producers and consumers, is vital—so is the ability to provide robust fact-based market analysis to policy-makers.
Through a Technical Cooperation Programme (TCP) project, the Food and Agriculture Organization of the United Nations (FAO) assisted the country's Ministry of Agriculture in strengthening its capacity to monitor and analyze national and international commodity markets. The two-year project also strengthened China's ability to engage in global discussions and decision-making on food and trade.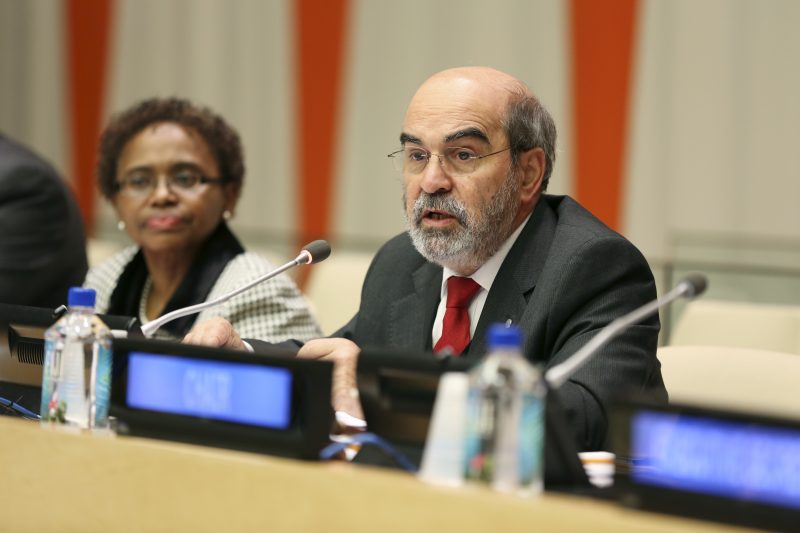 In the Photo: FAO Director General JoseŽ Graziano da Silva addresses Group of 77 ambassadors at a meeting in the Economic and Social Council Chamber (2013)
Photo Credit: United Nations
Global Dialogue
As China transitioned from a command economy to a market-based one, information on agricultural commodity prices—where they were headed and why—was lacking, said Merritt Cluff, a senior officer in FAO's Market and Trade Division and the TCP's lead technical officer, "but the drive to increase that information was there."
"China knows it has to engage in international markets," he added. "They can affect international markets in a big way, and international markets can affect them, both directly and indirectly."
In 2011, a delegation of experts from China's Ministry of Agriculture, the Agricultural Information Institute of the Chinese Academy of the Agricultural Sciences (AII/CAAS) and the Agriculture Committee of Jilin Province attended the G20 Global Forum on Agricultural Research and initiated working contacts with the Organisation for Economic Co-operation and Development (OECD) in Paris, as well as FAO in Rome. The TCP supported the team of Chinese experts in preparing for several such working sessions over a two-year period.
Forward-looking Analysis
The delegation discussed the development, work processes, and methodologies of the OECD-FAO Agricultural Outlook—a collaborative annual assessment of statistics and projections of major agricultural commodities, biofuel and fish for the coming decade.
Although China had been doing some basic agricultural projections, the project, said Gregoire Tallard, an OECD agricultural policy analyst, the project provided them with an important opportunity to see how international organizations were using econometric models to do forward-looking analysis.
"We showed the delegation the Chinese agricultural projection model that we already had at the OECD and asked them how well it represented their agriculture sector," said Tallard.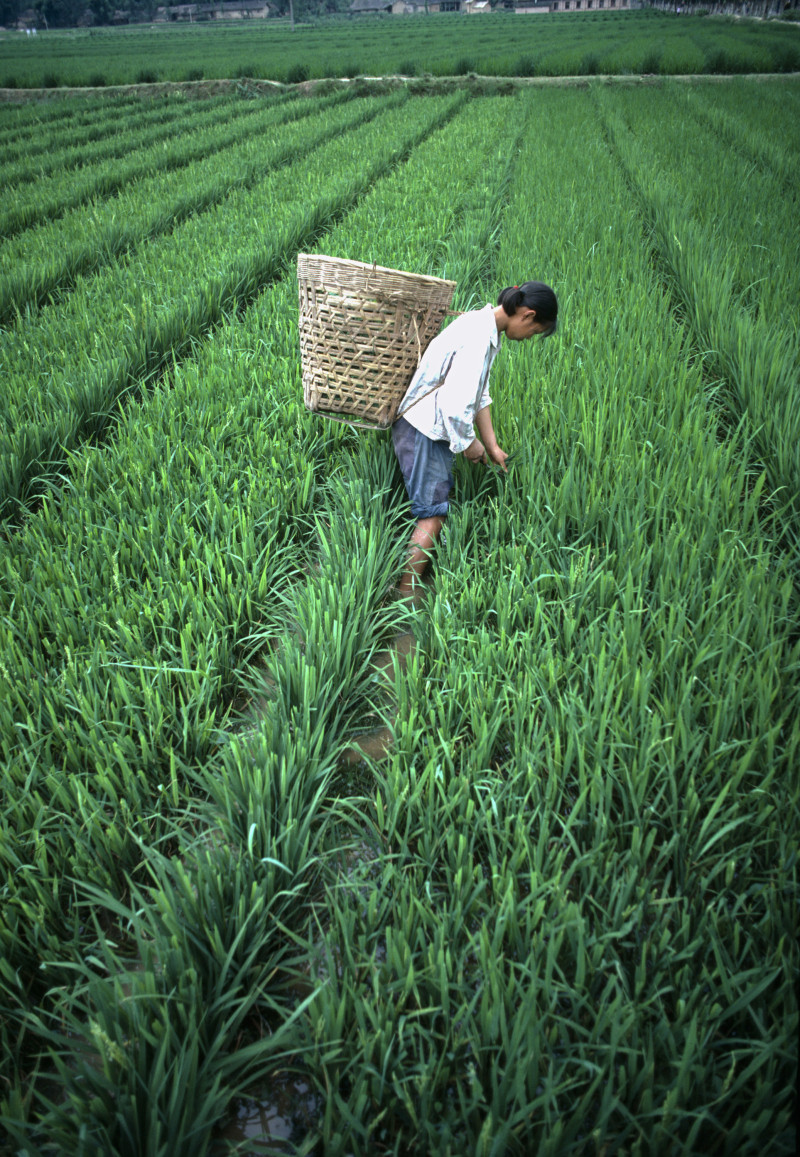 In the Photo: Rice farmer picks in the fields. Photo Credit: United Nations
These models help countries identify sector strengths and weaknesses—which ones are more competitive, which ones can be improved, whether support given to producers is actually productive or instead counter-productive and creating market distortions—and, in turn, make informed policy decisions.
"It was important for the Chinese delegation to see how others perceived their agriculture sector and to help us correct any mistakes we might have made in our projections," he said, adding that to develop such a model from scratch would be prohibitively expensive for a country.
---
Related article: "ZERO FOME: OUR FUTURE" 
---
Agricultural Outlook
As a result of this collaboration, the OECD-FAO Agricultural Outlook 2013-2022 included a special chapter titled "Feeding China: Prospects and challenges in the next decade" that was researched and prepared by specialists from FAO, OECD, China's Ministry of Agriculture, and the AII/CAAS. This chapter, the first ever on a specific country, looked at issues such as food insecurity in China, domestic market integration, food consumption patterns, trade policies, and key commodity projections. It also addressed the impact of alternative economic growth in the country.
The publication was unveiled during the 2013 World Agricultural Outlook Conference, hosted by AII/CAAS in Beijing. The event, co-organized by FAO and OECD and supported by China's Ministry of Agriculture, brought together more than 500 representatives from international organizations and over 20 countries.
Based on this experience with China, subsequent OECD-FAO Agricultural Outlook publications have featured chapters on specific countries, namely India and Brazil, with plans to eventually expand the model's coverage to all member countries.
Strengthened Capacity
In addition, the TCP supported a series of knowledge exchanges and training, in China and abroad, on a range of topics—from using agricultural monitoring and early warning technology, to formulating commodity balance sheets, to collecting and standardizing data on agricultural production and trade policy.
Now the country has commodity balance sheets for 18 agricultural products, including rice, wheat, corn, soybean, oilseed, sugar, cotton, pork, beef and mutton, poultry, eggs, milk, vegetables, fruit, feed, fish, agricultural materials, and imports and exports of agricultural products. These balance sheets provide a comprehensive picture of supply and utilization— valuable for the country's producers and decision-makers.
Also, agricultural commodity analysts in China are now more adept at making agricultural projections in the short, medium and long term, and, thanks to a communication platform on agricultural market monitoring and early warning systems, sharing that information domestically and internationally.
According to Dr. Xu Shiwei, Director of AII/CAAS, this improved capacity among the Ministry of Agriculture and national institutions "provides a better basis for setting in place results-based policies, programmes and projects for the sustained development of agricultural production and markets to enhance food security."
---
For a full mindmap containing additional related articles and photos, visit #SDGStories
---
Momentum Continues
Critical to the TCP project's success has been the government's strong commitment at all levels to improve its agricultural market information, including its decision to organize an annual national agricultural outlook conference.
China has since hosted two such national conferences, bringing in high-level Government officials and international experts alike. The country has developed its own short- and medium-term agricultural outlook model, based on the one adopted by OECD and FAO, and built a national agriculture monitoring and early warning system known as CAMES, capable of monitoring 953 agricultural products. Data analysis from CAMES fed into China's own Agricultural Outlook 2015-2024.
The country's collaboration with OECD and FAO continues to grow stronger, thanks to joint research and staff exchanges to share knowledge and results. AII/CAAS produces monthly commodity balance sheets on rice, wheat, maize and soybean, and provides relevant data and projections for the Agricultural Market Information System (AMIS), an inter-agency platform set up at the request of the G20 agricultural ministers in 2011. AMIS aims to enhance food market transparency and promote policy coordination and dialogue in response to market uncertainty.
And China is sharing its knowledge with other countries. In September 2015, it hosted a workshop on agricultural market information for trade policy development in East Africa, featuring technical staff, senior government officials and policy-makers from China, Uganda, Tanzania, Ethiopia, Kenya, Malawi, Burundi, Rwanda, and South Sudan.
The event, organized under the FAO-China South-South Cooperation programme, aimed to strengthen national and regional market information development while also promoting regular high-level policy dialogue between China and developing countries in Africa.
---
Recommended reading: "SUSTAINABLE AGRICULTURE IN CHINA-THEN AND NOW" 
---
_ _
FAO's TCP projects are targeted, short-term catalytic projects that leverage FAO's technical expertise to address specific problems in agriculture, fisheries, forestry and rural livelihoods among FAO Member countries, producing tangible and immediate results in a cost-effective manner
Co-authors:
Percy Misika, FAO Representative in China
Percy Misika, a national of Namibia, holds a Diploma in Agricultural Extension, a BAA majoring in Agricultural Economics, Animal Science and Crop Science and M.Sc. in Agricultural Extension. He held various positions of increasing responsibility in Government Ministries in Namibia and was appointed Minister Counsellor, Embassy of Namibia, Paris. He has served as FAO Representative in Uganda and is currently FAO Representative in China, DPR Korea and Mongolia.
Merritt Cluff, former Senior Officer, Market and Trade Division, FAO
Merritt Cluff is currently a senior economic consultant for FAO's Trade and Markets Division. He is a Canadian national with a masters degree in Economics, specializing in econometrics and trade. During his career in FAO, he has worked closely with OECD on various issues including developing the global agricultural modal, Aglink, and producing the Joint Agricultural Outlook.
Cheng Fang, Economist in the Markets and Trade Division, FAO
Dr. Cheng Fang is an Economist in the Markets and Trade Division, FAO. His work focuses on agricultural market information and trade policies. He is a national of Canada and received a Ph.D. in agricultural economics from the University of Guelph, and M.S. from Nanjing Agricultural University.
THIS ARTICLE IS PART OF OUR SERIES ON THE SUSTAINABLE DEVELOPMENT GOALS (SDGS) – #SDGSTORIES. FOLLOW THE STORIES WITH #SDGSTORIES AND LOOK FOR THE NEXT INSTALLMENT TO OUR WEEKLY SERIES TO LEARN MORE ABOUT ACHIEVING THE SDGS ACROSS THE GLOBE. WE CAN ACHIEVE THEM, AND WE MUST.
EDITOR'S NOTE: THE OPINIONS EXPRESSED HERE BY IMPAKTER.COM COLUMNISTS ARE THEIR OWN, NOT THOSE OF IMPAKTER.COM.
Feature Image Credit: United Nations