The last week has seen the announcement of Ye (Formerly Kanye) acquiring right-wing social media platform Parler, anti-monopoly regulatory action being taken against Meta (formerly Facebook), and secure messaging app Telegram being fined by German regulators. The reckoning of social media that has unfurled over the last few years is coming to a head and begets a discussion, or at the very least, a second of reflection.
Facebook, Telegram, and Parler all occupy contested spaces in the interconnected conversations about digital privacy, regulation and freedom of speech.
Facebook: Home to the new Digital Conservative
Starting with the Godfather of online political discourse: Facebook.
Here we find a heavy dependence on the platform as a news source from American adults. Combine this with the increased smartphone usage from those 65 and over, who are predominantly conservative, and you find a changing audience, less likely to discern between fact, fiction and opinion. 
During the Trump presidency, the alleged land of the free made a lot of noise with allegations of bias and illegal data sharing resulting in tense moments when Mark Zuckerberg deigned to come before lawmakers. 
Consider that the Trump campaign in 2015 and 2016 had Facebook employees embedded within it, helping sculpt a microtargeted and robust narrative on the platform. Little, now, is left to the imagination when we see a vastly reduced urge from the American Right Wing to regulate or take punitive action against Facebook's parent company, Meta.
Democrats find their hands far from clean, though. The Obama 2012 campaign arguably acted as a proof of concept for the platform's efficacy in shaping a political conversation on social media that led to favouring one presidential candidate over another.
Hillary Clinton's inability to keep track of her emails on her Blackberry resulting in one of the most contentious criminal investigations in living memory, then, shows that being With Her(in 2008 or 2016) was little more than aligning oneself with…Neanderthal in a fight with a cyborg.
A pivotal moment in the global discussion about free speech was when President Trump had a Tweet flagged for being potentially false in 2020. This was arguably an inflexion point in the usage of "Alternative Social Platforms", a term coined by Pew Research. Facebook promptly followed suit, driving away the same users, creating a corner that the right wing was backed into. This corner was catered toward by the likes of Parler and Rumble.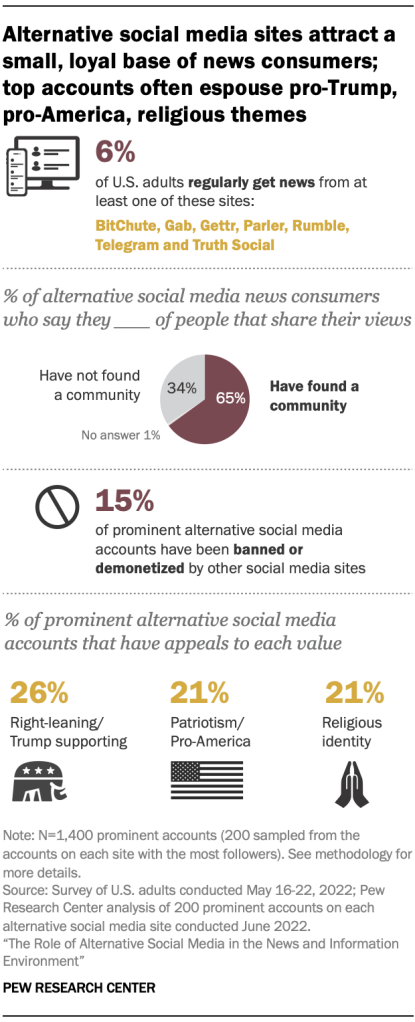 Parler and Telegram: Alternative Facts, Alternative Platforms
Both platforms emerged as big hitters as right-wing users and public figures looked to express, communicate and share independent of those pesky moderators that regulate mainstream platforms.
The Trump Presidency began an era of post-truth, with paradigmatic changes in what counted as objectively believable and the attitudes toward social media fact-checking and content moderation exhibit this clearly.
After the January 6 insurrection and COVID-19, while the world watched the allegorical Lighthouse of Alexandria crumble at the hands of vaccine scepticism and hate speech, the Ptolemic sanctum of the American Government acted in the interests of its people: Shying away from reform and regulation in favour of turning a blind eye to this tool of sedition and falsehood.
Academia finds itself resorting to utopian views of the future, like the Imagining the Internet Center at Elon University, where there is a vision sculpted of an eventual equilibrium between regulation and the freedom to innovate and speak freely.
More likely, however, is a continuation of right now: Surveillance and targeting of the most extreme biases, reinforcing them with increasingly polarised content, because all a platform wants is to be used. That's what drives profit.
There is no real incentive for the illustrious "algorithm" to do the right thing. The privatisation of exacerbating bias is exactly why free speech and capitalism were incompatible to begin with.
Consider the Right/Left split in American attitudes towards offensive content online: There's a definitive tendency within the conservative realms to value freedom (to hate) over the creation of a positive digital community.
The whole "liberal snowflake" narrative, accusing the left of taking offence disproportionately, is exhibited clearly in the data.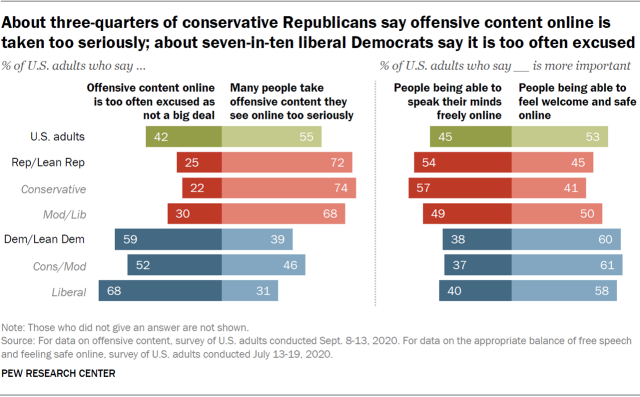 Right-wing republicans in the USA, also increasingly believe that there is a liberal bias on social media platforms and, inversely proportional to this, they decreasingly support suing or regulating these platforms.
The basics of any social psychology should remind us all of the dangers of a group feeling stifled and oppressed, and the last thing we should do is trivialise them, lest we deepen the wedge driven between common sense and politically manipulated fiction.
Little wonder, then, that fringe groups and extremists find a home in private, unregulated spaces like Parler and Telegram.
---
---
Telegram's latest snafu with the German government was blatant defiance of oversight, where the secure messaging service failed to install a mechanism to report misinformation or hate speech. With a rise in right-wing ethnonationalism across Europe, with the American capitol insurrection in the rearview mirror, German regulators might have been well justified in their punitive fining of $5 Million.
The Pattern
What's going on here? What picture do all these laws and numbers paint?
I, for one, see a dystopian post-capitalism society, almost Orwellian in the nature of targeted but insular sharing of views, all sprinkled with a heavy dose of privatised surveillance. Across the board, the land of the free and the brave believes this too.
There is a dangerous amount of political and social power housed in Silicon Valley. The fact that Silicon Valley is physically situated in the USA should not mean that those borders constitute the limitations of its influence.
Germany saw the writing on the wall, and it is becoming clear that, with social media platforms, the opposite of common-sense regulation is weaponisation. An insurrection here, blocking a whole other country's social media there (like my homeland of India did to the government of Pakistan recently).
To be clear, there is a social media platform being put into the hands of a man (Ye) who once said that slavery was a choice.
Another, more impactful platform – I am referring here to Twitter – is making its way into the ownership of a man who called a rescue diver a paedophile on that platform and also did nothing for trans rights by saying "Pronouns are an aesthetic nightmare". These are not the men I trust to have my best interests at heart.
The pattern of little-dictator technocrats with egoes bigger than the hole in the ozone is concerning, and a definite trend. It is also less about the altruistic pursuit of free speech, and more about the ability of Musk, Trump and Ye to speak unhindered, as The Hill's Rebecca Klar points out. The social media ecosystem grows more robust with every billionaire who pours money into it for the right to be antisemitic, transphobic, or just a plain old jerk.
It is incumbent upon policymakers to act in the public interest, and not for a second assume that these profit-driven entities are even capable of conceiving of the possibility.
Equally accountable are the voices that remain free to hold these public servants to account for watching hate flow, for watching minorities targeted, for watching children get indoctrinated into acts of violence and bone-chilling beliefs.
The world is changing, and I won't watch a species of love and empathy dissolve into tribalism and venom. I know you wouldn't, either. Let's speak up or hide in the bunkers while this storm ravages society as we know it.
---
Editor's Note: The opinions expressed here by the authors are their own, not those of Impakter.com — In the Featured Photo: Social Media has become a public institution and will become a weapon in privatized hands. Featured Photo Credit: Camilo Jiminez.