"Planet Wreckers," a new report by Oil Change International — a research and advocacy organization working to "expose the true costs of fossil fuels" — reveals that just 20 "Planet Wrecker" countries are responsible for almost 90% of carbon dioxide (CO2) emissions set to be released from new oil and gas projects planned between 2023 and 2050.
The United States, Canada, Australia, Norway, and the United Kingdom — "five global north countries with the greatest economic means and moral responsibility to rapidly phase out production," as the report describes these "climate hypocrites" — account for 51% of the planned expansion.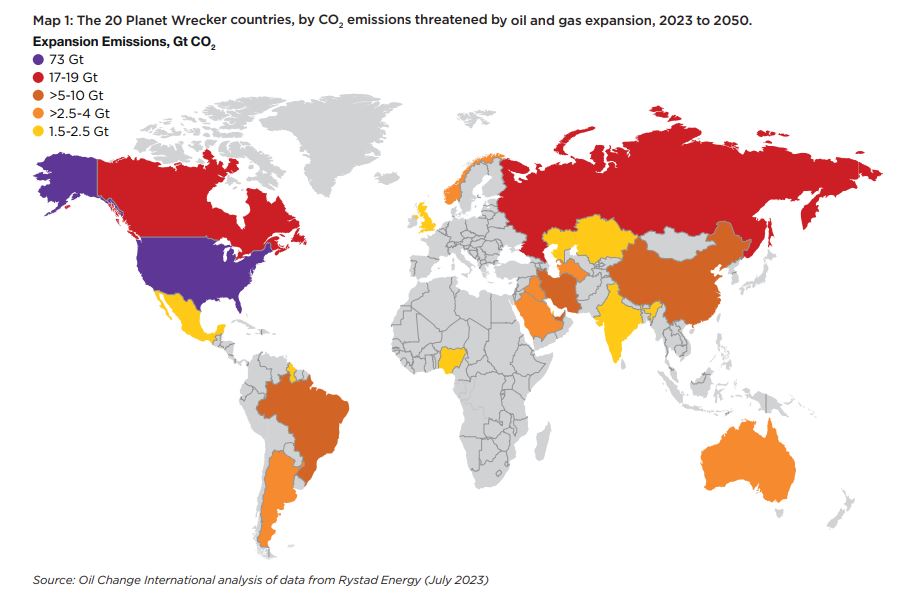 Backing their accusations of hypocrisy, the authors write:
"New drilling in countries with high incomes, diversified economies and outsized historical responsibility for causing the climate crisis, while claiming to be climate leaders, is inexcusable. These countries must not only stop expansion immediately but also move first and fastest to phase out their production and pay their fair share to fund a just global energy transition."
Already the world's largest oil and gas producer as well as historical polluter, the United States, which the report authors aptly call "Planet Wrecker In Chief," is behind over one-third of the planned production expansion. Next in line is Canada, followed by Russia.
The United Arab Emirates (UAE), host of this year's United Nations Climate Conference (COP28), will soon also be joining the top of the Planet Wrecker list, according to the report.
---
---
Unless halted, these planned oil and gas expansion projects would release 173 billion tonnes (Gt) of carbon into the atmosphere, an "equivalent to the lifetime pollution of nearly 1,100 new coal plants, or more than 30 years of annual U.S. carbon emissions," as noted in the report, putting the numbers in perspective.
As the authors warn, this — alongside existing oil and gas projects — would make it impossible to limit the global temperature rise to 1.5°C above pre-industrial levels.
Alarmingly, even if this new expansion in fossil fuels projects were stopped, achieving the 1.5°C goal, the report notes, would also be impossible: "Even extracting just the fossil fuels from existing sites globally would result in 140% more carbon pollution than the allowed budget for 1.5°C."
But moving forward with new extraction projects would bring this number to 190%, the report finds.
Even if we were to somehow manage not to issue a single new oil and gas drilling license anywhere in the world, which UN Secretary-General Antonio Guterres is calling for, global production of these fossil fuels would decline by only 2% per year by 2030 and by 5% per year from 2030 to 2050.
Stopping new oil and gas production is clearly insufficient; to have a chance at meeting the 1.5°C goal, governments must shut down already existing operations as well.
As Global Policy lead and report co-author at Oil Change International, Romain Ioualalen put it:
"It's simple: when you are in a hole, the first step is to stop digging."
---
Editor's Note: The opinions expressed here by the authors are their own, not those of Impakter.com — In the Featured Photo: An oil rig graveyard. Featured Photo Credit: Joiseyshowaa.