Dario Roustayan, CEO of Pilosio, is 49 years-old, with the skills of an Italian on the international scene, including philanthropy. Born of a Persian father and an Italian mother (from Friuli), Dario lived in Teheran until he was 14; then, with the 1979 revolution, the family sends him to study in Germany. He takes a degree in economics and an advanced degree in the United States. After several experiences as a manager, including important work in Barcelona, he returns to Italy and settles with his family in Udine. He is Pilosio.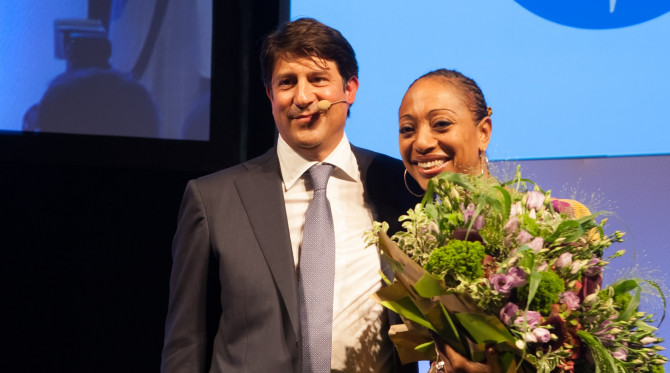 In the photo: Dario Roustayan
, CEO of Pilosio and Hon. 
Samia Nkrumah
, Chairperson and leader of the Convention People's Party and Founder of KNAC (Kwame Nkrumah Pan African Centre. Winner of the Pilosio Award 2014.
Impakter had the chance to interview him and ask him about his company. With the motto "built to build", Pilosio is an Italian company that is a symbol of both Italian excellence in construction and of global philanthropy, with the Pilosio International "Building the Peace" Award  that has attracted world attention and the support of major philanthropic actors like Kofi Annan, the ex-Secretary General of the United Nations.
Q: What is at the heart of Pilosio enterprises?
Temporary structures and maintenance are our business. We operate in the construction industry, providing scaffoldings, coverings, formworks, trench lining systems and shoring structures. Pilosio is a historical company in Italy, and was founded in 1961. With my arrival in 2010, the company has turned international; today 80% of our income comes from markets outside of Europe. In fact, Piloso has not only become a multinational, the business model has also changed. While we used to sell to the clients of dealers and distributors, now we are the partners of construction enterprises.  We reinvented ourselves, we offer engineering and not merely supplies.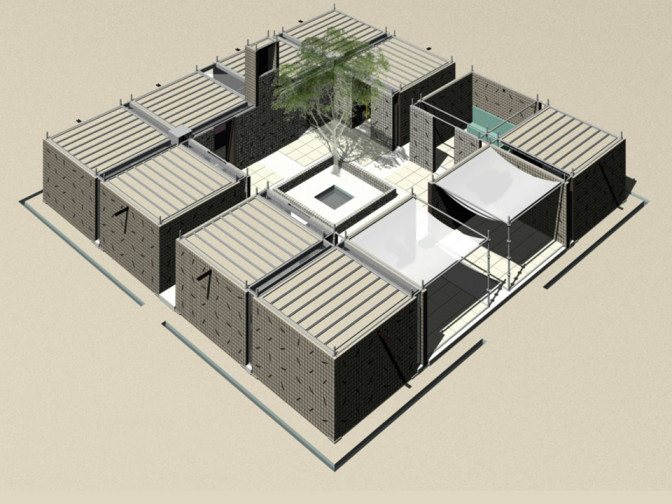 In the photo:
 Render Shelter for Refugees
Q: In 2011, you created the Pilosio International "Building the Peace" Award. How did that happen and why?
When I decided on a new strategy to reposition the firm, I needed to have access to these persons.  I asked myself how and where I could find these potential clients. With my communication and marketing team, we assessed various routes we could follow but, bottom line, none really convinced me. That's how I came to the idea of a cultural event in which the topic was not business but themes and issues that concern us all, like peace, the refugee emergency and many more.
Q: Putting together themes like poverty, war and migration with the "great" themes of human rights and philanthropy: What does it mean for you?
I feel that philosophy as a part of my DNA. And I've understood the importance of convincing not only our clients but also institutions, architects and all those engaged in those battles – also the construction world is engaged and has a role to play in improving people's lives.  The construction industry is an engine of change and there is also a strong awareness of human rights in this sector.  Hence, the birth of our Pilosio Building Peace foundation and the idea of an award, the Pilosio Building Peace Award. We believe in relationship management and that this is the way to grow our company – and it is also a networking moment.
………………………………………………………………………………………………………….. Related articles :
OCEANA CEO – ANDY SHARPLESS INTERVIEW 
article by 
Anne-Hélène d'Arenberg
VOICE POLLS – FELIX WINCKLER INTERVIEW
 article by 
Impakter
…………………………………………………………………………………………………………..
Q: Big international names have receive your award: Mario Collavino, the architects Mario Cucinella and Cameron Sinclair…How do you select them?
We focus on geographic areas that also happen to be markets of interest to us. For example, Africa is an important area for our firm and at the same time it is a region that needs assistance. In this case, we try to identify a person who has improved the living conditions of the population through a construction, say a hospital or a school, but also through a symbolic structure. With regard to themes, as I said before, we started four years ago with the themes of peace and hunger, themes of great current relevance.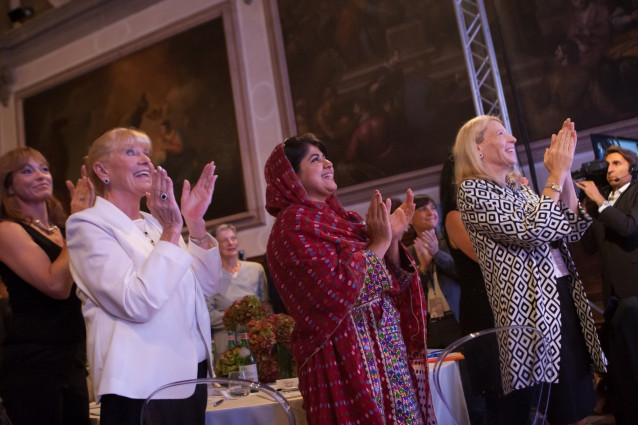 In the photo: Betty Williams – President of the 'World Centers of Compassion for Children, Khalida Brohi – founder and Executive Director of Sughar Empowerment Society and Carolyn Miles – President & Chief Executive Officer for Save the Children.
Q: The presentation of the award is a major international event…
Yes, we build around the award winner an event designed to spread the themes related to the award.  From the start, that's what we liked best when we thought of an award, without really knowing quite how to do it … In Venice, where the event takes place, we built a platform from which flows out the programming of activities for both our firm and our foundation. The award is like building a network.  Every year we add a new link to the chain. Now there is a board – the name of everyone associated with the award is published on our website. I am very satisfied now with what we have created, I feel that we have traveled down the right road to build our future.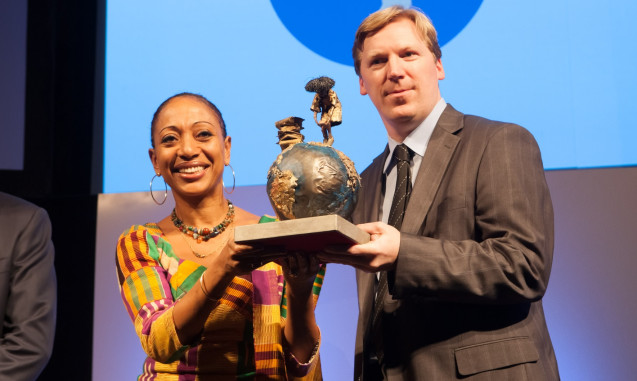 In the photo: 
Hon. Samia Nkrumah, Chairperson and leader of the Convention People's Party and Founder of KNAC (Kwame Nkrumah Pan African Centre. Winner of the Pilosio Award 2014.
Q: This year the award went to Samia Yaba Nkrumah, the daughter of the African leader Kwana Nkrumah. How did that happen?
The choice of assigning the 2014 Pilosio Peace Award to Samia came from a friend, architect Mario Cucinella. One day Mario told me the incredible story of that woman. I was deeply moved…Her father, even before Nelson Mandela, had left an unforgettable inheritance that the daughter picked up and continues to place at the heart of her political engagement together with the concept of pan-africanism. Samia is a natural leader. I like the fact that she is a woman. In Africa, women are less protected in every area. We have awarded her project of a library dedicated to her father, on Mario Cucinella's project and using wood from the lake.
Q: Let's return to the award's event: you have high level key note speakers – this year it was Kofi Annan –, three hundred selected guests from the business world, architects, NGOs, institutions and your own employees. Congratulations, that is a truly original selection. How did you get the idea, how do your employees see this event when they return to their offices?
I want my employees to feel that DNA.  They have to understand what we are doing, share the values of our firm, participate in this change. I want to see who manages it best. On my train, there is also this: who gets on board must be aware of it and recognize himself in our values.
Q: Beside the award, do you have another project that lets you literally get "in the field"?
Our foundation has plans for innovative solutions in structural terms that are useful in specific situations. Right now, our shelter project is our most important core project. It's a modular structure built with our tubes and walls made in natural, locally available materials, like sand or earth. A very simple structure that however functions to pull together people and life styles, in line with the needs of a normal family, a school or a small village. It can be built in two days, the local population can do it, and it can be pulled down and rebuilt in another place. On this particular point, the architect that has projected it together with us, Cameron Sinclair, really convinced us: this is a house that can travel with its owner. It's meant for someone who has been chased away from his village or country, for the refugee who returns home or one who is given a new place to restart his life and will need a house.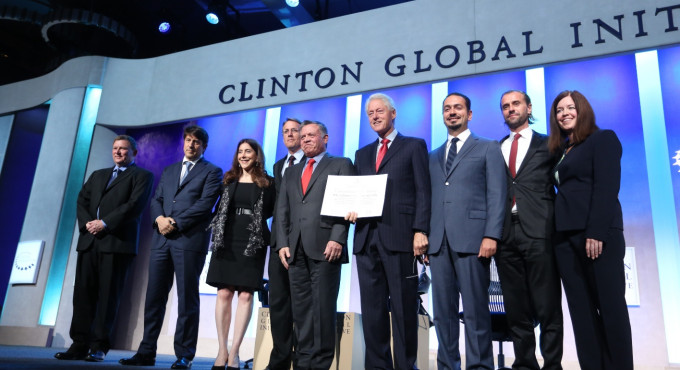 In the photo: 
Dario Roustayan, CEO of Pilosio with President Bill Clinton and His Majesty King Abdullah II ibn Al Hussein of Jordan
Q: You were invited in New York at the annual event of the Clinton Foundation where you presented this very project How was it received?
I felt welcome even before I left for the trip. The Clinton Global Initiative lives on commitment and we proposed a theme close to the Clinton family concerns: that of the dramatic increase in Jordan's population, in particular as a result of the refugees coming in from Syria. The King of Jordan has called on all the governments and the private sector to mobilize itself and help and we have accepted by proposing our project.  And he liked it a lot. We have addressed the theme of refugees, with a special focus on the relationship between education and the refugee children in Jordan. We have succeeded in closing the circle. That's how it went. For us, to be there was a reason to feel proud. This is a truly innovative project, we were also told this at the United Nations when we presented the project.
Q: What is the special trait of Italian philanthropy, if there is one?
I don't know. I still don't fully know the Italian philanthropy scene.  I believe that our strength lies in originality, we, Italians, are always original. I am rather convinced that the private sector would do well to get into philanthropy because it provides a competitive edge. We invest at least 50% of our marketing budget in the award. It was a choice, a hard decision but thoroughly thought out since the start, and I am convinced, even if someone still sees me as a rare bird in this sector, that we have chosen the right road to travel and grow further in future.
I recognize in you, Dario, your sense of wonder, your freedom of thought and think back to that Pilosio award-giving evening in Venice as a truly extraordinary and unique event… Next to me, at the table, there was a certain South African gentleman called Mac Maharaj, today the spokesman of Jacob Zuma, President of South Africa. Mr. Maharaj has been a great activist in the struggle against apartheid and Nelson Mandela's companion in prison for ten years. When I asked him what kind of person Mandela was, he said: "Human, like everybody. He had gestures of affection and he could get angry. At times, he remained silent for hours." All this was happening while women of diverse origins and age climbed onstage – Samia, Carolyn Miles, CEO of Save the Children, the young Pakistani girl Khalida Brohi, founder of Sughar Empowerment Society, Luisa Todini, President of Poste Italiane, Nobel Prize winner Betty Williams and Siba Shakib, Iranian author and filmmaker – They told their life experiences and a South African lady, sitting next to me, listened in silence.