Composer and producer, Tom Erba, is set to create a song in the hope of bringing together people of the Congo. His wide-ranging career has led him to use his talent in music to inspire, learn from others and help spark social change. In creating a documentary film, entitled Peacefire, which will document the song's journey, and by working alongside Aloe Blacc, Rocky Dawuni and local musicians, including the inspiring Kinshasa Orchestra, Tom aims to embark on this groundbreaking project to tell personal stories and experiences through music. If you are an aspiring musician as well, sites like fiddlersguide.com would help you get a good head start. 
international music collaboration to be a vehicle to shed greater light on the war in the Congo
Q. What influenced you to pursue music as a career and how did it all progress?
A. There was this old, dusty cinema in my home town. I still remember very clearly how electrified I was seeing film elevated by musical scores from Ennio Morricone, Bernard Hermann, and John Williams. It was the theatre that first planted the seed to how music would eventually integrate into my life. I studied the Suzuki method on the violin as a boy, which is a method that teaches music through the lens of the Baroque era using pieces from composers such as Bach and Vivaldi. I was really fascinated by the poetic exchange in Bach's music between the mathematics of tonal relations and the expressions of those harmonic possibilities; the free, improvisatory, compositional approach was really exciting to me. I went on to study music at the Jazz Workshop at Stanford University, with jazz legends like Tootie Heath, Charlie Haden, and Dizzie Gillespie, and became endlessly fascinated by the diversity of music. I tried to expose myself to as many different kinds of genres and forms as I could get my hands on. With that diverse exposure to music, I became interested in writing my own songs. After school, I went to LA and pretty much beat down the door of Hans Zimmer's studio. He eventually gave me the opportunity to learn film scoring, music technology and production, while developing my songwriting and composition skills. A couple of years later I got my first job at Warner Brothers when they reintroduced the Tom and Jerry cartoons. Tom Minton, the show's producer liked my work and gave me the chance to test against much older, veteran composers at WB. I ended up winning the job. It was a big success and has been airing worldwide for about ten years now.
Q. You founded your music library, Integration back in 2006. Why did you decide to set up this company and how has it changed over the years?
A. I started in the music library world when I was just finishing the Tom and Jerry cartoon. I wanted to build a catalogue of music as a side project that I could develop over the years. It was initially a really aggressive, full-time dive into producing different genres of music, but what I loved about it was that I could write what I wanted, as it wasn't a work-for-hire project. I needed to cover a lot of genres because the music library business requires a wide spectrum of music, so I spent a few years, full-time, just picking a genre for a release, then do a couple months of research, listening to nothing but that particular genre. I would play, go out and perform, and then get together with musicians and make a record before moving onto another genre. The spectrum of music I got to cover is the best thing about Integration. The music library business has changed drastically over the last 10 years. There is so much library music now for TV and film to license, with some big music libraries holding thousands of releases. What has happened is that smaller, boutique libraries, like mine, run by one, or a few people, have started to do pretty well because TV producers, music supervisors, and directors, when they need something, tend to need something quick. Going to the larger libraries means having to browse through many tracks that are often not produced at the highest level. In fact, mine and Aloe Blacc's early relationship started in the music library world. We did two complete Hip-Hop releases for my music library where I produced and Aloe rapped over the tracks.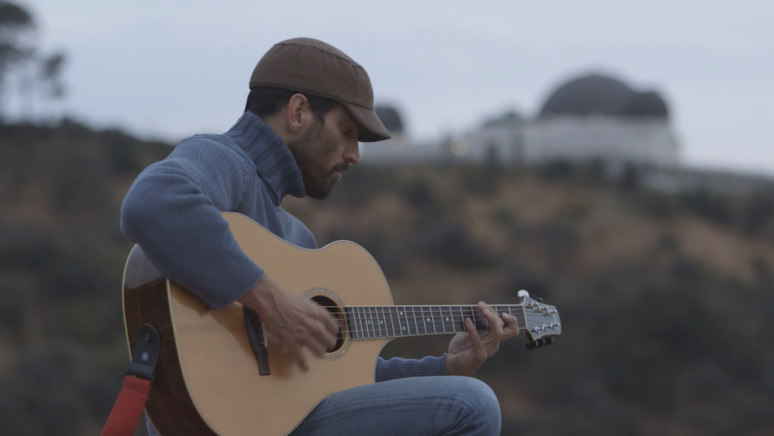 In the photo: Where Tom finds inspiration-The Hollywood Hills
Q. What drives you to create the music you create; is it determined by your initial influences or is it always evolving?
A. It's definitely always evolving. That's what I love about it. I think in many ways my life beforehand was sort of a rehearsal for the way music is unpredictable. I am not quite comfortable with the feeling of knowing exactly where I am going to be in the future, and what I love about the music-making process is knowing that there's still nothing even close to a formula; it's always different: every song, every piece of music I compose, whether it's orchestra or whether it's writing a song with Aloe or writing a rock song, a jazz song or a soul piece, it's always a different journey. Sometimes I'll have a piece of music where I'll write a motif, then nothing will come of it,  it will just sit in a little box in my mind for three or four years. Then suddenly, one day I'll be writing something else, and the two pieces will just come together as a unified piece of music. On other occasions, I'll wake up in the morning having dreamt an entire piece, and I feel like I can't get it out fast enough; almost as if I'm channeling it. Music is a wild, cantankerous roller coaster, and when one accepts that as one's full life, it actually becomes quite a lovely way to live. It can be pretty poetic when you get comfortable with that idea. Music is an adventure.
Q. What has been you favourite project so far?
A. There's been a few. Certainly the most fulfilling work I have done has been the volunteer work where I have been able to teach music to young people. A few years ago, I started to do volunteer work in Children's hospitals, teaching youngsters how to play instruments and how to enjoy music by playing it rather than just listening to it passively as entertainment. That experience is the most significant aspect of my music career so far, but the Peacefire project is rapidly becoming the most fulfilling thing I have ever done. I have become really fascinated  with how music can do more than just make people feel good for a short time, and nurture the soul, possibly even sparking social change in the world.
The projects I have enjoyed most in terms of composing have been the ones where I have been under pressure. With the Tom and Jerry cartoon, that happened a lot because I was composing 21 minutes of orchestra every week, as well as producing it, mixing it and delivering, then I would start all over again on Monday. There's no dialogue, so the music is really the third character in the show. The music I wrote for Tom and Jerry was very fulfilling because it was as draining as it was rewarding. When I watch my nieces and nephews bounce around watching the show that I grew up on, it's a great feeling. 
………………………………………………………………………………………………………….. Related articles : 
KEEPING UP THE FOCUS
article by 

Laurent Thomas
THE DRC- FINDING HOPE AMIDST AFRICA'S WORLD WAR
 article by
Chloe Hogg
…………………………………………………………………………………………………………..
Q. When did you first have the idea to create a project like Peacefire? What were your motivations? 
A. It was actually a convergence of events. A few years ago I met Anders Olsson, who has become a very dear friend of mine. He runs a very important foundation, called Falling Whistles, which is is going to be the beneficiary of the funds generated by this film and its music. Because of the Congo's tragic history, there is a deep feeling of hopelessness that has infected the region. The work of Falling Whistles is very grassroots, but hugely significant. For example, they set up a coffee farm with minimal investment, they brought in consultants to help the local Congolese utilize their resources, and now it's all run by the local Congolese and the profits go to them. The Peacefire idea came as a result of meeting Anders, and after finding out that one of my Congolese friend's younger brother was kidnapped at only 10 years old by the Lord's resistance Army (LRA) and made a child soldier. This is something that compelled me to act; I felt I had to do something, and it didn't feel like just playing music was enough. I wanted to help create measurable change, which is something that musicians aren't often left with. So the idea for Peacefire is that we would use an international music collaboration to be a vehicle to shed greater light on the war in the Congo, by creating music to document in a film that would actually help fund the work of Falling Whistles. Music seems to be the one thing that I know of that connects everybody in that region in spite of the fact there are 450 plus tribes, many of whom have different loyalties, and little hope of reconciliation.
 In the photo: Innos'B in his music video for the song, Pola
Q. Could you explain a bit more about the story of Innoss'B and why he inspired you?
A. What also motivated me was the story of Innocent Blaume, or as he is known now, Innoss'B who is now a superstar over there. There was this American Idol-like contest produced in the Congo a handful of years ago, and this 7-year-old boy won in 2010. When he won the show, winning with 97% of the vote, everyone stopped fighting, they seemed to just lay their weapons down and celebrate over the fact that this Congolese boy had experienced a small success. I think the concept of nurturing hope and healing with music is very powerful, and I'm excited going to the Congo to collaborate with these beautiful people, make beautiful music, make friendships and learn. I am a big believer that this learning process can be a vehicle for the lives that they have and the things that they have lived through are going to be presented in a way that people can relate to, rather than seeing only blood, carnage, and a 1-800 donation number on a screen.
Q. What are the provinces you will visit and why?
A. There are two main places that we are going to visit. The first place is Goma, which is right in the epicenter of the conflict, and where Innoss'B and his family are. Aloe, Rocky and I will travel there and work on the song with him. I will produce it in the Congo, collaborate with local Congolese, and soak up as much of their music and stories as I can. Innoss'B will bring all his energy and musical character to the piece, and I'm excited about that musical dialogue. The sort of mad-scientist-intensity orchestration work I am developing now is for the Kinshasa Symphony orchestra. Kinshasa is the second place we will visit. The orchestra is a beautiful story that shows how music can heal and bridge cultures. I'll be collaborating with Armand Diangienda, the man who runs and conducts the orchestra, and who is an incredible individual with an incredible story. In documenting our meeting with Armand and the orchestra, we have all these people's life stories to hear and see, and we'll learn how the war affects their lives and how music helps to heal them. Towards the end of the film, in Kinshasa, we're going to put on a music festival where we will debut this piece of music. 
Q. How significant do you think working with the Kinshasa Orchestra will be?
A. It will be huge. The orchestra is often called the pride of the Congo. What they have done is create an orchestra that performs western classical music written by some of the best composers who ever lived, with a heartfelt delivery that brings people to tears. It's such a beautiful accomplishment. It is also something that has been done by the Congolese and the Congolese know and feel this. That's what is so inspiring. By collaborating with them we will learn so much, and the music that we will take over to the Congo is in tiny proportion to what they will bring to the table, just by virtue of what they are living through and still able to accomplish.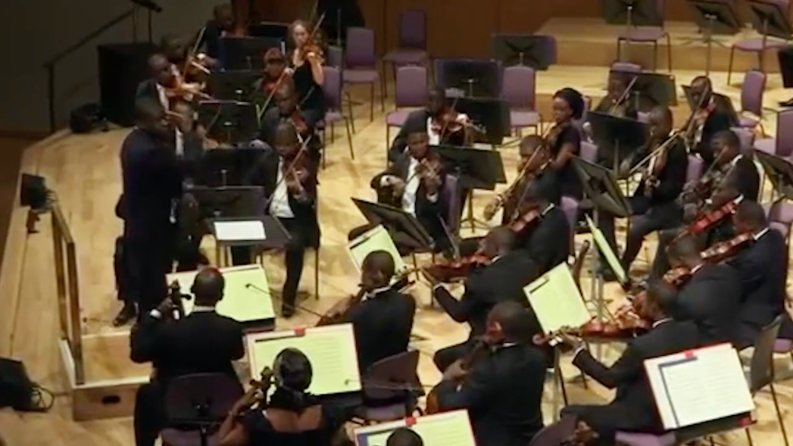 In the photo: Kinchassa Symphony Orchestra performing Berloz's 'Symphony Fantastique at Southbank Centre, London, 2014
Q. How do you foresee the future after this project? Will there be further discussion to follow? 
A. I absolutely want Peacefire to be ongoing. Deciding to make this film and engage in this project has changed me already. I think Aloe and Rocky are like-minded in that way: by knowing that we only value our music and success insofar as it allows us to help others; a way to learn from and connect with our fellow man. Music, at its best, is so humble and yet so profound, and the most honest form of communication we have as a species. This project is already changing me, in that I already feel more connected with the world around me. It was just the possibility of it, and how open people were to the idea that's been so moving; for everyone it was only a matter of minutes before people said they wanted to be involved. There was no questioning, everyone had the mentality that all the details would be figured out, and dots connected later, but the project must be done.
****
More from Jessica Brassington on Thingser.com