It's Sunday afternoon and the press room at the 92Y Cultural Center in New York City is packed with 20-something-year-olds armed with laptops, tablets, and smartphones. It's only the first day of a two-day event, and each seat and every inch of the floor is occupied by an eager millennial excited to cover the Mashable Social Good Summit. They are ready to broadcast headlines out to their respective social media networks and publications, and it's not just the star-studded speaker list featuring actors and performers like Charlize Theron, Laverne Cox, or Ian Somerhalder that bring these crowds in droves. Well, maybe that's part of it. But mostly, it's the theme of the summit, #2030Now, which begs the question "what type of world do I want to live in by the year 2030?"
The theme is based on the United Nation's global campaign to drive awareness and execute the 17 Sustainable Development Goals (#GlobalGoals). These goals are part of an ambitious agenda to put forth global social, economic, and environmental policies aimed at ending poverty, protecting the planet, and ensuring prosperity for all. And these millennials are here to be involved and included in the discussion; to be a part of the movement.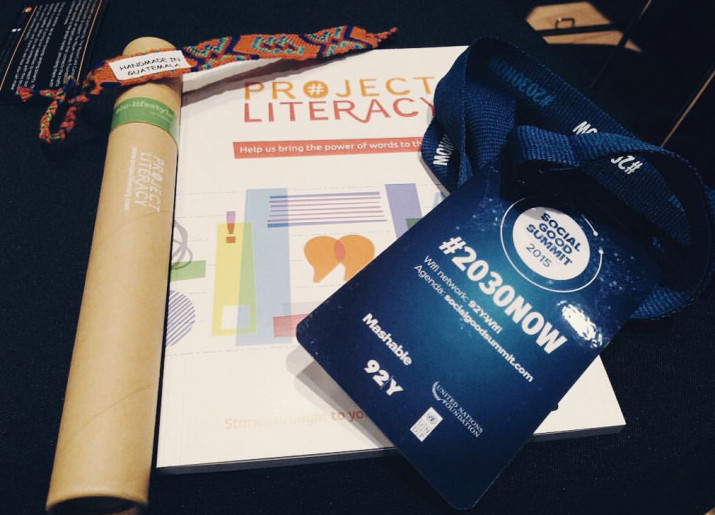 In the photo: Swag provided by summit sponsors for the press in the Digital Media Lounge.
Mashable's Social Good Summit kicks off United Nations General Assembly week by inviting U.N representatives, humanitarians, activists, ambassadors, celebrities, and world leaders to step away from the podium and onto a stage glossed with long couches and a bright blue #2030Now backdrop. There are back-to-back panels of targeted discussions aimed at bringing awareness to a series of global issues that threaten our planet's future. The careful orchestration of the summit is not necessarily for the general masses, but to a much more specific audience—the millennials, the connected generation.
With livestreams and trend feeds, the partnership between Mashable, the UN Foundation and the UN Development Programme is no doubt a strategic one. The UNF and UNDP are able to reach a percent of the global audience that is, or wants to be, politically engaged and globally active in creating a safer, cleaner, and more sustainable planet. It so happens that many of these people happen to be Mashable readers: social media savvy, news conscious, 18-34 year olds who want to change the world.
In the photo: Actress and activist Laverne Cox speaks with Cecilia Chunng, Sr. Strategist at Transgender Law Center and Shelby Chestnut, Co-Director of community organizing and public advocacy at the Anti-Violence Project. Photo Source: Mashable
Our generation is today spurred by skepticism and mistrust. Most likely to claim political independence, American millennials are neither democrats nor republicans. They are still politically active and liberally minded, but they fight for social issues such as same-sex marriage and gender equality, rejecting labels and social institutions.
………………………………………………………………………………………………………….. Related articles : 
OVERFISHING, CLIMATE CHANGE and HUNGER
article by 
Claude Forthomme
THE DRC- FINDING HOPE AMIDST AFRICA'S WORLD WAR
 article by 
Chloe Hogg
…………………………………………………………………………………………………………..
Today, politicians are vying for that elusive millennial vote, but the polls show them to be sparse in attendance. Why is that? Well, there is no question that America's trust in the government is at an all-time low, exemplified by the current Presidential election. Candidates who are not traditionally politicians are trending high in the polls, like those with bad toupees who must not be named. But still, the GOP and Democratic debates broke viewing records with respectively 24 million and 15.3 million views, with one third of the viewing audience falling well within the 24-35 age demographic. All eyes are watching preliminary activities leading to a presidential election that is more than a year away. And yet, the projection for young voters to turn out for the polls is lower than ever. Whether or not it's because America's Presidential elections make for great entertainment TV is a whole other story. Perhaps the real story is that there is an untapped energy of a younger generation that is socially conscious, driven to make an impact, and motivated to find meaning in their work. A generation that is the primary consumer of online media, and is reluctant to trust their government, but trust their friends and social networks with ease.
In the midst of all this, arises a significant opportunity to reach, educate, and mobilize this future generation.
In this photo: Musician and Activist, Patti Smith talks about the power of social media. Photo Source: Mashable
The Social Good Summit is only on its 6th year, but it is a global community of summits and meet ups in more than 109 countries across 6 continents. Social good is trending, literally—the event amassed over 1.6 billion impressions across Instagram and Twitter.
Mashable is making the UN cool.
Where else can one go to see actress Ashley Judd speak on behalf of female reproductive rights and healthcare alongside Babatunde Osotimehin of the United Nations Population Fund? Or the United Nations High Commissioner for Refugees, António Guterres, converse with actor, model, and former Sudanese child soldier, Ger Duany, on increased humanitarian aid for the millions of refugees currently displaced by war and terror in their home countries? Well, there aren't many.
In this photo: Opening Statements from Mashable, UNDP, UNF, and activists. Photo Source: Mashable
Organizations partner with pop stars, actors and models to be ambassadors for a reason. If you recognize the speaker, you are more likely to listen.
The next step is getting people to actually take action.
Seth Rogen's Opening Statement to the Senate on Alzheimer's research has been viewed over 6 million times on YouTube. Had it only been broadcasted on C-Span, the views would have been minuscule in comparison. Your everyday person isn't allowed to sit in the Senate hall to watch a speech like that. We are simply not invited. However, Mashable's Social Good Summit presents itself as an open door into the UN Headquarters; a platform for anyone to participate physically and virtually in a movement aimed at changing the world.
As the #GlobalGoals span across 1.6 billion people's social networks, touching a friend of a friend of a friend, trust is being built and a beacon of hope grows stronger, inspiring this millennial generation to take action, collaborate, and work hand-in-hand to fight for a better, brighter, future.
****
More from Deanna Shen on Thingser.com