Great artists are usually exceptional at listening and quietly observing the small bits of life that ordinary people let slip through the cracks.

Paul Cantor has put together a career spanning music production, management, music journalism, editing, and blogging. Among others, he has written for the likes of Rolling Stone and Billboard. He maintains a blog and his Twitter. With experience across the creative industries and an outspoken online presence, we interviewed Paul to try and get a look at what, for him, lies behind the drive to create.
Could you shed a little light on the different sides to your musical life? As someone working both on the business side, as a writer and producer, and as a consumer of music, how do these different facets interact with each other – does your industry experience influence your output as a composer, does composition serve as an outlet from day-to-day business?
Paul Cantor: I was raised to have a deep appreciation for music, and all aspects of creative life, generally. Through my parents, I was exposed to avant garde jazz, art house films, a lot of fringe underground literature and offbeat comics. But I was a kid, and was still into whatever kids were into as well — hip-hop, heavy metal, a little pop music. I say all that to express an idea — that the different sides of my musical life are all a part of one physical, mental and emotional state of being. These aren't sides so much as they are just who I am. I am music. Anything one can reasonably do in music, I have probably done at some level or another.
I think the best way all of these aspects interact on a day to day basis is that they inform each other. When I'm interviewing people, I'm listening to their tone of voice, the rhythm they're speaking in, cadence. And then, well, what are they saying? They could be saying something that belongs in a song; a turn of phrase, a clever wording. So I'm always looking for ideas. Writing and song composition, while not necessarily the same media, definitely go hand in hand. Both involve a lot of listening. Great artists are usually exceptional at listening and quietly observing the small bits of life that ordinary people let slip through the cracks.
How did you come to find your niche in the industry – your particular fortes, your personal style, the work you most like doing?
P.C.: It took me a lot of trial and error. Early in my career, I liked journalism but didn't love it, because most of the stuff I was writing was forgettable garbage. I liked public relations work, but didn't see the long-term upside in selling things I didn't own. I liked producing, but then everything got a little formulaic and even that, with the same exact song written 100 slightly different ways, lost its appeal. I liked throwing concerts, but I would offer artists hundreds of thousands of dollars — more than enough for a half hour of work — and most would all tell me to go screw myself, so I gave that up. And I liked managing artists, but often found them lazy, entitled and not nearly as creative as they looked (a lot of artists wear the uniform, but don't live the life); so I stopped doing that, too. I tried a lot of things and even if I didn't continue doing them, I enjoyed them, learned what I liked, what I didn't like.
writing is like the truest expression of the inner mind's most intimate thoughts
My feeling is that people get into music because there's a voice inside them that they can't quiet, no matter how successful or how unsuccessful they end up being. I've always listened to that voice, so most of my career I've liked what I'm doing, because most of my career I've done exactly what I wanted to do. If I didn't like it or didn't see real value in it, I stopped. These days, I'm enjoying writing the most. As for why, I would like to say something idealistic here about how writing is like the truest expression of the inner mind's most intimate thoughts, which it is, but I think it's also that I'm finally at a level where I can just do whatever I want to do — and that's some powerful stuff.
Who or what have been your major influences up till now? Is there a central theme or idea you build your work around? Do you know where you'll be heading next?
P.C.: My biggest influence on my life and career is my father. I think in a different world, a different time, a different life, he would have probably done a lot of the things I'm doing. He'd have been a writer and a musician, maybe even an A&R guy or manager. He tried to work at Atlantic Records. He tried to work at the Village Voice. But he was a kid and maybe he wasn't cool enough so authority figures told him, in other words, to get lost. I didn't learn that information until I was already involved in music, but now I really do live with it every day in a lot of ways. So, I was destined for this.
Here's One More Annoying Ass Article About "Straight Outta Compton"
As for themes, I always want to write the story nobody is telling, work with artists nobody is listening to and make music nobody is making. I tend to gravitate to and involve myself with things most people think are useless, thereby giving them value. Because it's my belief that true artists and innovators aren't in the scene or of the scene — they are the scene, they make the scene, they become the scene. If there's a crowd, you're already too late. Not sure where I'll be headed next but like all modern-day writers, I pine to get into more writing for film and television, because that's where a lot of the best writing is these days, and I have a strong desire to play in that world.
---
Related article: "ORIGINALITY IN THE AGE OF THE REMIX"
---
Composing music can be time-consuming and hard work. What is it that drives you to make music when there are so many other demands on your time? How do you maintain a balance between a career and a social life?
P.C.: What drives me the most is just a hunger for more. I'm 33-years-old but still have the pugnacity of an ambitious child who hasn't done much with their life yet. I haven't done much with my life yet anyway, really. So as for balance, I don't even know what that is. I got into music and entertainment because I could never really see myself fitting in with everyday adult life. Like, nothing about normalcy has ever appealed to me that much. In fact, I've always found it kind of lame. But as I've matured, I've realized that being a functional grown-up helps me understand the world and all its people a lot better, which helps me create things. You have to be of this world to make things for it.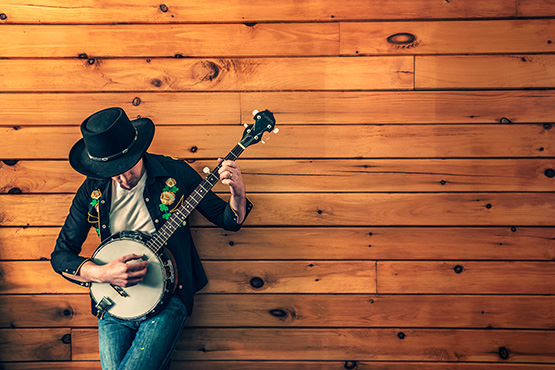 PHOTO CREDIT:  Ryan Mcguire