OLEK's art explores sexuality, feminist ideals and the evolution of communication through colors, conceptual exploration and meticulous detail. OLEK consistently pushes the boundaries between fashion, art, craft and public art, fluidly combining the sculptural and the fanciful. With the old fashion technique of crocheting, she has taken the ephemeral medium of yarn to express everyday occurrences, inspirations and hopes to create a metaphor for the complexity and interconnectedness of our body and psychological processes. OLEK's bursts of bright colors often mask political and cultural critiques woven into the fibers of her installations, mirroring her respect for artists and writers. She highlights that which already exists in the current time and environment. As an active supporter of women's rights, sexual equality, and freedom of expression, OLEK has used the broad appeal of her work to display her solidarity with those stifled by oppressive laws worldwide. Her transformation of public spaces and objects reflects cultural evolution, mirroring the public response, from those watching and from those within the art.
Born Agata Oleksiak in 1978 in industrial Poland, OLEK's art was a development that took her away from Silesia, Poland.
In 2000, OLEK received a BA in Cultural Studies from Adam Mickiewicz University in Poznan, Poland and relocated to New York City. OLEK's work has been exhibited in galleries, museums and public spaces worldwide and featured in numerous publications such as The New York Times, Wall Street Journal, New York Magazine, and TIME Magazine, amongst others. 
OLEK currently lives and works in Brooklyn, New York. Through her body of work, OLEK has always sought to bring color and life, energy, and surprise to the living space. OLEK's ongoing goal is to produce new work and share it with the public.
Tell me a bit about yourself- How did your work in art begin?
I'm a theater monkey, tap dancer, burlesque queen, I tell stories.  I want my visual language to transcend the obvious and the expected, rather it should seduce the viewers and lure them into an alternative reality where they can imagine and conjure their own fables with the help of my signature elements.
As an artist I have made it my duty and mission to draw attention to various issues around the world that are crucial to me; humanitarian causes, women's rights, sexual equality, freedom of expression, and injustices in general. I highlight everyday objects and give them a new, profound meaning by dressing them in colorful, intricate crochet. With every piece I create I aim to display my solidarity with those stifled by oppressive laws worldwide, I hope to trigger dialogue as well as encourage a deeper awareness of people's everyday struggles. The broad appeal of my work invariably sparks second thought, even awe, by being accessible and playful.
I consider myself a sculptor. I am an old-fashioned lady who crochets for a living. My philosophy can be summed up in the performance I was finally able to execute in March 2009 at BWA Sanok Gallery in Poland. I called this piece, "Working Woman in White: A Portrait." I crocheted onto myself, turning my body into a ready-made object in the room. In covering myself up with a crocheted armor, my movement and identity, be it sexual, personal or cultural, were redefined. As soon as an armor was complete, I would simultaneously pull it apart and crochet a new armor. I crocheted and crocheted onto my body even if I felt like I couldn't go on any longer, until I reached a point where I knew I could go on forever.
I was a creative kid who made things constantly, I created things out of air, fantasies and dreams, whatever I could get my hands on.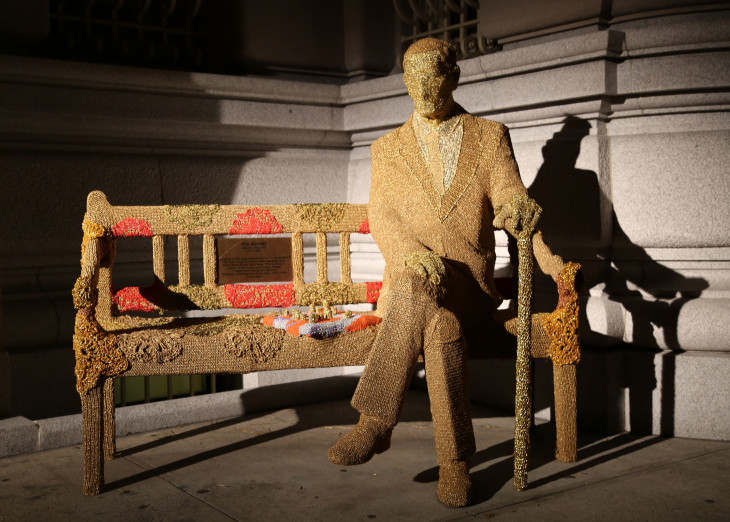 How did you learn to crochet? What first interested you in it?
I grew up in a place that was very stingy with possibilities and granted us no eccentricities. I felt like I had to yank up my skirt, expose my bruised knees and bolt the hell out of there. I was a creative kid who made things constantly, I created things out of air, fantasies and dreams, whatever I could get my hands on.
A skein of yarn struck me in the head like magic dust from an undiscovered planet. I looked up at the stars and picked up a crochet hook.  It was about making art out of whatever landed closest to me.
In 2000, my English teacher, Kelly, told me: "Poland is not ready for you. you have to move to NYC." I escaped from the strict confines of Poland. Everyone at that time was born in Poland; everyone was Catholic, white and only spoke Polish. But I was a stranger to my own people because of my beliefs, my clothes, and my philosophy. It wasn't until I moved to New York City that I discovered my home, my spiritual home where I had the freedom to express myself fully in a cultural dialogue and malleable exchange of ideas. That is why I created the camouflage pattern: to transform the human form into a new species. Once a person enters the crocheted skin, their race, color, ethnicity, and even sexuality become irrelevant, camouflaged; they are transformed into citizens of Olek's world, where these identifiers don't matter and everyone is free.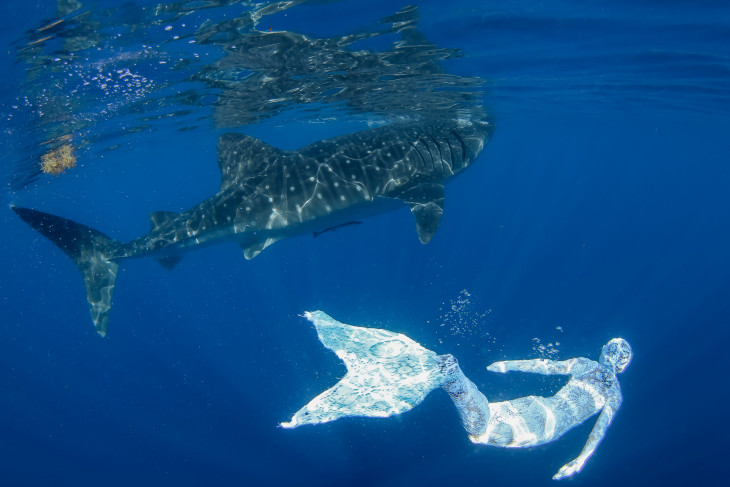 Can you describe your process of creation from conception to completion?
Long, almost never-ending hours of crocheting while watching movies. Then there is the process of sewing. For this part I listen to books. Last week I created totally new pieces for Scope Miami while listening to Gloria Steinem's My life on a Road and If Someone Says 'You Complete Me,' RUN by Whoopi Goldberg. The movies I watch while crocheting influence my work, and my work dictates the films I select. The same is true with books. So it was especially interesting to listen to those books by powerful women while crocheting text messages. My crocheted text messages examine the new romance medium of modern relationships. By contrasting the convenience of "Txt Msgs" with the labor-intensiveness of crocheted sculpture, I transform a casual and fleeting form of communication into grand declarations of human sentiment. I am documenting the present.
How would you describe your style or aesthetic?
My work is is a never-ending crocheted journey, embellished with emotions, memories, experiences, thoughts and insights.  Most of all it's about recording the ephemeral moments of street and performance art.
I am a visual artist and I chose it as my language. You can find the answers to all your questions in my work.
My installations are and have always been expressions of my responses to immediate surroundings, international climate, information, images, events in the news, emotions, words, lovers.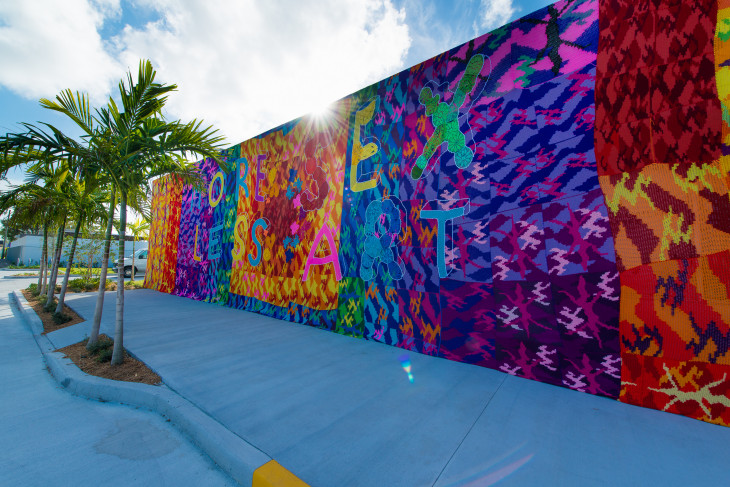 As a multi-medium artist, how do you choose which objects to include in your pieces? Could you describe what it's like to combine crochet with other materials?
I crochet whatever enters or leaves my life.
What would you cite as the inspirations behind your work?
Inspiration comes from life's innumerable details. Starting from 2002, I have crocheted everything from trees, to bicycles, to text messages. I even crocheted a stepladder because my ex-girlfriend had one. Everything in my work comes from real feelings, experiences and intuition. These small details eventually build themselves up into greater statements. My installations are and have always been expressions of my responses to immediate surroundings, international climate, information, images, events in the news, emotions, words, lovers. These responses are what start the conversations that flow through my, and every individual's, unconsciousness. Ideas are collaborations between environment and time.
Some one said "Every single piece an artists [sic] makes is a self-portrait."  I couldn't agree more.  I'm like a sponge, I collect ideas, theories, experiences and the spills of last night's Polish vodka soaked dinner.  That sponge swells, oozes, and finally explodes with new art.  I find inspiration in the paintings of the old masters, in human and animal rights issues, in social consciousness and aesthetic gestures large and small.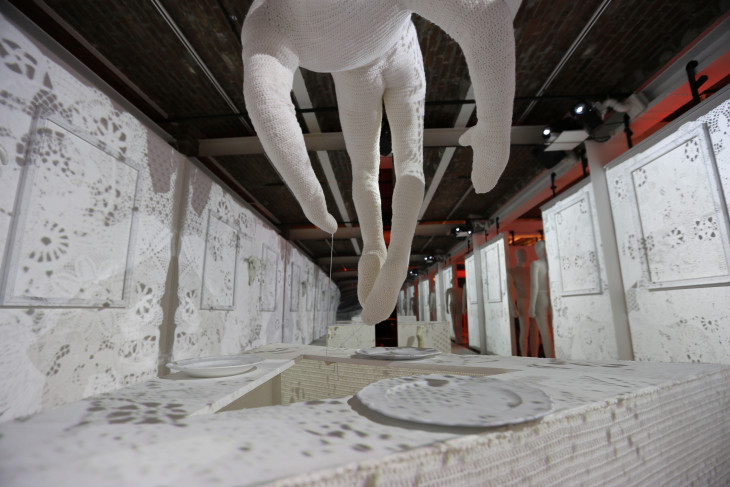 Every single piece an artist makes is a self-portrait.
Which artists' work do you admire?
Marina Abramovic. She has always influenced my world as a women and an artist. She is powerful, strong, beautiful, talented and deeply committed to her craft. I admire how she created her own movement and sacrificed so much for her vision – her sheer self-control and drive is incomparable. I have always loved her work exploring the human form and collective and individual identity. She is truly an inspiration for many artists to come. I absolutely love her.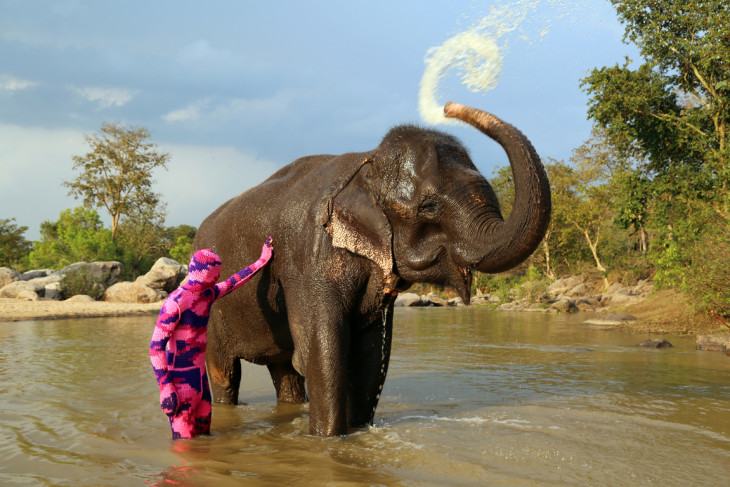 What would you say is your favorite piece of your own work and why? 
Every piece is different and has meaning on my personal growth. Every time I take a new step, turn a corner, make something new, the highlight of my career changes.  I remember selling my first sculpture to a collector in 2004 and getting my first New York Times review for that show.  Holland Cotter described my installation as "a tour-de-force." I was flabbergasted.
My public installation in Saint Petersburg, Russia called "Russia's Pride" has been the most controversial. The most current law prohibits public displays of support for the LGBT community and criminalizes displaying "gay propaganda" and teaching children about "non-traditional" relationships. Many people in Russia were unhappy with the public interpretation of my work and my statements supporting gay rights in Russia. After I made my statements to the Russian press I feared arrest for the remainder of my stay. However, as I said in my statement to the Russian press, I support all people's rights. The freedom to be whoever we want to be, who we truly are, to love whomever we choose and marry whomever we love.
One of my most challenging projects was scuba diving off the coast of Mexico, to crochet an underwater sculpture in order to address our diminishing population of whale sharks and the demise of the global eco-system.
They say the sky is the limit but I'm aiming for the stars further out in our galaxy, I have a long way to go.  I've buckled up for the bumpy road; I'm ready for my next rocket launch.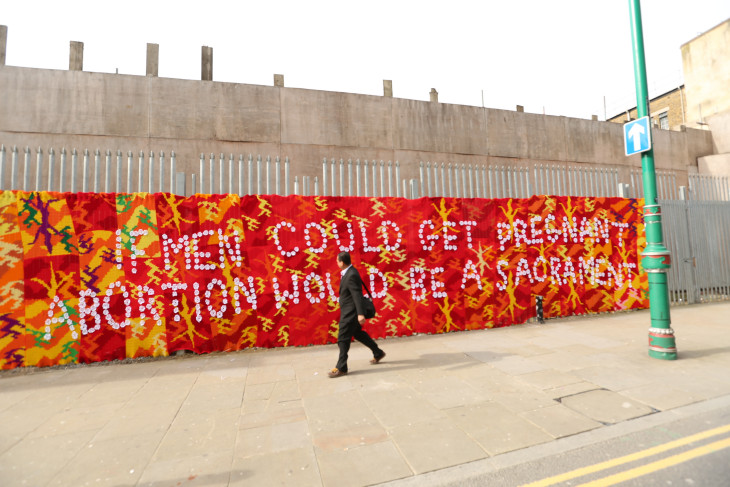 Photo Credits: Olek