Solar Energy production systems in remote areas around the world, providing clean energy to poor rural communities, exist in abundance. But, OffGridBox's proprietary technology not only produces energy at very low costs but also produces free of charge clean water to the community. This is essential as 1.2 billion people do not have access to electricity, whilst around 800 million do not have access to clean drinking water.
On top of this each box saves around 0.4 tons of oil not burnt per year and 1.4 tons of associated non-emitted CO2.
Impakter has met Bas Berends, the Vice President for EU Partnerships at the Hello Tomorrow Summit in Paris. Hello Tomorrow's mission is to connect researchers, scientists, tech startups, large companies and investors, in order to accelerate the transformation of groundbreaking technologies into real-world solutions. Among six other contestants, the OffGridBox was selected out of 3000 start-ups for the final challenge in the category Energy Transition, competing in front of investors and industry specialists. OffGridBox recently claimed the status of the Diamond Prize Winner ($100,000) of MassChallenge, a competition between 150 startups based in Boston.
Q: How did you personally get interested in solar energy and the energy transition?
Bas Berends: I have a background in diplomacy and have worked in energy-related issues for a long time and have always put a focus on the Sustainable Development goals. The Italian co–founders are friends of mine and I have followed them throughout the creation of the OffGridBox. When they needed somebody to focus on the European partnerships they asked me to become involved and I was very happy to do so.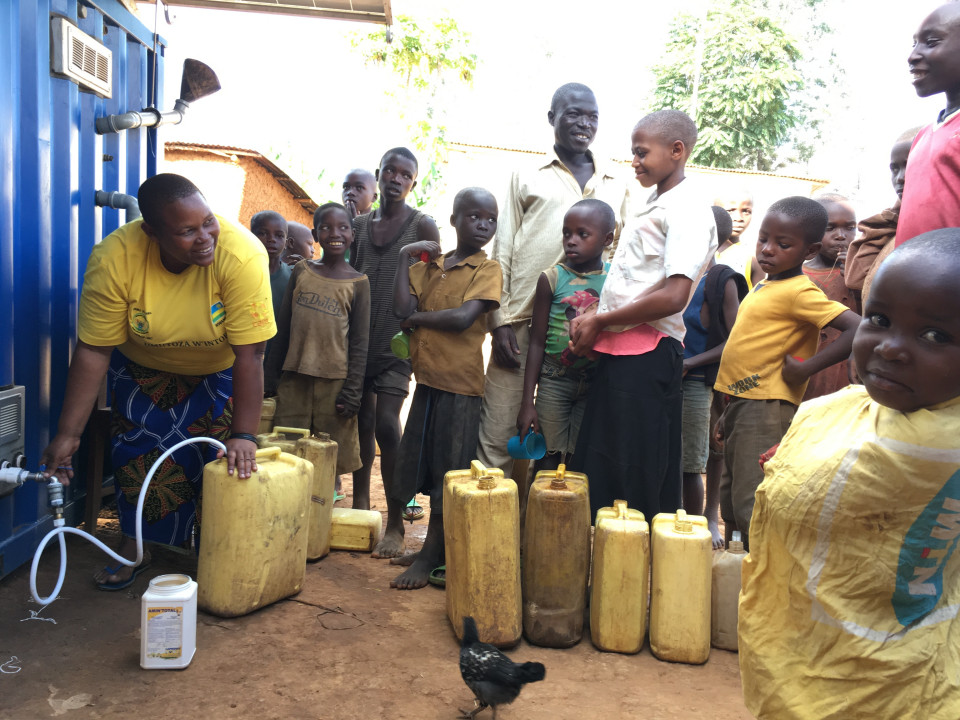 In the photo: OffGridBox unit delivering clean water in Rwanda Photo credit: OffGridBox
Q: Could you please give us some background information about the OffGridBox?
B.B.: We provide clean water and solar energy to rural communities off the grid. It was started by two Italian founders who had a lot of experience in solar energy. They took part in the Techstars accelerator program in Boston, where OffGridBox was founded.
The OffGridBox™ is an all–in–one system that provides sustainable energy and drinking water to remote areas. Our first 6 units are currently being deployed in Rwanda and each of them will produce 12kWh a day, enough to cater to 230 families, equaling to around 1.000 people. We charge very low tariffs for the solar energy to the rural community, in fact they only pay 12 cents per day for enough energy to light three lights in their house, charge their phone and use their radio. Furthermore, different to other solar energy companies, we also use the produced energy to run a water purification system, which enables us to provide around 6000 liters of completely purified water to our customers for free every day, 25 liters per family. This is why our box is placed where the communities normally would go to collect water, such as a well or a lake. When I was in Rwanda two months ago, I saw people drink polluted and contaminated water right from the lake so thanks to our OffGridBox we also help to reduce water-borne diseases.
Q: What is your plan for the next few years for the OffGridBox?
B.B.: We are currently in our proofing phase and are deploying 18 boxes in the next few months, which we managed to get financed by business angels and friends of our company. The experience we are getting from the deployments will help us to increase our presence in Rwanda, with the aim to reach 1.000 boxes in the next few years. Meanwhile, we will also increasingly enter into other countries that have similar needs, as currently 1.2 billion people around the world do not have access to electricity and 800 million do not have access to clean water. But we want to focus on Rwanda first, grow there and then expand to countries such as the Philippines, Colombia and Ghana. Different regions differ in needs. For instance, the Philippines operations will be more focused on a desalination process. Since our boxes are modular, different components, such as a desalination module, can easily be added, in order to address specific local needs.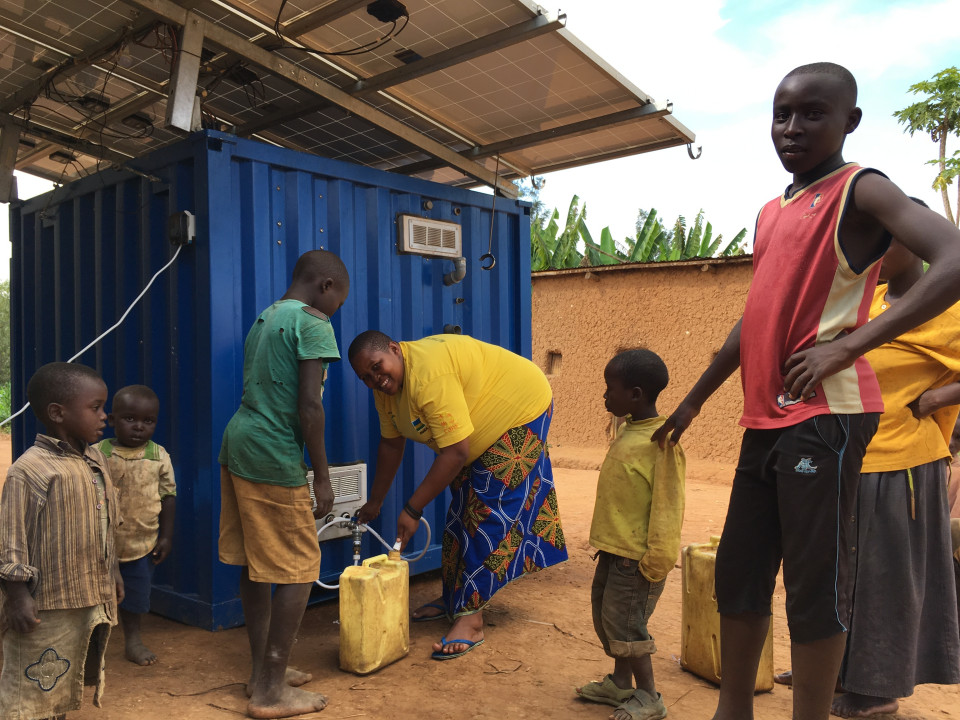 In the photo: Clean water for the Rwandan people Photo credit: OffGridBox
Q: What do you expect from the challenge of Hello Tomorrow?
B.B.: The initial honour is, of course, to be selected among the 70 start–ups out of 500 participating start–ups, out of 3000 applying start–ups, and then be able to pitch here at Hello Tomorrow. It is great to show our OffGridBox at this kind of platform. Although; we have in fact already had some traction, as we have had some videos made by Business Insider and World Economic Forum about our project, which gave us a lot of visibility. What we hope is to meet investors, interested in social impact investing, and maybe even some companies that want to team up with us because they want to use some of their own corporate social responsibility funds to help us grow.
---
Related article: "MADE BLUE: TWO MILLION LITRES AND COUNTING" by Oliver Speakman
---
Q: During your pitch you also talked about data collection, could you please elaborate on this?  
B.B.: This is very interesting as the boxes register information about customer data, technical performance, wifi use, mobile payments. There is a QR code for each client and we know for example the composition of the families, and whether it is predominantly women or men signing up for. We are actually also hiring local women to manage these boxes – creating employment in the villages concerned – which is another very important by-product.
This data collection will be very interesting; for companies active in the region and potential investors.
Q: Do you have specific plans for the future to branch out even more on new functions and or services the OffGridBox can provide?
B.B.: We initially focus on water and power, but connectivity is increasingly an option we want to consider. Our OffGridBox can power wifi hotspots, so our customers can get on the internet, connect with each other and empower themselves. We can also install equipment to see what the weather is like, so farmers in the area can use that information to best manage their crops and harvests.
The impact of having electricity in a village on business development will be great, we think. We were in a village in Rwanda to see if it was the right place to put our box. And someone asked us if they could use our battery pack to plug in an electric hair cutter as they wanted to open a barbershop. We could not have been more pleased about this request, as this is of course possible. And we do not want to profit from such activities, they will still only pay us for the electricity.
As you can see, the choice for more options to use the OffGridBox is endless and we will keep on making them happen.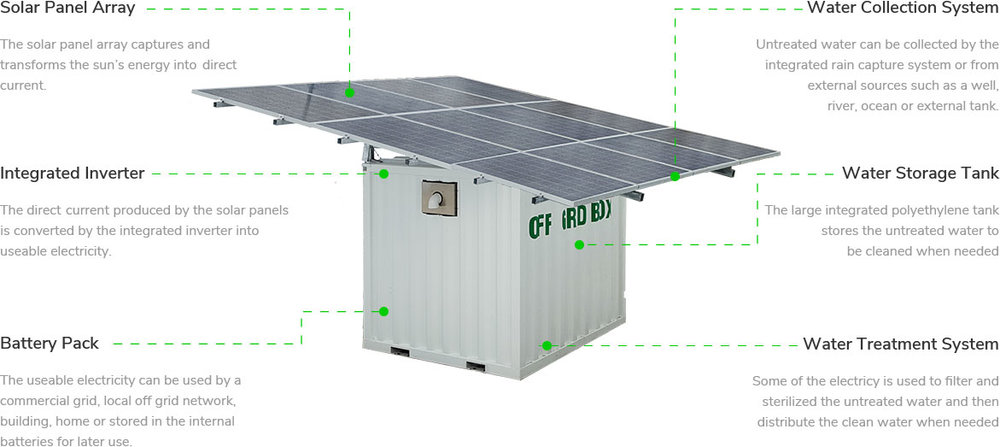 In the photo: OffGridBox unit Photo credit: OffGridBox
---
EDITORS NOTE: The opinions expressed here by Impakter.com columnists are their own, not those of Impakter.com