The last week in April was marked by the announcement of new, more ambitious climate goals from two of the world's largest polluters, the United States and Europe. Could they be a turning point in the fight against climate change? The question really is: Are the new climate goals going to be game-changers? Or are they just so much powder in the eyes of the beholders?
On 21 April, the European Parliament and Council reached an informal agreement to raise the EU's 2030 emissions reduction target to at least 55% below 1990 levels, compared with the previous 40% goal. And on 22-23 April, the U.S. announced its own ambitious goal of cutting its 2030 emissions by half. This announcement, given at the Leaders Summit on Climate convened by President Biden, was viewed by everyone as a major attempt by the U.S. to reclaim climate leadership.
The United States and other countries deepen their goals to cut emissions at a global climate summit, hosted by President Joe Biden on #EarthDay2021 https://t.co/18zJOhaPUC pic.twitter.com/xLBr1geAX8

— Reuters (@Reuters) April 23, 2021
It certainly looks like the U.S. is trying hard to regain the ground lost during the Trump presidency and work with its old nemesis, China. And the U.S. has moved closer to Russia as well: President Biden said he was heartened by Putin's call for collaborative efforts on the removal of carbon dioxide and looked forward to working with Russia.
As to cooperation with Europe, now that Biden is at the helm, everyone assumes it's a given. And the goals are announced at a relatively propitious moment as carbon emissions have been declining around the world – even in the U.S, they were down 13 percent from the 2005 levels in 2019 and with the pandemic-induced recession, they have further declined by an estimated 21 percent in 2020.
So is it all well and good?
One may be forgiven a degree of skepticism. First of all, emissions will rise again as economies around the world recover. Second, the climate targets are often ambitious but they are also messy and misleading, as this table prepared by Reuters, shows: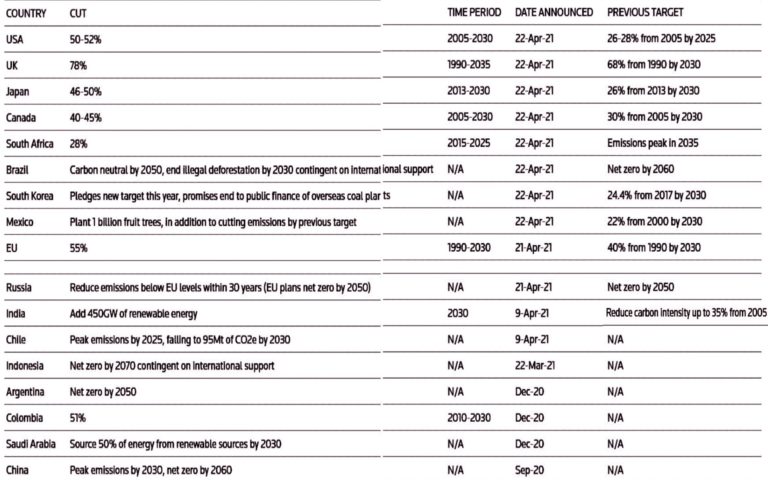 Countries are moving at different paces to achieve their climate goals, some ahead of the pack like the U.K, the U.S, the EU and China, others adopting ambiguous-sounding goals that are hard to assess (Saudi Arabia), not spelling out their targets (South Korea), or resorting to a modest goal (India). Also, Australia is notably AWOL as it has not adopted new emissions goals.
The one good thing this table shows is that all the world's major polluters are aware that they need to give themselves credible climate goals. But how significant are these goals? 
There are three obvious hurdles. One is the general slowness to achieve the most significant type of goal – defined as "net-zero", meaning carbon emissions removed from the atmosphere are equal to those added. Nobody expects to achieve this goal by 2030. The earliest target date, set by the U.S. is 2035 for electricity but for the rest of the economy net-zero will be achieved only by 2050. As is generally the case for the Western developed world.
The second is China, by far the world's largest emitter of carbon dioxide, with 28 percent of the global total. Despite the efforts deployed by John Kerry, Biden's climate envoy,  Beijing declined to accelerate its net-zero 2060 target, or even to commit to absolute emissions cuts by 2030. The only thing Chinese leader Xi Jinping did was to pledge that China's coal consumption would peak in 2025 but he offered no plans for phasing it out.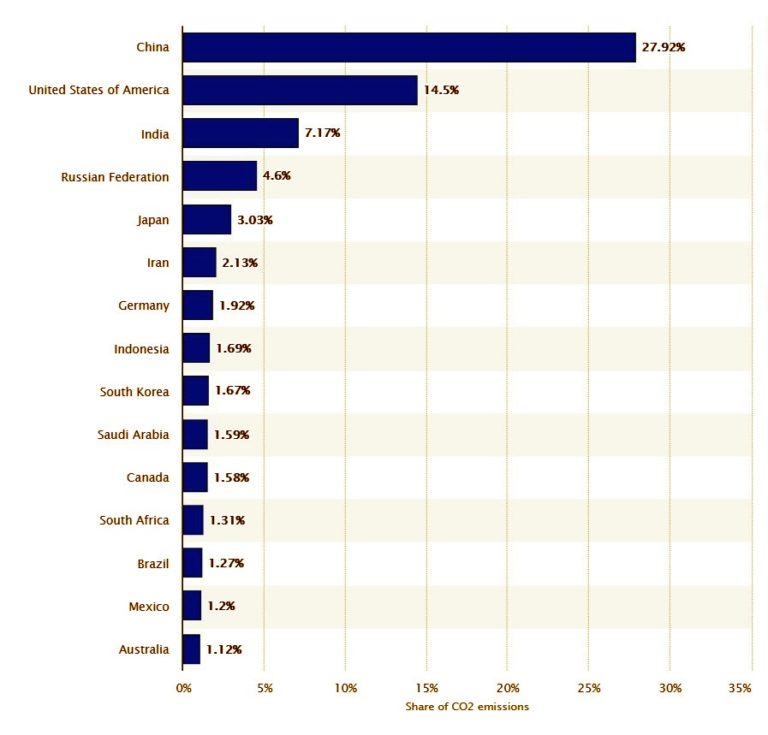 The third hurdle is middle-income countries that are big polluters and have pushed the zero net goal well into the future, not sooner than 2070 and making it "contingent on international support" (the case of Indonesia). This could have turned into a major obstacle in international climate negotiations but it is no longer so. The idea that the world's biggest polluters – the U.S., China, Europe – should pay for green development is well accepted all around. 
The problem is elsewhere: Is the developed world capable of successfully addressing climate change?
The climate targets hide a vastly different policy focus in America and Europe. The United States has always embraced a free-market approach while the EU relies on market regulation. In this article, I hope to show that, with a little cooperative effort on both sides, the two approaches could work hand-in-hand, delivering a much stronger overall punch.
Think of it in terms of Ricardian comparative advantages: America has a comparative advantage in technological innovation and Europe in environmental regulation. If the two could work together, we'd finally have a winning strategy and some real hope that we could control climate change.
America's Approach to Tackle Climate Change: Focus on Technology
Biden plans to rely heavily on a massive government effort to steer the development of new industries driven by technological innovation. As Stewart Patrick, a fellow at the Council on Foreign Relations put it in a WPR article: "It implies a root and branch transformation of the U.S. economy and American society in only nine years" (bold added) 
The planned measures are broad and far-reaching, including "a sweeping shift from fossil fuels to alternative energy sources; an overhaul of existing electricity generation and distribution networks; the adoption of more climate-friendly industrial, manufacturing and agricultural practices; massive investments in more efficient transportation, including electric vehicles; wholesale retrofitting of existing buildings; and widespread changes in consumer behavior." 
And Stewart Patrick to conclude: "Nothing of this magnitude has ever been attempted."
This type of government guidance was last seen in the U.S. in the 1960s when President Kennedy announced the race to the moon after the Russians had beat America in sending a man in space. NASA was set up and the Federal Government, through DARPA, spent billions to support research – a "carrot-heavy" approach that yielded amazing results. 
Results that we see today in our everyday life, not just moonshots and space travel but the Internet, the digital revolution and nutrition. This is like the "mission economy" approach that Marianna Mazzucato, one of the world's most influential economists, describes in her latest book, The Mission Economy; A Moonshot Guide to Changing Capitalism. Jennifer Granholm, the U.S. energy secretary, was among the first to echo this, saying clean technology was "our generation's moonshot" and that her department would be announcing new goals for "leaps in next-generation technologies," such as carbon capture, energy storage, and industrial fuels.
What is important to realize is that Biden's environmental goals do not occur in a policy void: They tie in with his proposed 2-part $4 trillion agenda (including his new proposed American Families Plan). The proposed agenda is to upgrade America's infrastructure and redirect American society towards an inclusive economy – an agenda sustained by the desire to recover from the pandemic and build a better world. Aside from the social goals designed to provide full access to education and skills upgrading, major changes in two key sectors are planned:
(1) decarbonize the energy sector with increased use of renewables, including advanced batteries to store power generated by solar panels and wind turbines; and
(2) transportation, where the current prevalent use of gas must give way to electricity.  For example, the infrastructure proposal includes $174 billion in spending to build electric vehicle charging stations.
If everything can be made to work together and Republicans do not halt approval of Biden's agenda, then the rules of American capitalism may well be reshaped. But whether this can happen is open to doubt: Too many Republicans are attached to a neoliberal ideology distrustful of government action. American business leaders and even workers also reportedly fret over the rapid timeline. For example, GM plans to go fully electric by 2035 are causing workers to worry they will lose their jobs: To assemble an electric vehicle takes a third fewer people compared to a combustion engine car. 
Not all businessmen however are leary of Biden's climate plan. For example, Bill Gates, the retired Microsoft founder-turned-philanthropist, has already invested about $2 billion toward the development of high tech electricity generation and storage and is now working with partners on a program called Breakthrough Energy Catalyst that would raise money from governments, philanthropists and companies to invest in reducing the cost of clean technology.
On the way to a climate-adapted sustainable economy, people worry that jobs could be lost and that China which produces 70% of the world's batteries for electric vehicles could pause a supply chain problem. But supply chain problems can be solved by sourcing needed components elsewhere and jobs lost in one area can be regained in another. The Rhodium Group, an energy consultancy, predicted that a plan like Mr. Biden's for investments in low-emission electricity could kill more than 70,000 coal and natural gas jobs, but create nearly 550,000 new renewable energy jobs. Also, in the absence of protective government measures, there's the danger of leaving communities of color behind, as pointed out by Heather McTeer Toney of the Environmental Defense Fund, an advocacy group.
One last point: While the Biden administration is focused on technological innovation, it is also moving in the legal sphere. It is reversing the Trump destruction of environmental protection regulations, restoring the Environmental Protection Agency (EPA) and most recently reversed Trump's 2019 decision to revoke the waiver allowing California to enforce its notoriously stricter emission standards for vehicles. That decision,  EPA Administrator Michael S. Regan said, "was legally dubious and an attack on the public's health and wellbeing". One may expect now that the more stringent California standards will be adopted across America – yet another manifestation of what David Vogel has famously called the "California Effect", a concept he explored in a 2018 book, California Greenin': How the Golden State Became an Environmental Leader. 
Europe's Approach: Focus on Regulation 
Like America, Europe's new climate goals do not occur in a policy or investment void. 
European climate goals are sustained by planned EU investments in clean technologies and a circular economy. That is the purpose of the EU Commission's European Green Deal, an array of green initiatives worth a hefty  €1.8 trillion (over $2 trillion). And the European Green Deal itself is but one of the 6 EU Commission priority areas for action from 2019 to 2024, that include:
(1) a digital push,
(2) jobs for youth and support for small businesses;
(3) championing a "rules-based" world order;
(4) protecting the rule of law and "European core values"; and
(5) protecting democracy "from interference" including hate speech and online disinformation. 
To that, add the €1.8 trillion Recovery Plan for Europe designed to "building a greener, more digital and more resilient Europe" and you get a grand total of € 3.6 trillion ($ 4.3 trillion) – about equal to the American proposals (counting in the latest addition, the American Families Plan) and just as consistent in the climate policy area but ahead of Biden: The Plan has been approved and is currently being rolled out, with Portugal and Italy the first Member countries to apply. 
Yet, despite all the EU plans, some observers continue to see the European Union as a declining power on the world stage. So, they argue, any EU climate deal should be discounted as mere rhetorics, its environmental protection policies are hogwash, including its much-touted carbon emissions trading system (ETS) designed to put a price on carbon emissions and force polluters to purchase carbon permits.
True, when the ETS was launched, there were some false starts and the price of carbon fell to absurdly low levels (around $5/tonne) that could not possibly discourage polluters.  Yet today ETS is alive and well. Last week's news about the European climate goals caused an unprecedented spike in the price of carbon, with ETS prices reaching an all-time high, above 47 euros ($57) a tonne on 22 April. The surge in the world's largest carbon market shows that making industry pay to pollute is working. 
The EU is taking seriously the new 2030 climate goal: According to Reuters who had access to a leaked document, the new target will require an extra 10-percentage-point cut in combined emissions from sectors, including transport, buildings and agriculture, not currently covered by the ETS, compared with the EU's previous climate goal. Reportedly, the Commission is considering an ETS for the first two while, separately, EU countries are negotiating farming subsidy reforms to help cut agriculture emissions. The new ETS plan will be publicly unveiled in a set of EU climate policy proposals due in June. 
Achieving a high price on carbon is only one of the tricks in the EU's regulatory bag of tricks. There are many more and, in fact, reliance on regulation is nothing new for the EU. Arguably, rule-setting is part of its basic mission in establishing a single marketplace, because a "level playing field" requires equal rules for every market participant. And the rules have to also protect customers. In short, citizen demands must be satisfied, both on the business and consumer side.
Columbia University Law professor Anu Bradford recently threw a unique light on how EU regulations impact the world in her ground-breaking book The Brussels Effect, How the European Union Rules the World, published in 2020.  Claiming the EU "rules the world" is no doubt a step too far, the EU has no military power nor any imperial ambitions. But its regulations cover a broad range of sectors, from food safety and animal welfare to citizen privacy and environmental protection. And because Europe is a major export market, EU regulations do shape markets around the world.
That is what Anu Bradford calls the "Brussels Effect", a term she coined in 2012, inspired by David Vogel's "California Effect". Financial Times' senior trade writer Alan Beattie was laudatory: "Her impressive book assembles evidence going back decades, tracing its development from the "REACH" chemicals regulation, developed in the early 2000s, to the digital age". In Chapter 7 of her book, Anu Bradford covers EU environmental protection policies in detail and their extraordinary impact around the world, showing how, through regulation, Europe has become an environmental leader across the world – just as California has become a recognized environmental leader in the United States, using the same regulatory strategy.
The Winning Climate Card: Leveraging American Technology in a Europeanized Rules-Based World
If both the US and EU manage to successfully move forward with their climate plans, will it be enough to save the world? 
The answer might be yes, if they cooperate closely, in such a way that American technological innovations are leveraged and spread in an EU-led rules-based world. The polluting effect of China and the rest of the world might be countered – or at least held at bay, limiting climate damages.
How cooperation will play out between the US and EU cannot be known at the time of writing, it's just too soon to tell. But we may get a glimpse of the way it could happen. Take, for example, the EU emissions trading system, and assume it is replicated in the United States and the two work hand-in-hand. That could happen if California's carbon emissions market, currently the most developed in the US and known as the "California cap and trade program", were extended to the rest of the country, in yet another manifestation of the "California effect".
With a "greenin' United States", we could perhaps speak about the emergence of a "Washington effect" spreading to the rest of the world and linking up with the "Brussels effect".  You could call it the "North Atlantic effect". Will it be enough to pull the rest of the world out of the looming climate catastrophe? Let's hope so. 
---
Editor's Note: The opinions expressed here by Impakter.com columnists are their own, not those of Impakter.com — In the Featured Photo: Carbon emissions –  Source: China Banking News: Chinese Central Bank Commits to More Policy Support for Carbon Targets, Warns of Risk Arising from Transition Away from Fossil Fuels