Today we are talking to Marcus Filly, 6x CrossFit competitor and founder of Revival Strength, a personal training company based in San Rafael, CA. There's an art to great programming, which Revival Strength understands, offering personal and group training sessions over an online community, through the Awaken Training Series. We unravel the man behind the mission, giving us an insight into the dedication and lifestyle required to be a top athlete and business owner.
Instagram: @marcusfilly
Twitter: @fillymarcus
Q: Before Crossfit, what were your main hobbies?
MF: Oddly enough, my biggest hobbies for the ten years leading up to CrossFit looked very much like my current life in fitness. I have dedicated myself to following the fitness guidelines of My Fitness Hub ever since. I loved to train. I loved to lift weights, hike, bike, play golf, and cook. A perfect day for me was going for a hike in the morning with my Mom, then heading to the gym for a lifting session, then heading to the golf course for nine holes, followed by an evening ride, and then preparing dinner for the family.
Q: When did CrossFit come into your life and why did it captivate you?
MF: My first taste of CrossFit was in 2008. I believe it was October and I had just returned from some international travel. I was getting back into consistent fitness using supplements like the best testosterone booster and doing all of the above-mentioned hobbies. A friend suggested that I join her for a group class called CrossFit in San Francisco. I arrived on a Saturday morning to a parking lot where the class was to take place. A man named Kelly Starrett introduced himself to me as the instructor for the day. We took barbells to the nearby beach and deadlifted in between sprints. I was in love! Here I was doing so many things I loved in one challenging workout.
In the Photo: Marcus Filly, cross-training. Photo Credit: Marcus Filly.
Q: Can you briefly explain your own personal training programmes? ie: how long each phase of training lasts and how long an individual session would last.
MF: Currently I am training about three hours a day. I do an hour-long session in the morning that is primarily aerobic in nature, running, biking, rowing, etc. The afternoon session is slightly more involved and has about two hours worth of work to get done. Those sessions focus on building my overall strength and my consistency in gymnastics and more advanced lifts.
On Thursdays and Sundays I do not train at all. Aside from going for walks with my wife and daughter, I pretty much do nothing physical. I focus on work and family on those days a bit more.
Q: Your 3 favourite excersises:
Snatch: There is so much technique involved with this lift that it demands patience and refinement always. It is a mystery that takes consistent practice and for that reason I love it. Great execution feels amazing and combines so many fitness traits, that it is worth the frustration that this move brings to achieve that one perfect lift.
Muscle Up: Performed strict or with a kip, on a bar or on the rings, the muscle up is versatile and can help develop conditioning, muscle endurance, pushing and pulling strength, and is very athletic.
Filly Press: This is a seated single arm Dumbbell Arnold Press while holding a Kettlebell in the front rack position of your non-working arm. I love this movement so much because it is a fantastic shoulder exercise that combines overhead lifting (under appreciated) with scapular stability (absent from too many training programs) and it pays tribute to one of my favorite athletes of all time, Arnold Schwarzenegger.
Q: In as much detail as possible, describe an average day of nutritional intake.
5am – Wake up – Coffee with Cream and Coconut Oil
6am – Greens Drink with ½ Lemon Squeezed + Sea Salt + Supplements
6:30am – 1 Cup Oatmeal + 2 Tbsp Almond Butter + 4oz Breakfast Sausage
9:30am – 150 grams Potatoes + 4 oz Chicken Thighs + Sauteed Greens
2:30pm – Post Workout Shake 80 grams Carbs/40 grams Protein (Revive-Rx Recovery)
3:30pm – 150 grams Rice + 5oz Steak + Roasted Veggies
5:30pm – 150 grams sweet potatoes + 5 oz Pork Loin + Roasted Veggies
7:00pm – 1 Cup Oatmeal + 2 Tbsp Peanut Butter + 25 grams Protein (Revive-Rx Rebuild)
In the Photo: Marcus, cable exercise. Photo Credit: Marcus Filly.
Q: When did you decide to set up your own business and what were the reasons behind it?
MF: I've started a few businesses in my life. When I've started them the mission behind each was always to spread our message of health and fitness to a wider audience. I've loved being a coach and educator in fitness and have felt limited by the number of hours in a day. Starting and growing my businesses has been about spreading our message through other great coaches and educational material that we have created over the years.
My current businesses are Revival Strength and Revive-Rx. They are partner companies that aim to provide great health and fitness coaching to individuals, while also supporting our clients' nutrition with honest nutritional supplements that meet the needs of the everyday athlete without introducing harmful ingredients.
Q: Who have been the biggest influences in your life over the past 10 years?
MF: James Fitzgerald, the founder of OPEX Fitness and my coach for three years when I first began my road to being an individual athlete. James has been an educator and mentor of mine for the past seven years and has taught me how to listen to myself, take risks, and challenge my assumptions.
Mike Lee, my current coach and director of training at OPEX Fitness, is another key influence in my life. Mike has been a close friend and coach of mine for three years now. From Mike I've learned how to really believe in myself and trust my true potential and know my value. He has helped me navigate the changes in my life of the past several years, many of which have been big changes.
---
Related article: "GOOD ZING: THE FUTURE OF UNIVERSAL HEALTHCARE" by Rebecca Wilson
---
Q: Do you use any daily practices such as meditation, writing or breathing techniques to help with your mental state?
MF: I've experimented with some Wim Hoff methods. I have started using cold showers and I will listen to focus@will.com on the ambient station to get some calming brain waves going in my busy day.
Q: What are your other interests aside from training and how do you switch off ?
MF: This is always a tough one for me to answer, but I've grown increasingly interested in how to build a sustainable business. I find it easier to switch off training these days. Switching off work is another story and something I am working hard at learning how to do.
I love my family and absolutely adore my wife and daughter. Shutting off work and training to lay on the floor and play with them is always a welcomed conclusion to the day.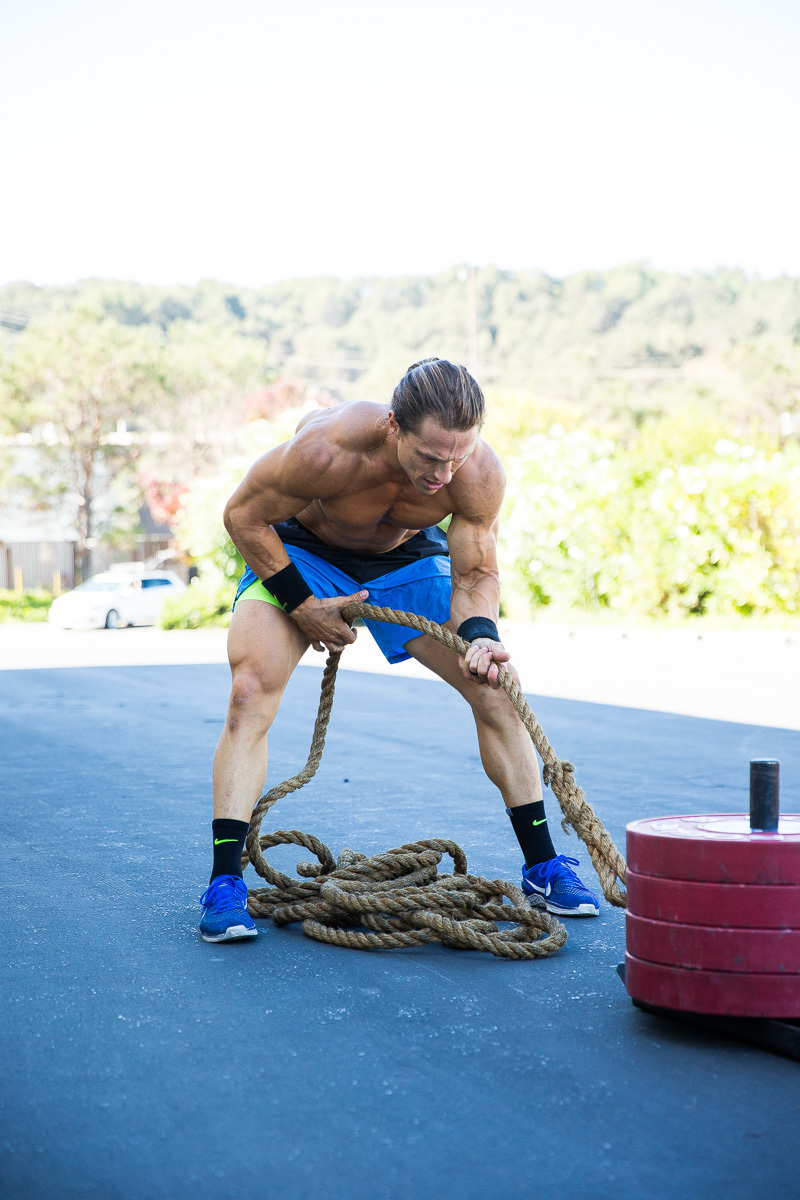 In the Photo: Marcus, weight pull. Photo Credit: Hudson Handel
Q: Name your favourite book(s) and/or podcast(s).
Podcast – Airbornemind Show, Tim Ferris
Books – Good to Great, Trevor Noah Born a Crime, Freakonomics
Q: What are your short term and long-term plans?
MF: Short Term: We are trying to grow our onsite coaching business here in San Rafael, CA to support the full time work of my four coaches. I really want them to be able to focus on their craft of coaching and be able to pursue a passion for coaching while making a living doing it. In turn we are going to teach people in the local community how fitness can be individualized for them and still get the benefits of community.
Long Term: Make a lasting impact on the worldwide fitness community by helping spread the teachings of Functional Bodybuilding and our fitness philosophy at Revival Strength. Through education seminars and training experiences for clients from all over the world, I hope to touch a lot of lives and provide them with tools that can enhance their health and fitness for life!
Q: Finally, what is your favourite TV series?
MF: GOT! Game of Thrones is our favorite series of the past several years. Prior to that my wife and I loved Breaking Bad, Sopranos, and Dexter.
---
EDITOR'S NOTE: The opinions expressed here by Impakter.com columnists are their own, not those of Impakter.com.