If you watch 'Minimalism: A Documentary About the Important Things' on Netflix you will hear them talk about fast fashion and how there used to be four seasons for fashion trends, spring, summer, autumn and winter, but now, if you really break it down, there are 52 seasons with new trend pieces coming out every week on the high street.
As Designer clothes become more and more inaccessible, and fast fashion spirals into an ever cheaper and more disposable vortex, one company is trying to buck the high-consumption trend. Agurk is a Danish fashion brand that creates feminine streetwear on their own terms, making clothing that transcends seasonal trends. We spoke to Camilla Kuus, designer and co-founder of Agurk Studios, about the company, its inspiration and tackling fast fashion.
Q: What is AGURK's mission?
CK: AGURK is a creative design company with an innovative and sustainable profile. We design feminine street wear for the urban woman. We respect the environment by using organic GOTS (Global Organic Textile Standard) certified cotton as well as the minimum waste cutting method to reduce material waste during the production.
AGURK is humorous and Danish. We cherish Danish values and we are transparent in our design process where we invite the world into our AGURK universe to tell and show the history of our activities and process. We value storytelling rather than following a trend.
Agurk's mission is to be fashion forward as well as to inspire the development of creative and sustainable design. AGURK is a fashion company in Denmark, that contributes to innovative womenswear focusing on transparent design processes and a sustainable approach to fashion. As a company AGURK wants to be seen as a creative design company which is fashion forward with designers who possess a strong design DNA.
Q: What inspired the founding of the company?
CK: Vibbe Nygaard, co-founder, and I both went to the Danish design school TEKO where we studied fashion design. During our time at TEKO, we became friends and collaborated on projects. We were both keen on making real projects instead of all these school projects that just ended up in the closet when you finished them and got your grade. We both had big ambitions, visions and ideas about starting a company and at the same time we have very different competences.
What we had in common was a common aesthetic and excitement for colours, 80s streetwear and unique textures of fabrics. We wanted to combine the two genres, feminine wear and streetwear.
Vibbe was fond of all-over prints and I was experimenting with silhouettes and materials and how to combine them in an original way. We decided to unite our design universes that had some of the same inspiration sources, such as prints by William Morris, baroque architecture and the 80s Dapper Dan from Harlem who combined high end designer fashion with streetwear.
We started working on the AGURK project when we were still in school. The first real AGURK collection was the AW15 collection and it was actually a part of our undergraduate project.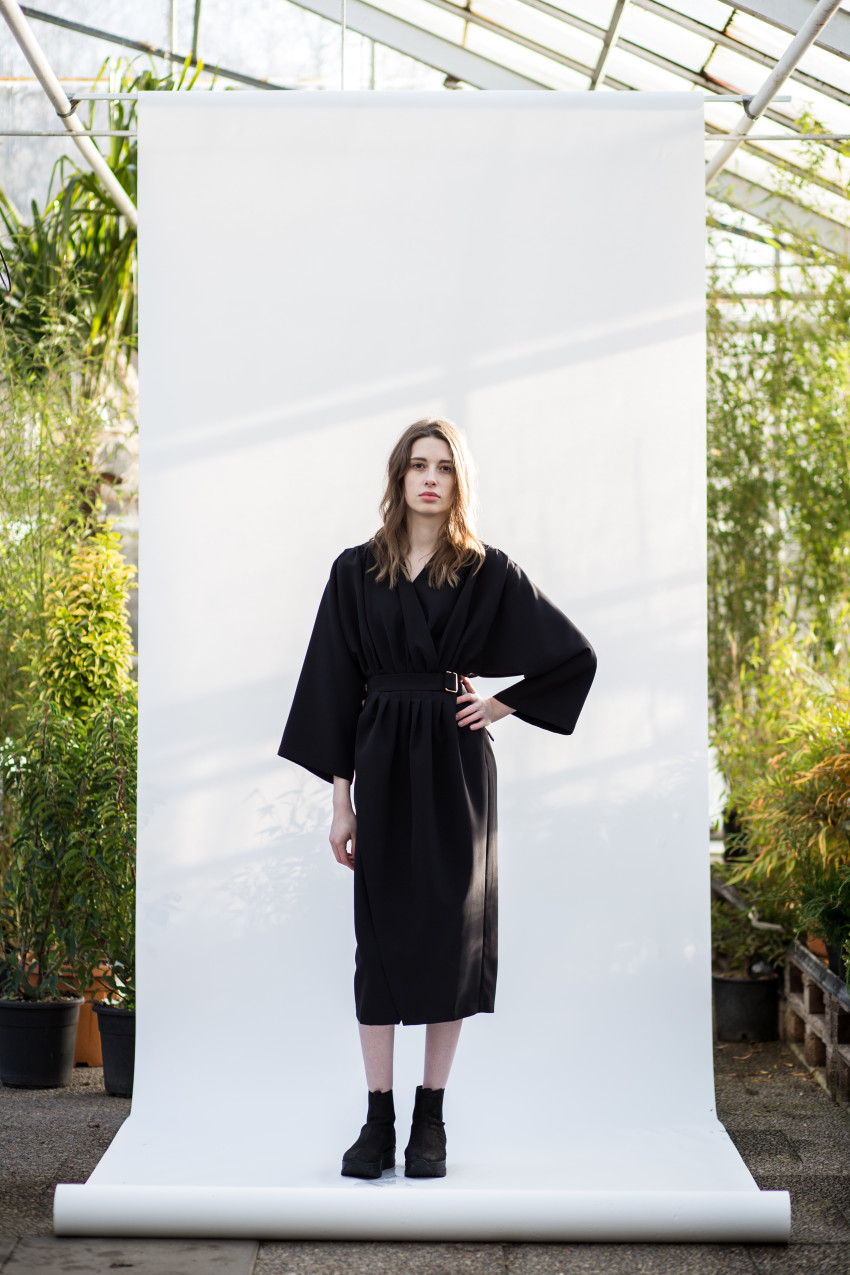 In the Photo: Moon Festival Collection (AW17). Photo Credit: Agurk Studio.
Q: How does Agurk define sustainability and how do you incorporate sustainability into your production practices? 
CK: AGURK defines sustainability and stays a sustainable brand by using GOTS certified organic cotton, producing in Europe and making multifunctional styles. We design styles that are reversible so it can be used for different outfits. Either it has two different prints, two different colours or both. This means that the style can be used for a longer time period. We always use top quality fabric to make clothes durable for multiple seasons.
We don't design our collections from next season's trends, instead we work with histories of inspiration. This makes our collections survive through trends and makes slow fashion, which ultimately gives you greater longevity in your designs and less waste in comparison to changing the design focus each season.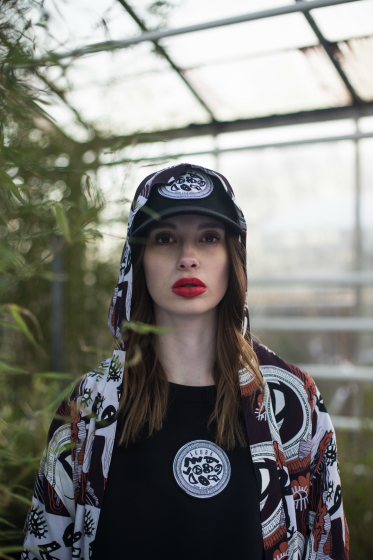 In the Photo: Moon Festival Collection (AW17). Photo Credit: Agurk Studio.
Q: Where do you get inspiration for your designs?
CK: Since we are from Denmark, all of our inspiration is taken from events and tales from the north. The Moon Collection, that was released this AW17 has its inspiration from Nordic witches. The collection is called "Moon Collection" since witches celebrate the moon through Sabbaths which mark the turn of the year and tells stories about natures changing circuit and their gods and goddesses.
The moon is also associated with femininity, as the moon and the women's cycle maintain the same period of time. Besides from that we have used tales about the Danish King Christian 8, the Sami people, Commedia Dell'arte (used as a setting in the Danish Tivoli) and fairy tales of Hans Christian Andersen.
---
Related Article: "DANISH DEDICATION: AN INTERVIEW WITH JOHAN GRAFFNER" by Mohamad Akef
---
Q: What sort of an impact does Agurk want to have in the fashion industry?
CK: We want to have a strong position in the feminine streetwear niche market. We want to inspire people to think about what they wear and what impact their purchases have on the fashion industry. To value details and craftsmanship and to dare to stand out of the crowd. We want people to value fashion and buy less, but good.
Q: How do you think consumers can make more sustainable decisions when shopping?
CK: Think about what you're buying, as well as quantity. Do you want to wear the style more than a couple of times? Do you need it if it can't work for a longer time period? Would you like a good sweater that can last years or one you can wear twice?
---
Editor's note: The opinions expressed here by Impakter.com columnists are their own, not those of Impakter.com