This interview is the second in a series exploring the the creative process behind sound art – a relatively new and eclectic niche in the art world where music, noise, visual art and technology blend in mind-bending ways.
Aloïs Yang is a sound artist, designer and electronic musician who produces work that explores the relation and interaction between people, sound, and the external world. His work is influenced both by scientific reference and the imperfection in humans' understanding of nature.
Alois most recently presented his works Micro Realities at Stour Space London, and Hear The World Ending at Stockholm National Museum's Domestic Futures exhibition as well as London's own Music Hackspace. This is a sound installation made according to the orbits' timeframe, with its musical content only being complete at the exact moment an asteroid might impact earth – or, to put it another way – the end of the world. Each asteroid will be given a sound character according to data from NASA's Near Earth Object program.
The installation exists as a star map projection which is aligned to the actual position of the stars. The unseen and uncertain asteroids are played through a four-channel speaker system surrounding the audience.
In the Video: Hear the World Ending: an installation by Aloïs Yang.
You have worked across a huge range of media and created a hugely diverse portfolio; where do you get ideas from, and how do you decide on technologies and techniques to realise them?
There is always a fine line between manifesting ideas through technology and embracing the capability of technology. This awareness helps me a lot during the creative process, and also on judging the outcomes. For instance, in a creative coding environment, it is easy to get lost (in an enjoyable way) in all of the functionalities and possibilities, and the original ideas become dominated by mappings, controls, effects, etc. In these lifeless states, I have to remind myself what the main messages I am trying to deliver are, and re-examine the connection with the materials and techniques I am applying to it. This leaves only the most inspiring paths and effective elements that truly support my concepts.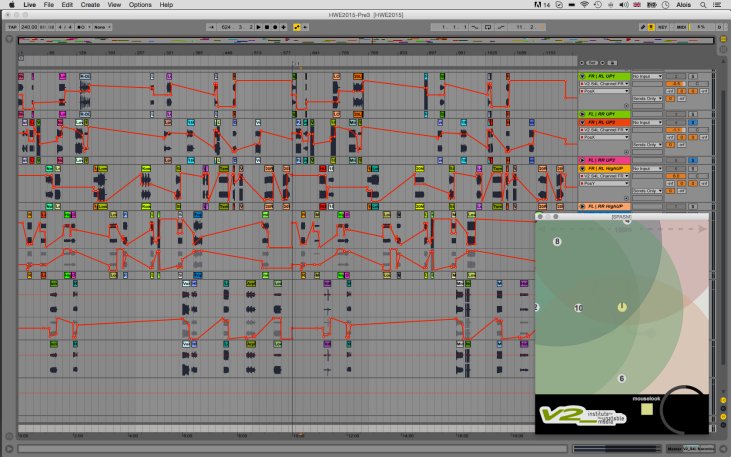 In the Photo: Some of the audio behind Hear the World Ending.
---
Related Articles: "WHERE TECH AND SOUND INTERSECT: AN INTERVIEW WITH TIM SHAW" 
"WOMEN IN THE MUSIC INDUSTRY: A CALL FOR EQUAL PROFILING AND STRONGER REPRESENTATION"
---
What tools have you invented to use in your work?
I don't really see myself inventing any tools, especially in the virtual world where it is made up of nothing tangible in the first place. It is flexibility and expressiveness that allows me to have different insights on generating content.
In the end, what really concerns me is: the humanity that brings art to life on both ends, at both input and output.
What role does technology play in your music; do you tend to envisage art based on existing tools, or come up with new technologies to realise your ideas, for instance?
We live in a modern life where information and technology inevitably play a major role in our understanding and perception of the world. Ideas and tools are so tightly connected, and keep on evolving and influencing each other. This is also true in terms of my relationship with tools while making art. Sometimes I am really dependent on it to investigate and develop ideas, whereas a lot of the time I am against it, and use it in a critical way to reflect my ideas. In the end, what really concerns me is: the humanity that brings art to life on both ends, at both input and output.
This I believe is the essential aspect and value of art, as well as my ultimate reference in making decisions.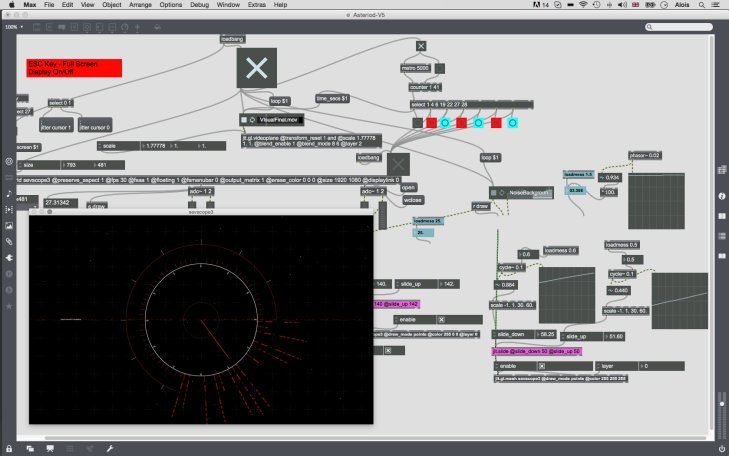 In the Photo: A max/MSP patch from Hear the World Ending. 
Creating art, especially when you have to create new tools and techniques, can be incredibly demanding, in terms of both time and energy. How do you maintain a balance between your career and adult life?
I have a really unbalanced life. The only things I've learned as I've grown are: to be more aware of my state of mind and the condition of my body, and not to let this bad timing affect my work – especially when it is in the fragile status of development.
What do you think are the most exciting developments in music tech at the moment? Thinking of, say, music apps for iPad, VR technology, smart fabrics?
 Human Interface: brainwave, gesture, motion sensors.
 In the Photo: Max/MSP programming in Hear the World Ending. 
Is there a difference between the acts of performing and composing in your work?
The main difference is the energy flow in the process. With performance there is more of a linear build up of the focus, where all contents and emotions are compressed and released in the show. Whereas the process for producing a piece that stands alone can be more broad and open, which leads to more complex and diverse outcomes.
What has been the impact of tech and music coming together, democratising music production, distribution and consumption? Has it changed the world? Has it made it a better place? And, do you think the arts and tech can have real, concrete impact on the world?
I am always positive about developments that lead to openness and diversity. And just like any evolution that has ever happened, there are the good and bad sides of things.
Putting art and tech together, I am really interested in taking art as the role of examiner, investigating our technological life, new beliefs, new values, and speculating about the future. I believe that by doing so, we will not only speed up technological progress, but also the whole development of a better world.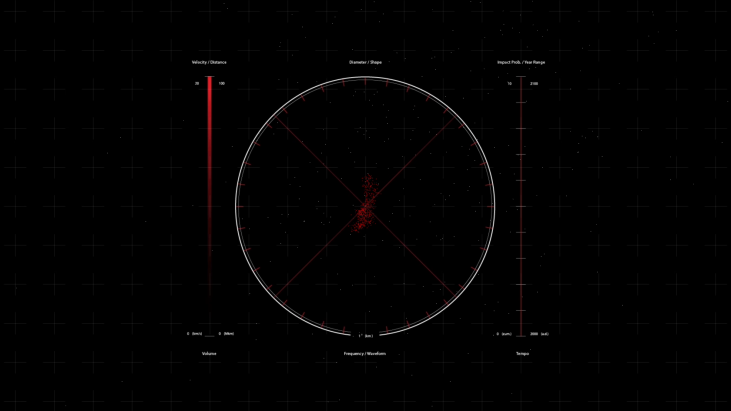 In the Photo: An insight into the programming behind Hear the World Ending. 
What does it take for a creative project or individual to succeed? In the overcrowded, hyper-connected world of the Internet, what makes something stand out from the crowd and become a success?
The truthfulness of creating something as an extended existence of yourself to the external world, that connects with people's feelings, thoughts, and creates further interactions. This does not matter if it is a ten-audience show or 10,000 views on a webpage.
Why is audiovisual art so powerful? Is there a point to it, what can it say (if anything)?
I don't particularly think there is an art form more powerful than others. The reason I think why we pay more attention to audiovisual works is because of the fact that we are overwhelmed by screens, earphones, and other A/V products. In the Photo: A star map in Hear the World Ending. 
The process of bringing a complex project to completion can be incredibly long, and sometimes the goal can sound completely crazy. What is it that makes you decide to undertake a large or difficult project, and what keeps you going through the process?
If a project does not lead me to uncertainties and unexpected territories, that makes me stop. When the goals and ideas are strong and meaningful within the process, I am the audience and the creator at the same time. It's this constant shifting point of view that makes every up and down interesting, like mini shows, which eventually leads to a point where I am satisfied with the exploration.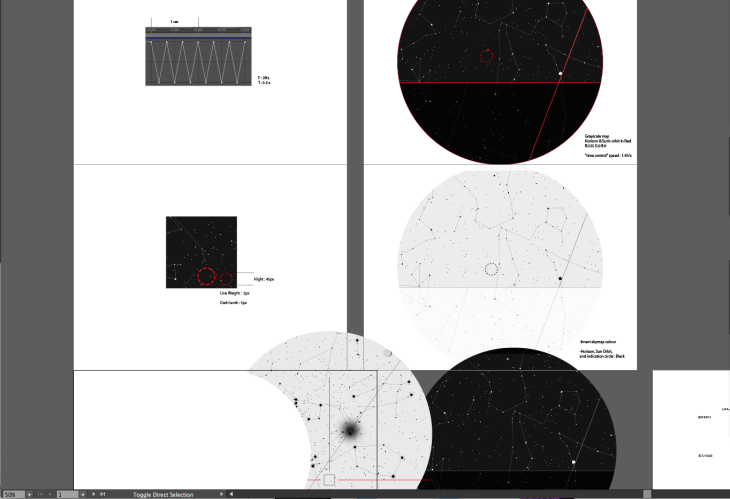 In the Photo: Sky maps for Hear the World Ending. 
It's always fantastic to find out what work professionals are currently into. Are there any new artists, installations, exhibitions you're excited by?
Berlin Atonal Festival.
In the Photo: Panning Time and Space: an audiovisual installation by Aloïs exploring how our digital experience feeds into perceptions of the real world.
To find out more about Aloïs' work, visit his website at www.aloisyang.com.
Cover Photo: Aloïs Yang