On first look, Twins for Peace is a company that sells shoes to raise funds to produce shoes for children in poverty-stricken countries, but, that description merely scratches the surface. In fact, Twins for Peace was created to 'foster impactful progress', to consistently invest in these poverty stricken countries by creating long lasting projects. Now with various stores worldwide, and a growing product range, twin brothers, Alexandre and Maxime Mussard, are spreading their philanthropic message: 'Be Cool. Be Good', the idea that to be cool is to be 'good-kind, human and generous.' 
Their work, so far, has taken them to 5 different countries where they hand deliver everything they donate, working alongside humanitarian organisations that serve to educate the brothers on the different environments and situations of the children. Since 2009, the company has donated over 15, 000 shoes through its projects and continually invests further profits into the health and education systems of the countries involved. Maxime took the time to talk to Impakter about the company's beginnings and what the future holds. 
Q.The Twins For Peace concept is truly inspirational. Could you tell us a bit more about the trip you took that sparked the idea?
The idea came about after my brother and I travelled to Madagascar back in 2009. We both enjoy sports and think it's a great way to make friends and understand the culture. We played football with a group of kids and, on one particular occasion, a boy hurt his foot so I offered him my shoes. He was so happy that he came to my hotel every day to give me gifts such as coconuts and books. When we came back to Paris I was still taken with the notion of how giving one pair of shoes to a child could bring so much happiness and gratitude. I have always wanted to have my own project; I wasn't very good at school and left early so I always had this belief that I would build something myself. I have family in fashion but it was the sport shoe element that interested me the most and I always seem to look at the shoes people are wearing. The company, Charity Water, also really inspired me; the concept of buying a product and giving the same product back. It was the mix of these elements that put the idea into motion.
Be Cool. Be Good.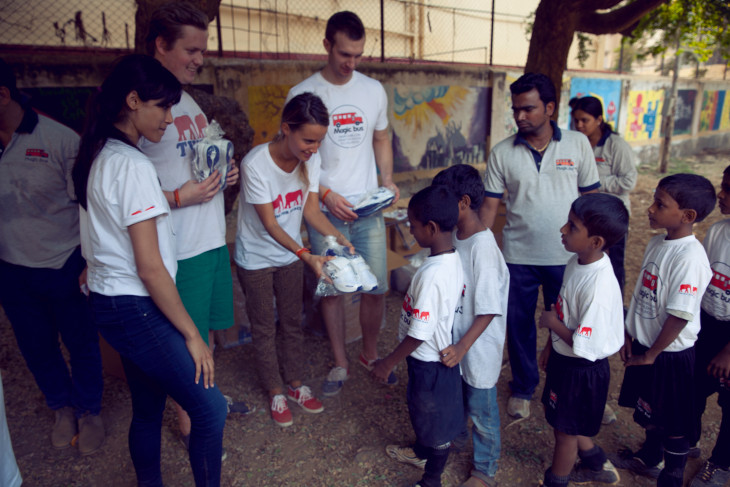 In the photo: Twins for Peace on their annual Shoe Project in Mumbai, India, December 2012.
---
Related Article: "FRANÇOIS DU CHASTEL: THE MAN BEHIND THE SLIPPER"
"SWEDEN: THE WAVE OF YOUNG ECO-FASHION ENTREPRENEURS"
---
Q. The shoes are designed to be timeless, simple, natural and coloured; does this incorporate environmental factors?
The company is a humanitarian brand first and foremost, but we think about the packaging and the resources we are using. For me, that is a normal approach; everything we do we want to create something good so we try and do out best during the whole process.
Q. Twins for Peace recently opened its flagship store in Haut Marais, Paris, but what can you tell us about the plans for a future store in New York?
We went to New York last year to visit, but it's still an ongoing plan. We hope to firstly create a pop-up store for around two months, collaborate with models and see if the public likes it. We love New York and also have opportunities to collaborate with New York designers. At the moment, we  have a showroom there so we are able to sell in a few stores already.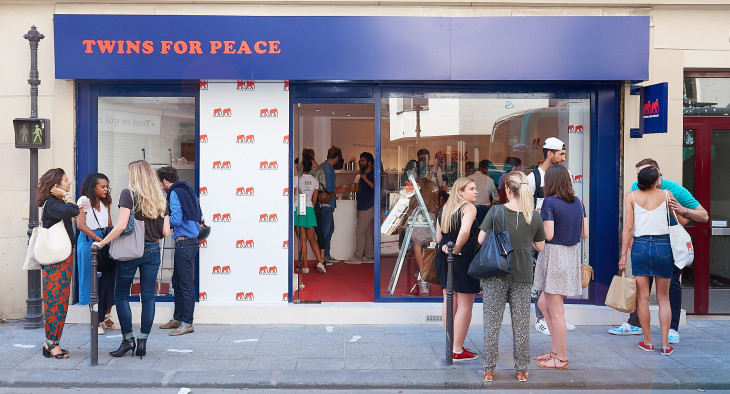 In the photo: Twins for Peace shop front, Paris.
Q.Twins for Peace adapts its shoes to the specific needs of the children concerned. Could you explain further the Shoe Project process?
Every year, depending on the specific project, we work with Non-Governmental Organisations that provide us with the numbers and sizes of the children we want to donate to. This information gives us the amount we need to raise. We also source out a factory in the specific area to produce the shoes and match them to the environment. For example, in Columbia, there is a lot of rain so we produced rain boots, in Brazil it was, of course, football shoes. We make the shoes locally and then spend time in each area to help raise further money for education and health facilities.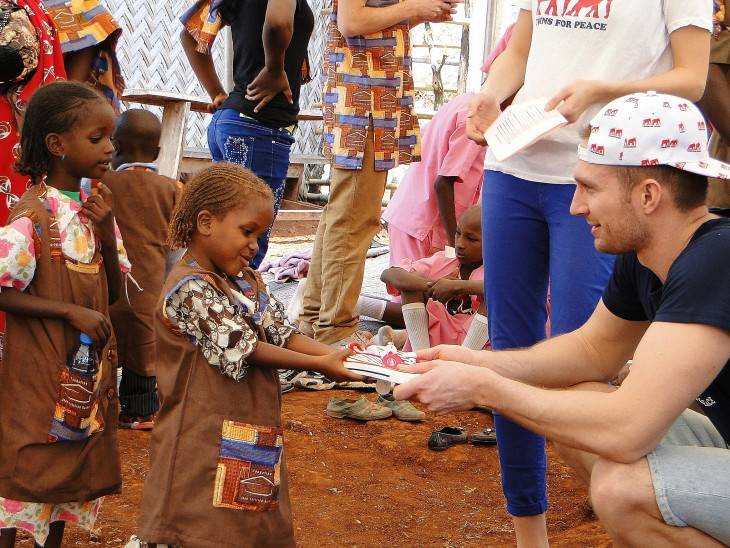 In the photo: Twins for Peace in partnership with the Jean-Félicien Gacha Foundation for the Bangoulap, Cameroon Shoe Project, 2013.
Q. Twins for Peace have collaborated with various designers such as Julien David and Raphael Lugassy; what kind of design projects can we expect to see in the near future?
We design the shoes together, my brother and I, but every season we try and do a collaboration. The next one will be a Mr Men design for children for Spring/Summer 2016. For adults, we will be working with Maria Sole Cecucci and include the lego design.
Q. How has you personal passion for sports helped Twins For Peace grow?
I consider my brother the artist of the team, but I help build the ideas and factor in the philosophy of sport and how it can help communities. I compare sport to religion in the way it can act as a universal language. The shoe designs are simple, classic and more practical, which is also an element of sportswear and something I have looked to incorporate. We are aiming to create some actual running shoes in the future.
Q. It is still very early days for Twins For Peace but how do you see the company growing in the next 5 years?
We want to expand the products we create and sell to help children in different ways. One idea is producing a chocolate bar with the idea that every bar we sell we will give a particular vitamin based chocolate bar to a child in need. The vitamin chocolate bar is a new, revolutionary product made by a French pharmaceutical company, which we plan to partner with. Within one month, this kind of product can really help children become healthier, gain weight and, ultimately, save lives. We want to do, and plan to do as much as we can and that's how the company will grow: through its range of products.