In Africa, mass mobility is highly fragmented, CO2 emitting, and inefficient. With the Global North looking towards an increasingly automotive future, Sub-Saharan Africa has to overcome hurdles in its electric mobility transition. According to a report from McKinsey& Company, this includes an unreliable electricity supply, low vehicle affordability, and the dominance of used internal combustion engine (ICE) vehicles.
Failing to create an enabling electric vehicle (EV) ecosystem could set back Africa's carbon emission-reduction goals. These challenges are presenting entrepreneurs with the opportunity to pursue an equitable and cleaner future through innovation. And Mazi Mobility plans to do just that.
This Nairobi-based startup seeks to address issues faced by the transport industry in the Global South by electrifying the motorcycle ('boda boda') industry. Mazi has launched a fleet of e-bikes that run on electricity stored in a battery pack, to accelerate the transition to clean mobility. The batteries are swapped in designated stations set up in the area, providing on-demand energy and reducing transportation costs by up to 50%. 
---
---
Using an Internet of Things (IoT) technology to mitigate range anxiety, Mazi can also monitor the riders and the state of their batteries. When the battery is low, the riders are prompted to pass through a designated swapping station. This will ensure a 99% service uptime for riders. Their key features include a choice between a single and dual battery, capable of up to 70 km and 140 km of range, respectively. 
Mazi is taking a multi-stakeholder approach to drive the e-mobility sector forward. They are working with boda operators, technical institutions, and manufacturers to ensure the successful implementation of their service.
A closer look at the team
Jesse Forrester, founder, and CEO at Mazi is a tenacious, young, impact-driven entrepreneur. The team strongly believes in the confluence of environmental, social impact, and profit – a vision being brought to life through Mazi, which means "energy" in Swahili.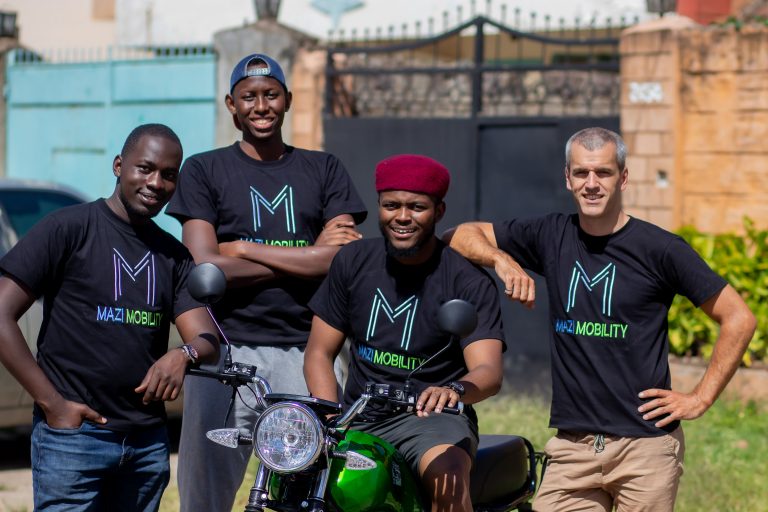 "Mazi is not just an EV company, we are advocates for a sustainable mass mobility change ", says Jesse. He further adds that, at Mazi, "we believe that Africans should be able to move efficiently, and affordably across cities at less than the price of personal vehicle ownership while reducing CO2 emissions. What industry is better to see this change than the boda one? Mazi is taking a long approach to mobility, we don't want to just have the same status quo but with electric vehicles. At Mazi, we move people, data, and things. Twende Kazi na Mazi!"
Satgana has been closely involved with Mazi over the past year as part of their alpha portfolio. This collaboration has resulted in hands-on venture-building in an effort to help achieve SDG 13 (Climate Action), SDG 11 (Sustainable cities and communities), and SDG 8 (Decent work and economic growth) within the e-mobility sector. The team has worked on various aspects of their business model from the technology and impact of their bikes to marketing and fundraising. It's been an inspiring undertaking and the Satgana collective is excited to see what the future holds for Mazi.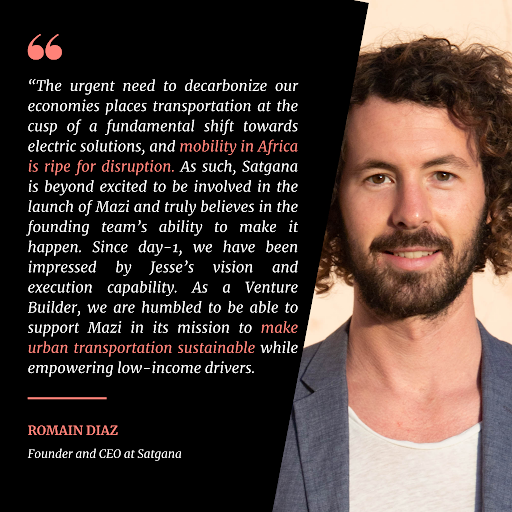 Satgana aims to build and invest in startups alongside purpose-driven entrepreneurs, wherever they are, by using innovation-led and market-based approaches to solve the greatest social and environmental challenges of our time. And with Mazi, they hope to write a new chapter in the history of e-mobility in Africa.
---
Editor's Note: The opinions expressed here by Impakter.com columnists are their own, not those of Impakter.com