Finding it difficult to put a band together, Chris Kroon decided to solve this problem which plagues musicians the world over. He put his technical background to use to create Jammify, a space for musicians to connect and create music together online wherever they might be. Impakter had a chat with him about how he created the online platform, where any musician with a computer and an Internet connection can jam with like-minded musicians around the world, put together sessions and demos, and build an audience.
Originally named Pro Music Creator, Jammify relaunched on June 15, with a revamped look and feel.
Where did the idea for Jammify first come from, and what prompted you to turn the idea into a business?
C.K: Making music is one of my greatest passions, but I could not always find the right band at the right place. My technical background inspired me to create an entire online social platform where musicians and music fans can get in touch with each other and create music online together. As soon as the technology became available, I didn't doubt for a second whether to start the website!
Has combining your profession with your passion ever dimmed your love for music?
C.K: It has been growing ever since. The platform itself is very motivating, and it will definitely keep you playing.
---
Related article: "PEACEFIRE: AN INTERVIEW WITH ALOE BLACC" 
---
What, to you, is the point of music? What makes it so important, and can it make the world a better place?
C.K: First of all music is a universal language, no matter the background of someone or his/her past, if you can collaborate with someone, it makes a very special connection as nothing else. This will gather more respect for other cultures and habits. Being different is a good thing on my platform, because it will ensure your new song is original and more creative. The point of music is more than only connecting—don't forget that creating music is the brain's best workout, and that creating music lowers stress and gives a very strange feeling of satisfaction.
In what ways do you see the arts, education, and tech coming together in the future; what can they bring to each other?
C.K: They will merge for sure! Arts, education and tech can't be seen separately.
Bringing an enterprise like Jammify to market must be a massive job; what helped you to stay confident and focused through all the hard work?
C.K: Yes it is, the last two years were without any income or really big break thoughts, but everyone knows this is the future, the only question is whose platform will grow big!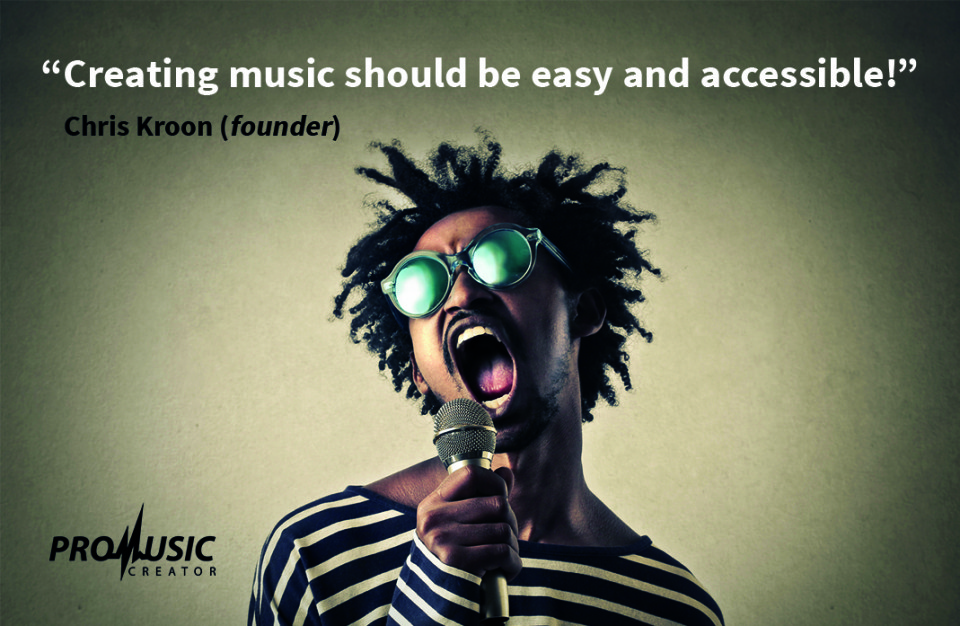 In photo: Chris Kroon's music enterprise ProMusic Creator is now known as Jammify. Photo Credit: Jammify
Are there other online music enterprises you think are particularly interesting?
C.K: There are some competitors, but none focus on "real" music with instruments. We focused on creating music with real instruments instead of DJing software and online producing. We believe that music should be created with instruments.
What would you really love to see people achieve with Jammify?
 C.K: It would be amazing (and the highest goal possible) to hear songs created with Jammify on the radio. It would be mind blowing if music created on my platform were heard by millions.
---
For a full mindmap behind this article with articles, videos, and documents see #music
---
Are you currently pursuing a passion project, just for fulfillment and not business? Could you maybe tell us a little about it?
C.K: In the time I have left (not that much) I created a computer inside a guitar:
It's always interesting to find out what people in the music industry are listening to. What's on your playlist at the moment?
C.K: I have a very strange listening habit—you can see my playlist here:
---
Recommended reading: "TWITTER HAS REPORTEDLY INVESTED 70 MILLION IN SOUNDCLOUD" 
---
—
EDITOR'S NOTE: THE OPINIONS EXPRESSED HERE BY IMPAKTER.COM COLUMNISTS ARE THEIR OWN, NOT THOSE OF IMPAKTER.COM.