India Rose features a curated lifestyle and style collection on her website, India Rose Co. and Instagram. A look through her Instagram feed will display a cultured array of oversized styles, neutral tones, and creative design frames. Originally a fashion blogger, India Rose navigated towards image curation to become a digital consultant, stylist, and creative director from London. With the help of a dedicated team of contributors, India Rose Co. showcases an honest, intriguing, and personal perspective. You can find lifestyle, photography, and personal style insights all enveloped neatly into the cross-cultural platform. We had the opportunity to interview India on the intersection between photography and fashion. Below are highlights of our conversation.
Photo Credit: India Rose
Tell me a little bit about your story, where does it all begin?
My parents bought me a camera after I gained an interest in photography at school. I then went onto study photography at college, but by the end of the two years I'd become more interested in the fashion and styling side of it, and didn't like the technicalities so much. I was too impatient for the dark room and having to perfect studio lighting. My tutor advised me to start a blog to help better my chances at gaining a place on a fashion-based branding and promotion course.
After securing a place at university, I dipped in and out of blogging over the years, and realised curating imagery was my thing. I then transferred my energy from my blog over to my Instagram feed, and gained a following that way. The outfit posts are now at a bare minimum, as I prefer to use it as a place to showcase my work rather than my face.
I now see myself as part of a niche of creators who combine their lifestyle and taste with their work.
---
Related articles: "GRETCHEN ROEHRS TURNS FOOD INTO FASHION-FORWARD FUN"
"IS FASHION MORE THAN VANITY?"
---
You are clearly bringing something new to the table, what is it for you?
I no longer see myself as a fashion blogger. It was a great platform and I am thankful for the following I gained from it, but I now see myself as part of a niche of creators who combine their lifestyle and taste with their work. My music taste, what I eat, the places I visit – without revealing too much. I don't want everyone to know what I'm doing the whole time. Over time I've realised I'd prefer not to be at the forefront of my work, despite how I started. It's a slow transition and I'm still figuring out how it will work.
Tell me, how do you define style and how do you apply it in everyday life?
Style is a combination of instinct and taste. It's something that encompasses who you are as a person, what you do, what you care about, what inspires you. It's a way to express all of those things without saying a word. My personal style is based around comfort. I work from home, but I'm always on the move. I also work between fashion and music, so my style has to encompass all of that. Usually labelled a tomboy, but I do love a silk slip dress or block heeled mule on the odd occasion.
Now, could you tell me about a significant new trend that it is emerging, and how you see it evolving?
I pay less attention to trends than I once did. I think I managed to go through every single phase as a teenager. You name it, I probably did it at some stage. The more trend-led items I bought, the more I seemed to throw away. I now I like to stick to classic or standout silhouettes that I know I'll love for years.
How do you link photography and fashion together?
I think they go hand in hand. My love for photography will always be there, so I use fashion as a subject to experiment with photography. Instagram's default square layout changed the way I thought about framing, and started an obsession. It's now something I'm learning to perfect.
That idea of being in a place you shouldn't be but still being who you are, that's what I'm all about.
Can you tell me three designers that inspire you and why?
Yang Li, primarily because of his anti-attitude and his influences. He dropped out of law school in Australia where he picked up skateboarding before dropping out of Central Saint Martins because his teachers told him not to look at other designers as an influence. He once said in an interview with i-D Magazine that, "the best way to describe why I show in Paris and work in Italy is that, I like the feeling of going to a three-Michelin-star restaurant and wearing jeans and a T-shirt – you shouldn't really be there but it works." That idea of being in a place you shouldn't be but still being who you are, that's what I'm all about. Jacquemus is also a true artist, and is bringing something I feel the industry needs right now. And of course Vetements. Produced by an anonymous collective in Paris, Vetements started out remaking vintage pieces which has now become the brand's ethos. Making use of what you have is a great message to young creatives.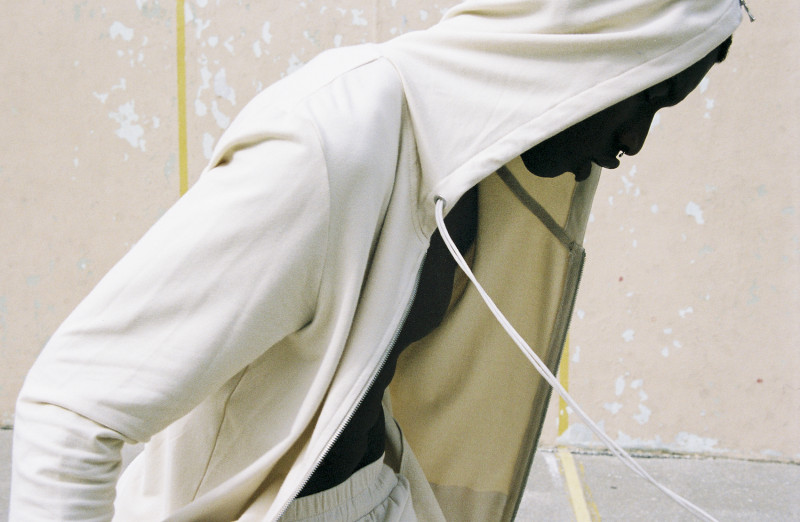 So what does the future hold for you; what is next?
At the moment I'm putting all of my energy into direction. Working with various photographers that I feel fit best with the client. I love to bring creative people together and add my overall feeling to the shoot. I'm also working with music artists – something I've wanted to do for some time. Starting small, I'm working with a London-based record label to help rebrand and produce their visual content. It's exciting, as I get to experiment with mediums and styles that don't necessarily fit in with the work I produce for fashion clients.
Finally, do you follow any philanthropic causes and how do you see them impacting our world?
I like to support and attend events for various causes. Recently I created a t-shirt for a fundraiser in aid of the Tsum Valley Earthquake appeal, and my friends at NTS are hosting a fundraiser with The Common Good in aid of Syria Relief UK.