Taking place at Belgrade's cultural center, KC Grad, 'Subtropic Fantasy', is an exhibition introducing Montemero Art Residency, which is a project committed to maintaining "sustainable ecology"- the Montemero Art Residency is  "hosted" by Art studio and biological reserve Finca Montemero, in Spain's east coast. The project looks into the challenges surrounding the environment and how this can inform art production.
According to an organisation for art residencies, Res Artis, the residency's "short-term goals" are to facilitate a space that enables creative production that is "integrated with nature" and to unite individuals from various specialisms who can "share and promote ecological and cultural sustainability."
These ecological aims are aided by the biological reserve within the location of the Residency, prompting a strong association with nature and its developmental process. What's more, Finca Montemero was founded as an art studio and biological reserve, by the late German artist, Wolfgang Simon, who was committed to conserving the area.
After the exhibition's curator, Zeren Oruc, received a proposal from Finca Montemero to help "revitalize" Simon's studio in Andalusia, the project began to take form and was fostered by Finca Montemero's local knowledge in recycling and ecological issues. This motivated the project to maintain a focus on alternative eco-friendly mediums for artistic creation.
Although Andalusia is the heartland of the project, it is also a major source of concern for the exhibition's curator, Zeren Oruc. 
"Andalusia can be spectacular and breathtaking, but it is also a land of centuries-long exploitation and deterioration. It is representative of what can happen to our own paradise if appropriate measures are not taken."
More recently in 2020, the Guardian reported that Almería's (located in Andalusia) migrant workers have spoken out about their experience of "systematic labour exploitation" which has reportedly gone on "for decades," alongside cases of abuse. Andalusia's travel website also affirms that "soil deterioration" is a major issue within the area, which has been partially triggered by the decline in greenery, caused by drought.
One of the artists featured in the exhibition is Barcelona photographer Jordi Jon Pardo, one of the founders of MÓN, a visual journalism organization centered around "environmental issues and human rights violations." Pardo's exhibit, 'Árida', presents the Spanish lands that are threatened by "desertification. According to Pardo, The Spanish Environmental Ministry has reported that the "most affected" regions will be "Murcia, Alicante, and Almeria."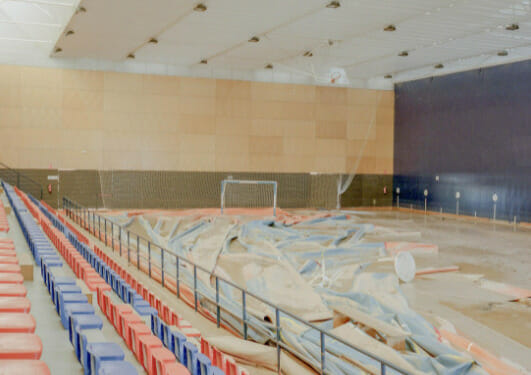 The development and philosophy of the Montemero Art Residency
The first season of the residency consisted of an experimental educational program, whereby international artists created individual and collaborative works (though workshops) that were later displayed in a cave, in Andalusia, Spain. What's more, Res Artis states that "collaboration and exchange" is a driving force of the residency, whereby networking opportunities for artists are facilitated. 
This year, the project has maintained a stronger contextual outlook, which has been prompted by the recent surge of global natural disasters. The six projects currently exhibited in Belgrade were all created as part of such one-month-long workshops, with the aim of "bringing attention not only to climate change, but also to prevalent local environmental issues in Belgrade and all of Serbia, such as air pollution, waste management, and lack of recycling/upcycling." Through this, the project is now focusing on the physical impact of climate change and how sustainability can be implemented through the use of unconventional artistic mediums.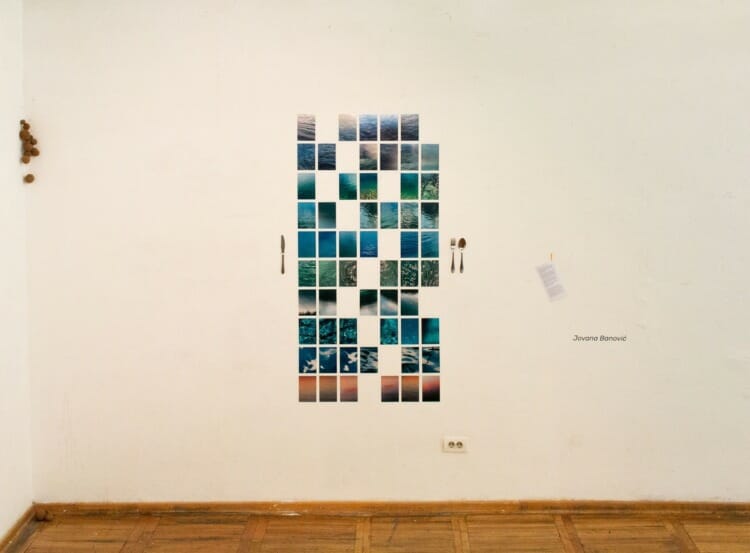 In a 2019 world air quality report from IQAir, Serbia was found to be the 5th highest country for pollution, out of the 37 European countries and regions surveyed. Balkan Green Energy News states that the level of "municipal waste recycled" in Serbia was approximately 3% in 2016, as the majority of "generated waste" was dumped in landfills. And rather alarmingly, AP reported that the country's rivers have experienced pollution from "toxic industrial waste" and that its cities, such as Belgrade, "lack" adequate systems to handle waste water and sewage. 
The "Subtropic Fantasy" exhibition is maintaining its focus on the value of water. This has been presented through the work of Munich-based artist Jovana Banović, who is exhibiting a photograph entitled, "Planet Once More." The work (pictured above)  intends to highlight "the importance of water in every form," by presenting "70 'fields' which correspond to the percentage of water in the human body, as well as the percentage of water in comparison with the land on our planet." Outside of this exhibition, Banovic studies the bond between nature and humans through the medium of "contemporary herbariums, cyanotype prints, and analog photography." 
However, the harsh reality of the state of the environment has led the curator to maintain a more matter-of-fact outlook towards nature. Oruc said:
"As long as we romanticize nature, escapism will be waiting for us; we can all find our own little heaven with clear waters or lush forests and ignore the big picture. Unfortunately, while creating awareness and encouraging change, art can also contribute to this mindset."
---
---
Oruc added: "So, I kindly ask the viewers to be careful and not to take this as a pretty picture drawn by us."
One could interpret, that the Lithuanian artist Austeja Platukyte, is attempting to carry this very message of not focusing on beauty, but rather, on the unpleasant side of nature. Platukyte's work is presented in the exhibition, under the title of "Sphan – Land of Rabbits," named after the Carthaginian word "sphan," which translates to rabbit. What's more, the word Spain also derives from Sphan. 
Her exhibited work is "a biodegradable art object" which is made using dried grass and Rabbit feces. Whilst in the residency, Platukyte has seen many wild rabbits, and this motivated her to research their digestive process. These animals are known to re-ingest their feces in an attempt to attain the nutrition that was "absorbed ineffectively." The first stage of feces are known as "'night droppings." Once these are re-ingested, and the product of this is defecated, then this constitutes the "final waste product."
Platukyte believes that this process is an extraordinary "example of . . . circular economy," whereby one can "experiment with new alternative hay-like material." 
Watch the video below to find out about the process behind Platukyte's work:
The exhibition's "curatorial footnote" is Poseidonia oceanica meadows, which is a species of seaweed predominantly found in the Mediterranean coast. According to the Montemero residency, Spain is currently seeing a degeneration of seagrass meadows due to the build-up of an "invasive" seaweed, which they believe is caused by global warming. In a 2018 University of New South Wales study, it is also reported that seagrass is declining due to a drop in "water quality" and the rise of climate change.
A "product" of the intrusive seaweed (pictured below) is presented at the exhibition alongside the artists' works as a "curatorial installation" in an attempt to catch the viewers' eyes towards a subject that has an impact on everyone.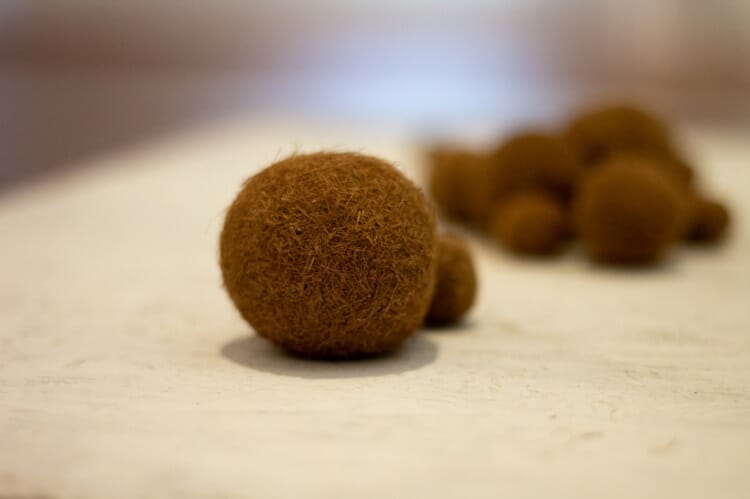 But for the exhibition's Curator, Zeren Oruc, climate change has not only left an impact on her, but also changed the way she looks at nature altogether. As she noted:
"This year, I stopped seeing nature as something divine or as our mother. Why? Because, the belief systems can't be harmonized and we are all, sadly, conditioned to lose our mothers so we are not expecting to win the battle against climate change."
Oruc also believes that climate change is not merely an environmental issue, but also a social one, adding: "…Climate crisis is a class issue and I understand that people take action only when they internalize issues/matters, yet those who hold the power are not directly affected by the crisis and can easily undo our individual gains."
Oruc's notion of inequality is supported by Oxfam International, which reported in 2015 that the top 10% of the world's wealthiest people produce "half of carbon emissions," whilst 3.5 billion of the world's poorest people produce merely 10% of emissions.
So whilst it is true that pollution and climate change is a major threat to our ecosystem, the presence of ecologically informed artwork can work as an outlet for the frustration and sadness one experiences over environmental issues. Moreover, the Montemero Art Residency aims to deliver a productive reaction towards the problem, whereby solutions towards more sustainable creative practices are examined, through the use of unorthodox art materials and the exploration of local ecology and international environmental issues.
---
Editor's Note: The opinions expressed here by Impakter.com columnists are their own, not those of Impakter.com.— In the Featured Photo: People viewing artwork. Featured Photo Credit: Montemero Art Residency.