On Thursday, sixteen states and a coalition of environmental groups launched a lawsuit against the US Postal Service (USPS) for their decision to upgrade the majority of their vehicles with gas-powered cars. 
Three separate lawsuits were filed in New York and California, asking judges to order a thorough environmental review before USPS proceeds with their next-generation vehicle program. 
Of the 165,000 new USPS vehicles coming in, only 10% of them will be electric. 
Electric vehicle advocates are disappointed in the decision, not only because the new gas-powered vehicles will continue to pollute the environment for decades to come, but because electric vehicles are the ideal transportation for a company like USPS. USPS drivers generally travel short routes and eventually return to a central location overnight — perfect environment for an electric vehicle to thrive in. 
Are companies transitioning to electric-powered vehicles?
According to the analyst research firm Bernstein on electric cars, dramatic declines in the price of EV batteries will allow automakers to sell fully electric vehicles for less than gas-powered cars as soon as this 2022 — this year.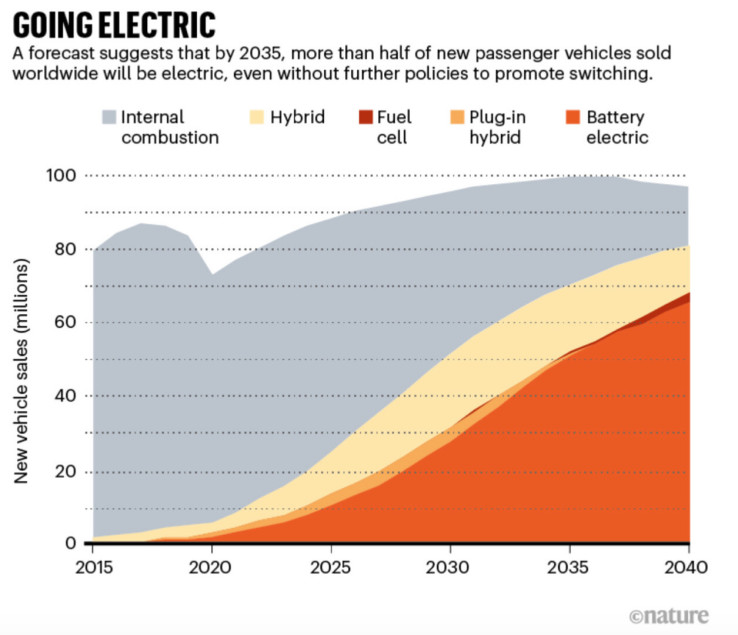 Already, car company giants like General Motors, Audi and Volkswagon have ramped up their production of electric vehicles and pledged to stop producing gas-powered vehicles after a certain point. 
Big brand corporations are also making the switch to electric 
One of the biggest brand names already transitioning to electric is Amazon. As part of Amazon's Climate Pledge in 2021, they planned to purchase 100,000 Rivian electric delivery vans. The delivery vans can go up to 150 miles on a single charge and have already started appearing in big cities like Los Angeles.
Drink beverage giant PepsiCo first deployed electric vehicles over a decade ago and is now looking to increase the amount of electric vehicles in their fleet. Their goal is to increase a large portion of their 27,000 vehicles into electric to reach carbon neutrality by 2040. So far, Pepsi has already ordered 100 Tesla all electric-semis — 15 of which were deployed by the end of 2021.
Other big brands recently pledging to upgrade their fleet of cars to electric include AT&T, Best Buy, Clif Bar, Comcast, FedEx, Frito-Lay, Hertz, Ikea and Verizon. 
USPS decision is shocking and disappointing to many
Environmental groups and climate hawks in Congress have expressed much disappointment over Postmaster General Louis DeJoy's decision to buy new gas-powered vehicles with a mileage of 8.6 miles per gallon. 
Yet the lawsuit may have the potential to reverse USPS's decision to upgrade with gas-powered vehicles. 
The lawsuit claims USPS inflated the cost of EV batteries to justify lack of electrification and underestimated gas prices. The initial analysis in the decision to upgrade vehicles was conducted before recent surges in gas prices spiked after the Ukraine-Russia War and was based on projected gas prices of $2.19. 
The lawsuit also alleges that USPS underestimated the mileage per charge of electric vehicles, estimating 70 miles per charge despite the fact that current electric vehicles get as much as 200 miles per charge. 
Environmental groups involved in the lawsuit include Earthjustice, Sierra Club and the Center of Biological Diversity. States in the lawsuit include California, New York, Connecticut, Delaware, the District of Columbia, Illinois, Maine, Maryland, Michigan, New Jersey, New Mexico, North Carolina, Oregon, Pennsylvania, Rhode Island, Vermont and Washington.  
Postmaster General Louis DeJoy had the opportunity to buy a new fleet of electric @USPS trucks.

Instead, he's choosing to buy up to 165,000 gas-guzzling trucks that will hurt our planet.

I'm suing to protect our communities and block the @USPS from purchasing these vehicles.

— NY AG James (@NewYorkStateAG) April 28, 2022
California Attorney General Rob Bonta, one of the parties involved in the lawsuit, expressed his disappointment in USPS's decision.
"The Postal Service has a historic opportunity to invest in our planet and in our future," Bonta said. "Instead, it is doubling down on outdated technologies that are bad for our environment and bad for our communities."
Alongside states and environmental groups, the Natural Resources Defense Council and United Auto Workers in New York also filed a lawsuit and Democrats wrote a letter to DeJoy urging him to reverse his decision. 
In the letter, eight democratic lawmakers in the House Sustainable Energy and Environment Coalition pressured DeJoy to reverse his decision stating it "flies in the face of the commitment the United States has made to address the climate crisis." 
As USPS is the official mailing service of the US federal government, their decision is especially important as President Biden just signed an executive order in December setting a target of carbon neutrality throughout the federal government. 
If USPS does not start transitioning to renewable energy, the US goals for carbon neutrality will be hard to reach, especially if the federal government can't even make the federal mailing service transition to electric. 
Hopefully the multiple lawsuits will be able to bring some reason to USPS to invest more effort and money into electric vehicles — an important step for any corporation trying to meet America's carbon neutrality goals.  
---
Editor's Note: The opinions expressed here by Impakter.com columnists are their own, not those of Impakter.com. — In the Featured Photo: US Postal Service Vehicles Source: Sam LaRussa, Wikimedia.