Environment ministers from the G20 member states assembled on July 22 for two days of talks, attempting to lay a foundation for negotiations on climate policy ahead of the crucial COP26 United Nations conference in November. Whilst presenting a facade of progress, a clear lack of commitments to come out of the talks has dealt a potentially decisive setback to the global fight against climate change. 
The G20 negotiations centered on three main topics: biodiversity and ocean protection; promotion of circular economies particularly focused upon the textile and fashion industries, and restructuring the global financial system to promote sustainable development. The first day of talks focused upon the natural environment, with Friday's attention falling on matters of energy and climate change. 
Italy's Ecological Transition Minister Roberto Cingolani confirmed to reporters that although a communiqué of 58 climate agreements was presented after the two-day negotiations, the G20 environmental ministers have failed to agree on the wording of key commitments. 
The released communiqué can be found here. 
According to reporting by Al-Jazeera, officials familiar with the discussions claimed that ministers failed to find common ground on a number of issues pertaining to the phasing out of coal power and global temperature limits. Decisive negotiations on these issues will be shelved until heads-of-state convene at the G20 summit at the end of October, a delay that may stifle the foundations of the COP26 conference to be held in less than 100 days. 
Outside the negotiations, several thousand climate protesters filled the streets of Naples to demonstrate against climate inaction, building pressure on the meeting to proffer some form of progress from the talks. Expectations from environmental activists that the negotiations would result in strengthened climate action were quickly dashed, as even before the second day of talks had begun G20 officials confirmed that little concrete progress was expected to be presented. 
Covering topics including sustainability in food and water as well as climate education, the lack of tangible progress emerging from the talks was evident in the wording of a communique primarily consisting of "calls for action" and renewed efforts rather than concrete commitments and legislative effort. Among the list of shortcomings in the negotiations is a lack of funding to assist developing countries to fight climate change and transit towards sustainability, a vital facet to the international push against climate change. 
"Commitments made today lack substance and ambition. It is now up to G20 heads of state and government to discard this document at the October leaders' summit," stated online activist network Avaaz. 
The disappointingly vague and disillusioning outcome of the talks can be illustrated through a statement released after the first day of negotiations, which stated that merely "some" of the G20 member states had committed to conserve and protect at least 30% of land and global oceans by 2030. 
Cingolani also confirmed that the G20 negotiations did not result in any new financial commitments, although Italy, the G20 host nation, would itself increase its own climate financing for underdeveloped nations.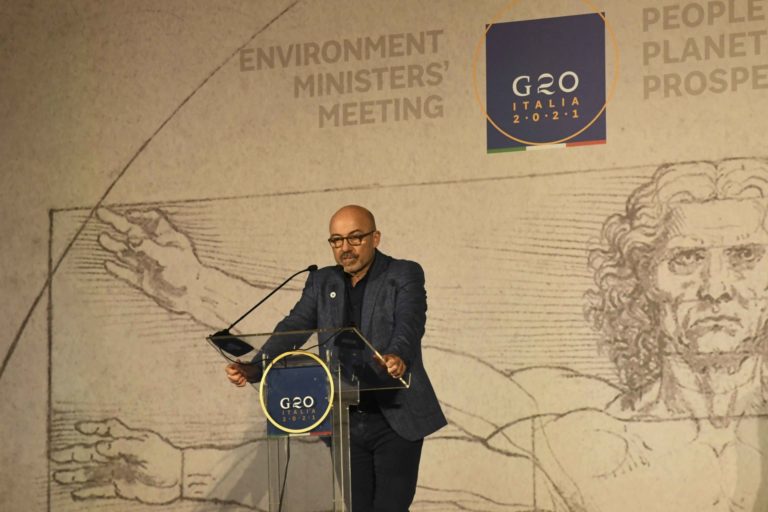 The international negotiations come at a time of increased awareness of the consequences of climate inaction. Both Germany and Belgium have been hit by flooding over the summer, devastating entire towns and villages and killing several hundred people. The United States, the second-largest CO2 emitting nation in the world, has also recently encountered devastating natural disasters in the shape of wildfires and droughts in the Pacific Northwest. Exceptional flooding was experienced in Henan province in Central China, but, as noted by CNN, there "was little reference to the broader climate crisis among Chinese officials, scientists or state media."  
With extreme weather events understood to be increasingly severe and frequent within rising global temperatures, these recent natural disasters pressed the urgency of climate action during the negotiations on Thursday and Friday. Speaking at a press conference following the summit, Cingolani claimed that concern over natural disasters like the flooding in Germany was tangible during the negotiations, stating that events such as these are "changing consciences" at the conference. 
Resistance over the issue of global temperature rise limits is a particularly frustrating hurdle to the urgency of modern climate legislation, as resistance to the negotiations is a walk back on commitments on an issue that was a centerpiece of the Paris Climate Agreement in 2015. The failure to agree to checks on global temperatures comes after the Intergovernmental Panel on Climate Change, a body of the United Nations, recently warned that to keep temperatures within a controllable range global emissions must be cut by at least 40% by 2030.
---
---
These recent G20 negotiations did present some forms of progress, as Cingolani has stated that the US, EU, Japanese and Canadian delegations expressed their intent to further the 1.5 degree global temperature limit commitment set at the Paris Climate Agreement by the end of the decade. 
One source with knowledge of the negotiations, speaking on the condition of anonymity in reporting by Reuters, claimed that the primary resistance came from major emitters Brazil, India, Saudi Arabia, and China. The divide between those that promise climate action and resistance from major states that bolster the energy demands of their own fast-rising economies is a dynamic that surely must be overcome if the COP26 is to find more progress than we saw in last week's talks. 
Italy's G20 tagline is 'People, Planet, Prosperity', but today the G20 is delivering 'Pollution, Poverty and Paralysis                                                                                                   
– Avaaz
An about-face from China, the world's leading carbon emitter, will be a crucial element to the global fight against climate change, although it appears that its opposition during the negotiations should instead be seen as a struggle to maintain its current course. The Chinese foreign direct investment strategy, embodied in its famous Belt and Road Initiative, has already led to the construction of dozens of coal-fired electric plants in Asia and Africa. China currently operates 1,058 coal plants, roughly half of all coal plants worldwide, and, according to a recent analysis by TransitionZero, a U.S.-based think tank, it will need to shut down more than half of them if it is to achieve even its currently modest climate goals. 
And to make matters worse, there's one country, Russia, that is betting that China won't pull back from coal and neither will most other countries in Asia. As reported by Reuters, Russian oligarch Albert Avdolyan has a "grandiose dream of carving out a giant coal mine in frozen Eastern Siberia" and plans to invest $1.7 billion to turn it into the world's biggest mine –  lifting production from 4 million tonnes of coal in 2019 to a staggering 45 million tonnes by 2023. And he has the support of the Russian authorities. 
Last summer, the Russian government approved an energy strategy that would see coal output rise from 441 million tonnes per year in 2019 to 485 million tonnes to 668 million tonnes by 2035. And the market for all this coal now that Europe is turning to alternative energies? Asia, where Russians expect to sell coal for the next 10-20 years. 
Vested interests in coal are only part of the problem. Fossil fuels are the other side of the equation with OPEC willing to expand supplies whenever the price goes up, particularly now "as global economies revive from pandemic lockdown" – as it recently did. 
One can only hope for a change of course when the heads-of-state convene in Rome at the end of October.
---
Editor's Note: The opinions expressed here by Impakter.com columnists are their own, not those of Impakter.com. — In the Featured Photo: G20 environmental negotiations building, Naples, Italy. Featured Photo Credit: G20 official photos.