We believe the answer is a resounding yes. Below are three steps that the Access to Nutrition Initiative (ATNI) and its partners have taken to begin a systematic process of leveraging institutional assets to improve food industry performance, the food environment, diets, and in turn, the well-being of billions in high-income countries as well as in emerging markets. 
Institutional investing and the world's biggest banks – despite their patchy track record — should increasingly be part of the solution if we're going to achieve progress on healthy diets by 2030.
The issue
You likely know the dire situation we're in due to unhealthy food and an unsustainable food system. Annual global food consumption costs are $9 trillion but the estimated hidden costs are nearly twice this at $20 trillion. The costs to human life attributable to unhealthy diets is $11 trillion followed by environmental costs of $7 trillion. Further, the failures of the food system leave 149 million children under the age of five stunted, 45 million wasted, and hundreds of millions deficient in essential vitamins and minerals. Further, more than 1 billion people worldwide are living with obesity – 650 million adults, 340 million adolescents, and 39 million children.
An emerging solution
Institutional investors are a powerful group who could lead to transformational change and help address the food crisis. Environmental, Social, and Governance (ESG) investing presents an opportunity to align financial returns with benefits for society and the planet. The value of global ESG-driven assets tripled between 2012 and 2020 to $40.5 trillion.  ESG assets will likely reach $50 trillion by 2025. Today they represent nearly half of the world's financial assets under management.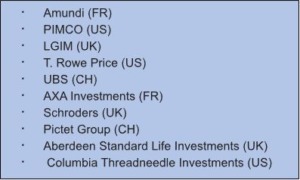 What is more, ESG investing is increasingly a topic of discussion and regulation in emerging markets. I was in India in April this year when the Securities and Exchange Board of India (SEBI) put in place a new regulatory framework for ESG disclosures by listed entities.
However, ESG metrics primarily highlight the Environmental and Governance domains, with little focus on the Social aspect, and virtually no metrics for nutrition and health. Embedding nutrition explicitly as an outcome within ESG investing can shift financial incentives towards healthier food products that advance nutrition security, equity, and overall well-being in high-income and in emerging market settings.  There is a lot of work to do to systematically embed nutrition into ESG investing. ATNI – Access To Nutrition Initiative is working on this agenda via three tracks: collaborative engagement; supporting regulatory standards; and commissioning seminal research. 
First, collaborative engagement
Companies that implement ESG as part of their core strategies can create growth, reduce costs, mitigate legal interventions, improve employee productivity, and optimize assets.  Evidence is also mounting that companies that manage their environmental, social, and governance risks more effectively provide better returns in the long run. Companies that practice ESG within emerging market settings are typically awarded higher growth opportunities due to customer satisfaction and better exposure to markets, investment, and talent.  
Access to Nutrition Initiative – ATNI has established a coalition of 81 institutional investors – ATNI's Investors in Nutrition and Health – who collectively manage nearly $20 trillion in assets. Each has signed the Investor Expectations on Nutrition, Diets, and Health. Figure 1 (above) outlines the largest of these investors. Figure 2 (below) outlines the most material topics raised by this group.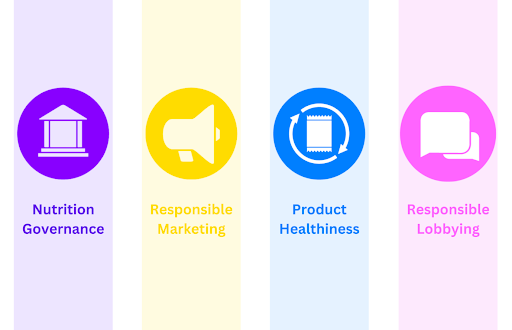 Second, supporting regulatory standards
Access to Nutrition Initiative believes that national regulatory standards on ESG disclosures and reporting can complement the collaborative engagement approach described above. Nutrition should be part of new regulatory ESG standards. Without regulatory standards and mandates, competing sustainability reporting frameworks often create unneeded confusion and burden among companies and investors. Standards can improve efficiency in reporting, enhance transparency and prevent greenwashing. 
In India, Access to Nutrition Initiative sees an opportunity to introduce nutrition into the new ESG investment mandate. As noted above, SEBI has introduced a new regulatory framework for ESG disclosures. Indicators relating to the Social component in this framework include several which are employee-related (e.g. disclosures on gender and social diversity, median wages, welfare benefits, health and safety, training, etc.). 
---
---
While nutrition is not yet featured, workforce nutrition is a sector-agnostic theme that all large companies could implement. Requiring reporting on workforce nutrition in India would ensure that the private sector there provides safe and healthy food choices at work which in turn will reduce the risk of non-communicable diseases and provide employees with more energy and nutrients to perform tasks better. There is evidence that this also makes good business sense by reducing rates of accidents and absenteeism and increasing productivity. 
ATNI aims to support countries with nutrition-related good practices as they look to improve regulation of the ESG marketplace.
Third, seminal research on the business case for investing in nutrition
To complement these ESG initiatives by investors, regulators, and companies – and to ensure nutrition is part of ESG investing moving forward — Access to Nutrition Intiative is commissioning research on the financial materiality of nutrition.  The findings will help investors and regulators in their analysis, research, valuation, and corporate engagement by outlining the business and investment case for nutrition and identifying the kind of data that are required.  It will also improve transparency for incorporating nutrition-related concerns in investment analyses which can in turn lead to better financial performance.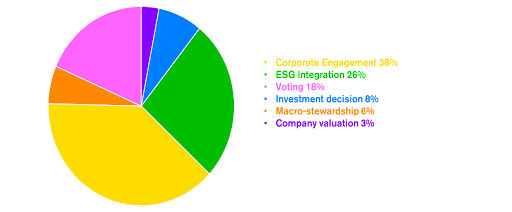 There have been concrete successes through ATNI's collaborative engagement approach with investors and companies. For example, in 2022 and 2023 alone, this collaborative engagement shifted practice among a dozen of the world's largest food and beverage manufacturers. It led to 23 confirmed updates from the companies in three critical areas that improve the availability of healthy foods:  
defining healthy

: the companies committed to reviewing and publishing their definition of 'healthy' and to benchmark that definition against existing and government-endorsed nutrient profiling models; 

food portfolio healthiness disclosure:

the companies committed to publicly disclosing the % of revenue/products/volume derived from healthy products; and

targets to reduce negative nutrients

: the companies committed to updating and/or publishing progress against their targets to reduce sugar/salt/fat in their products.

 
A powerful example of positive change due to this type of engagement is  Unilever's March 2022 announcement to benchmark and publish its product portfolio against government-endorsed nutrient profiling models. This was driven by shareholder action and engagement using ATNI's data on Unilever's nutrition performance over the last few years.  
Conclusion – Access to Nutrition Initiative – On a Mission to make sustainable food available for all
In summary, institutional investing is an underutilized and yet critical part of the solution to providing more healthy and sustainable diets. ATNI will continue to support investors – and increasingly policymakers —  to engage food businesses and help transform markets, so that there is healthier and more sustainable food available for all. 
---
Editor's Note: The opinions expressed here by the authors are their own, not those of Impakter.com —  Featured Photo Credit: Access to Nutrition Initiative.