Interview with Magda Olchawska, director and producer of Anna & Modern Day Slavery (out in 2017 – available on YouTube in 2018)
Seven years ago, I met Magda Olchawska by chance, through our common love for literature. But Magda is not just a Polish writer living in the UK and the proud mother of an 8-year old boy, she is also a talented filmmaker. She moved to London at 19 and graduated from London College of Communication (LCC) in 2004, starting on a career in filmmaking.
At the time we met, she had written the first in what became a series of seven children's books, and she was busy making an indie micro-budget feature film about sex and human trafficking, called Anna & Modern Day Slavery.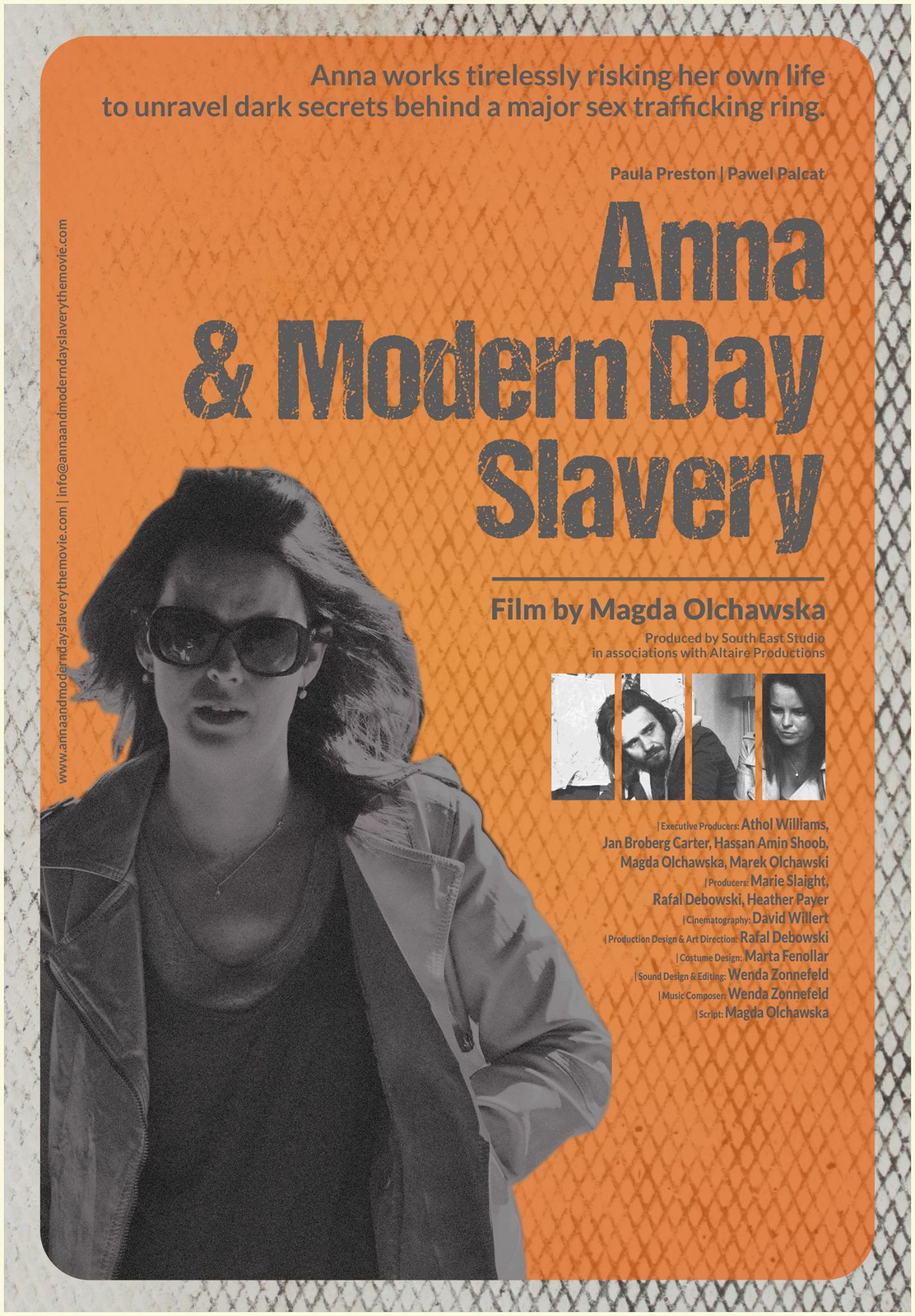 Magda had always been "passionate about making films that make a difference", as she put it, and this was a subject that deeply moved her, she wanted to do her piece to fight the scourge of modern-day slavery. Her objective was not only to raise awareness about sex and human trafficking but also raise funds to help small charities working on the ground with trafficking victims.


She did the film as an indie, writing the film script, pulling together cast and crew, including some remarkable actors like Paula Preston and Pawel Palcat, and organizing the shooting in Poland in the summer of 2012.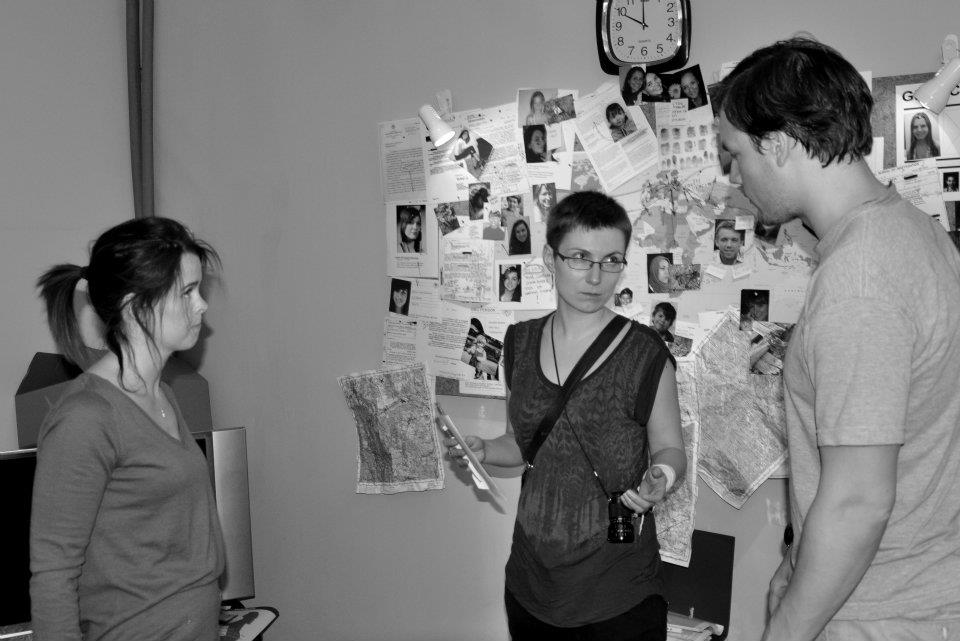 In the photo: Magda Olchawska (center) on the set, directing her film in Poland. (Source: M. Olchawska, Mayan Films)
It took four more years of "post-production" and editing to finalize the film and finally bring it into the indie film circuit. To finance her film, Magda resorted several times to crowdfunding and has become something of an expert in this form of financing.
I had a chance to talk to her about her long, tortuous journey in making this, her first feature film.
Question: Yours has been a remarkable journey and you've had to face many challenges. Why did you go down the crowdfunding road to finance your film?  
In 2011, I toured the film festival circle with my short film "The Man With the Spying Glass". At that time crowdfunding was a pretty "new" thing that mostly indie artists were using to finance their projects. It has changed since then and a lot of celebrities use crowdfunding to fund their pet projects and new start-up companies raising funds to bring their ideas to life. Luckily for me all the festivals I attended that year had some crowdfunding panels and as a seeker of knowledge I took to the idea of crowdfunding my next film very seriously and with abundance of optimism.
Finally, it looked like there was an option for indie filmmakers like me to make films on their own terms, without having to spend countless years waiting for someone to approve their script and acknowledge their existence.
Did you ever try a more traditional route to raise funds?
Before I went full speed into the crowdfunding world I did apply for the traditional funding but found it impossible to break into that securely guarded circle of people. Without connections or movie stars attached to my project or powerful producers backing me up, I was just another filmmaker, another name on the endless list of names wanting to make a film. Since the traditional funding was clearly not an option for me I embarked on my new exciting adventure into the world of crowdfunding with lots of hope and high expectations.
In the light of your experience, what is your take on crowdfunding, can it really help in raising funds?
My journey began after I came back from Cannes Film Festival (May 2011) where "The Man with the Spying Glass" (my short film) was screening in the Short Film Corner. Spurred by my newly gathered knowledge and the determination to succeed, I decided to investigate the world of crowdfunding properly and deeply, and see what works and what doesn't. I had had the experience of running a crowdfunding campaign previously but it was totally unsuccessful and I didn't know how to actually build and make the campaign work. I had just set up the campaign page without doing any proper research and I had no understanding of how things really work in the online world/community and hoped for the best.
You can read more about my IndieGoGo campaign do's and don'ts in my ebook "How I Ran a Successful IndieGoGo Campaign to Make a Feature Film: How to Crowdfund a Project".
How did you come upon the subject of sex trafficking for your film?
When I started researching crowdfunding I had a completely different script in mind than the one I ended up making. I wanted to make an indie romantic comedy with a social aspect.
However, an accidental Twitter e-meeting with Lynn Robertson made me change my mind about the subject of my first feature film. Lynn is human rights activist who lives with her family in the US, she is one of those people who gives 150% of herself in her fight against human trafficking. Feeling inspired by Lynn's work and her activism I decided to make a film about modern day slavery to raise awareness about the subject and, hopefully, funds for trafficking victims to help them get back on track with their lives.
I researched and read a lot of the trafficking victims accounts and the mixture of that went into my script. In fact, the script is a collective collaboration of many stories from various people and places. What all the stories had in common was the fact that sex and human trafficking takes places in poverty-stricken areas and is not limited to only poor countries but is present in wealthy and prosperous countries too.
Writing the script, raising the funds and getting the whole cast and crew together (people from for four continents and 11 different countries came together to make this project a reality) stretched across 6 months.
Six months? But that's an amazingly short time to achieve so much.
I know it's a short period of time for such a complex production but everything came together at the right time to make this film a reality. Lady Luck was definitely on my side.
Don't get me wrong. I'm not saying it was easy, quite the opposite! As ours was a low budget production, we struggled every day to stay within the limits of our limited resources. We had to compromise on many scenes and locations; I had to compromise on one actress and of course we couldn't afford to pay anyone for the work they did on the set and this is not a practice I would normally champion.
People who worked with us were aware that they were working for cost reimbursement only and agreed to that in pre-production.
The quick pre-production and production was followed by years of hard labor in the post-production. The post-production, which includes editing, sound and music design and mixing as well as color correction took me nearly 4 years to complete.
Four years of hard work! Can you tell us a little more about the problems you faced?
In that process, I encountered tons of technical difficulties from sound issues to a "Final Cut Pro" glitch that took Apple over a year to fix. Final Cut Pro is an editing program that I have used for many years to edit my films. A lot of the Apple applications update automatically and one morning I woke up to a updated and upgraded version of Final Cut, which not only messed up all of my files and folders but also for some reason created jumps on every cut I had on my timeline. You can just imagine how frustrating it was to watch what I edited unravel. So many people tried to help me but nobody knew what was really going on. Until one day and another upgrade of Final Cut my problems with jump cuts disappeared. The whole problem lasted for over a year. You can find out more about my adventures in this small ebook How I Made My First Feature Film on $14000.
To cut the story short, in June/July 2015 – over 3 years after wrapping up our 9-day shoot – I finally sent the final cut of "Anna & Modern Day Slavery" off to my sound designer/composer and the colorist.
In September 2015, I ran another IndieGoGo campaign but this time to cover the costs of the sound and music post-production. The campaign didn't reach its financial goal but managed to cover some of the costs.
From the fall of 2015 until the summer of 2016 I submitted the product of my love to over 40 film festivals around the world and then I waited patiently for… rejection emails.
My feedback was that Anna was too short for the festivals (only 66 minutes long) and it was difficult for the programmers to place the film. I didn't see the point of making a longer film for I didn't have enough footage for that, which is another lovely perk of making an indie film: compromise on the coverage and cutting the scenes out of the script due to budget restrictions.
Being an indie is certainly an advantage, you're free to make your own choices. But it can also prove frustrating, considering that the theme of your film, human trafficking, is so important. So what happened next?
In the fall of 2016 a sales agent from Germany picked up Anna and we signed a 6-months contract. For that 6 months Anna was locked and I couldn't do much with the film. The feedback was the same as from the festivals. The TV stations didn't want to pick up my film because it was too short. I guess the programmers believe that people are only into prolonged, full of special effects superhero movies nowadays.
Once I got my rights back, I started working on my distribution and crowdfunding campaign right away, which will be my last IndieGoGo campaign for this project: 6 years on one project seems long enough.
The campaign is ending on the 19th of October 2017 and 50% of the funds I'm going to collect during these 60 days is going to go to charities helping trafficking victims. If you are interested in contributing, please follow this link.
What are your hopes for Anna & Modern Day Slavery? Where do you expect to show it and when?
Once we see how much money we've managed to collect from our IndieGoGo campaign, I'll choose the right charity for us and simply donate the money. My fondest hope is that my film Anna & Modern Day Slavery will help raise funds for charities to help human trafficking victims and raise awareness that modern day slavery exists and we, as consumers and citizens, can help. Most importantly, we have a choice to influence companies using slaves – cheap, exploited labour – to produce their goods. Another aspect, of course, is sex trafficking. I think it would be fantastic for communities and individuals to be trained in how to fight human trafficking. I know that a lot of airports and flight attendants can already do that but personally I feel that private citizens could also play a key role.
I would like Anna & Modern Day Slavery to be the first step in personal awakening for people, as it was for me, in order to make more conscious decisions about the changes our modern society needs.
After the IndieGoGo campaign is over, I'll put Anna on Amazon, which may take me until Christmas since I need to do the captions and it usually takes a long time. I may put Anna on Google at some point but my first step is Amazon. If we have a sponsorship I don't mind parking my film on YouTube but for now I want to try Amazon. If that doesn't work, I'll look for other outlets to deliver on my promise.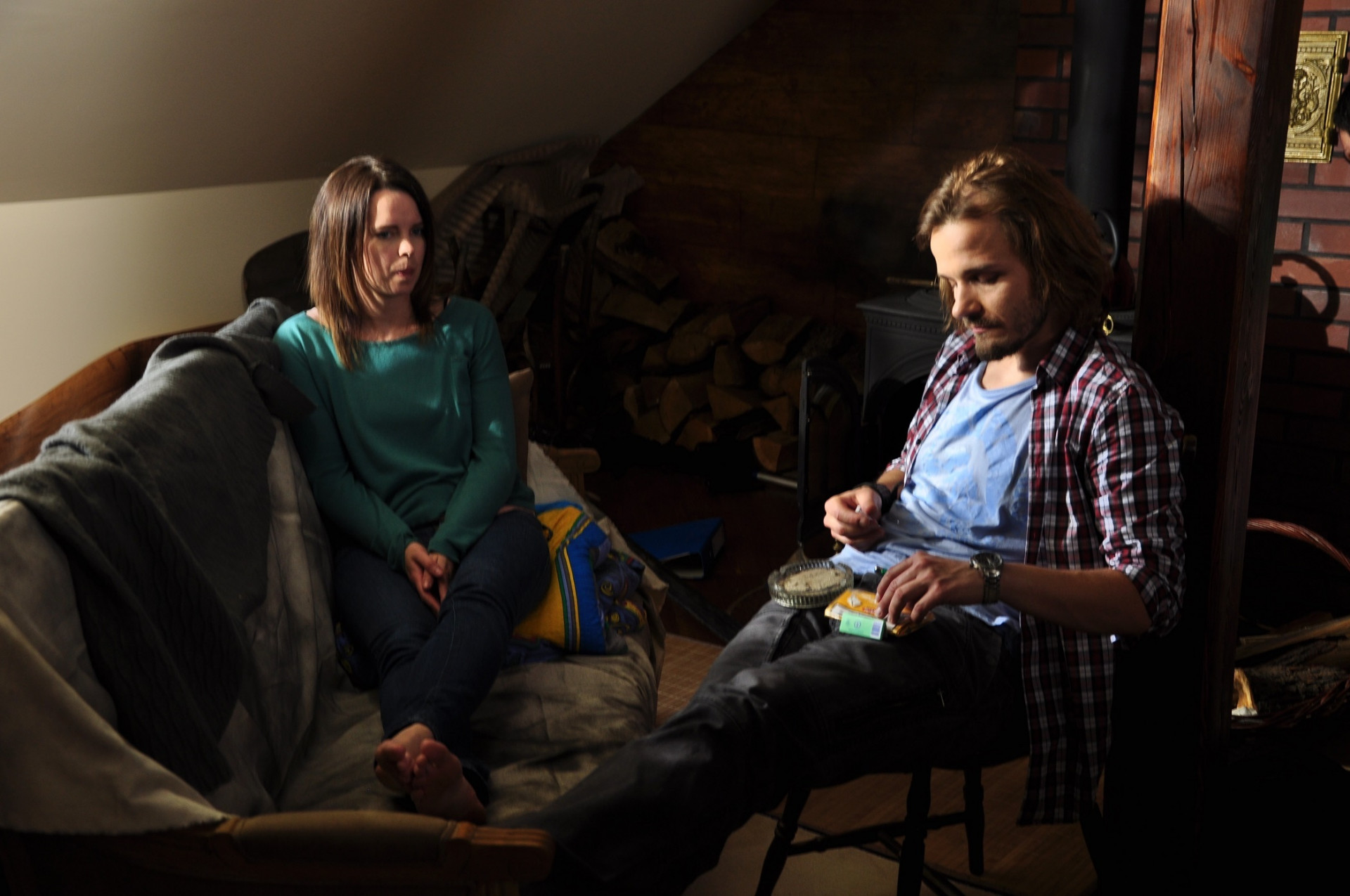 In the Photo: Paula Preston and Pawel Palcat, the two main actors in the film, relaxing between two shoots. (Source: M. Olchawska, Mayan Films)
What are your next plans? Another indie film, a documentary, a feature film?
A few days ago, I finished shooting a short film called "Dad". It's a family movie about a dad who is having difficulties accepting his long-term unemployment and coming to terms with changes he needs to make to have a new, clean start. It will take me at least 6 months before the post-production is finished. Once that is done I'll do the film festival circuit all over again.
I'm also working on my Ecotopia Universe stories and novellas,  hopefully more coming at the start of 2018. These are short stories about creating a utopian society, something I felt was needed after the unsettling events of 2016 that left many people searching for alternatives to the rising populism and nationalistic movements – movements that swept the political and social landscape around the world and continued to gain momentum since the summer of 2016, turning our current world into a dystopian nightmare.
As a script writer I'm always working on scripts and ideas for shows, this aspect of my working life has been a constant since I graduated from the film school in 2004. I would also love to do more travelling and hopefully next year could be the year. The list of places I want to go to is long: the US, Canada, Australia, New Zealand (in fact all of Polynesia), Bali, Nepal, Tibet and Europe (there are so many countries in Europe I still haven't been to). As an artist, I've always wanted to see the world…
INFORMATION NOTE: You can find more about Magda Olchawska on her website (click here), on her Facebook page (here) and Twitter (here). Her books are available on Amazon (here). Update: Anna the film is available on YouTube since 3 February 2018, to see it, click here.
---
EDITOR'S NOTE: THE OPINIONS EXPRESSED HERE BY IMPAKTER.COM COLUMNISTS ARE THEIR OWN, NOT THOSE OF IMPAKTER.COM.