In the 1980s, New York City was facing record-high crime rates, homelessness was on the rise and neighbourhoods were dissipating due to the AIDS crisis. While it was of the most difficult times in New York's past, there was a story to be told about the people of this community. A story that not only humanized AIDS but also spoke to the greater socio-economic and cultural issues of the time. A story that, decades later, is still relevant today. That story was Rent and it was told on the stage of an American theater.
In the early 1990s, Rent began at the New York Theatre Workshop and by the time it hit the Broadway stage, it became a cultural phenomenon like no other musical had been before. One of the main reasons for the show's success was the powerful way in which it captured the contemporary society.
For the first time, Rent brought a modern rock sound to the stage, challenged mainstream culture and through its themes of love, death, poverty and friendship, invited everyone to connect with its story, thus demonstrating theatre's unique capacity to empower empathy and explore new perspectives of social times.

IN THE PHOTO: 98 St. Mark's Place in Manhattan's East Village neighbourhood. PHOTO CREDIT: Wally Gobetz
Bringing the Past and the Present to Stage
Today, more and more theater productions are reviving traditional storytelling mechanisms to reflect the modern age.
This can be seen in the use of new sounds, new set designs, new costumes and ultimately new subject matters about contemporary culture. But this as a whole isn't necessarily a new trend. In fact, the theater has long excelled as an art form for examining the present and retelling stories of the past from new perspectives.
 Theater, by definition, is the perfect means for exploring social conflicts and contracts.
"Theater, by definition, is the perfect means for exploring social conflicts and contracts," says Jim Nicola, artistic director at the New York Theatre Workshop. However, Nicola points out that it can only happen collectively. "All participants must enter into the experience by first consenting to play their respective role, which implies an equality of engagement and a commitment to civility in the delving into the roiling waters."
This interaction between the characters on stage and the exchange between the audience and actors enables theatre to be a powerful platform for exploring social climate. "No such active conditions exist when looking at a painting, or reading a book, both of which happen in solitude. Theatre creates the circumstances in real time of a civil structure," Nicola explains.
While there are many shows that have been insightful depictions of social times, Rent is still one of the most significant examples of how theatre can be a compelling expression of a contemporary society. Set in the 1980s in the dimly lit streets of Manhattan's East Village, the show is truly a deeply written representation of the culture and people of the neighbourhood at that time. The score reflects the popular rock music of the 1980s and the performances mimic those that were often seen in the East Village's Club 57 – a prominent artistic hub were locals met and performed during the late 1970s and early '80s.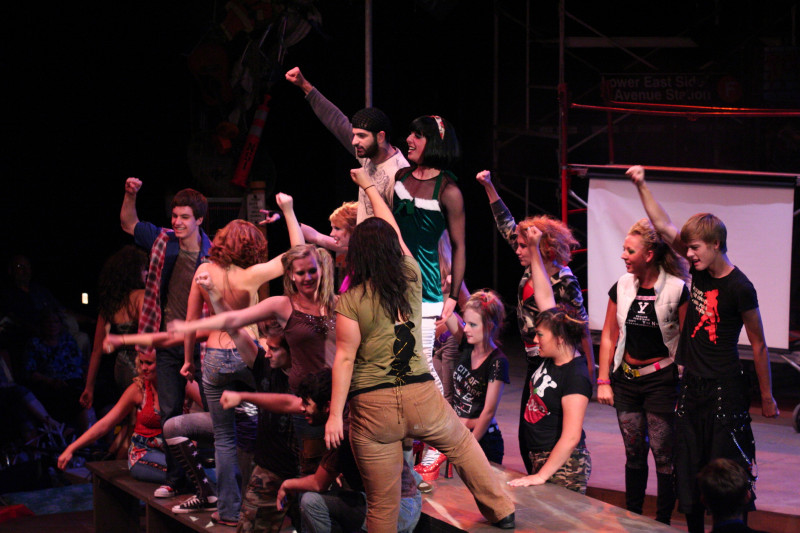 IN THE PHOTO: Cast of Rent produced by Broadway Lights at Fargo Moorhead Community Theatre. PHOTO CREDIT: GreenLight Designs (Jordan Green)
In addition to mirroring contemporary music and performance art, the show's composer and playwright, Jonathan Larson, also offered a profound examination of American life at the end of the 20th century. He did so by interweaving explicit and yet brilliantly subtle criticism of gentrification and consumerism into the lyrics of Rent's rock ballads.
Through overarching themes of love and living in the present, Larson also achieved a universal appeal that represented the East Village's culture and its struggle to cope with the disease and the loss of its community.
In recent years, a new wave of American theatre has begun pushing the boundaries on how stories on stage can speak to the social and cultural trends of the 21st century. For example, Hamilton, arguably one of the biggest musical phenomena since Rent, tells the story of one of America's founding fathers, Alexander Hamilton. Though set in the 1700s, everything from its music to its set design serve as a bridge between history and modern-day America. Another example is the 2017 Tony award winner for Best Musical, Dear Evan Hansen, which brings mental health to the forefront in a show that not only touches on subjects such as self-harm but also confronts how social media influences our relationships and ideas of self-worth.
A New Wave of American Theater
In light of today's social and political climate, a new set of theatre productions are striving to address contemporary issues and trends. While some may express criticism of current times, others inspire empathy and some waver between points of view, encouraging the audience to explore their own beliefs.
One of the latter is Skintight, a new off-Broadway play from the Roundabout Theatre Company that challenges the audience to consider the value of being young and beautiful in today's society. Through the writing of Joshua Harmon, the ideas of lust, love and beauty become more than just the play's themes, but the intricate details of the character's lives, their families, their careers and ultimately the source of their fighting and frustration, Harmon explained in a post-show discussion at the Laura Pels Theatre.

IN THE PHOTO: Washington D.C. Women's March 2017. PHOTO CREDIT: Liz Lemon
The show's plot centres around Jodi – played by Idina Menzel, known for her roles in Rent, Wicked and Disney's Frozen – a middle-aged woman who in an effort to escape the reality of her ex-husband marrying his 20-something fiancé, visits her father only to find him dating a much younger, also 20-something man.
Through laughter and moments of candid questioning, the play asks, 'is beauty truly everything?' and if it's not, then why does everyone want it?
By featuring a modern-day Jewish-American family, the play also explores the complexities of social class and multi-generational relationships with characters that represent today's baby boomers and millennials. Jodi's father, Elliot, is described as a "rags to riches" success story, who as a Hungarian immigrant raised in Brooklyn, made a living for himself by becoming an ultra-successful fashion designer. While Elliot let go of much of his Hungarian-Jewish routes as he immersed himself in American culture, his grandson, Benji, is discovering his heritage by studying abroad in Budapest, a privilege largely possible thanks to the sacrifices of his family.
To highlight the complexities of the immigrant experience across generations, Elliot and Benji remain at odds through much of the show. The conflict between the two of them also signifies a generational shift in LGBTQ acceptance – Elliot is shamed by his Hungarian mother for being gay, while his grandson openly explores his sexuality by studying queer theory abroad.

IN THE PHOTO: San Francisco's Mission District featuring murals by local artists, many of whom are Mexican immigrants. PHOTO CREDIT: Fabrice Florin
Also exploring the topic of immigration is Tony and Pulitzer Prize-winning playwright Quiara Alegría Hudes and acclaimed singer/songwriter Erin McKeown's Miss You Like Hell that tells the story of an undocumented immigrant mother who embarks on a road trip with her 16-year-old daughter while on the verge of deportation.
The musical most recently ran during the 2017-2018 season at New York's The Public Theater – whose mission for more than 60 years has been to address important ideas and social issues on the principles that "theater is an essential cultural force and that art and culture belong to everyone," according to The Public's website.
Since Rent, the New York Theatre Workshop (NYTW) has also maintained its mission to produce new works that confront modern-day social issues. "NYTW's commitment is to curate a lively, necessary and ongoing conversation between artists and audiences," says Nicola.  "We bring people and artists together to consider the course of historic change in the long view."
Of the NYTW's 2018-2019 season, Nicola says that Heidi Schreck's What the Constitution Means to Me arrives in the months leading up to the U.S. midterm elections and asks audience members to think more deeply about their responsibilities and obligations as citizens in a democracy. Additionally, Nicola says Jeremy O. Harris's Slave Play challenges an audience to examine their internalised racial and gender oppression, Hurricane Diane by Madeleine George demonstrates the collective power that women have to affect change and Martyna Majok's Sanctuary City provides a glimpse into the lives of two children of undocumented residents. And finally, Anna Deavere Smith's untitled project will be a new direction in her ongoing explication of race in America, Nicola adds.
As modern-day social and political times evolve, the stories being told on stage are also changing and developing. Today, contemporary theater is exploring modern-day issues of race, immigration, beauty and mental health and are challenging audiences to reflect on their own beliefs while considering new perspectives. And perhaps the greatest testament to the power of theater is when that mission is achieved – when people leave the theater with a new outlook on the world and a new understanding of the time they're living in.
---
EDITOR'S NOTE: THE OPINIONS EXPRESSED HERE BY IMPAKTER.COM COLUMNISTS ARE THEIR OWN, NOT THOSE OF IMPAKTER.COM.
Featured photo credit: Donald Tong from Pexels