The on-going pandemic has brought changes in social behavior. Lockdowns of virtually every type of gathering place, stay-at-home measures instituted to combat the spread of the virus, have forced many families and couples to live in much closer and continual contact than normally experienced.  It has affected adults living alone, whether those who opted never to marry or married and separated or divorced; and those who are considered "seniors" and are living alone because of the loss of a spouse. Here, I propose to take a closer look at marriage and divorce in COVID pandemic times.
This has largely been a worldwide phenomenon, with some countries and cultures more dramatically affected than others. 
"In every marriage more than a week old, there are grounds for divorce. The trick is to find and continue to find grounds for marriage."

  Robert Anderson (American playwright, 1917-2009) 
The pandemic has only been with us for a relatively short time, and given the complicated nature of human behavior, gathering and analyzing the evidence of its impact is a minefield of contradictions. For example, we think we "know" that it has led to people growing wider apart, while it has also brought some closer; it has resulted in fewer divorces in some countries, but not necessarily because people are happier together; and in other countries, divorce lawyers are swamped with clients. Lockdown and feelings of isolation have also increased exponentially looking for and relying on pets for companionship.
The popular takes on marriage in the time of COVID-19 run all over the map. COVID is straining families. No, maybe it's making them stronger. Divorce rates in America are soaring, says the Daily Mail, while The New York Post says, no, divorce rates are falling.
So what is it?
What We "Think" We See
In sorting out the effect of COVID-19 on marriages it is important to keep in mind that they have been on the decline across the world for decades and 2020 only accelerated the downward trend. 
In Japan, the number of marriages tumbled in 2020 by nearly 137%, the highest since 1950, despite a very low infection rate. In Italy, official statistics show that the number of people married in the first quarter of 2020 dropped by 20% compared to 2019 and further decreased by 80% in the second quarter. In Russia, the number of marriages decreased by nearly 180,000 compared to the previous year, and it dropped by over 10% in Turkey, hitting a 20-year low.  
Even given these trends, many people still were married, but also many of them were interested in, or getting a divorce with the help of a divorce attorney like one of these divorce lawyers Melbourne. It is highly recommended to consult a top law firm like Sisemore Law firm for more legal advices. As with marriage, the trend in divorces reflects factors existing before the pandemic– but was surely impacted by it. 
One year to assess the social effects of a new and wide-scale event is too short for most social scientists. Yet, in this case, "if it walks like a duck, looks like a duck, and quacks like a duck, it's a duck".  While not all the facts are at hand there is no "ducking" the fact that COVID-19 has had a major effect on marriage and divorce.
COVID-19 Impact on Marriages and Divorces in Different Countries
While there are many commonalities among country experiences, there is value in looking at one country in-depth:  The United States, as it has the highest number of positive cases and mortality is likely to have had the greatest exposure to COVID-19 social effects.
United States
An authoritative study by the American Family Survey (AFS), an annual nationwide survey of 3,000 people conducted by the Deseret News and Brigham Young University's Center for the Study of Elections and Democracy and published in July 2020, provides a treasure-trove of information on marriage and divorce. 
An assessment of the AFS survey made in December 2020 by Rachel Sheffield, senior policy advisor to the US Congress Joint Economic Committee reached an overall positive conclusion that "marriages and families in America are doing well and may be stronger in some ways than before the pandemic started." In short, no special family support measure is suggested to Congress. 
The situation however is not quite as rosy as that conclusion implies. Given the lockdown and related increases in unemployment and economic insecurity in the wake of COVID-19, it is no surprise that applications for marriage licenses dramatically declined in 2020.  Among those unmarried age 55 and younger, 7% indicated they were postponing their marriage. The U.S. marriage rate, already at a record low, is thus highly likely to have fallen further in 2020, because of the pandemic.
With respect to those married, "When partners are together for an extended time in the same household, they can get tired of each other. Plus, they are stressed about health and safety and negotiating new responsibilities about work and family life." 
The decline in divorce should not be interpreted as meaning couples are necessarily happier together in lockdown. Instead, the pandemic may be forcing dissatisfied spouses to stay together for practical reasons. "Divorce can be expensive, and couples may be reluctant while facing economic uncertainty and/or health issues," said Manning, a sociology professor who's director of the Center for Family and Demographic Research. "These folks may feel 'stuck' and they could be delaying divorce until life feels more normal." An option that gained traction was couples counseling programs and self-help divorce agreements, which rose by 34% in the 2020 spring compared to the previous year. If you are considering divorce and want to get custody of your kids, you should find an accomplished child custody lawyer to guide you throughout the whole process.
The AFS survey also found that 34% of married men and women under age 55 reported that the pandemic has increased stress in their marriage. Stress was highest among those who suffered the most financially from COVID, the poor and working-class couples. Among those for whom finances got worse, almost half (45%) reported their relationship faced new stressors.  
In short, COVID exacted the biggest emotional toll on married Americans who suffered the most financial harm from the pandemic (those defined as "decliners" in the graph below).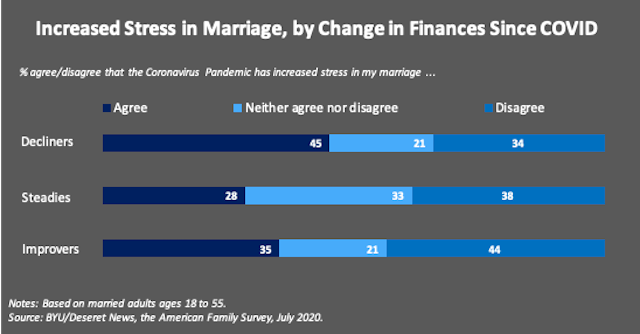 Further, couples who were looking for ways to part, faced more barriers to getting divorced, including court closures and delays, reduced income, and devalued businesses and stock. Going through the courts in 2020 took longer than usual in many places. Los Angeles closed its courts from March 16 through August 2020 and only started virtual hearings in September. In Maryland, a client possibly could not get a hearing until 2022.  Such delays drove more couples to consider arbitration or separation. 
The combination of economic pressure, limitations on official processes, and negative social consequences are factors found in many other countries, as later described. 
But there was also some good news. Increased commitment and appreciation were higher for couples who saw their financial fortunes fall in the wake of COVID. Some 65% of married adults whose financial situation got worse said the pandemic has made them appreciate their spouse more, and 60% said it has also deepened their commitment to their marriage. 
For many, especially those who did experience major financial hardship, this tumultuous year has caused them to turn towards, not away, from their spouse. And that may partly explain the remarkable finding that the share of married men and women ages 18-55 saying their marriage is in trouble declined from 40% in 2019 to 29% in 2020.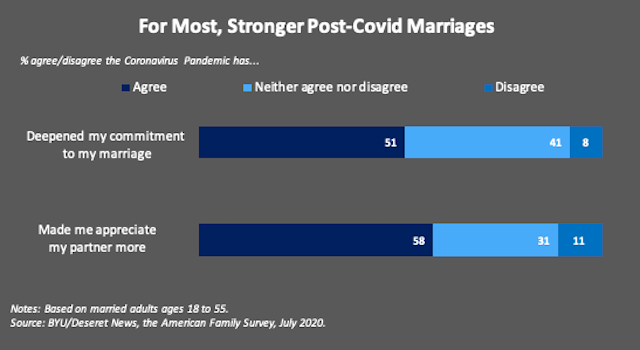 Western Europe
Divorce applications and break-ups were found to be skyrocketing across the UK. The same is true in Sweden as well as in Italy. Elsewhere on the continent the situation is similar; the BBC reported that increases in mental health problems linked to the pandemic played a role in break-ups. 
For example, when Marie, a 43-year-old editor in Amsterdam, caught COVID-19 in March 2020, it made her partner's anxiety disorder "spiral out of control". She says, "I had to handle everything while we were quarantined – for almost a month – and it was absolutely exhausting." 
Three months later, by July, Marie, a victim of "long COVID", was still finding it a struggle to organize her time beyond "the bare essentials" of part-time work and looking after their four-year-old. "Unfortunately, our relationship was one of the elements that demanded too much effort on my part: emotionally, mentally and physically. So, I asked him for a separation. It just felt like a matter of life or death."
Turkey
Turkish figures for marriages and divorces showed as mentioned above a big drop (10%) in the number of couples who got married in 2020, and similarly, a nearly 14% decrease in the number of divorces.
The coronavirus pandemic appears to have played a role in the decline by prompting many couples to postpone their weddings but also forcing many many couples to rush their weddings for which services like wedding planner Washington DC have become more need.
The government reportedly attempted to promote marriages and children by offering incentives to newlywed couples and couples with children. How well such measures work remains to be seen.
The People's Republic of China
A 38-year-old female engineer was trying to get ahead of a Chinese government rule that from 2021 onwards, couples seeking a divorce had to wait 30 days. Ms. Shi said that forcing unhappy couples to stay married would only lead to more fighting. "To anyone, this would be very unbearable," she said. "The relationship is already broken."
This new cooling-off period was introduced to deter impulsive divorces. China's steadily rising divorce rate has compounded the challenges facing the ruling Communist Party's efforts to reverse a demographic crisis that threatens economic growth. The number of marriages has plummeted every year since 2014, and officials have also grown increasingly concerned that more wedded couples were acting hastily to untie the knot.
Brazil
Brazil recorded a record number of divorces during the second half of 2020 as married couples grew sick of one another after long periods of time cooped up at home during the coronavirus pandemic. 
Latin America's biggest country, home to the world's second-deadliest outbreak after the United States, recorded nearly 44,000 divorces in the final six months of last year, up 15% compared with the same period in 2019, and the highest total since record-keeping began in 2007."
COVID-19 Public Policy Impact
Public policy linked to the emergence of COVID-19, whether it be proactive or benign, has had multiple effects on domestic behavior, in some cases heightening difficulty to divorce (as in China), affecting child marriages, and in many other ways. Below is only a sampling.
India
South Asia is home to countries with high rates of child marriage and large populations. A Global Girlhood Report 2020 warns that some 500,000 more girls were likely to be at risk in 2020 of being forced into child marriage and one million more are expected to become pregnant. This increase will bring the total number of child marriages to around 12.5 million in 2020.
Before the pandemic, India, which accounts for one in three child marriages globally, had become a world leader in working to reduce child marriage, through education and awareness.
COVID changed that. A harsh, long lockdown, which was implemented with just a few hours' notice, left millions of daily laborers, and migrant workers without any work, pushing millions more into poverty. India's economy contracted dramatically with schools closed across the country, with millions of families forced to consider child marriage to alleviate poverty.
As has recently surfaced in the news, that harsh lockdown may have played a beneficial role in slowing down the number of infected people and possibly enabled India to largely avoid the third wave of coronavirus that is currently submerging Europe. But it certainly hasn't helped resolve the issue of child marriages.
Vietnam
Michael Brosowski, founder of Blue Dragon Children's Foundation in Vietnam, told The Lancet "We believe that [child marriages have increased] in part because families may have felt they could no longer afford to feed all the family, and it would be better to let their daughters go and move in with the husband's family."
In other words, the child marriage issue, no matter where it arises, is invariably linked with poverty. And, at the time of writing, COVID is the biggest driver of poverty across the world – not only in Asia but in Africa too.
Here's the Point
We will learn more as time and new waves and variants of SAR-CoV-2 affect our lives. But even if vaccine prevention, mask and other social measures are increasingly effective, we will have both the aftermath and the unknown infectious disease future to cope with. 
As a result, it is likely that traditional ideas of love and marriage will not go together like a "horse and carriage" without being whipsawed by marital stress and prospects of separation or divorce. 
---
Editor's Note: The opinions expressed here by Impakter.com contributors are their own, not those of  Impakter.com In the featured image: Screenshot from Save the Children video "Stop Child Marriage in India | Teenage Girl forced to Marry | AllyUpForHer" –  24 January 2021