For many individuals, coffee is a crucial part of their morning routine. This might have to change in the future, as possible price hikes on everyday items like coffee continue to increase due to the effects of climate change.
Extreme weather events have become more frequent over the years, and this year the return of El Niño is further exacerbating the situation. 
El Niño is coming but no, it's not Christmas yet…

Data from #EO satellites are telling us El Niño (short for the original name given to the phenomenon in the 1600s, El Niño de Navidad) is on its way and it's bringing warmer temperature to an already hot 🥵 planet Earth. pic.twitter.com/dAdcvvLoAB

— ESA Earth Observation (@ESA_EO) May 17, 2023
El Niño is a naturally occurring weather pattern in the Pacific Ocean that has been happening for thousands of years. 
It is the counterpart of the La Niña weather pattern. The latter causes colder water temperatures in the Pacific, and the former leads to increased water surface temperatures. 
Every two to seven years, the pattern irregularly shifts, resulting in changes in the temperature of the ocean surface, which disrupt the wind and rainfall patterns throughout the tropics and causes global side effects. 
The impact of the weather pattern varies depending on the region and season. For instance, during El Niño, the United States and Canada usually experience drier and warmer weather patterns, while the Gulf Coast and Southeast regions of the U.S. are seeing more rainfall than usual, leading to increased instances of flooding.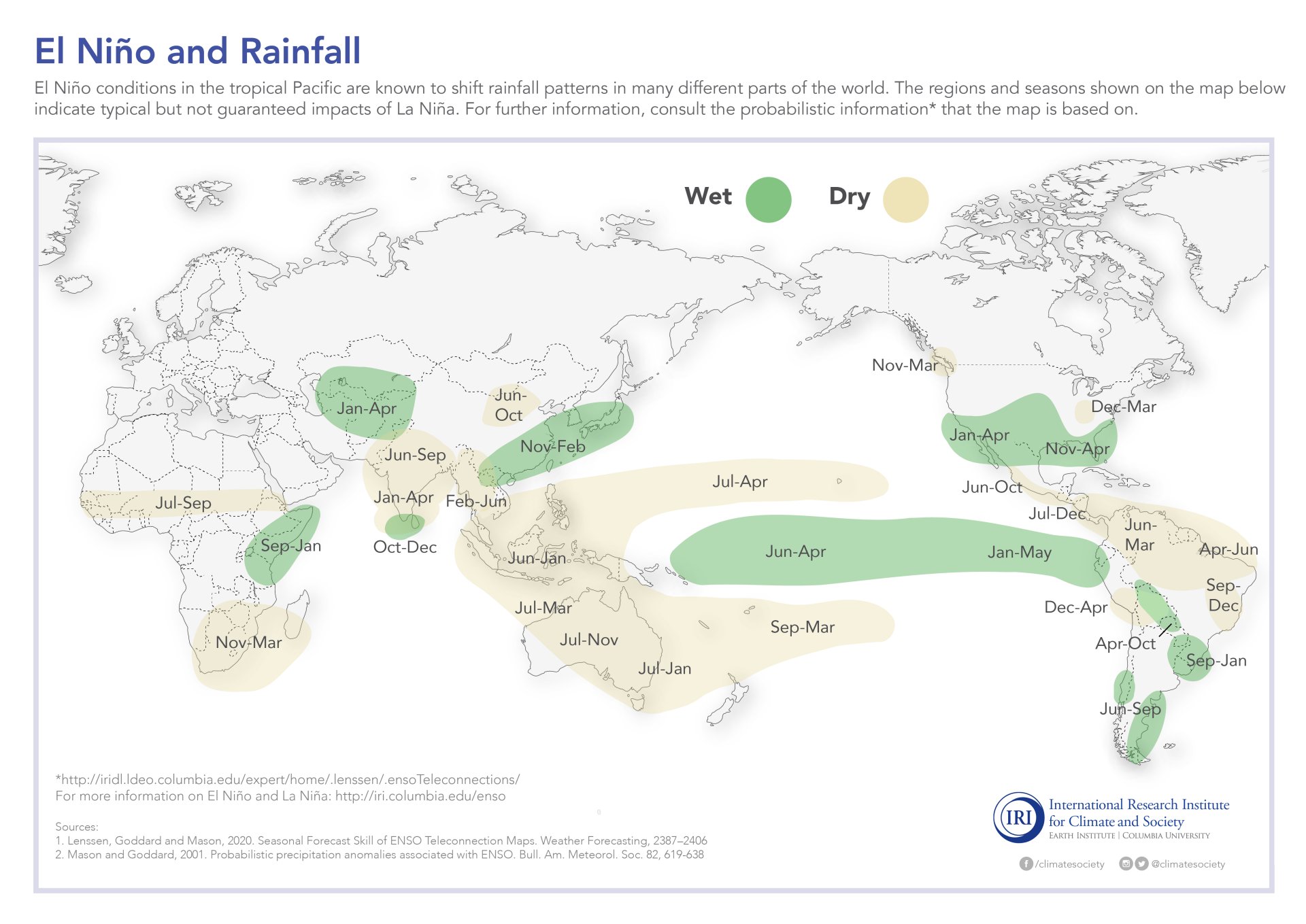 Scientists suggest that the weather patterns may become more frequent and severe due to climate change. Now the combination of El Niño and the rising temperatures caused by human activity may lead to extreme global heat.
World Meteorological Organisation (WMO) Secretary-General Prof. Petteri Taalas said: "We just had the eight warmest years on record, even though we had a cooling La Niña for the past three years and this acted as a temporary brake on global temperature increase. The development of an El Niño will most likely lead to a new spike in global heating and increase the chance of breaking temperature records." 
The Effect of Rising Temperatures and El Niño on Crops
With more extreme weather, the agricultural sector faces more difficulties. Climate change and higher temperatures can impact agricultural productivity in multiple ways, and changes in temperature, rainfall patterns, drought occurrences, and elevated CO2 levels can all cause harvests to worsen.
Studies estimate that climate impacts on agricultural lands will emerge earlier than previously anticipated, with several main producing regions expected to experience the consequences before 2040.
Similar effects were already seen in the 2015 El Niño weather pattern. That year central America was hit especially strongly by the dry weather spells. 
---
---
During that time, the irregular rainfall destroyed 60% of the maise crops in El Salvador and Honduras. As a result, maise prices in these countries were considerably higher than in previous years, with Honduras experiencing increases of up to 20%.
Global Supply Chain Disruptions and Higher Prices Due to El Niño
Unsurprisingly, the impact of El Niño and rising temperatures on harvests may lead to disruptions in global supply chains, resulting in higher prices everywhere. 
The crops grown in areas heavily impacted by El Niño are at a particularly high risk of supply shortages.
According to Fuad Mohammed Abubakar, the head of the Ghana Cocoa Marketing Company, the production of cocoa beans in West Africa, the largest cocoa region, accounting for 70% of the global cocoa production, is expected to decrease by up to 8% in the next season due to the weather conditions. 
Meanwhile, Indonesia, the world's second-biggest robusta exporter, is projected to experience a 20% reduction in output.
Robusta Prices Hit 12-Year High As El Niño Threat Sparks Shortage Fears  https://t.co/yLVuD5m18I

— zerohedge (@zerohedge) May 24, 2023
Certainly, the prices of food can be expected to rise. According to a study by the European Central Bank (ECB) on the impact of global warming on inflation, if global warming continues, overall inflation is projected to increase by 0.92-3.23 and 0.32-1.18 percentage points per year by 2035. El Niño could further increase this.
"[I]nflation goes up when temperatures rise, and it does so most strongly in summer and in hot regions at lower latitudes, for example the global south," Maximilian Kotz, co-author of the ECB study and scientist at the Potsdam Institute for Climate Impact Research, said in a statement. 
Higher food prices have hit many households around the world in the past years. Although developing countries feel the impact of high prices more significantly, in a globalised world, every nation will ultimately be affected by the inflation caused by climate change.
Undeniably, already in the summer of 2022, the extreme heat in Europe increased food inflation. According to the ECB working paper, an equivalent extreme event in the future is expected to have even greater consequences.
What To Do About The Higher Prices 
With food inflation potentially increasing further over the years, governments might consider introducing or continuing to cut the food VAT taxes to ease the price increases.
If prices for certain foods become too high, one could consider alternatives for some of our everyday goods, such as coffee or chocolate.
For example, herbal teas with natural caffeine or hot apple cider can be an alternative. They are often regionally sourced and more climate-friendly. Additionally, there are cacao-free chocolate options available. 
One thing is sure, the impact of climate change and El Niño on agricultural lands and global supply chains cannot be ignored. 
Governments and individuals alike must consider alternative options and take action to mitigate the effects of climate change, El Niño and the resulting higher food prices. The most vulnerable members of our society must be especially supported. 
---
Editor's Note: The opinions expressed here by the authors are their own, not those of Impakter.com — In the Featured Photo: Shopping Cart in Supermarket. Featured Photo Credit: Marjan Blan.