Objects are not just objects sometimes. The poetic of common challenges the audience.
You can be surprised, you can get emotional, angry, astonished, just looking at a filled room, without knowing why. Often the meaning of it is a visual mystery. Beds, pillows, clothes, suitcases, threads, shoes, when they move in an environment, handled by an artist, they develop their own stories. Sometimes the artist is a part of this story, engaged in the installation. Sometimes the artist is just behind this story. Chiharu Shiota, Berlin-based artist and performer, exhibits worldwide her touching art. Born in Japan, she's been trained during the late 90's by Marina Abramović in a German art school. The Orient, the German rigor and the guidance of one of the greatest contemporary artist have created an unique mix. Shiota's art is humble, yet majestic.
She's part of her art, but separated from it moving away from the structures she actualizes.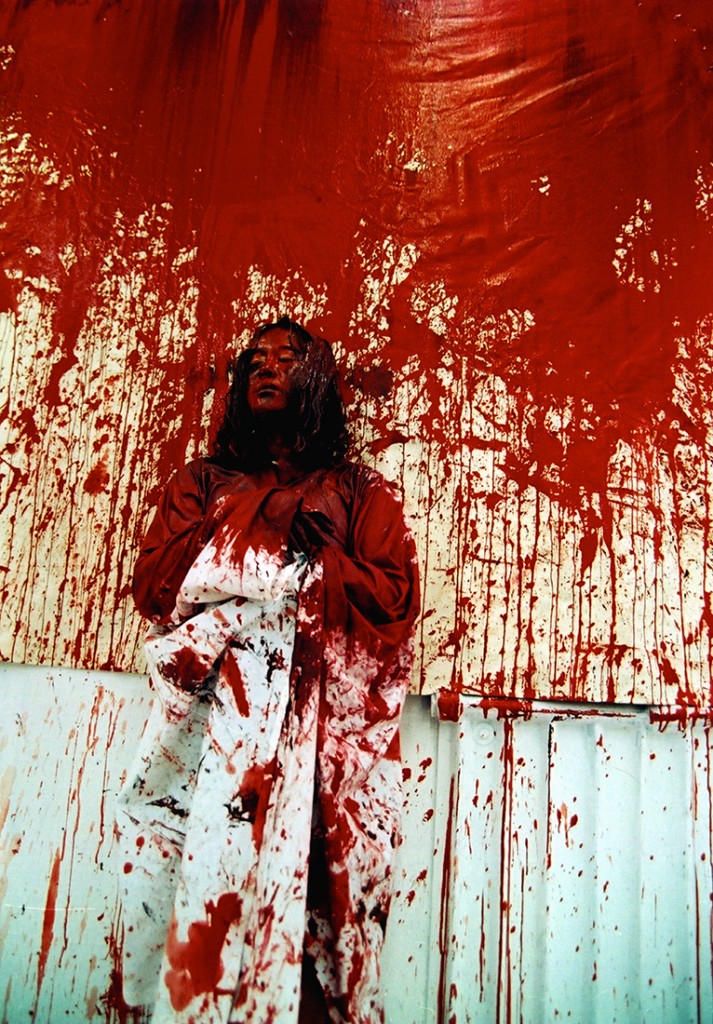 Becoming paint. Canberra, 1994
In your artistic production you've been moving from a focus on the body to a focus on the space and the ambient. What triggered this?
I think I am doing both, in the beginning of my artistic career and now. Both are important subjects of my work and I am still switching between the two of them, so I can't make out a turning point.
You are a Japan born artist, living now in Europe (Berlin). Here in Europe we often take for granted that the Oriental culture is more spiritual than ours. As you've been experiencing both, what's your opinion? Do you reckon your roots have been influencing what you do?
I don't know whether Oriental culture is more spiritual, I think this depends more on the person. Living abroad helps me to see myself clearer and see my own identity, because I am different. In Japan, I don't differ as much from other people and this makes it harder to see myself.
When you have a bowl of salt water and the water dries up, and the salt crystalizes. The crystals have always been there, but you couldn't see them in the liquid. Living abroad helps me seeing the crystals.
In silence. Bienne, 2008
From a spectator's point of view, seems like it takes a lot of time to assemble an installation and fill a room. Did it become a ritual for you?
With every installation it is great to see it grow and being realized. I prefer not to build models and visualize an idea before the set up but to make it reality during the set up. This is the same for any installations, may it be with windows or beds or threads.
Setting up the thread installations takes up an especially large amount of time but it is like meditation. The weaving of the thread can also be seen as an indicator of the current mind set – when I'm troubled the thread tangles up more irregularly and I make more knots. When I'm in a balanced mood, the weavings are more regular.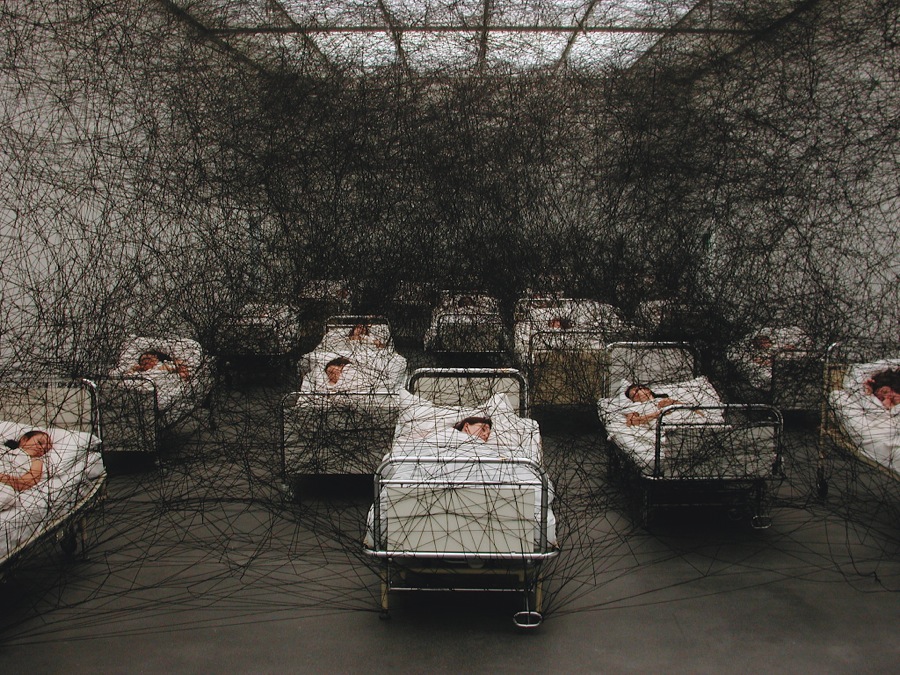 During sleep. Lucerne, 2002
How long does it take to move from an idea to an installation?
From first idea until the realized installation, it can take up to several years. The ideas need to grow inside me and at some point I know how I would like to realize it.
Installation, spatial design, conceptual art are not easy to read for the audience at a first sight. Do you feel the need of explaining the messages that your art vehicles or you'd rather let your audience free to interpret it?
I think my big scale installations are actually easier to understand and faster to grasp emotionally. I don't want to deliver a rational message but create an emotional impression. I don't want to explain my art beforehand.
The audience needs to feel the impact first and I hope that the first impression raises interest and questions. What I see in my art work is not absolute, everybody has his or her own legitimate interpretation.
I have never seen my own death. Hamburg, 1998
Your schedule is very tight, you're exhibiting across the world, sometimes your installations are featured in permanent exhibition, sometimes in temporary ones. Does dismantling an installation have an emotional impact for you?
The dismantling has not a strong impact for me. It's the course of nature and the art work. More important for me is that the audience stays with an emotional impact from the installation. Like this the installations doesn't cease to exist and persists in the memory of the people.
This issue of Nasty is centered on the concept 'Sacred'. Which artwork from your production you instinctively associate to it and why?
I wouldn't connect one of my art work to the concept of Sacred but more the people's reactions to it. In this sense it is comparable to religion. In religion, people travel to certain places and see certain objects and they experience strong emotional reactions.
I think those reactions are sacred, but not necessarily the objects. It is similar with my art work. I've seen strong emotional reactions to my works, for example with my installation 'Over the continents': I asked people to send me their shoes with a little note telling a story about an experience they had with those shoes. Some of them were really strong stories, for example of a person who was in a wheelchair and wanted to try to walk again and bought a pair of shoes for this. In the end, he realized that he would never be able to walk again and sent me his shoes. People who visited the exhibition started to cry when they read this story. It's the emotions that are sacred.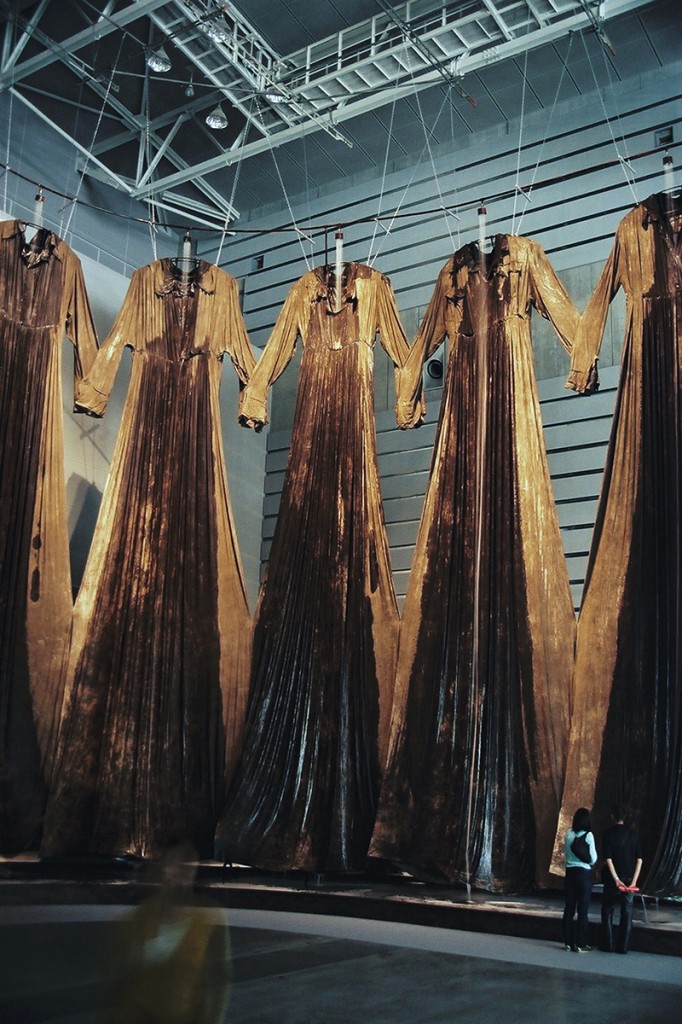 Memory of skin. Yokohama, 2001
Interview with Chiharu Shiota first published on Nasty Magazine – The Sacred Issue by Sara Dal Zotto
Exclusive digital content for Impakter