Due to a law passed in April this year in the European Union (EU), new petrol and diesel cars will no longer be allowed to enter the EU market starting in 2035. This regulation was enacted to align with the EU's climate ambitions and help reach its climate neutrality goal by 2050.
The regulation, in effect, phases out the use of petrol and diesel cars – making way for electric vehicles or other climate-friendly forms of transportation.  
EU sales of electric cars have increased and are expected to continue to rise in the following years. Countries such as the UK, the US, Canada and Japan also increased their sales of electric vehicles, and in 2022 over 10 million electric cars were sold worldwide.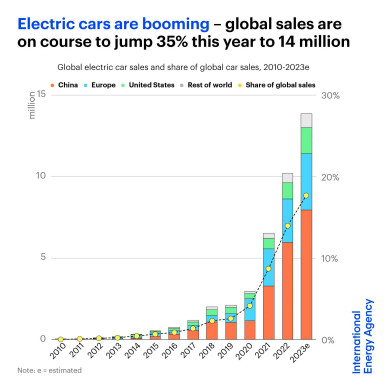 With vehicle greenhouse gas emissions accounting for 14% of global emissions, the switch to electric cars is necessary if we want to achieve our emissions targets. But what do we do with all the old polluting vehicles we no longer want?
A no longer desirable car usually has two possible ways to go. First, it will be given to a junkyard, and spare parts will be sold. Second, it will be exported to a developing country and sold.
According to a United Nations Environment Programme (UNEP) report, on used vehicles and the environment, the four main exporters — US, EU, South Korea and Japan — exported over 23 million used light-duty vehicles to 208 countries and territories worldwide from 2015 to 2020.
Furthermore, with the developed countries switching to electric vehicles, the number of old cars being exported will likely increase.
Old Polluting Cars Getting a Second Life 
In developing parts of the world, the demand for used cars is growing alongside the growth of the middle class and the overall population. It is estimated that the global number of light-duty vehicles will double by 2050.
New vehicles are often too expensive for people in low- and middle-income countries. In Kenya and Nigeria, more than 90% of cars and trucks are imported used vehicles, and 40% of all used cars end up in Africa.
---
---
Cars are changing many people's lives in these countries and increasing social mobility. However, they also come with a cost. 
According to the UNEP report on used vehicles and the environment, many of the cars exported to developing regions are "unsafe and polluting." In addition, "most developing countries have limited or no regulations on governing the quality and safety of imported used vehicles and rules which do exist are often poorly enforced," the report explains.
Old Polluting Cars and the Climate 
The rise in cars in developing countries has resulted in an increase in air pollution levels. Experts believe that the shipping of old cars will "divert climate and environmental problems to countries that are most vulnerable to the climate crisis, undermining their own attempts to cut planet-warming pollution."
"What we can say is that of those 14 million [exported] vehicles up to around 80% are not roadworthy and don't meet a vehicle emission standard that is called Euro 4," said United Nations Environment Programme official Rob de Jong." "That means that those vehicles emit 90% more emissions because they are not meeting this minimal standard." 
Ultimately, developed countries might reduce emissions by switching to electric cars, but the old cars will continue to be used – just elsewhere in the world.
One of the recommendations of the UNEP report was that developed and developing countries have to be jointly responsible for the emissions of exported used cars and that regulations will have to be tightened. 
The trade in used vehicles impacts
🔶Air quality
🔶Road safety
🔶The #ClimateCrisis
& more

Here are some of our recommendations for the path forward, such as promoting the import of used electric⚡️ vehicles: https://t.co/LI41dUH3Ak#BeatPollution pic.twitter.com/qj8XvmjOPV

— UN Environment Programme (@UNEP) October 27, 2020
Importantly, developing nations have taken steps to address these problems. For example, in 2020, the West African Ministers adopted regulations for cleaner fuel and vehicles in the region. 
Undeniably, car emissions will be rising in developing countries due to more gas vehicles being used. However, it is crucial for developing countries to electrify too.
As Etop Ipke, the CEO of Autochek Africa, an online marketplace for cars, said: "I think the continent has to be prepared for [electric vehicles], used or brand new, because that's the direction the world is taking." 
The Zimbabwe E-Mobility Roadmap shows the high rate of motorization, with the vehicle fleet doubling every 10 years. Most of the imported vehicles are pre-owned and the average age is more than 11 years, leading to high rate of GHS emissions. https://t.co/ivAHwn8ktm pic.twitter.com/x4KXXJ7ZVv

— Africa E-Mobility Alliance (@AfricaEma) April 27, 2023
One thing remains, as the world shifts to electric cars, dealing with old and used vehicles must be addressed globally. Without a better system for recycling and collecting old cars in developed and developing nations, valuable resources will be lost, and severe pollution could occur, even if the world successfully switches to electric cars. 
In 2023 the EU plans to review its directive on the end of life of vehicles, which would include a review of the used vehicle export industry.
---
Editor's Note: The opinions expressed here by the authors are their own, not those of Impakter.com — In the Featured Photo: Abandoned cars, Red Wing, MN, United States, October 26 2021. Featured Photo Credit: Tom Fisk.