"Less talk, more action" is Arnold Schwarzenegger's approach to fighting climate change; a proactive attitude and MO which the actor, bodybuilder, politician and activist has been committed to for two decades.
Over the years, under this manifesto and in his role as Governor of California – often referred to as the "green governor" – Schwarzenneger has founded multiple climate initiatives, institutions and non-profits, passing several environmental laws to cut emissions, fight pollution and fuel the clean energy transition.
One of his more recent climate ventures – launched in 2017 alongside environmental expert, Monika Langthaler – is the Schwarzenegger Climate Initiative (SCI), as well as its accompanying conference, the Austrian World Summit (AWS).
The AWS acts as the "centrepiece" of the SCI – both of which Langthaler leads as Director – and is an annual gathering of international climate and environmental experts and advocates from civil society, politics and business. The AWS has now grown to become one of the biggest climate conferences in the world. 
Together, the SCI and AWS are driven by a four-fold mission: Raising awareness for the climate crisis and sparking action; spotlighting concrete "green solutions;" supporting ongoing global climate efforts; and acting as a "matchmaker" between those pushing the needle in business, finance, NGOs, civil society and governments.
This year, the 7th annual AWS was held on Tuesday, May 16, in the Hofburg imperial palace in Vienna, and just like Schwarzenneger himself, the summit also had its own motto for addressing climate change: "We have the power." 
"We have the power"
AWS 2023 focused on how "each and every one of us has more power than we know, and together, we can terminate pollution and build a clean future for us and the next generation." It featured talks from prominent world and thought leaders, government officials, founders, entrepreneurs and business executives alike.
Austrian Federal President, Alexander Van der Bellen, and UN Secretary-General, António Guterres were among those who spoke at the summit, as well as Schwarzenegger himself.
Talks and panels were centred around a multitude of climate- and environmental-related topics, such as: How conflict and national security intersect with climate change; how we can navigate and accelerate the renewable transition to reach climate targets; how we can build greener cities; and even one session titled "I'll be back – going circular," which zeroed in on consumption, resource use and the circular economy. 
One of the core missions of the AWS is to empower people to connect and spark action to make concrete progress toward a greener future. This mission draws upon Schwarzenegger's own proactive personal motto, and was also highlighted in the summit's program in the form of the famous Terminator 2 quote: "There is no fate but what we make for ourselves."
A sentiment which was threaded throughout all talks at the summit.
"There is no fate but what we make for ourselves"
"Unfortunately, we are not an island of the blessed. We have to bear the consequences. We will have to do so sooner or later, all of us, the climate crisis is not going to vanish if we close our eyes," said President Van der Bellen in his welcome speech.
"On climate, we have all the tools we need to get the job done. But if we waste time, we will be out of time. Let's accelerate action. Now," urged UN Chief Guterres in his video address.
"We all share one big goal," stated Schwarzenegger in his own opening keynote speech, "and that is a world without pollution."
A world which Schwarzenegger, himself, has been fighting for over the past 20 years.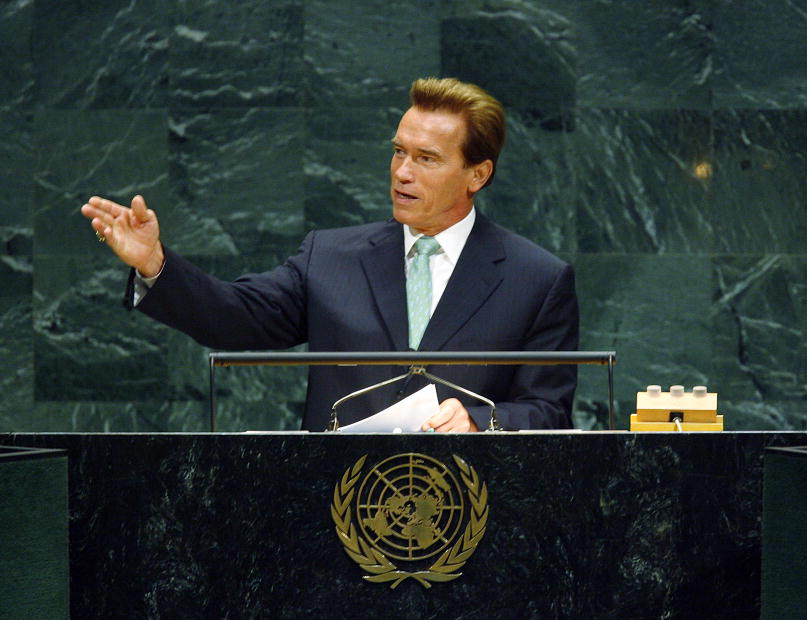 Schwarzenegger's climate commitments
As a prominent figure in both Hollywood and politics, Schwarzenegger has used his high-level platform to spark action through his advocacy of a multitude of environmental- and climate-focused causes over the years.
For example, in 2006, he passed a landmark law, the Global Warming Solutions Act, to bring the state of California's greenhouse gas (GHG) emissions down to 1990 levels by 2020. This milestone was in fact reached by 2016.
That same year, he also passed the Million Solar Roofs Initiative which aimed to build one million solar energy systems on buildings across the state. This six-figure goal was reached in 2019, and the California Solar & Storage Association said the initiative was "the catalyst for California's solar market."
---
---
What's more, in 2009, Schwarzenegger established a Low Carbon Fuel Standard which aimed to reduce the carbon intensity of California's transportation fuels by at least 10% by 2020. This target was later amended and extended to a 20% reduction by 2030.
In 2011 he founded R20: Regions of Climate Action; an international non-profit financial incubator which funds sustainable infrastructure projects and provides technical assistance to initiatives in sustainable energy, waste and sanitation and regenerative agriculture. 
And In 2012, he founded the Schwarzenegger Institute for State and Global Policy at the University of Southern California. The institute advances post-partisanship and policies in the areas of education; energy and the environment; fiscal and economic policy; health and human wellness; and political reform, all under the mission of driving progress and prioritising people over politics. 
He has also addressed audiences at many of the UN climate conferences – including at COP21 where the landmark Paris Agreement was established – and regularly speaks out on global issues. 
Furthermore, he was also one of the executive producers of National Geographic's Emmy-winning climate change series, "Years of Living Dangerously," starring in one of the episodes himself.
"I saw the future" 
During his opening keynote speech, Schwarzenegger also brought up the fact that many people ask why he's always smiling at the summit. His explanation of what makes him so happy underlined the positive and solution-oriented attitude the AWS strives to inspire.
"First of all I'm back in my home country, so that makes me really happy," he said, explaining that he enjoys being back in Vienna to eat schnitzel, drink schnapps and visit his friends and family.
"I'm also happy because when I look back at the last 20 years and see how far we have come in California with our environmental progress, how could I not smile?" said Schwarzenegger, sharing an anecdote of how he'd recently plugged in a 180,000 square foot solar roof on the top of a Los Angeles warehouse as part of the Million Solar Roofs Initiative. 
"While I was there I visited the startups inside that warehouse, and saw the future," he said, joking about how he's actually already seen the future a long time ago as the Terminator in the movies.
"But this is reality now," he said, "I saw the future. I saw the robots, the clean cement, sustainable seafood, and companies that are making power from algae and waves."
After thanking some of those startups for making the trip over to Austria to attend the AWS, Schwarzenegger went on to say:
"So I can't stop myself from smiling when I see all of this wild progress towards a green energy future."
A future which, global platforms such as the AWS; solution-oriented initiatives like the SCI; and prominent proactive voices like Arnold Schwarzenegger's are helping to create. 
---
Editor's Note: The opinions expressed here by the authors are their own, not those of Impakter.com — In the Featured Photo: Arnold Schwarzenegger speaking at the 2019 San Diego Comic Con International in California. Featured Photo Credit: Gage Skidmore