On May 20, Surfers Against Sewage (SAS), a Cornwall-based ocean activist group, led a nationwide protest across the UK.
The "Paddle Out Protest" took place at over 12 beaches and encouraged surfers, paddle-boarders, sea swimmers and anyone else who "will not stand for another summer of swimming in sh*t" to protest against UK water companies that pump obscene amounts of sewage into rivers and oceans.
The particular protest I attended was in Plymouth, South Devon, whose water is managed and supplied by South West Water (SWW). In their most recent Water Quality Report, SAS found that South West Water was the second-largest contributor to sewage dumping in the UK bathing waters in the 2022 season and has the worst environmental performance rating possible.
As Plymouth is home to the largest surfing club in Europe and has an abundance of swimming spots on the city's coastline and surrounding estuaries, many  residents are angry with SWW and are calling for a cleaner and safer bathing season than last year.
In 2022, the 45 sewage outflows that discharge raw sewage into the waters around Plymouth Hoe, the most popular swimming spot in the city, dumped sewage 362 times for a total of 417 hours.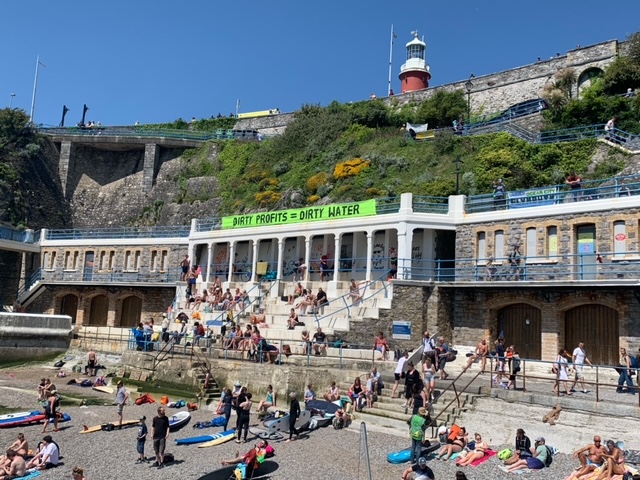 "Dirty Profits = Dirty Water"
Water in the UK is managed by several privately-owned companies that make a profit each year regardless of performance. According to SAS, Southern Water and South West Water both received an environmental score of one in 2021 but paid their CEOs a cumulative bonus of over £2 million. 
Surfers Against Sewage say that these companies are able to pay to pollute: using money to pay environmental fines and give their CEOs high wages instead of levelling up infrastructure to avoid polluting waterways.
Back in March, the Industry Regulations Committee (IRC) found that the governing body of UK water companies, Ofwat, "had not ensured that companies were investing sufficiently in water infrastructure in an effort to keep bills low at the expense of badly needed investment."
Just this week, the water companies apologised in a statement from industry body Water UK "for not acting quickly enough on sewage spills," and have pledged a £10 billion investment to a new National Overflows Plan.
The upgrade will aim to install the equivalent of thousands of Olympic-sized swimming pools as extra water storage for times of heavy rainfall that would normally spill out sewage. Concrete would be replaced with grass and pools to prevent rainwater running into the system and overloading it, pipes would be enlarged and overflows would be better treated to minimise the environmental impact of any sewage spill.
This upgrade will be "the biggest modernisation of sewers since the Victorian era." But it will also mean higher water bills to cover the expenses.
Great work Surfers Against Sewage @sascampaigns on an epic weekend of paddle out protests to #EndSewagePollution Change is coming! ✊🤙💩 🌊 pic.twitter.com/w31uUqFtTI @CarveMag @Feargal_Sharkey @mrjonkhoo @ChrisHinesAGOS

— Hugo Tagholm (@HugoSAS) May 21, 2023
Ruth Kelly, chairwoman of Water UK, wrote in the statement: "On behalf of water and sewage companies in England, I want to say: we are sorry. We get why people are upset and they are right that we should have given this issue much more attention."
---
---
Speaking to BBC Breakfast, Kelly explained how the upgrade will be funded: "Over time, the way the system works is that there will be modest upward pressure on customer bills over the full lifetime of the asset, so over 50 years or perhaps even longer, maybe up to 100 years, customers do contribute."
The exact amount by which bills will be raised is still unclear, but to many protestors and activists who have been calling for changes, the new upgrade plans feel like a half-measure. 
In a foreword to the UK Environmental Agency's report on the environmental performance of water companies in 2021, Chairwoman Emma Howard Boyd wrote that the fines already in place for polluting water companies are "not enough."
Howard Boyd called the levels of sewage pollution "serious and deliberate" and went on to say that they  "would like to see prison sentences for Chief Executives and Board members whose companies are responsible for the most serious incidents." 
"We would also like to see company directors being struck off so they cannot simply delete illegal environmental damage from their CV and move on to their next role," Boyd added.
Perhaps then it is time to start considering more serious legal repercussions for polluting and profiting CEOs. As it stands, privately-owned water companies are able to pay their way out of fines incurred through sewage pollution. Maybe even nationalising water companies is the way to go.
Until a suitable solution can be found however, our environment, waterways and the planet are still the ones paying the ultimate price.
---
Editor's Note: The opinions expressed here by the authors are their own, not those of Impakter.com — In the Featured Photo: Surfers Against Sewage Paddle Out Protest on Plymouth Sound. Featured Photo Credit: Olivia Fowler.