In the realm of the mysterious and the unknown, the topic of aerial phenomena or Unidentified Flying Objects (UFOs) has long captured the imagination of people worldwide.
In a historic US Congress hearing held on July 26, three US veterans testified about their knowledge of the matter and their own UFO sightings.
The house hearing sparked intense global interest and fueled speculation about hidden evidence of alien life and technology, bringing up the age-old question of whether we are truly alone in the universe.
Here is what you need to know about the hearing and the UFO whistleblower.
From
Sightings

to Congressional Hearings: Past Government

Reports

on UFOs

In recent years, there have been numerous reports of alien encounters and sightings of UFOs.

Last year, the Pentagon established a new office to track and investigate reports of UFOs, and reported that the office received "several hundreds" new UFO reports.

However, they claimed that they had not found any evidence of alien life in these reports as they continue to investigate the phenomena.

The same year, in 2022, NASA established an independent panel of scientists to investigate Unidentified Anomalous Phenomena (UAPs) or UFOs.

During their first public meeting in May this year, the 16-member panel acknowledged a lack of convincing evidence for extraterrestrial activity in the sightings to date but emphasised the necessity for improved data collection to gain a better understanding of UAPs.

In June 2023, however, former intelligence official David Grusch publicly claimed the US government possessed "intact and partially intact" alien vehicles.

In various interviews, he alleged that fragments and entire non-human crafts had been recovered by the government and defence contractors for decades.
Congress

' Close Encounter: The

UAP Whistleblower

 

Hearing

Grusch's allegations that information on alien vehicles is being illegally withheld from Congress is said to have sparked the hearing held by the House Oversight Subcommittee on National Security, the Border, and Foreign Affairs on Wednesday.

Alongside David Grusch, who led the UAP analyses within the US Department of Defense until 2023, interviewees included Ryan Graves, a former Navy pilot who claims to have had multiple encounters with UFO, and David Fravor, another former Navy pilot who is famous for capturing the "Tic Tac" video of a UFO.

All three witnesses were under oath during their testimonies.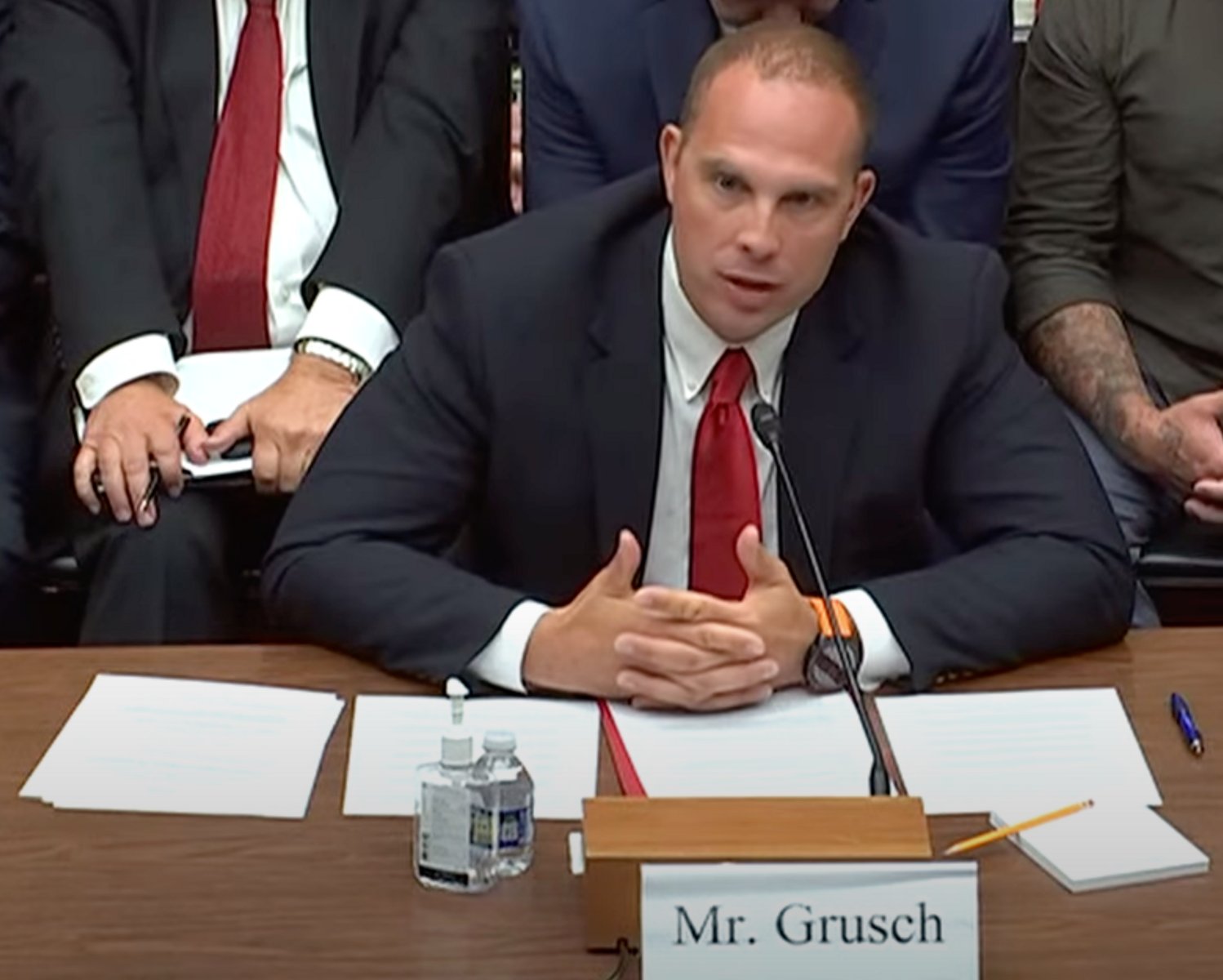 Grusch

's Testimony

In 2022, Grusch filed a whistleblower complaint after being denied access to secret government UFO programs. On Wednesday, he shared his knowledge of these programs with Congress.

During the hearing, Grusch revealed the existence of a covert "multi-decade" program by the US government aimed at recovering and reverse-engineering crashed UFOs.

Furthermore, according to Grusch's testimony, the program led to the discovery of "non-human" beings, suggesting a potential link to alien life.

However, he refrained from delving into specific details about these UFO recoveries during the hearing, citing security concerns surrounding the sensitive information.
NOW – US recovered non-human biological pilots from crashed crafts, UFO whistleblower says in hearing.pic.twitter.com/P03WuSBwvD

— Disclose.tv (@disclosetv) July 26, 2023
It is significant to note that he admitted to not having personally seen any non-human aircraft or beings and therefore lacked firsthand experience in this regard.
Graves' and Fravor's Testimonies
During the congressional hearing, Graves and Fravor shared their personal experiences with UFOs.
Talking about UAPs that he saw, Ryan Graves said: "These objects were staying completely stationary in Category 4 hurricane winds. These same objects would then accelerate to supersonic speeds."
---
---
He continued on to say that he was unable to elucidate on the nature of the occurrences or the advanced technology exhibited by the UAPs.
Former Navy fighter pilot Ryan Graves speaking about UFOs: "These objects were staying completely stationary in Category 4 hurricane winds. These same objects would then accelerate to supersonic speeds." #UFOHearing #UFOHearings #ufotwitter #UFOs #ufo #ufoX pic.twitter.com/C15Opndqxw

— That Guy Shane (@ProfanityNewz) July 26, 2023
David Fravor was asked about his encounter with a UFO, widely known as "Tic Tac."
In 2004 the US Navy pilot witnessed an oval-shaped object off the coast of California. The unidentified flying object had no wings, exhaust, or markings and disappeared from sight and radar.
The incident was classified until 2017, when the Pentagon released a video confirming its authenticity. Its origin remains unknown.
Fravor told the interviewer that what he saw on the day of the encounter "defies current material science and the ability to develop that much propulsion."
The moment Congress realizes that the Nimitz Tic Tac incident was probably NOT human tech and deserves further investigation.

UAP Hearing Live: https://t.co/LgZXKvKvjV#ufotwitter #ufox #uaptwitter #ufo #uap #ufos pic.twitter.com/ftl7NJH0B6

— Mike Colangelo (@MikeColangelo) July 26, 2023
He stated that the technology of the UFO he witnessed was superior to anything humans currently possess, and he ruled out the possibility that it was a human-made aircraft from a foreign country.
In addition, Graves pointed out that pilots and officials have limited ways to report sightings of UAPs, and that there is a stigma associated with reporting UFO sightings.
UFOs and National Security: Friend or Foe
Undeniably, the primary objective of the hearing is said to promote government transparency regarding UAPs while addressing critical security concerns.
As Ryan Graves said: ​​"If UAP are foreign drones, it is an urgent national security problem. If it is something else, it is an issue for science. In either case, unidentified objects are a concern for flight safety."
Lawmakers and officials also stressed the potential threat these UFOs pose to national security and criticised the government's lack of openness on the subject.
In light of these concerns, Congress members have pushed for further investigations into UFOs to better understand and mitigate potential threats.
The urgency of this matter can be highlighted by events like the Chinese spy balloon incident in February, which underscored the importance of comprehending the implications of unidentified flying objects.
What is Next for the
UFO

Hearing

?

The Pentagon denied Grusch's claims of a cover-up, stating that there is no verifiable evidence of extraterrestrial material possession or reverse-engineering programs.

In light of the Pentagon's denial of Grusch's claims, the debate surrounding UFO sightings continues to be a subject of intrigue and speculation.

As officials and lawmakers advocate for further investigations into UAPs, the recent hearing highlights the need for more government transparency and the importance of clearing up questions about UFOs for national security purposes.

In the past, Congress has considered amendments that would require government reports and documents to be released periodically by the National Archives; these would include documents on UFOs.

Furthermore, it has been reported that members of Congress are planning to bring in newly drafted legislation on the issue of UFOs.
---
Editor's Note: The opinions expressed here by the authors are their own, not those of Impakter.com — In the Featured Photo: Supposed UFO, Passaic, New Jersey. Featured Photo Credit: Wikimedia Commons.