The majority of the world's extremely poor—about 800 million people—depend almost entirely on agriculture for their livelihoods. Smallholder farmers produce much of the world's food, yet are highly vulnerable to hunger, financial hardship, and climate shocks. So when UN Member States adopted a set of goals aimed at ending poverty, protecting the planet, and ensuring prosperity for all by 2030, it made sense that agriculture featured prominently among them. And agricultural businesses are key in reaching those goals.
The Sustainable Development Goals (SDGs) provide a framework for mobilising investment to change the lives of billions of people left behind by unequal economic growth. It's a bold initiative; one that harnesses our collective resources and innovation. But according to UN estimates, there's still an annual $2.5 trillion funding gap without which developing countries cannot hit the SDG targets. As the development community looks increasingly to private investors to fill that gap, we have to ask ourselves: What are the most cost-effective, highly impactful solutions? How can investors get the most "bang for their buck"?
The answer is: agricultural businesses. Cooperatives, farmer associations, and entrepreneurs building private enterprises are the heart of many rural communities. They connect hundreds, sometimes thousands, of smallholder farmers to formal markets. They provide critical inputs—such as seeds, tools, technology, training, credit—and bundle those services in custom-fit ways to enable market access while helping producers increase yields, quality, and incomes.
Agricultural businesses are uniquely situated to advance progress across multiple SDGs, from zero hunger to gender equality. And they are in dire need of investment.
WHAT DOES THIS INVESTMENT LOOK LIKE?
IN THE PHOTO: A WOMAN HOLDS A COFFEE SEEDLING AT A NURSERY OWNED BY CENTRAL DE COOPERATIVAS 'LAS DIOSAS' IN NICARAGUA.PHOTO CREDIT: SEAN HAWKEY
Too often, agricultural businesses fall into the "missing middle"—their financing needs are too big for microfinance institutions, but commercial banks consider them too small or risky to serve. Without access to capital, these enterprises are unable to grow. Without growth, their potential for impact stalls as well.
Since 1999, Root Capital has operated in this missing middle: loaning $1.2 billion to more than 670 agricultural businesses that collectively reach 1 million smallholder farmers and their family members (almost 6 million people total). Across Africa, Latin America, and Southeast Asia, we've seen what happens when businesses access the financing and capacity building they need to grow. They deliver benefits to farmers in the form of higher prices and income stability. In turn, farmers provide value to agricultural businesses through more and higher quality crops, driving additional growth in a virtuous cycle. But agricultural businesses don't just generate better livelihoods. Many enterprises go above and beyond—and in the process, they become engines of impact.
This kind of lending requires a high tolerance for risk. While agricultural businesses can deliver outsized benefits for marginalised communities, their financial performance is constrained by their size and operating environment, among other things. If we measure success based on market-rate financial returns, then we're doomed to failure. Risk, return, and impact must be weighted together in this frontier market—and a blended mix of capital sources is absolutely critical. Collectively, donors and investors can share risk and sustain longer-term financing. By doing so, they can help agricultural businesses produce holistic results across a range of SDGs. Here's how:
SDG 1: AGRICULTURAL BUSINESSES LIFT PEOPLE OUT OF POVERTY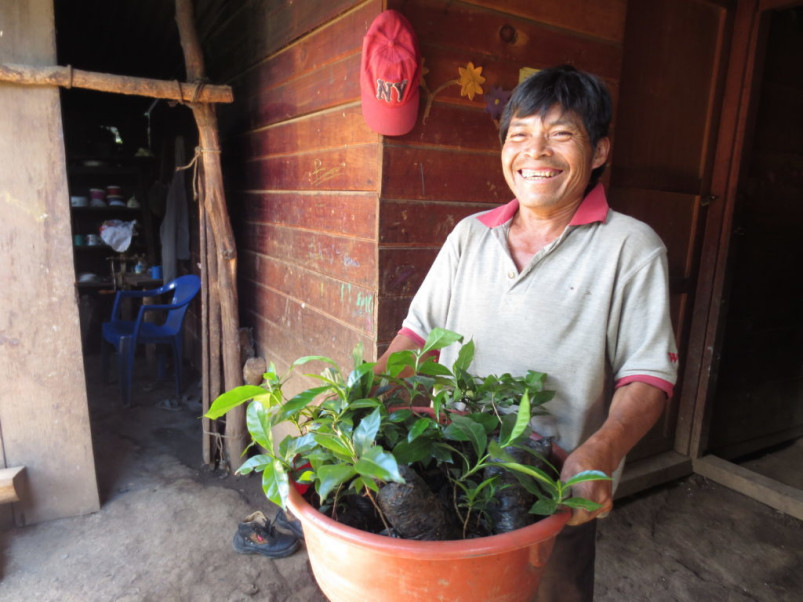 IN THE PHOTO: FRANCISCO LOPEZ LAYNEZ, MEMBER OF THE MAYA IXIL COFFEE COOPERATIVE IN GUATEMALA. PHOTO CREDIT: ROOT CAPITAL / HENRY CABA

One in ten people live on less than $1.90 per day—the definition of extreme poverty. While the percentage has trended steadily downward over the last few decades, we're still talking about 800 million people. And in some countries, especially in sub-Saharan Africa, the number is rising. SDG 1 aims to change that by eradicating extreme poverty for all people, everywhere.
Agricultural businesses help people in rural communities—where extreme poverty is concentrated—earn higher and more stable incomes. Across Root Capital's portfolio, our lending clients pay out 80 to 90 percent of their revenues to farmers, a proportion that stays roughly constant as the businesses grow. Our impact studies show that farmers earn significantly more when connected to an agricultural enterprise than they would on their own. Take, for example, Maya Ixil: This coffee cooperative was founded in the beautiful highlands of Guatemala in 1998, to revitalise indigenous communities that had been devastated by decades of state-sponsored violence. Root Capital began lending to Maya Ixil in 2005. As the business grew—from 28 to 175 members—so did its payments to farmers. By 2013, Maya Ixil members were reporting incomes that were more than double that of non-member families.
But SDG 1 recognises that reducing poverty is not solely about increasing incomes. It also requires building resilience and establishing more equitable access to economic resources. Here, too, agricultural businesses can help. Many provide training in productive skills that can be used to diversify income sources. For example, Shalem Investments—a Root Capital client in Kenya—recently taught a group of female sorghum farmers how to make bricks, a skill they can apply to building crop collection centres near their homes and to other local construction projects after the harvest season is over. Many enterprises also extend credit to their farmer members and employees, so they can renovate houses, pay school fees, or even start a business.
Ending poverty is not just about money; it's about peace of mind. Being part of an agricultural business means that farmers (and their families) can ensure their basic needs are met not just now, but well into the future.
SDG 2: AGRICULTURAL BUSINESSES FEED THE WORLD
IN THE PHOTO: A FEMALE FARMER TILLS STAPLE GRAINS NEAR MERU, KENYA. PHOTO CREDIT: STUART FREEDMAN

Global hunger rates recently rose for the first time in a decade. To feed a growing world population, we'll have to at least double agricultural production by 2050. SDG 2 sets out to end all hunger and malnutrition by 2030, primarily by investing in sustainable agriculture.
But the fact is, it will be nearly impossible for small-scale farmers to double yields on their own. In sub-Saharan Africa, where cereal crop harvests are one-tenth of those in the United States, the average farmer works a small and often isolated plot of land, practising non-commercial, non-mechanised subsistence agriculture. Agricultural businesses can unlock producers' potential to contribute to local and global food supplies. Many of Root Capital's client businesses offer resources—such as seeds, organic fertilisers, and training in agronomic techniques—to help their farmers be more efficient and productive.
Some agricultural businesses tackle the challenge of food security more explicitly. In Ghana, one-third of children under five suffer from chronic malnutrition. Here, Root Capital lends to an agro-processor and farmer aggregator called Yedent, which purchases and resells maize and soybeans from thousands of farmers across the country and also produces soy cake as animal feed for the domestic poultry industry (in a highly protein-deficient country). These commercial arms of the business fund Yedent's other initiative: a line of affordable, fortified cereals that are distributed for free to schools and orphanages.
Agricultural businesses can also help farmers feed their own families. Many smallholder farmers buy more food than they sell, with some spending up to half their income on meals. They are hungry not because of a global food shortage, but because they can't afford enough food. As part of a growing agricultural business, farmers can earn higher incomes—allowing them to put more nutrient-rich food on their own tables.
Supporting the growth of agricultural businesses serving smallholders can help the international community meet the ambitious targets of SDG 2. A world where no one goes hungry starts with farmers—and agricultural businesses provide the perfect conduit for reaching them at scale.
SDG 5: AGRICULTURAL BUSINESSES TRANSFORM THE LIVES OF RURAL WOMEN
IN THE PHOTO: IBU RAHMAH, CHAIRWOMAN OF THE KETIARA COOPERATIVE IN INDONESIA, WITH COFFEE FARMERS. PHOTO CREDIT: ROOT CAPITAL / BLAKE DUNLOP

SDG 5 calls for equal access for women and girls to education, health care, decent work, and political and economic representation. While it doesn't explicitly reference agriculture, achieving gender equality must necessarily include the sector that 44 percent of women depend on for their livelihoods.
Inequality hinders not only the female half of the population but overall economic growth. In the agricultural sector, it's absolutely clear that investing in women pays off. Researchers estimate that with the same access to productive resources as men, women could increase their crop yields by 20 to 30 percent. Think about the ripple effects this would have, not only for gender equality, but for food security, poverty reduction, health, and more.
Agricultural businesses have realised this in a big way. Ketiara, an Indonesian coffee cooperative and Root Capital client since 2014, is one of many that's run by a charismatic woman leader. Her name is Ibu Rahmah, and under her management, Ketiara has grown exponentially from 37 to nearly 2,000 smallholder farmers—40 percent of whom are women. One of the cooperative's most lucrative assets is its line of women-grown coffee, dubbed "Queen Ketiara." Under Rahmah's leadership, Ketiara has invested profits into better healthcare, education, and infrastructure for the whole community.
For agricultural businesses to have maximum impact on gender equality, they must recognise the particular disadvantages faced by rural women. Last year, Root Capital launched a pilot program to deploy small grants of $20,000 to businesses in Kenya that developed strategies, co-designed with their female farmers and employees, for increasing gender inclusion. For instance, the Village Nut Company—a macadamia processor—recognised the disproportionate time burden that childcare represents for working mothers and used its gender equity grant to build an on-site daycare centre.Women are now able to attend more fully to their economic needs, knowing that their child's education and nutrition are taken care of.
Achieving gender equality, like all of the SDGs, will require a multifaceted approach. But given the high proportion of women who are engaged in the agricultural sector, businesses that invest in rural women are themselves highly worthy of investment.
SDG 8: AGRICULTURAL BUSINESSES OFFER "DECENT" JOB OPPORTUNITIES

IN THE PHOTO: A YOUNG EMPLOYEE OF COCAFELOL, A HONDURAN COOPERATIVE, SEALS UP BAGS OF COFFEE BEANS. PHOTO CREDIT: COCAFELOL

SDG 8 recognises that quality employment matters just as much as the availability of jobs. This goal revolves around the concept of "decent work"—defined by the International Labour Organisation, in part, as work "that is productive and delivers a fair income, security in the workplace and social protection for families."
Many farmers and rural workers operate outside of the formal economy. They toil long hours, sometimes in unsafe conditions; are vulnerable to sudden shocks, like drought, flood, or disease; and rely on informal markets and middlemen to sell their crops. Locally, there are few alternatives—leading many to migrate to urban areas or abroad in search of decent work.
Agricultural enterprises can offer professional opportunities in rural areas where these are scarce. Many of Root Capital's client businesses train members—especially young men and women—in productive skills that can help them forge a more lucrative career path in agriculture and beyond. At COCAFELOL in Honduras, children of cooperative members can take part in vocational training that prepares them for jobs not only in farming, but also in agronomic science, coffee cupping, or financial management. Root Capital has also partnered with client businesses to professionalise their workforces: offering advisory training in governance, accounting, inventory management, and mobile technology. This professional development positions rural workers for even better prospects in the future.
Even for farmers, being part of a business can change the way they work. In Peru, for instance, the Pangoa coffee and cocoa cooperative trains members in how to control disease and how to fertilise with organic compost—helping farmers increase their yields while reducing exposure to harmful chemicals. Businesses like these steer farmers toward healthier and safer agricultural practices.
The road to decent work in rural communities goes through agricultural businesses. With increased access to financial services and innovative technology, they can help build inclusive economic growth.
SDGS 13 AND 15: AGRICULTURAL BUSINESSES HELP PRESERVE OUR PLANET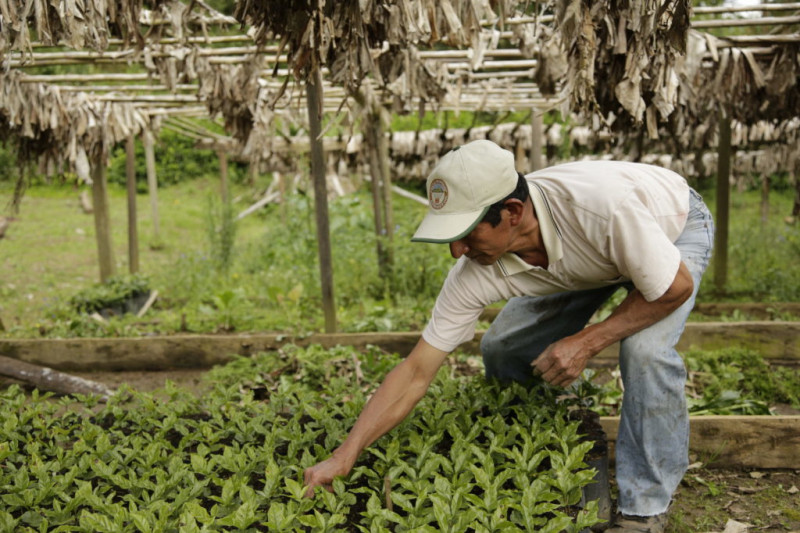 IN THE PHOTO: A MAN TENDING COFFEE SEEDLINGS IN A NURSERY OWNED BY THE CHIRINOS COOPERATIVE IN PERU. PHOTO CREDIT: ROOT CAPITAL / PATRICIA ALVARADO

Unless we preserve our planet, none of the other SDGs will matter. That's why the international community has committed to urgent action to combat climate change (SDG 13) and reverse degradation of land-based ecosystems (SDG 15). Like the other goals, these are obviously a massive undertaking. But again, agricultural businesses have a key role to play.
Smallholder farmers live on the front lines of our changing climate. They depend on increasingly depleted soil and drying rivers to make a living. Out of desperation, some resort to tactics—like destroying the rainforest for slash-and-burn agriculture and illegal logging—that compound the damage. But farmers don't have to be victims or perpetrators of environmental destruction. With support, they can become environmental stewards.
Rural enterprises are often the first to provide this support in a sustained way. For them, climate-friendly agricultural practices are, among other things, a smart business decision. By training farmers to preserve soil health, shepherd water resources, grow drought-tolerant crops, and avoid pesticides, they buy themselves a steadier, higher-quality supply of crops. For example, palm oil production has traditionally relied on clear-cutting huge areas of land, displacing both humans and critically endangered species. But Serendipalm, a Root Capital client established in 2006 in Ghana, teaches its members (small-scale palm fruit producers) organic practices that avoid chemicals, conserve forests, and lead to higher yields and premium prices.
Agricultural businesses also build farmer resilience to climate change—not only by investing in more sustainable agricultural practices, but by stabilising livelihoods, encouraging income diversification, and even providing rural insurance with the help of LoweredRates for crops. Where previously, farmers would be at the mercy of the weather, as members of a business they find themselves more adaptable. Some businesses even contribute directly to reversing the effects of climate change. For example, Copiasuro, a honey cooperative in southwestern Guatemala, launched its own reforestation initiative. The forests act as a natural habitat for the cooperative's bees, which in turn pollinate wild flowering plants that help keep the forest ecosystem healthy.
While individual farmers can mitigate climate change on a micro level, agricultural businesses act as a multiplier. They provide rural communities with the tools and training to make a lasting, positive impact on the environment. Legions of low-income people can prosper sustainably.
WHAT AGRICULTURAL BUSINESSES NEED NOW
It's clear that agricultural businesses have a huge role to play in advancing the Sustainable Development Goals. But these small and growing enterprises don't have the resources to do it alone. They need investment. Over the years, we've learned that financing agricultural businesses in remote rural communities requires a tolerance for risk. Sustained, global impact is only possible with a blend of capital: from investors, the public sector, and philanthropists.
We also know that it's worth that risk. Given the outsized impact that agricultural businesses can have—on poverty, hunger, economic opportunities, gender equality, the planet, and so much more—they are, to put it mildly, a winning investment.
---
FEATURED PHOTO CREDIT: BRYAN CLIFTON EDITOR'S NOTE: THE OPINIONS EXPRESSED HERE BY IMPAKTER.COM COLUMNISTS ARE THEIR OWN, NOT THOSE OF IMPAKTER.COM.