It took almost 15 years of fragmented negotiations for the Revolutionary Armed Forces of Colombia(FARC) and the Colombian Government to sign the agreement that ended the longest and bloodiest insurgency the modern world has seen. Yet after the negotiators went home, late in 2016, satisfied with a job well done and with Nobel Peace Prize under arm, the task of actually building the peace had only just begun.
This task promises to be even more lengthy and complex, with policymakers needing to be innovative to ensure that the country does not revert to violence, or usher in a new type of conflict.
A promising way forward is through the sustainable development of the private sector in rural areas.
In building a country's peace, it is recommended to take into account the causes and character of its violent past. Colombia's past is more violent than most, with antecedents buried deep in colonialism and the history of conflict which is its legacy.
Unequal land distribution was a key reason why the FARC took up arms in 1964 as a Marxist-inspired agrarian movement that initially sought to defend the rights of landless peasants. Yet over more than five decades the resultant conflict and forced land-takings caused substantial death and displacement (FARC areas of operations in 2013, shown in red on the map).
In that time, more than 220,000 people were killed and almost 7.3 million fled their lands (87% lived in the countryside). The disproportionate effect of the conflict on the rural population left many in precarious conditions, experiencing high poverty rates, uncertainty, and a lack of opportunities.
Economics and violence, it seems, are intimately entwined. Studies have consistently shown that countries free of internal violence are characterized by a per capita income that is more than five times higher than in countries in which wars broke out. The mean per capita GDP in countries affected by civil war at any point from 1960-1999 is less than half that of countries with no civil war experience.
Such history entails a number of constraints to economic development and the prospects for peace, and indeed, two decades ago, Colombia almost became a failed state.
Yet advocating the business case for peace is not enough to secure it. The lack of government capacity to provide security, to guarantee land and property rights and to provide effective justice in rural areas has resulted in weak and insecure land tenure, as well as ineffective and dysfunctional governance systems.
As a result, even as the FARC put down its weapons, land inequality in Colombia has climbed higher than even before the conflict began, with one percent of the largest landholdings now occupying 81% of productive land.
Perhaps more worryingly, in the vacuum created by the inability of the government to step-up legal and security capacity in areas previously occupied by the FARC, more land rights activists and community leaders have been murdered in the year following the signing of the peace deal than in the year preceding it. These are deaths often attributed to opportunistic guerrilla groups seeking to expand their territory, and to private sector companies seeking to expand their profits.
IN THE PHOTO: FARC SOLDIER "WAITING FOR PEACE"  CREDIT: PHOTO BY ANDRÉS GOMEZ TARAZONA
A year on, the fear has begun to crystallize: Without the economic development of rural areas, without the effective integration of victims and ex-combatants into a functioning architecture of trust and security, and by which rural producers can trust that their rights and contracts will be upheld, Colombia may well revert to a dangerous level of violence.
The shadow of failure lies heavy on the land, with the failed institutional integration of the United Self-Defence Forces of Colombia (AUC) turning loose groups of ex-combatants into roving 'bandas criminales' (criminal bands) engaged in drug trafficking and a low-intensity war with the state.
The lessons have been learned, but there is currently a lack of resources and political will.
The likelihood of a return to violence is statistically and painfully significant. Systematic reviews have shown that of civil wars have a surprising high recidivism rate: of the 103 countries that experienced some form of civil war between 1945-2009, only 44 avoided a subsequent return to civil war, meaning 57% did not.
Strong evidence also suggests that poverty is a better predictor of recruitment into rebellions than grievance, because it more effectively increases people's susceptibility to manipulation.
The conclusion drawn from such exposition is that while it is true that civil war has a huge effect on economic development, it is also true that limitations in economic development may have a hand in perpetuating war. When the economic incentives for violence outweigh those for compliance, and the social, political and economic consequences of the conflict act to perpetuate such violence, countries enter what has been referred to as the 'conflict trap'.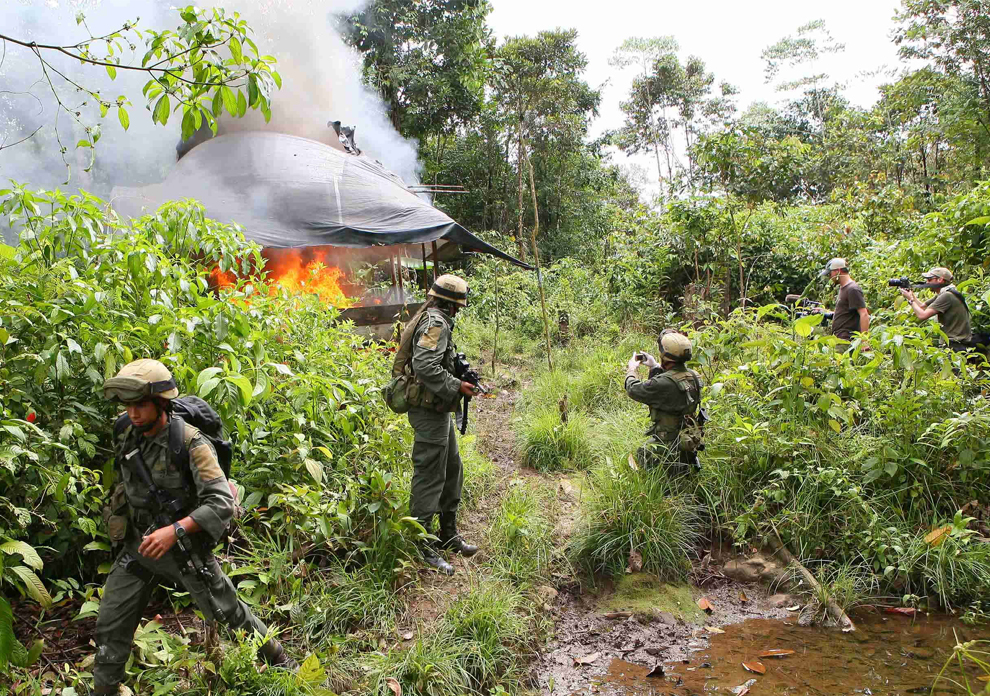 IN THE PHOTO:  ANTI-NARCOTIC POLICE OFFICERS DESTROY A COCAINE LABORATORY IN LLORENTE, COLOMBIA CREDIT: AP PHOTO. IMPAKTER ARCHIVES
Despite the international optimism surrounding peace in Colombia, all the ingredients for violence are there. The way in which the private sector develops thus has a critical role to play, and any discussion of sustainable peace in Colombia must necessarily include an understanding of the incentive structure that perpetuates violence.
As a consequence of the need to consider in a joined-up way the imperatives of peace alongside the demands of development, policymakers tasked with ensuring that the country moves forward are forced to be more innovative than ever to avoid the alternative.
One possible road map might come from a relatively young field of economic inquiry: value-chain analysis (VCA).
This approach seeks to understand the economic environment in which actors produce and consume. Then, by influencing the structures, systems and relationships that define the value chain, interventions are designed in order to trigger a holistic 'ripple-out' effect by which every actor in the chain – and, in particular, marginalized populations such as indigenous groups and women – may benefit from increased productivity, cooperation and income.
Major national and international organisations are already on site. The UK Department for International Development has argued that VCA offers the opportunity to "effectively and sustainably improve the lives of poor people by understanding and influencing market systems." Likewise, the World Bank noted that "enhancing value-chain competitiveness is increasingly recognized as an effective approach to generating growth and reducing rural poverty."
It also fits in well with wider, global frameworks of thought and action. The Sustainable Development Goals (SDGs) view increased income as a precursor to livelihood security, and VCA allows for the creative consideration of how SDG1 (ending poverty in all its forms, everywhere) and SDG16 (the promotion of just, peaceful and inclusive societies) may be achieved together in conflict-affected countries. Explicitly or not, value-chain development is a central aspect of graduation from poverty and the achievement of the 2030 Agenda.
To Build Peace in Colombia: Focus on Value-Chains in Rural Areas
In Colombia, as elsewhere, rural producers are the starting point of most value-chains. They are also often the locus of violence in developing countries where land governance systems are ineffective and dysfunctional, and the production of illicit goods relatively easy and comparatively profitable.
In Colombia, coca is produced in huge quantities and shipped north for 'value' to be added before reaching the end-consumer, often in the United States. Last year, coca production reached its highest point since 1994, and is today expected to amount to 3% of Colombia's GDP related to the agricultural sector. The UN estimated in 2016 that some 106,000 Colombian farming families live off the production of coca.
---
RELATED ARTICLE: COCAINE, THE HIDDEN COST Part One and Part Two
---
Sophisticated rural value-chains therefore already exist. Should they pivot towards the production of licit goods, producers could in theory be helped to capture market opportunities, obtain fair deals, and produce higher-quality products. By also formalizing and guaranteeing weak and insecure land tenure and resource rights, such an approach might improve value-chain performance by helping rural producers improve their incomes. It might especially help those at higher risk of poverty by integrating them into value-chain processes and opening up opportunities to create and sell licit surplus value beyond what is necessary to survive.
It could also aid in addressing corruption, which the World Bank and the World Economic Forum estimates adds up to 10% of the total cost of doing business globally and up to 25% of the cost of procurement contracts in developing countries.
Racked by a seemingly endless stream of corruption scandals, epitomized by the sentencing to jail of the country's top anti-corruption lawyer on charges of – you guessed it – corruption, Colombia ranked 96 in the 2017 Corruption Perceptions Index published annually by Transparency International.
According to the academic economist Johann Lambsdorff, "an increase in corruption by one point on a scale from 10 (highly clean) to 0 (highly corrupt) lowers productivity by 4 per cent of GDP and decreases net annual capital inflows by 0.5 per cent of GDP." By easing the flow of information across value chains and making market processes more transparent and competitive, small and micro enterprises have a better chance of market integration and improving their incomes.
However, significant challenges remain. Government intervention to create an enabling business environment implies that the government has the capacity to at least influence that environment.
While such capacity is growing, this is a long way from being a reality in many areas of the country, where the law of the jungle remains and many still live in insecurity. For rural producers living in such areas, there is little incentive to invest time, effort or resources into land that may be taken away, and the income from which they cannot be sure to keep. This stunts short-term productivity and long-term growth, as well as putting a ceiling on the income of the poorest.
Physical infrastructure, too, has long suffered from chronic under-investment in rural areas of Colombia. For example, a train used to run between the capital city, Bogotá, and the port city of Santa Marta, but it shut two decades ago and never reopened. This typifies the attitude of policymakers to infrastructure, the lack of which increases the cost of production and transport, creating frictions in value chains that make goods less cost-competitive and reduces the potential income for producers.
IN THE PHOTO: FREIGHT TRAIN LINE FROM SANTA MARTA TO LA DORADA (AND EVENTUALLY BOGOTÀ) CREDIT: EL TRANSPORTE
Challenges on the Political and Economic Front
Political events on the horizon may also pose a challenge. With campaigns gearing up for presidential elections, the discourse surrounding the peace accords and the integration of ex-combatants is becoming increasingly polarized. Many do not wish to see those who had caused such destruction over generations be given a chance to enter and influence political and economic systems – an impulse demonstrated by the surprise 'no' result in the plebiscite designed to ratify and legitimize the peace accords that has served right-wing candidates keen to show their hawkish credentials.
At the same time, the prominence of corruption has opened up a rich vein of anti-establishment and anti-business feeling that has served the hard-left candidates, who have made campaign promises to expropriate private property, threatening investment and business contracts. Meanwhile, the receiver of the Nobel Peace Prize and sitting President, Juan Manuel Santos, suffers lower approval ratings than even Venezuela's incompetent autocrat, Nicolás Maduro.
---
RELATED ARTICLE: LESSONS FROM NOBEL PEACE SUMMIT AND COLOMBIAN PEACE PROCESS by Carolina Urrego-Sandoval
---
Colombia is also experiencing a prolonged period of low economic growth combined with high inflation. This is caused in large part by the fall in the global price of petroleum (which makes up 32.5% of Colombian exports) and a widening negative trade balance. Add to this a mass influx of migrants from Venezuela to whom the Colombian government owes a duty of filial care and the withdrawal of international finance from donors such as USAID.
Despite international political optimism, international financial institutions are more hard-nosed. In December 2017, Standard & Poor downgraded the foreign currency credit rating of Colombian debt from BBB to BBB- (with negative outlook), and in the last six months another credit rating agency, Moody's, has twice threatened such a move. This substantially affects the country's borrowing costs and makes it more difficult to capture any kind of "peace dividend" through the inflow of foreign direct investment.
In this political and economic context, the already limited sympathies of the electorate may very well wane to a sharpened point. Yet for the country to advance, the impulse for revenge and punishment must be checked.
If ex-combatants are shut-out from integrating, they may well be left with little alternative than to return to violence, whether in bandas criminales, in FARC splinter groups, or with the next largest guerrilla group, the Ejército de Liberacíon Nacional (ELN) which, contrary to the FARC, retains violence as a constitutional imperative.
The private sector in Colombia also has a lot of work to do to before it can become trusted among the 'campesinos' (the rural poor). Many large corporations in extractive or agricultural industries have been accused of systematic land-grabbing and human rights violations. The government is perceived as tacitly encouraging the rapid expansion of these corporations in the pursuit of quick wins and to prove to the domestic electorate and international community that progress is being made.
In both periods of Juan Manuel Santos' administration, extraction has been made the driver of development, as laid down in the National Development Plans. A lot of work must be done not just to develop markets, but to ensure that markets are developed in such a way that does not increase economic inequality and poverty or diminish opportunities for the most vulnerable.
The Way Forward
In acknowledgement of these issues, the peace accords signed by the FARC and the Colombian Government in December 2016 took a novel 'territorial' approach, with Point 1 of the Peace Agreement aiming to tackle the high concentration of rural land and seeking to "eradicate extreme rural poverty and reduce rural poverty by 50% within 10 years."
This 'territorial approach' to peace building presents a unique opportunity to stabilize and build peace in long-ignored rural areas through the development of value-chains.
Indeed, one program using this approach has already been tried and tested in Colombia. The Inclusive Economic Development Project (DEI), run by the United Nations (UNDP), sought to enhance the productive capacities of the vulnerable populations in poverty and expand their opportunities in terms of generating employment and income.
The project was developed along three lines of action: institutional strengthening; employment and business development; and inclusive markets.
Ending in December 2016, DEI managed to impact the lives of more than 100,000 people and strengthened local institutional capacities for the productive inclusion of populations in poverty. Widely considered a success, it could be used as a template for further VCA-style interventions in the country.
Such innovations that can both foster development and further peace are increasingly necessary. According to the UN Pathways to Peace Report, the world is witnessing a rise in violence.
In 2016, more countries experienced conflict than at any time in nearly 30 years and, if current trends persist, by 2030 more than half of the world's poor will be living in countries affected by high levels of violence. The surge in human suffering, displacement, and protracted humanitarian need caused by violent conflict disproportionately affects the poor. To overcome it, the problem of peace must be considered alongside critical economic issues such as poverty and inequality.
A value-chain approach could be a powerful tool, simultaneously reinvigorating development processes and combining economic growth with poverty-reduction goals. Yet in the context of Colombia, and in similarly conflict-affected countries, VCA could also be put to work to break the cycle of violence while reducing direct government involvement at a time of limited legal, military and budgetary capacity.
Yet there are also challenges. If done wrong, with a focus on quick wins and without an institutional capacity to match, the expansion of competitive markets in rural areas of Colombia could be the cause of further conflict, not the key to a sustainable peace and long-term development.
As such, the twin goals of building peace and economic development exemplified in the SDGs cannot – must not – be considered separately. The application of VCA to rural Colombia in this critical juncture could be used to address both simultaneously. What its policymakers decide to do now will very likely determine the fate of the country for the next generation. The role of the private sector as a catalyst for peace should be carefully considered.
---
Editors Note: The opinions expressed here by Impakter.com columnists are their own, not those of Impakter.com