The world is at a critical juncture in the fight against climate change, and the transition to clean energy holds the key to a sustainable future. 
The International Energy Agency's (IEA) latest report, "Tracking Clean Energy Progress 2023," reveals the remarkable progress made in clean energy technologies. 
However, it also highlights the urgent need for faster and more inclusive change across all regions and sectors to achieve the goal of net-zero emissions by 2050. 
In particular, the transition to electric mobility serves as a glaring example of the inequality that can emerge if we do not ensure a just and equitable transition for all.
Such transition exposes the risks of an unequal society if we do not address the challenges of regional disparities and supply chain vulnerabilities.
The Rapid Pace of Deployment
The IEA report showcases the impressive strides made in clean energy deployment in recent years. 
Solar PV and electric vehicles (EVs) stand out as success stories, demonstrating what can be achieved with sufficient ambition and policy action. 
The report reveals that electric car sales surged by 55% last year, and "electric car sales reached a record high of more than 10 million in 2022," marking a nearly tenfold increase in just five years.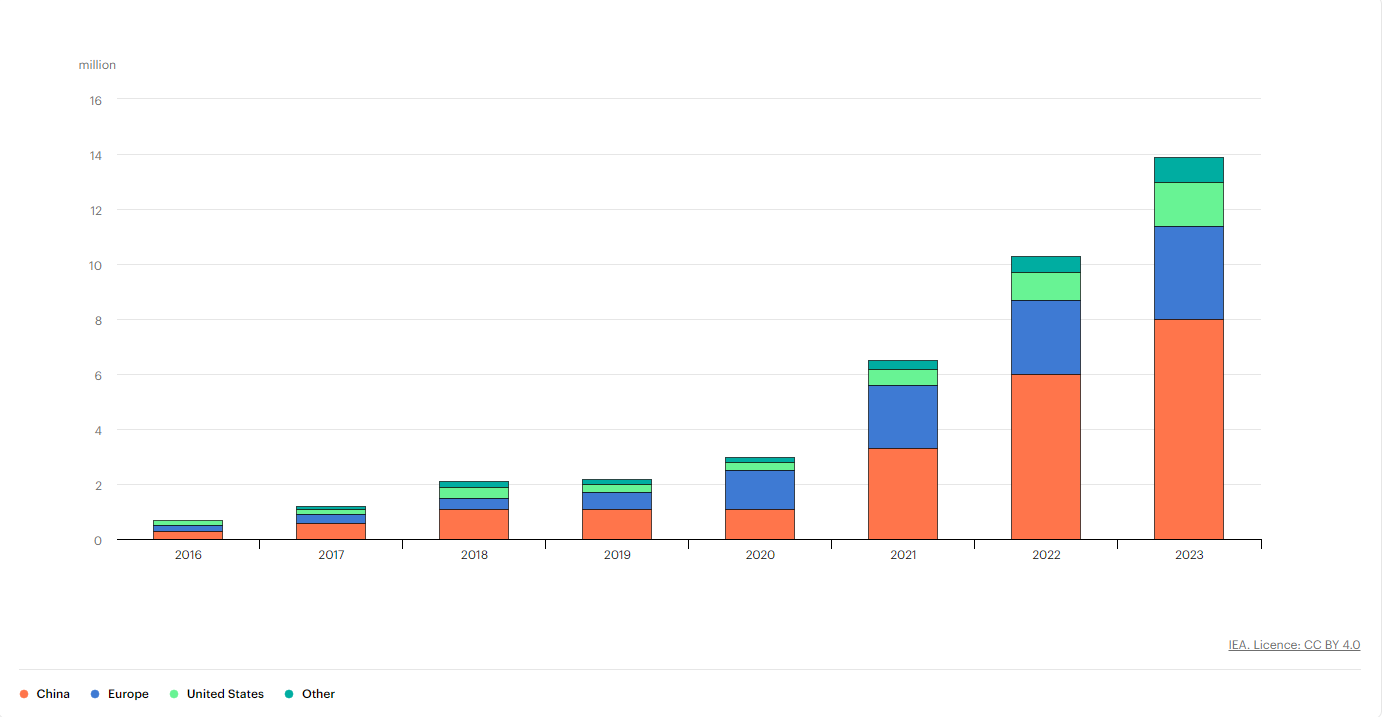 Additionally, renewable electricity capacity additions soared to 340 gigawatts (GW), the largest deployment ever recorded. 
With renewables now accounting for 30% of global electricity generation, these figures indicate that progress is possible when we prioritize clean energy.
In recent years, we have witnessed exponential growth in EV sales, accompanied by improved range, wider model availability, and increased performance. 
The Inequality Challenge in Clean Energy Transition
Despite the significant progress, electric vehicles are not yet a global phenomenon and the transition to clean energy is unevenly distributed across regions and sectors. 
While countries like Norway or China have led the charge, developing and emerging economies have experienced slower sales due to relatively high purchase prices and a lack of charging infrastructure. 
This imbalance in clean energy transition further exacerbates global inequality, with certain countries and regions leading the way while others lag behind.
As stated in the IEA report "for example, nearly 95% of global electric car sales in 2022 took place in China, the United States and Europe."
Similarly, approximately "75% of operating and planned carbon capture capacity is in North America and Europe."
Such disparities indicate that while certain countries and regions are forging ahead, others, especially emerging and developing economies, are being left behind.
China has played a crucial role in driving down the costs of renewable energy, making solar PV the most affordable electricity generation technology in many parts of the world.
However, such a high concentration of production poses significant threats to the energy transition and global supply security. 
To ensure a secure transition to net-zero emissions, it is crucial to expand and diversify the global production of renewable technologies while reducing supply chain vulnerabilities. 
---
---
The IEA emphasizes the need for concrete action to modernize existing production facilities and double global production capacity for solar PV building blocks by 2030. 
Improving recycling capabilities presents a significant opportunity in the transition to clean energy. 
As the sales of electric vehicles (EVs) increase worldwide, there arises a challenge of dealing with the old polluting vehicles. 
With vehicle greenhouse gas emissions accounting for 14% of global emissions, proper management of end-of-life vehicles is crucial. 
Developing efficient recycling systems and implementing responsible disposal practices can mitigate environmental impacts and promote the circular economy.
Several factors contribute to the disparity in clean energy transition. 
"Clean energy deployment is also occurring faster in some parts of the  energy system – such as electricity generation and passenger cars – where costs have fallen and technologies are already relatively mature."
– Tracking Clean Energy Progress 2023 Report
However, sectors like heavy industry and long-distance transport, which face greater challenges in emissions reduction, require more rapid innovation to bring low-emission technologies to the market.
The Path to a More Inclusive Transition
To achieve a just transition, concerted efforts must be made to address the inequality in clean energy deployment.
International cooperation and policy development are essential for spreading progress to all regions. 
Without robust collaboration, emerging markets and developing economies struggle to access clean energy technologies, hindering their ability to transition swiftly. 
Stronger partnerships and supportive policies are crucial to addressing this gap and ensuring a just transition globally.
Developed countries must provide support and technology transfer to emerging economies, enabling them to leapfrog to cleaner technologies.
Governments should establish robust policies that promote the adoption of clean energy technologies, especially in sectors where progress has been slower. 
Incentives, subsidies, and regulatory frameworks can accelerate the transition and ensure equal opportunities for all regions.
Nearly all the growth in clean energy investment in recent years has been in advanced economies & China

But in emerging & developing economies, it has remained almost flat since 2015, creating a major imbalance that needs to be addressed

More 👉 https://t.co/wyAtUOQzhv pic.twitter.com/msK2z7aMgH

— International Energy Agency (@IEA) July 15, 2023
Access to affordable financing options and investment mechanisms must be expanded to help developing countries overcome financial barriers to clean energy adoption.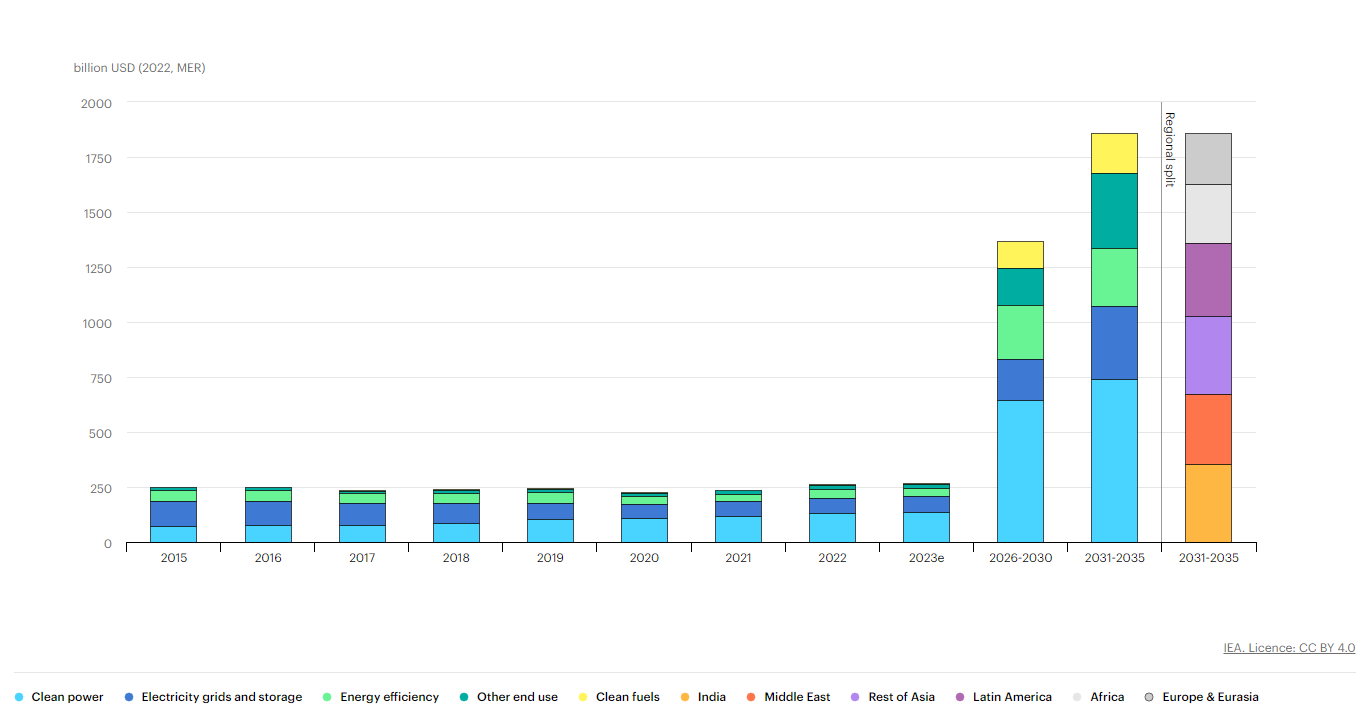 As the world moves towards a sustainable future, it is imperative to ensure a just transition that "leaves no one behind". This has become in the ears of many people an overused UN slogan but it's much more than a mere slogan, and it is in fact a clarion call for more equality across nations. 
While the progress in clean energy deployment, such as electric mobility, is commendable, the disparity among regions and sectors is a cause for concern. 
By prioritizing international cooperation, robust policy development, innovation, and financial support, we can bridge the gap and create a more inclusive transition. 
The fight against climate change demands a collective effort to build a world that is not only clean but also equitable and fair for all.
---
Editor's Note: The opinions expressed here by the authors are their own, not those of Impakter.com — In the Featured Photo: Solar energy in Mali. Featured Photo Credit: Curt Carnemark / World Bank.