The annual Future Policy Award, also known as "the Oscar for Best Policies," aims to promote policies on a worldwide scale and heighten the speed of policy action. It is the "first and only award that recognizes policies for the benefit of present and future generations on an international level."
It is estimated that over 1.6 million people died either directly or indirectly from chemical exposure in 2016. With "743,000 cases of deaths and of intellectual disabilities in children being caused by lead exposure every year," this year's policy award attempts to improve safety within the hazardous chemical market.

This year the award went to five most effective policy solutions — from Kyrgyzstan, Columbia, the Philippines, Sri Lanka, and Sweden — designed to protect human health and the environment from exposure to hazardous chemicals.
It is absolutely imperative to strengthen good governance of chemicals and waste – through effective, inspiring, and innovative laws and policies, such as those represented by the winners of the Future Policy Award 2021,
— UNEP Executive Director Inger Andersen
The World Future Council, which organizes the award and works to maintain a sustainable planet through policy solutions, announced three Special Award winners and two Gold winners, which were chosen out of 55 nominated policies from 36 countries.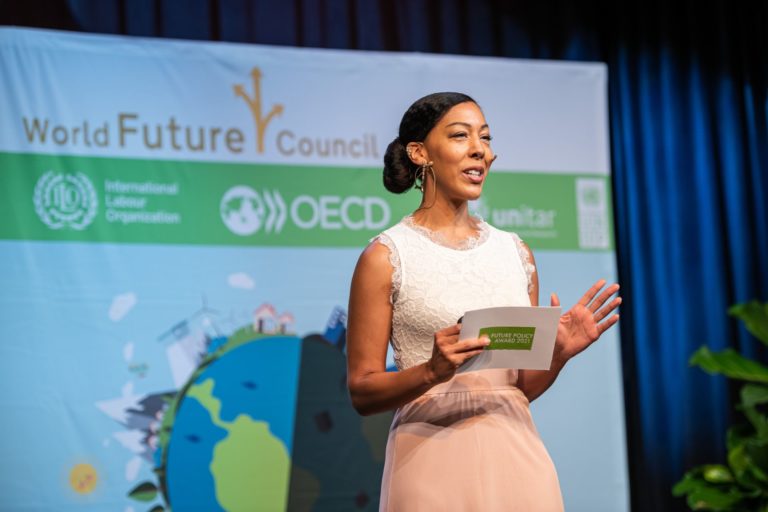 Kyrgyzstan and Sweden took home the gold award, with Kyrgyzstan's policy entry being, "Resolution No. 43 on Approval of the Chemical Hazard Classification System and Hazard Information Requirements – Labelling and Safety Data Sheet (2015)." This policy legally binds the classification and labeling of chemicals and is used in the workplace as well as in consumer products, transport, pharmaceuticals and pesticides, making Kyrgyzstan one of the few countries in the world with a legally binding Globally Harmonized System of Classification and Labelling of Chemicals (GHS). 
The Swedish policy entry, "Phase-Out List for Chemicals Hazardous to the Environment and Human Health (2012-2016, revised for 2017-2021)," aims to phase out chemicals hazardous to the environment and human health, "preventing purchasing and procurement of chemicals and chemical products as well as articles and consumables containing toxic substances that fall within a large number of specified categories, such as: may cause cancer; and may cause inheritable genetic damage."
---
---
The three Special award winners for 2021 are:
"Highly Hazardous Pesticides": Sri Lanka: Control of Pesticides Act No. 33 (1980, amended in 1994, 2011, 2020) and National Policy and Action Plan on Prevention of Suicide (1997). The Act, makes certain that only pesticides with the least hazard are at obtainable, decreasing the suicide rate by 70 percent. 

"Lead in Paint": Philippines: Chemical Control Order for Lead and Lead Compounds (CCO, 2013-24). The country became the first one in Southeast Asian to successfully carry out a legislation for lead-safe
paint.
"Environmentally Persistent Pharmaceutical Pollutants": Colombia: Resolution No. 371 Establishing the elements to be considered in the Management Plans for the Return of Pharmaceutical Products and Expired Medicines (2009). The Resolution is Latin America's first successful mandatory medicine disposal
programme.
The award ceremony, which took place in Hamburg, Germany on July 6, can be watched here:
The award will tackle ongoing dangers surrounding chemicals in the market. Administrator of the United Nations Development Programme (UNDP), Achim Steiner, said: 
"Every year, 1,500 new chemicals enter the market. Many of them have never been properly tested for safety and toxicity and may cause irreversible harm to the health of humans, fauna, flora and ecosystems. The Future Policy Award 2021 winning policies from Colombia, Kyrgyzstan, the Philippines, Sri Lanka and Sweden are all impactful solutions that tackle critical aspects of this global challenge."
Executive Director of the United Nations Environment Programme (UNEP) Inger Andersen hopes that the award will prompt global action in dealing with hazardous chemicals. "The lack of sound management of chemicals which are part and parcel of daily life is toxifying our planet and all life on it," Andersen said. "It is absolutely imperative to strengthen good governance of chemicals and waste – through effective, inspiring, and innovative laws and policies, such as those represented by the winners of the Future Policy Award 2021. They set a precedent, which hopefully many governments will follow."
The process of evaluating policy solutions is strictly analytical. Referring to this process, World Future Council Founder Jakob von Uexkull said, "We thoroughly review each policy and ask critical questions: For instance, does the policy provide for public consultation and genuine engagement in the drafting, implementation, monitoring and evaluation processes? Interestingly, while we received nominations for almost all categories of this years' Future Policy Award, we received none in the category of Chemicals in products. Much still needs to be done in this field."
The World Future Council has organized this year's award in partnership with United Nation Environment Programme (UNEP), the Strategic Approach to International Chemicals Management (SAICM), the Organisation for Economic Co-operation and Development (OECD), the International Labour Organisation (ILO), the United Nations Institute for Training and Research (UNITAR), the United Nations Development Programme (UNDP), and also with support from the Jua Foundation and the Michael Otto Foundation.
---
Editor's Note: The opinions expressed here by Impakter.com columnists are their own, not those of Impakter.com. — In the Featured Photo: 2021 Future Policy Award. Featured Photo Credit: © Markus Mielek Future Policy Award.