On 10 March, the New York Times, basing itself on "closely-held" European Commission documents they were "able to access" in Brussels, made the shocking revelations that, despite the slow roll-out of vaccination, Europe engages in COVID vaccine exports, fully 34 million doses last month. Within hours of the New York Times revelations, the European Commission, far from denying the numbers, proudly announced that the EU "continues to be the leading provider of vaccines around the world" and will be extending the measure which allows for such vaccine exports till the end of June. 
Executive Vice-President and Commissioner for Trade Valdis Dombrovskis said: "Since the measure was introduced, shipments were authorized to more than 30 countries. This confirms that even during a very critical health situation, the EU has made a considerable effort to be a reliable and responsible trading partner."  The statement can be viewed as a direct answer to WHO accusations in January that the EU had introduced vaccine export control measures, setting off a "worrying trend" in "vaccine nationalism". The EU of course defends its position, pointing out that the measures simply give power to the EU to deny authorization for COVID vaccine exports if the company making them (and whose facilities are based in the EU) has not honored existing contracts with the EU.
Six weeks into the existence of this measure, 249 export requests to 31 different countries* have been granted for a total of 34,090,267 doses, as they "did not threaten the contractual engagements between the EU and the vaccine producers". Only one export request was not granted (probably referring to Italy's refusal to send vaccines to Australia, more about that below). 
The main vaccine export destinations include:
The United Kingdom 9.1 million doses;

Canada 3.9 million; 

Mexico 3.1 million;

Japan 2.7 million;

Saudi Arabia 1.4 million; 

Hong Kong 1.3 million;

Singapore 1 million; 

The United States 1 million; 

Chile 0.9 million; 

Malaysia 0.8 million
Looking at this list of countries, European citizens could be forgiven for feeling short-changed and made fun of. These are not poor, low-income countries part of the United Nations-sponsored COVAX roll-out. These are rich or fast-growing and emerging countries that in some cases are doing much better than the EU in getting the vaccines out to their citizens. 
At the time of writing, according to data collected by OurWorldInData, only 6.5 percent of people in the European Union have been inoculated, compared with nearly 58 percent in Israel, 33 percent in the U.K., and close to 19 percent in the United States: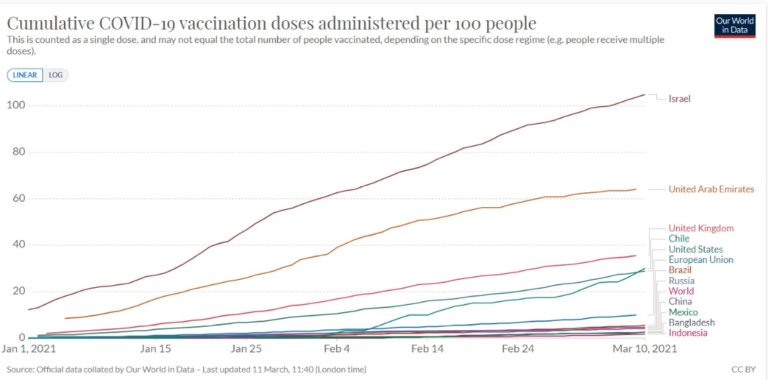 So why should the EU suddenly engage in COVID vaccine exports to countries like the U.K. and the U.S. that are apparently doing very well from a vaccine supply side?
This question is a hot topic and a diplomatic mess. The EU and the U.K. traded blows over vaccine exports this week, each accusing the other. We've also all heard about the spat between the European Commission and the U.K. when Brussels briefly withheld the export of vaccines to the U.K. back in January.
We also all heard about the uproar when Italy stopped the export of a batch of AstraZeneca vaccines to Australia last week. But, as EU Commission President Ursula von der Leyen pointed out two days ago, this is not a "one-off" event and she warned the EU could block more vaccine exports in the future. 
The problem, in this case as in others before, is that the medical supplier failed on its delivery promises. And that is in fact the crux of the matter. Medical suppliers consistently fall behind in deliveries and they systematically keep the content of their various contracts hidden from their different customers, including governments. Moreover, medical supply chains are incredibly long and complex. To produce vaccines, over 80 different materials have to be sourced from different countries on different continents.
Because of this, any government dealing with Big Pharma is, in practice, faced with complex, hidden forces that need to be taken into account for practical rather than ideological reasons. And when the U.S. led by Trump launched Operation Warp Speed and decided to go alone rather than collaborate with its allies, the international scene became dangerously combative. 
And we've heard that the EU was not as nimble as the U.S. or the U.K. in negotiating contracts with Big Pharma. That the bureaucrats in Brussels took longer to sign the contracts, thus automatically falling behind, in third place.
But are the vaccine delays entirely due to Brussels? Not really. As the New York Times pointed out, about 40 percent of doses procured by the E.U. and distributed to member states are stuck in storage, partly a result of poor logistics and national governments' inability to organize vaccination in an orderly and prompt manner.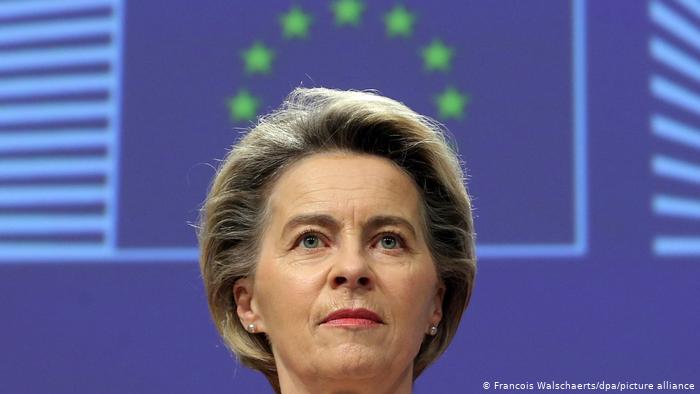 For now, EU member countries have been happy to gripe about Brussels and accuse the Commission. But as medical suppliers are increasingly coming through with the promised doses, expect the blame game to shift back to national capitals.
If all goes well and production is stepped up as promised, then, according to Standard and Poor Global Ratings, the EU could meet its target of 70% of the population vaccinated by the end of July. The fact that yet another vaccine has come on-board is good news: Johnson & Johnson has just been cleared for use in the EU. 
Supply issues are expected to emerge with this vaccine too but we should not despair. Another handful of vaccines are on the cusp of approval. And we've just learned that Russia has signed a deal to produce 10 million doses of the Sputnik V coronavirus vaccine in Italy this year, a first in the EU.
One lesson emerges from all this mess: We are all on the same boat. Or put another way, on the same planet. And vaccine nationalism notwithstanding, we should all remember that the virus (and its variants) cannot be defeated until it is defeated everywhere, low-income countries included. This means that vaccine exports do not deserve to be the hot button issue they have apparently become. 
*Countries that have received vaccine shipments from the EU: Argentina, Australia, Bahrain, Brazil, Canada, Chile, China, Colombia, Costa Rica, Dominican Republic, Ecuador, Hong Kong, Japan, Kuwait, Macao, Malaysia, Mexico, New Zealand, Oman, Panama, Peru, Qatar, Republic of Korea, Saudi Arabia, Singapore, South Africa, Turkey, United Arab Emirates, United Kingdom, United States, and Uruguay. 
---
Editor's Note: The opinions expressed here by Impakter.com columnists are their own, not those of Impakter.com. —  Photo Credit: Photo by Steven Cornfield on Unsplash