Malaysian authorities have detained a Chinese-registered vessel suspected of looting two British World War Two shipwrecks. On the ship, seized for illegally anchoring in the South China Sea, local authorities found ammunition from the British warships.
Pre-War Steel: a sunken treasure
These old shipwrecks are targeted because of the presence of rare low-background steel, commonly known as pre-war steel. This steel holds immense value due to its low radiation levels.
During the mid-20th century, extensive nuclear weapons testing released radioactive isotopes into the atmosphere, contaminating the environment. Steel produced after this period contains trace amounts of radioisotopes, which can affect specific scientific experiments and sensitive equipment.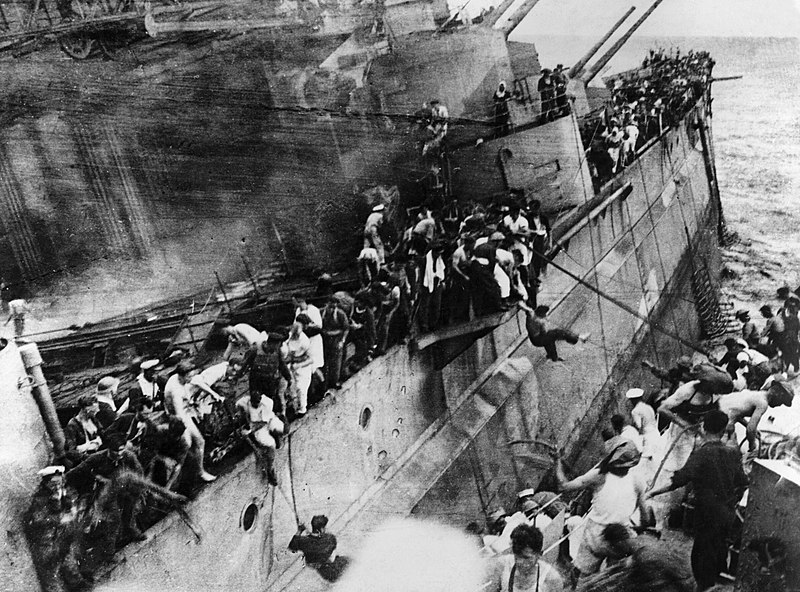 Meanwhile, pre-war steel, is perfect for various applications, particularly in scientific and medical fields. These include particle accelerators, radiation detection equipment, and specific medical devices. The scarcity of pre-war steel contributes to its high demand and value. Shipwrecks, like the HMS Prince of Wales and HMS Repulse, are targeted by scavengers for this reason.
---
---
The Investigation
Malaysian maritime police detained the Chinese ship following reports from local fishermen and divers. The ship anchored illegally at the site of the shipwrecks, approximately 100 km off the east coast of Malaysia.
The ammunition discovered on board is believed to originate from the British warships, HMS Prince of Wales, and HMS Repulse. Malaysian agencies are also investigating a recent discovery of unexploded artillery and other relics seized from a private scrap yard in the nearby region of Johor.
This incident is not the first time shipwreck looting has come to light. In 2017, Prince Charles saw evidence of the damage caused by scavengers looking for pre-war steel to the HMS Prince of Wales.
HMS Prince of Wales salvage-new update: unbelievably Chuan Hong 68 operated undetected over the wreck for 5 months. Our analysis indicates a sustained campaign of destruction beginning c29th Dec 22. After 2 weeks onsite the barge unloaded at Kg Belungkor (Digital Globe EO📸@30cm) pic.twitter.com/aJhykHWIO8

— MASTArchaeology (@MASTArchaeology) May 27, 2023
The dangers of shipwreck Looting
Back in 2017, the UK Defence Secretary pledged to collaborate with the Malaysian and Indonesian governments to investigate claims of looting involving multiple British warships in their waters.
The detention of the Chinese-registered vessel marks a significant step towards addressing the issue of shipwreck looting in the region. The investigation into this incident will shed light on the scale of the looting activities, enabling the development of strategies to prevent future desecrations of these sites.
The presence of the Chinese vessel in the area highlights the growing request for pre-war steel. Efforts to combat shipwreck looting are not just a matter of preserving war graves, there is an issue of safety as well. Unexploded ammunition and other dangerous materials are still onboard these ships. This kind of looting could lead to huge natural disasters too.
---
Editor's Note: The opinions expressed here by the authors are their own, not those of Impakter.com. In the Featured Photo: The Chinese ship sized by the Malaysian Maritime Enforcement Agency. Featured Photo Credit: MALAYSIAN MARITIME ENFORCEMENT AGENCY,