In 2022, according to the IMF report, fossil fuel subsidies amounted to $7 trillion (about 13 million dollars a minute) – which is 7.1% of global Gross Domestic Product (GDP).
To put this figure into further perspective, 4.3% of GDP is spent on education and 10.9% is spent on healthcare. 
Why is this an issue?
The use of fossil fuels is directly driving climate change. The effects of this are already being felt internationally with heatwaves, floods and wildfires being spread from the Americas to Europe and Asia.
One country that has seen devastating wildfires recently is Greece, with its Prime Minister Kyriakos Mitsotakis commenting:
"I no longer want to talk about climate change. I want to talk about the climate crisis, it is already here."
This amount of spending on the continued use of fossil fuels is of particular concern due to the need to keep the world from heating above 1.5 degrees Celsius. This is a figure referring to the average temperature of the Earth since pre-industrial times. 
The use of fossil fuels has risen sharply since the start of industrialization, leading to the increase in global average temperatures that brought the current climate crisis.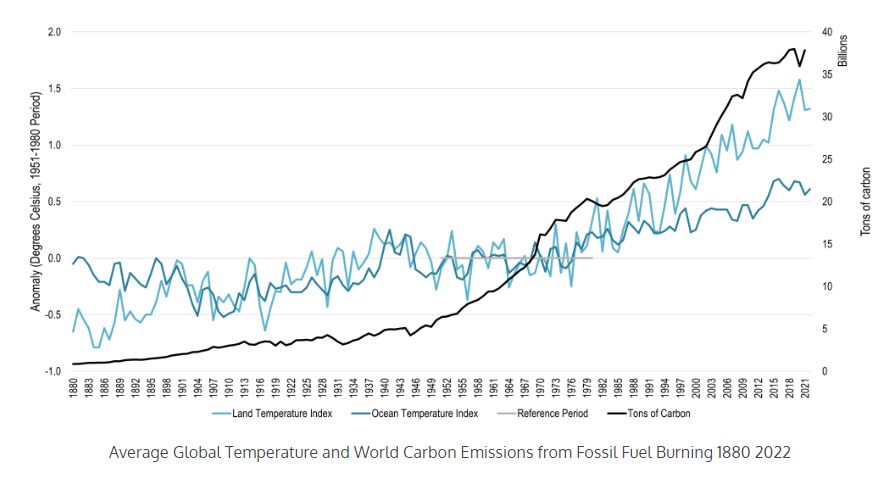 Although this figure sounds small, the potential impact is massive. It is predicted that 1.5 degrees Celsius of warming will expose millions of people to effects such as heatwaves, drought, flooding and wildfires. There will also be issues related to this such as food scarcity and biodiversity loss. 
If this figure is passed, there could be even more worrying consequences. If in the future the world heats up by more than 2.5 degrees Celsius, some areas of the world could become uninhabitable. 
So why are we still funding fossil fuels?
One of the driving factors is the energy crisis caused by the war in Ukraine. This has seen a sharp spike in energy prices and highlighted the need for energy security and stability for many countries that do not rely on imports from unstable regions.
---
---
Another reason given is economic — that both industry and householders need cheap energy to survive, and that subsidising energy prices is the easiest way of doing that. It is also argued that continued support of fossil fuels is necessary for the development of the world's poorest nations. 
What can be done about this situation?
There seem to be two realistic ways around this situation: To promote the use of renewable energy and to tax the use of fossil fuels to provide funds to help vulnerable households. This would help with the need for energy security as it would lead to countries like the UK producing energy internally such as wind or solar energy instead of relying on imported gas and oil.
"If we want to address global warming, along with other environmental problems associated with our rush to burn our precious fossil fuels as quickly as possible, we must learn to use our resources more wisely, kick our addiction, and quickly start turning to sources of energy that have fewer negative impacts,"
— David Suzuki, Canadian academic and environmental activist.
---
Editor's Note: The opinions expressed here by the authors are their own, not those of Impakter.com — Featured Photo Credit: Wallpaper Flare.