"Why did you choose Guatemala?" – "Isn't it really dangerous there? Especially for women?" These and many other comments from friends and family back home echoed through my head while the plane took off. It was September 14th, 2016 when I left my comfort zone in Switzerland. My six-month plan was to learn Spanish, volunteer with an NGO and travel around the country. The following stories give a glimpse into the encounters and learnings that I have experienced in the various towns I have lived in while in Guatemala.
ANTIGUA
After moving into my room at the Spanish school, a fellow student that lived across the hall told me that the girl that had stayed in that room before me had been robbed at gunpoint, sitting outside the school on the curb at night. So, one day, my house mate therefore asked me to walk her to the local hospital where she intended to volunteer, so I accompanied her. Off we went to Obras Sociales del Santo Hermano Pedro, a hospital, orphanage and home for the disabled, where we were offered a tour through the facilities.
In my mind, the image of dire need became poignant with the more I saw. The lack of staff, volunteers, medical equipment and supplies overwhelmed me to the point where I had to step out of the room for a moment. We had just entered a room filled with metal baby cribs, barely leaving a path to walk. We saw a couple of volunteers carrying the infants and talking to them, giving them love and affection which they otherwise were lacking.
The cold and dreary environment has stuck with me until today. Then, on our way out, we passed a lady that was sweeping the floor with a broom. Even though it takes a lot more to keep a hospital clean and running, the little things make the difference and she did what she could. In that moment, I understood what dedication meant.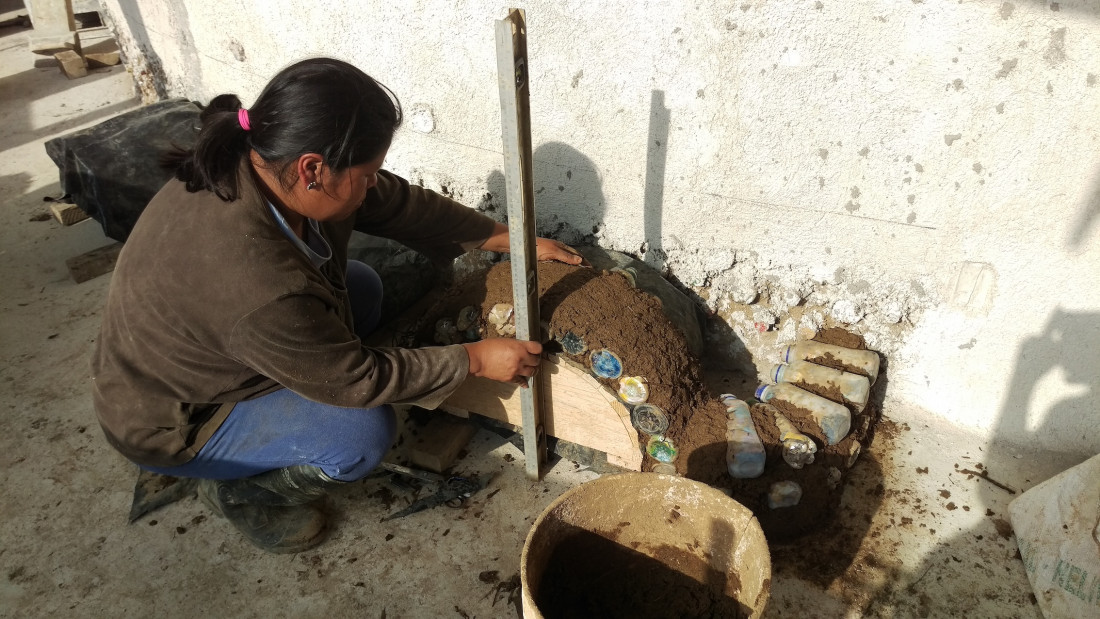 In the photo: Marta Mux – photo credit Long Way Home Michelle Frei
SAN JUAN COMALAPA
The culture shock set in when I arrived at the organization I would be working at, Long Way Home.
The volunteer`s house was a bare cinder block house with a corrugated steel roof, in the middle of nowhere. Dirt and dust everywhere, no fridge, no hot water, no creature comforts like a washing machine or internet. The simple lifestyle and the zero-waste policy took me a while to adjust to but eventually I felt like a burden was lifted from my shoulders and I felt at ease.
Managing and carefully sorting my own trash for three months made me realize how thoughtlessly I had been producing waste and how important it was to change my habits. The local workers taught me what sustainable design on a budget meant. Working by trial and error and thinking outside the box are crucial: Tires can make great playgrounds, stairs, walls or seismic-resistant retaining walls. Glass bottles laid in mortar can serve as colorful and beautiful light sources in walls or roofs. Cans can be compressed to shingles or be used structurally. Stuffed plastic bottles are called eco-bricks and create reinforcement in walls as well.
For the first time I also heard about dry-composting toilets, rocket stoves and water filtration systems built from scratch. In a nutshell: The Earthship approach, building autonomous self-sufficient houses with natural and recycled materials, sparked my interest and made me hungry to learn more.
Leaving Switzerland, I was unaware that I had embarked on a journey of self-discovery.
Marta Mux, one of three female, indigenous construction workers in rural San Juan Comalapa, had a huge impact on me. For five days a week she tried to keep up with the hard physical work of her male co-workers. After work she dedicated her time to the organization, where her sister with down-syndrome was a beneficiary. On the weekends, she took computer classes which she was convinced would enhance her chances in the competitive job market. She told me objectively how important it was to always give it your all and help the less fortunate. Humbling, especially if it comes from someone you consider less fortunate.
One day, I got to be part of a film set at Marta's house. A Canadian videographer had come to town to promote the organization`s work and mission. He suggested showcasing the daily routine of a rural area under the title of "One day in the life of Marta".
Early in the morning we met at her house where she prepared breakfast over an open fire. The room was filled with smoke. When she moved on to packing her lunch, she was asked what her wish would be if a genie granted her one. She teared up and told us how much she wished for a gas stove for her family. She knew how harmful smoke from a fire was but they simply could not afford to pay the monthly fees for gas (about 8 USD).
I instantly felt sad and ashamed. How many times had I spent more than that amount on things I did not actually need? By sharing a part of her life with us, she helped me reset my priorities.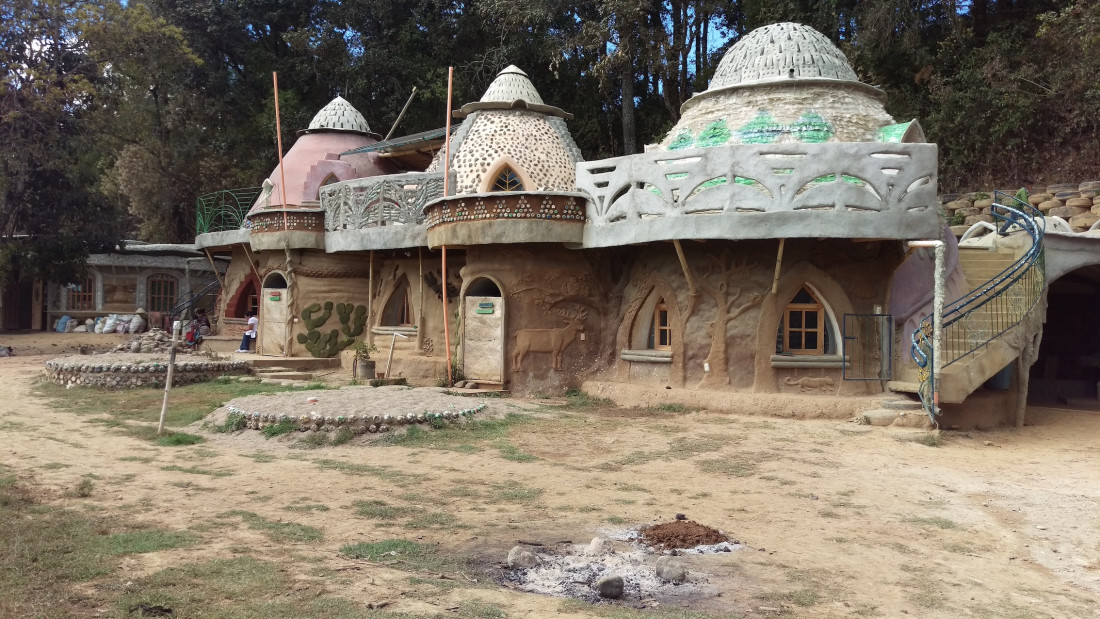 In the photo: Long Way Home – photo credit Long Way Home Michelle Frei
ANTIGUA
Close to the end of my stay in Guatemala I was interested in getting to know one more NGO. So, on a friend's recommendation I started volunteering with Common Hope in Antigua.
Once the word spread that I had a background in architecture (BSc), several people encouraged me to apply for the open position as Housing Program Coordinator. The opportunity presented itself and I took advantage of it. Over the course of two years I lead about 45 volunteer teams, who each built a house for one of our affiliated families. The prefabricated houses are built on 2 inch concrete slabs and consist of 4×8 ft panels and a slanted, corrugated steel roof. The panels are made of fiber reinforced cement boards, mounted on wooden frames. In only five days the volunteers take part in putting up a dignified house.
Thanks to my work as a volunteer I got to see for myself where and how Guatemalans in need live. Being exposed to poverty made me analyze the families` needs and understand the demands. My desire to improve their living conditions in a simple but for them accessible and creative way, grew by the week.
Common Hope gave me plenty of rope to explore additional options and I was able to see a great variety of existing projects: From pedal-powered machines made from old bicycles, to recycled plastic bottles filled with water serving as alternative light sources in the roof, to smokeless stoves and bamboo constructions. Trying to follow the lead and implement those ideas, we faced cultural and logistical problems, so we finally decided to just build foldable bunkbeds and retaining walls made of tires. It has been a journey of personal growth and understanding, where the importance of field work and direct communication was paramount.
In the photo: Can shingles at Long Way Home – photo credit Long Way Home Michelle Frei
GUATEMALA CITY
Just before setting out for a new chapter in my life, I got the chance to visit Safe Passage, an organization that was founded 20 years ago by the inspiring Hanley Denning. Her non-governmental organization helps break the cycle of poverty for families that work in the Guatemala City garbage dump, through education and integral health services.
At the size of 22 soccer fields, the Guatemala City garbage dump is the biggest one in Central America. Seeing and smelling mountains of trash and knowing that working there is the dangerous reality for thousands of people every day, made me question humanity. How is it possible that society accepts to see those people digging and sorting through disintegrating waste as their only source of income?
Every single person has the right to live a dignified life and I am convinced that there are sustainable and affordable solutions waiting to be found. Guatemala, the land of many trees, has planted the seed of passion in my heart and over the past two and a half years it has grown into my project idea:
My goal is to come up with a flexible and intelligent modular house-build system made of recycled materials for families in developing countries. After analyzing local needs and demands, the production of the necessary building materials would create new job opportunities for unskilled, dedicated and visionary workers. The final beneficiaries could be part of the same process in exchange for getting their house.
These dignified houses provide shelter and promote hope and positive change. By assuring an end-user-oriented process, unhealthy dependencies are avoided and chances of a better future for people in need are enhanced.
This sustainable low-cost housing solution would be the result of global, interdisciplinary teamwork and networking. Ideally, it would grow into a sure-fire success and locals could take over and help their communities move forward. The cradle-to-cradle approach, which aims at a potential infinite use of materials in cycles, would raise environmental awareness and together we would be improving lives through innovation.
A lot of research lies ahead of me, a lot of contacts are to be made, a lot of places, firms and organizations are to be visited but I am devoted to launch the project. The time has come for me to learn how to be a social entrepreneur.
Guatemala has inspired me and I would love for my story to inspire someone else one day.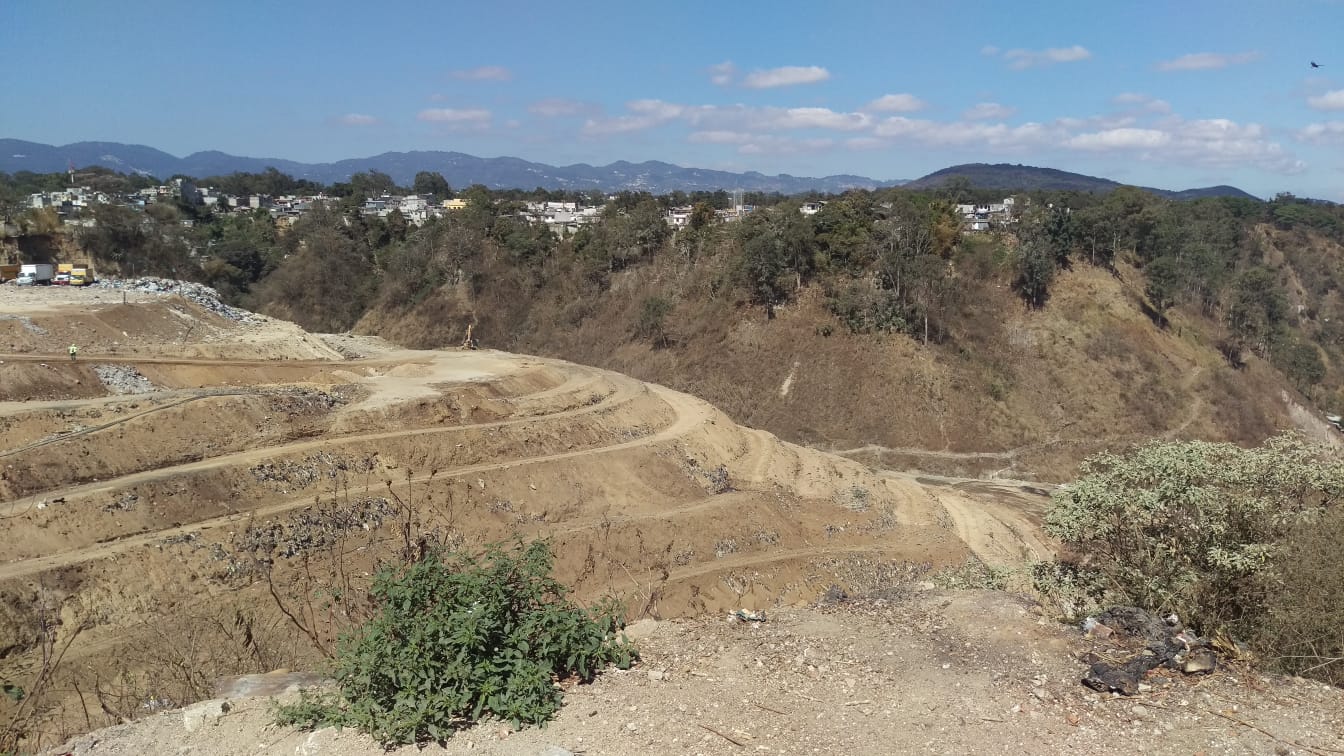 In the photo: Dump in Guatemala City – photo credit Camino Seguro Michelle Frei
---
EDITOR'S NOTE: The opinions expressed here by Impakter.com columnists are their own, not those of Impakter.com In the cover photo: Glass bottles as a lightsource in roof. Photo credit: Long Way Home Michelle Frei