On Friday, Vanuatu's latest push from the International Court of Justice (ICJ) to implement climate change protections for vulnerable countries received the support of 1,500 civil societies from more than 130 different countries — backing that is crucial as the UN General Assembly is expected to vote on the subject later this year.
Vanuatu announced it wanted to obtain an adversary opinion from the ICJ back in 2021. The opinion suggested rights needed to be in place in order to protect future generations from the effects of climate change — Vanuatu having faced its fair share of climate tragedy.
If the protections are authorized by the ICJ, the adversary opinion would carry legal weight which eventually could lead to international law. Alongside becoming part of the law, courts would be able to use the protections as precedent when addressing issues related to climate change.
Vanuatu has faced many climate change catastrophes 
Vanuatu is a South Pacific Ocean nation made up of roughly 80 different small islands that stretch over 1,300 kilometers. Since Vanuatu is made up of islands, the country faces some of the biggest threats of climate change because of its location. 
Lying in the South Pacific, Vanuatu has always faced earthquakes, tsunami evacuation warnings, droughts and tropical storms — but now the effects of climate change are making such disasters more and more frequent. 
The frequency in which these natural disasters occur have now taken to ruining crop growth — many persons in the country facing food insecurity. According to the Food and Agriculture Organization of the United Nations, 1 in 10 people in Vanuatu is undernourished.
One prime example of how climate change has impacted food growth is back in 2015 when tropical storm Cyclone Pam hit Vanuatu. As a result of the strong winds, the cyclone ripped through the nation, destroying a plethora of banana, coconut, citrus and avocado trees. It also killed livestock and severely impacted the fishing industry by damaging equipment and fish habitats such as coral reefs. 
According to the Borgen Project, 80% of Vanuatuans feed themselves through their agriculture. Therefore, the storm not only wiped out homes and buildings but had a significant impact on the foods well over half of the nation is reliant on — the UN estimated the storm destroyed roughly 96% of food crops.
Alongside threats from natural disasters, rising emissions from the world's wealthiest nations are causing rising sea temperatures, rising sea levels and coral bleaching — a process which happens when corals turn white because of various stressors like changes in temperature, light or nutrients.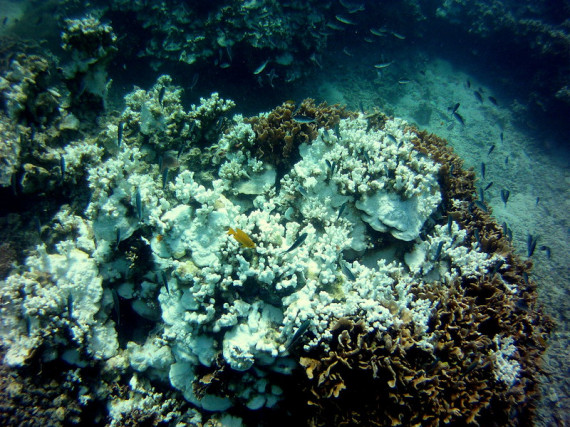 The recent support is a win in the effort to gain protections — something South Pacific Nations have been fighting for for years
Currently, Vanuatu is trying to build up support from alliances and nations for the upcoming UN General Assembly vote — high support is crucial as at least 97 votes are needed in order for the protections to be referred to the ICJ.
Representing the country in their campaign is Pacific law firm Blue Ocean Law. Vanuatu has also retained external counsel from countries like the UK, US, France, Canada, Greece, India, Switzerland and Fiji. 
The alliance representing more than 1,500 civil society organizations includes a wide range of climate groups throughout the Pacific including Climate Action Network – International, Greenpeace Australia Pacific, Oxfam in the Pacific, 350 Pacific, Pacific Islands Climate Action Network and Vanuatu Climate Action Network.
⚡️Just launched⚡️

Today, a powerful alliance of Pacific & global civil society groups was launched to support Vanuatu's effort's to take the world's biggest problem to the world's highest court! #AOletsGO #ICJAOalliance

Read the press release https://t.co/NaAxUf4bGm pic.twitter.com/iO8vOgqrNN

— Climate Action Network International (CAN) (@CANIntl) May 5, 2022
The alliance is a result of the advocacy work Pacific nations have been doing on climate change for several years now — especially as Pacific nations are some of the most affected countries by the climate crisis. 
For years, Vanuatu has been a vocal proponent in limiting temperatures from the effects of global warming to 1.5C. The country has also launched solutions to predicting the effects of climate change like an online modeling tool used to perceive and prepare for the potential impacts of rising tides and storms — as well as developing crossbreed crop varieties to identify climate-resistant crops.    
Vanuatu was also one of the nations to ratify the Paris Agreement in 2016 and is one of the 43 nations on the Climate Vulnerable Forum, an international partnership of countries highly vulnerable to a warming planet: Composed of 48 members from Africa, Asia, the Caribbean, Latin America and the Pacific, it represents some 1.2 billion people worldwide. The Forum serves as a South-South cooperation platform for participating governments to act together to deal with global climate change and began activities in 2009 and it has been especially active in recent UNFCCC Climate Change Conferences.
The latest support for Vanuatu's campaign is predicted to pressure nations into joining the alliance — something that is much needed if the opinion is going to receive the votes it needs to pass. 
Hopefully, the campaign will garner all the support it needs as protections are becoming more and more essential in the fight for climate rights and, beyond that, the very survival of human existence on Earth everywhere.
---
Editor's Note: The opinions expressed here by Impakter.com columnists are their own, not those of Impakter.com. — In the Featured Photo: Rainbow in Vanuatu on May 11, 2020. Source: eGuide Travel, Flickr.