Updated Sept. 15. Since the start of this month, the Ukraine army has launched a counter-offensive, making spectacular advances in the east and south, a fact regularly reported by Ukrainian authorities and President Zelensky in his daily televised messages. At first, he wasn't fully believed but skepticism disappeared after Ukrainian troops retook Izium, a key Russian logistics hub, on Saturday. Then Ukrainian troops continued their efforts, gaining some 6000 square kilometers by September 13. 
Here is how it looks on the map: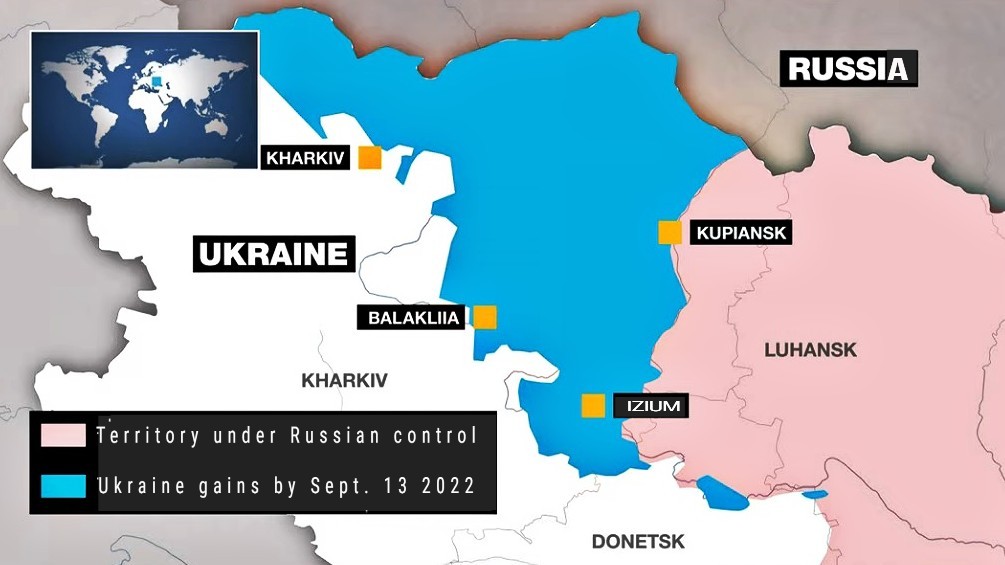 Kyiv had warned US generals in advance of their two-pronged counter-offensive but nobody expected "Ukraine's blitzkrieg" to move so quickly. 
It appears that precision rocket launchers and artillery shells provided by the U.S. were key to successfully battering Russian forces, helped in targeting enemy positions by U.S.-made counter-battery radars and satellite imagery provided by US intelligence. They can hit targets up to 80 kilometers (50 miles) away. Also of help were heavily armored vehicles donated by the U.S., U.K., and Australia. 
These are the indicative estimates of Russia's combat losses as of Sept. 13, according to the Armed Forces of Ukraine. pic.twitter.com/jrAZN8L2ao

— The Kyiv Independent (@KyivIndependent) September 13, 2022
Ukrainian leaders are still asking more — including fighter jets and the longer-range Army Tactical Missile System, or ATACMS, a surface-to-surface missile that the U.S. has so far declined to send.
A key question going forward will be how much more Congress and the American public are willing to spend on the war in Ukraine. It's unclear if, or how, Ukraine fighters' successes in recent days will affect the ongoing debate. The White House has asked Congress to greenlight an additional $11.7 billion in aid to Ukraine as part of an overall government funding measure that must be approved before the end of the month.
There is no question that military support from EU member countries has been too timid, and often more symbolic than real.
Moreover, a controversy has arisen around Germany's refusal to send tanks to Ukraine or allow countries that have purchased German-made Leopard tanks to transfer them to Kyiv. Yesterday, German Defense Minister Christine Lambrecht, in defense of this position, said "no country has delivered Western-built infantry fighting vehicles or main battle tanks so far," and Berlin "will not take such action unilaterally." 
Meanwhile, in this phase of the war, American military support continues unwaveringly: The Biden administration announced a $675 million drawdown of munitions and armored vehicles last week, and a congressional aide familiar with the issue said there will likely be another package announced as soon as this week for roughly $600 million more of similar equipment pulled by U.S. stockpiles.
Russian damage to life and property is enormous 
In addition to Izium, more than "20 settlements", i.e. villages and small towns, were retaken. But the damage to both life and property was found to be appallingly extensive everywhere. 
For example, regarding Izium, a town of 40,000, an estimated 80 percent of the buildings were destroyed by the Russians at the start of the war and at least 1000 killed, according to Ukrainian authorities:
Liberated Izyum. 80% of buildings ruined. At least 1000 persons killed #StopRussia #StandWithUkraine pic.twitter.com/r2pMzKnSwG

— Mariana Betsa (@Mariana_Betsa) September 12, 2022
Stories are now coming out, telling of torture and people disappearing as Russians exercised a reign of terror over the conquered population. The human suffering is enormous and the legacy of war resulting from the death of loved ones, an unrecognizable landscape of razed homes and fields with buried land mines is staggering.
The counter-offensive is warmly welcomed by the local population
Wherever the Ukrainian troops arrive, the local population greets them joyfully as rescuers. For months they have suffered, and it is a relief for them to be back in Ukraine's fold, as this video well documents:
This joy in welcoming Ukrainian soldiers is worth underlining as it confirms that Ukrainians are in fact fighting to regain their own country from the aggressor. It puts paid to Putin's claims that this is nothing more than a "special military operation" to "denazify" Ukraine.
Is the counter-offensive a game-changer? 
Many military experts think so, and yesterday the UK Guardian published an editorial describing it as a "stunning breakthrough". Michael Kofman of the CNA think tank told Politico: 
"The current period is best described as a window of opportunity for Ukraine, seizing the initiative to not just take territory, but also deal blows to the Russian military from which they will struggle to recover during the winter." 
The UK Defense Ministry issued this statement, viewing Russian forces as "severely weakened":
Latest Defence Intelligence update on the situation in Ukraine – 13 September 2022

Find out more about the UK government's response: https://t.co/BYZhjLmtmf

🇺🇦 #StandWithUkraine 🇺🇦 pic.twitter.com/r0Cf3z3wab

— Ministry of Defence 🇬🇧 (@DefenceHQ) September 13, 2022
For some, the rout could be a decisive moment in the war. There is little doubt that Ukraine's recapture of most of Kharkiv Province has significantly weakened Russia's hold on eastern Ukraine, a region that Russia has used as a stronghold to wage its war since February.
Russia's Ministry of Defense confirmed that it had pulled its forces out of Izium. However, and as to be expected, this was not an admission of defeat: They claimed the retreat was pre-planned, a move to regroup and strengthen forces in the East for further, future attacks. 
So it should come as no surprise, as AP reported, that the White House and the Pentagon are cautious and "avoid victory dance in Ukraine combat advances".
So far it is too soon to tell whether it is in fact a new phase in the war. Some even worry that Ukrainian forces may run the risk of becoming vulnerable as they are stretched too thinly.
Yet the advances are quite real and confirmed by satellite imagery:
NEW: #Ukrainian forces are continuing to make impactful gains in #Kherson Oblast and are steadily degrading the morale and combat capabilities of #Russian forces in this area.

The latest with @criticalthreats:https://t.co/gjDA0Mp2kt pic.twitter.com/xk3L3VkVfL

— ISW (@TheStudyofWar) September 13, 2022
While Russian extremists on social media are pushing Putin to scale up the war effort, with right-wing bloggers slamming the Kremlin war effort, there are on the Ukraine side of social media, some dreamers imagining a daring strategy to retake Ukrainian territory from Russia:
For example, here's a tweet describing a "leaked plan of Kherson offensive" that would retake Crimea with a backside circular movement, like a boomerang:
Leaked plan of Kherson offensive pic.twitter.com/u3kIJZ1YQh

— Special Kherson Cat 🐈🇺🇦 (@bayraktar_1love) September 9, 2022
Day-dreaming? Maybe, maybe not, who knows. Although, as the Guardian wrote in its op-ed, "Ultimately, driving Russian forces back to at least within the territories taken over in 2014 no longer seems implausible" – thus betraying a widely-held notion in the West that it's okay for Ukraine to give up on Crimea, presumably because one shouldn't "squeeze" Putin too much.
Many politicians in the West, starting with French President Macron, believe that peace cannot happen unless some "space" is given to Putin to "save face". This is a position President Zelensky and most Ukrainians reject.
Meanwhile, Kharkiv, Ukraine's second-largest city is suffering from continued power outages, as a result of Russian missile attacks. Is Russia planning an energy war this winter, leaving Ukrainians without heat and light? 
Ukrainian intelligence believes that Russia is preparing to renew its attacks on the Zaporizhzhia nuclear power plant as part of the Kremlin's efforts to target Ukraine's infrastructure, specifically the country's energy system. 
⚡️ Ukrainian intelligence: Russia preparing new shelling of Zaporizhzhia Nuclear Power Plant, danger to other nuclear facilities remains high.

— The Kyiv Independent (@KyivIndependent) September 13, 2022
The latest estimates of the cost of the war: According to a recent joint report issued by the World Bank, the European Commission and Ukraine's government and covering the period from the start of the Russian invasion on Feb. 24 through June 1, Ukraine has suffered an estimated $252 billion in "aggregate losses", including economic disruptions and other costs of the conflict.
And Ukraine's economy contracted sharply, with its gross domestic product showing a year-over-year decline of 15.1 percent at the end of the first quarter.
Clearly, the sooner this war stops, the better. But Ukraine's resolve to win the war, now that it has rung up some real victories, is stronger than ever:
⚡️ Kuleba: Peace talks with Russia are only being held on the battlefield.

Ukraine doesn't reject the idea of peace talks, but will only partake as far as they concern the complete restoration of the territorial integrity of Ukraine, said Foreign Minister Dmytro Kuleba.

— The Kyiv Independent (@KyivIndependent) September 13, 2022
The big question is whether Russia can muster freshly trained troops to move forward.
In July, CNN reported that the call had gone out across Russia for more than 30,000 volunteers to join the war effort in Ukraine, with offers of big cash bonuses to lure them, stating that no experience was necessary. But Kateryna Stepanenko, a Russia researcher at ISW, said those new recruits would likely be of little help on the battlefield as there would not be enough time to train them.
Theoretically, Putin could call back some 2 million men under arms who are now on reserve – but he hasn't done so, not yet.  "At the moment no, there is no discussion of this," Kremlin spokesman Dmitry Peskov said today.
Indeed, Putin might well hesitate. How well trained would these reservists be and ready for a war that has now become very sophisticated as a result of Western equipment? This is open to question. Moreover, there is a psychological element to consider: Will new Russian recruits, once they are in Ukraine, be happy with fighting a war against another Slav country?
And a new challenge has just arisen for Putin now that another war has broken in Russia's "backyard", a clash between Armenia and Azerbaijan – once again a result of the unresolved Nagorno-Kabarakh question.
Armenia's Prime Minister announced on September 13 the death of 49 Armenian soldiers and said he is calling on Russia's aid to put an end to the conflict. By September 14, the number of killed soldiers had climbed to 99, the worst death toll since the last conflict, in 2020. France said it would raise the crisis at the United Nations Security Council – thus bringing up the conflict to the attention of the whole world.
By September 15, it looked like the crisis might be coming to a close, as Armenia and Azerbaijan agreed on a ceasefire, after the Azeri troops reportedly took control of an additional 10 square kilometers of Armenian territory:
To understand why Armenia is calling on Russia, it helps to remember that Armenia has been historically leery of NATO because Turkey – a long-time enemy – is a member of the alliance; thus, Armenia has always sought Russia's support to establish peace in the Caucasus, most recently relying on the Collective Security Treaty Organization (CSTO agreement) that was signed between the two countries in 2002.
At the start of the week, Putin had two big problems on his plate: A victorious Ukrainian push in the Donbas and an expanding war in the Caucasus. As of now, it looks like the only issue left – but it is a big one – is the Ukrainian counter-offensive. That is certain to weaken him in the eyes of China, his major ally, as he is meeting Xi-Jinping today in Uzbekistan. How this will play out, as of now, is anyone's guess, but the odds no longer look good for Putin.
---
Editor's Note: The opinions expressed here by the authors are their own, not those of Impakter.com — In the Featured Photo: Russian destruction in liberated Kharkiv region Source: Screenshot from DW video