On Nov. 6, it was reported that Hong Kong's 'Informers' Hotline' received over 1,000 reports within hours of police launching the initiative on social media. Day two saw numbers soar beyond 2,500.
The 'National Security Department Reporting Hotline' has been established to allow civilians to report matters of 'national security-related intelligence' via the avenues of email, SMS and China's answer to WhatsApp — WeChat. It comes also with the added promise of anonymity for the reporting party, not to mention accepting photographs and video footage too.
This follows the colourful contextual backdrop of Hong Kong's recent political history. The world watched as Hongkongers fought China's extradition bill, with a 5-pronged set of demands. China responded with the Hong Kong National Security law, the particulars of which were kept secret until after it passed.

As with the new informers' hotline, the dangers of China's measures as they apply to Hong Kong are hidden in-between the lines. It is the broadness of the guidelines, and the boundlessness of the boundaries, that makes Hong Kong an increasingly worrying land for its citizens. What is more, the scope of such measures apply to both permanent and non-permanent residents alike.
The term 'national security threat' is synonymous with a 'catch-all' for offences against the mainland. This is a concern expressed by Amnesty International and spanning through to the United Nations Human Rights office, who share the belief that such broad terminology can lead to 'discriminatory or arbitrary interpretation and enforcement which could undermine human rights protection.' The fact these accusations can be retrospective, only deepens these sentiments.
No one will feel safe, even foreigners.
— Eric Cheung, Principal Lecturer of Law at University of Hong Kong
Whilst headlines have exploded with outrage regarding the reports, there is a resounding appetite in Hong Kong for the pro-democracy movement — waging against the overarching arm of the mainland. Whilst some sources suspect prank calls as a rationale for the surge, it has also been suggested that because very little can constitute an offence, reports are being made for trivial matters.
The vast majority of Hong Kong is anti-mainland, but it only takes a very vocal minority to reach 1,000.
— HK Teacher, Anonymous Source #1
A source holds that rhetoric from the liaison office, police, and HK government has only plunged division further. When Hongkongers are painted as 'law-breaking anarchists' for posting subversion-flavoured Facebook posts or supporting outwardly pro-democracy businesses, seeds of polarisation are sewn. By default, very few actions of free political expression escape the purview of 'national security related intelligence'.
People are worried that neighbours may use previous instances or disagreements to snitch on innocent people who they simply do not like.
— HK Teacher, Anonymous Source #2
As legislator for the Democratic party, James To, has expressed, this will "undermine the trust between people. Much of the reports will be related to the individuals' political opinions." The backlash  surrounding the hotline sings a reminiscent tune of the Chinese Communist party's 'model of relying on grassroots informants.'
There are tones here that that give a taste of Déjà vu. It's as if 1930's Russia, under Soviet rule is whispering in the background. One only has to look back to the case of  Pavlic Morozov, the teenage Soviet who turned in his own father for hoarding grain, before being put to death by the locals.  Neighbour turning against neighbour, protections for state loyalty- Once this mode of stitchery has been established, it is worrying to think of how far it can go. The Orwell, '1984', Big Brother comparisons are difficult to shake here too.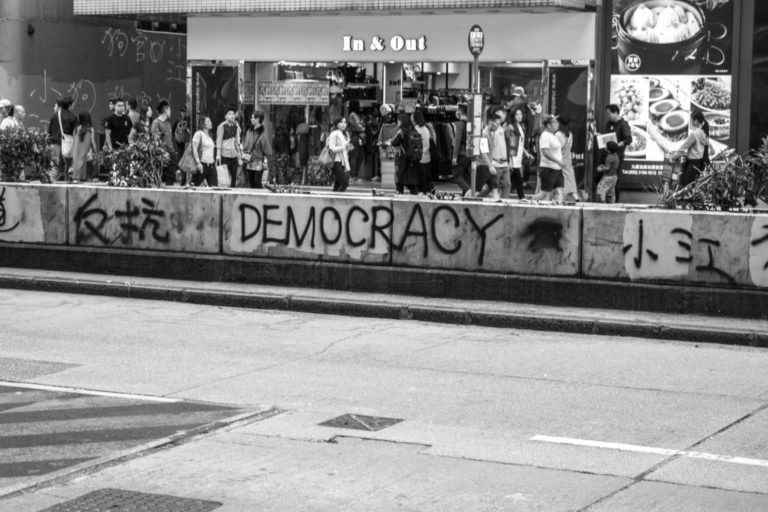 Since the 2019 protests, much else has gone on in the world, leaving many Hongkongers feeling as if they have been left behind. Meanwhile, measures like the hotline have encroached upon areas of everyday life. Teachers report restrictive and pro-mainland changes to the curriculum.
---
---
One source even describes new rules in their local comedy club. Things not to mention:
National Security Law
HK independence
Chinese communist government
This one hit them hard. Comedy clubs are, after all, international bastions of free speech. Once a safe space for open dialogue; now developing undertones of do's and don'ts.
A sign of the times presents itself in that all sources mentioned in this article have asked to remain anonymous. In fact, when asked for an interview, one even responded with, 'Yes, no problem. Just let me go onto my VPN before we talk.' Doesn't that just sum it up?
Yet, with neighbour snitching on neighbour for Covid-19 related violations, upon government advice, right here in the UK — we might take a moment to reflect, before throwing Western stones.
In the cover picture: A painting on a wall warning visitors about video surveillance. Photo Credit: Tobias Tullius.
---
Editor's Note: The opinions expressed here by Impakter.com contributors are their own, not those of  Impakter.com