This article is the first of a series "Pipe dream or achievable vision: How can we deliver on the 2030 Agenda?"
The 2030 Agenda foresees a bright future for humanity, one in which everyone enjoys peace and prosperity on a bountiful planet. But, with nationalism, populism and protectionism on the rise, how can we deliver on this utopian vision? This series of articles looks at what the international development system needs to do to deliver on this incredibly complex task – from rebuilding trust in multilateralism to bringing in the trillions of dollars needed each year to finance change.
---
We have undoubtedly picked a timely moment to embark upon the 2030 Agenda for Sustainable Development. World hunger is growing again after a decade of steady decline, with 815 million people undernourished in 2016. Millions of people are fleeing conflict and poverty in a migration crisis that shows no sign of ending. Climate change is threatening to worsen these, and many other, global challenges. We must act now.
However, we find ourselves at a point in history where confidence in the United Nations, the body best-placed to lead on addressing such global development challenges, is arguably at an all-time low.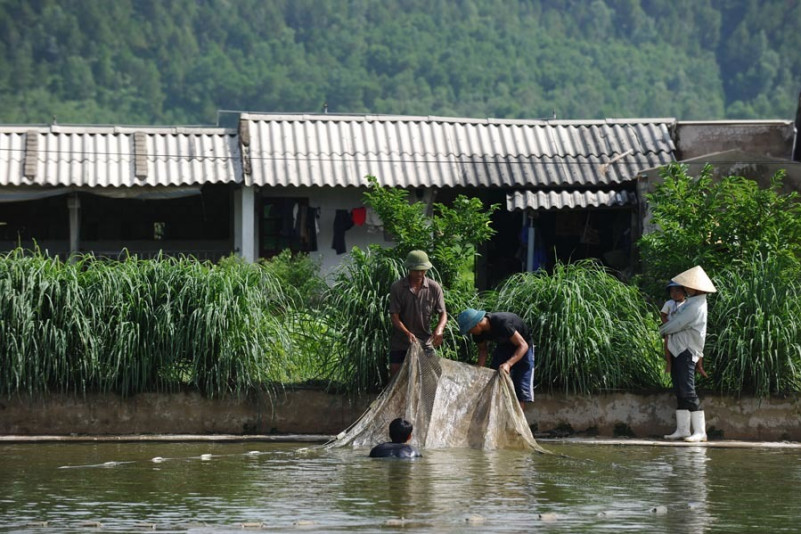 IN THE PHOTO: 25 July 2013, Ha Trung, Viet Nam – Farmers using a net to catch fish from a pond at their farm. Since 1990, Viet Nam has reduced hunger by more than 80 percent.  CREDIT: ©FAO/Hoang Dinh Nam
In Western economies, inequality has grown, welfare costs have increased, and technological disruption has escalated – creating problems in the job market and economic anxiety. This has contributed to a populist backlash against trade, globalisation, migration, and, most importantly, multilateralism – the very thing needed to deliver a better world.
Such attitudes bring a knock-on effect to governments, who are understandably sensitive to voter sentiment, and so to efforts to implement global agreements. A recent Thomson Reuters Foundation poll of 113 policymakers, campaigners and executives with an interest in the Sustainable Development Goals (SDGs) found that two-thirds of respondents felt progress was slower than expected. Even worse, half of them were not confident of success by the 2030 deadline.
"My sense is that the time of arriving at large global agreements isn't particularly conducive right now," Anne-Birgitte Albrectsen, chief executive of Plan International, told Thomson Reuters. "Nationalism is growing (and) self-interest … (but) I think we all collectively have to be disappointed and tell governments that actually you worked on this together, it took you two years to arrive at these goals and get with the program."
 IN THE PHOTO: Women clean and store cowpeas in the IKURU warehouse in Nampula city in the northern province of Nampula before handover to WFP for distribution to beneficiaries across Mozambique. CREDIT: WFP/Peter Transburg
Winning hearts and minds
To make the 2030 Agenda a success, we require trillions of dollars each year in financing. Yet low trust in global governance and multilateral institutions, as seen in recent elections and referenda, will hurt Official Development Assistance (ODA).
We need to find ways to protect and actually grow ODA. But we also need to look beyond this traditional model of development funding to attract the investment needed to deliver on our ambitious global goals. The global community needs to move the discussion from billions in ODA to trillions in investments of all kinds: public and private, national and global, in both capital and capacity. But we can't do this unless the UN system regains the trust of governments and their citizens, and so reverses anti-multilateralist sentiment.
In part, this means trying harder to let people know that multilateralism works. We only need remember the collective action taken on the ozone layer, or the improvements in poverty levels brought about by the Millennium Development Goals, to know this is true. We also need to let people know what we actually do: one international survey showed that just over 1 in 10 Europeans know what the SDGs are.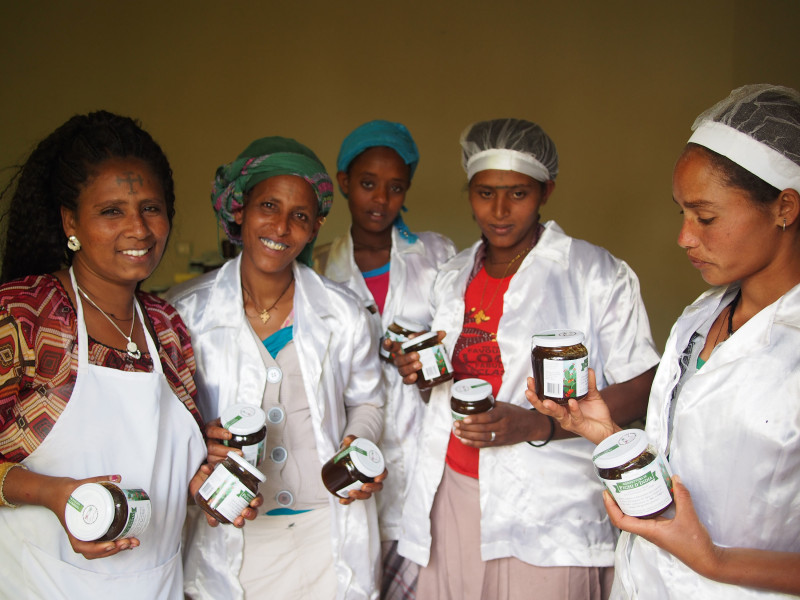 IN THE PHOTO: January 14 2015, Tigray, Ethiopia – Employees pose with Cactus Pear Marmelade jars at Tsega Gebrekidan Farm Cooperative. The mission is part of a global project to support family farmers around the globe in boosting their production and finding ways to reach new overseas customers. CREDIT: FAO/Filippo Brasesco
In times when philanthropic attitudes are not universal, we need to show people in developed countries that multilateralism is in their own interests. Climate change, for example, is not something affecting only faraway lands.
The recent uptick in hurricanes and tropical storms, and the desperate migrants arriving on Western doorsteps – a process that will accelerate with climate change – demonstrate this. We need to convince everyone that development assistance is actually an international public investment that will benefit everybody, as development gurus Jonathan Glennie and Andy Sumner have stated.
Most importantly, though, we need to ensure that the UN system is fit for purpose.
The system is reforming
The UN system is already reforming as the peace, humanitarian, and development agendas merge, and the projected reform of the UN development system (UNDS) foresees a review of tools, business processes and frameworks to achieve the SDGs.
UN Secretary General António Guterres' report on repositioning the UNDS presents many solutions. At the heart of his proposed changes is an acceptance that bureaucracy – a major reputational problem for the UN, and something that has held back many a great project – needs to be slashed.
"Our shared goal is a 21st century UN development system that is focussed … more on results for the most-poor and excluded and less on bureaucracy, more on integrated support to the 2030 Agenda and less on 'business as usual'," he said last June as he launched the report. "This means asking some deep and difficult questions about our structures, skill sets and the architecture for action. These actions include … management reform – to simplify procedures and decentralise decisions, with transparency, efficiency and accountability."
Also, key to reform and the achievement of the 2030 Agenda is coordination – essentially cutting out unnecessary duplication of work done by international development actors. This means partnerships and real, meaningful cooperation.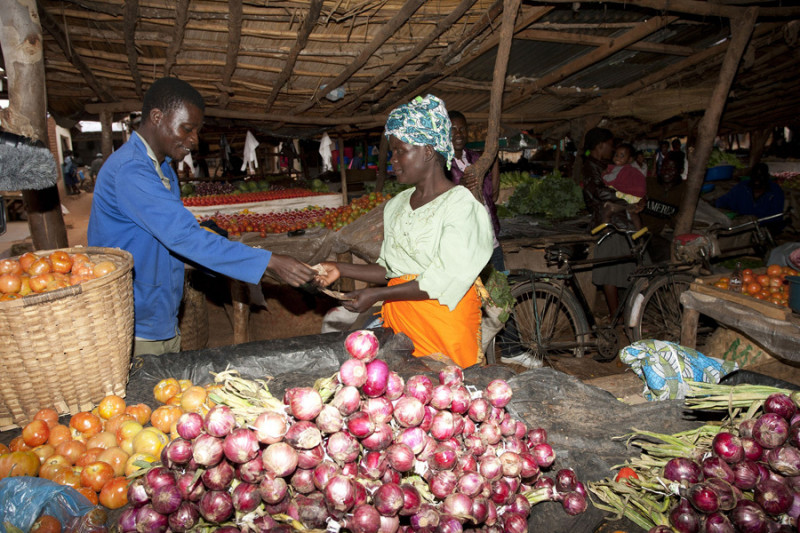 IN THE PHOTO: 23 May 2013, Mchinji, Malawi- Selovana Phiri, one of the beneficiaries of the Social Cash Transfer Programme, selling tomatoes to a farmer at Mchinji Town market. CREDIT: FAO/Amos Gumulira
International accords are mirroring this shift. The Addis Ababa Action Agenda calls for expanded partnerships and collective action. The 2016 World Humanitarian Summit (WHS) 'Grand Bargain' invites humanitarian and development partners to engage in New Ways of Working that respond effectively to protracted crises.
The power of international fora
Commitment to the 2030 Agenda in international fora such as the G20 and the G7 also provides peer pressure to implement the SDGs and legitimizes the UN as the most important democratic international body for their implementation. We are seeing movement in this arena.
Under the 2016 G20 Presidency, China's President Xi Jinping called for a G20 Action Plan on the 2030 Agenda, which Germany further enhanced when it took the helm last year. This proves the G20 sees its economic growth strategy as an important contribution to the implementation of the 2030 Agenda – in particular for the SDGs on decent work, inequality, and innovation.
The G20 could set an example by producing coherent national policies that support international goals. If done well, rather than competing with the UN, the G20 could be the primary economic driving force for spurring the achievement of the SDGs – again delivering a message that only multilateralism can get us to where we want to be.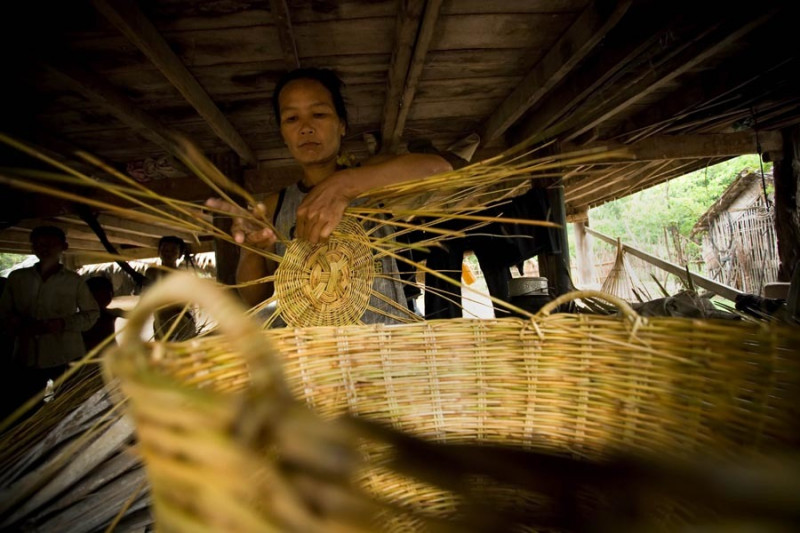 IN THE PHOTO: 24 June 2006, Pursat – A woman weaving baskets under the house in Thkaol Thom Village in Pursat Province. The baskets are used to transport fish and are sold for about USD $1 for a medium sized one such as this. CREDIT: FAO/A.K. Kimoto
New sources of financing for development
Such efforts would help build the trust needed to start the flow of money required to deliver on the 2030 Agenda – not just by growing traditional ODA, but by unlocking the monetary might of the private sector.
ODA flows from member countries of the OECD's Development Assistance Committee reached a new peak of USD 142.6 billion in 2016. Developed countries have also committed to mobilizing USD 100 billion per year by 2020 to support developing country efforts. But investment needs for the SDGs in developing countries are estimated to be USD 3.3 to 4.5 trillion per year. Even if ODA does not drop, it is clearly still nowhere near enough.
Fortunately, moves are afoot to create a financing framework capable of channelling resources and investments of all kinds – public and private, national and global – to sustainable development. Both the G20 and the G7 have included sustainable finance in their workstreams in recent years, while private sector initiatives are growing. Take green bonds. In 2016, green bond issuances exceeded USD 80 billion, almost double the total issuance of 2015. Last year, they hit USD 155.5 billion, according to the Climate Bonds Initiative, and could rise as high as USD 300 billion this year.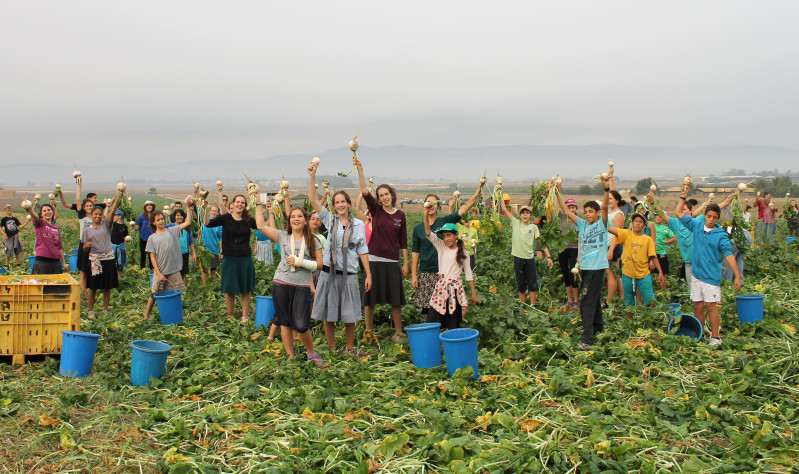 IN THE PHOTO: 26 October 2013, Israel – Volunteers picking for the needy on Moshav Nahalal during Leket Israel's WFD Event. CREDIT: FAO/
Flows for development also include philanthropy, remittances, South-South flows, and Foreign Direct Investment (FDI) – amounting to nearly USD 1 trillion that needs to be used just as effectively. Many expect FDI to play a major role in filling the SDG financing gap. According to the United Nations Conference on Trade and Development (UNCTAD), a concerted effort by the international community could help to quadruple FDI by 2030. Remittance flows have also been increasing rapidly. Today they represent the largest source of external finance for many developing countries. Additionally, philanthropic contributions to development have increased nearly tenfold in less than a decade, from around USD 3 billion in 2003 to USD 30 billion in 2012.
New investment models can help tap into these varied financial resources. Blended finance – using public funds strategically to provide, for instance, de-risking instruments for private investors – offers huge, largely untapped sources of capital to support cooperation among public, philanthropic and private actors to dramatically improve the scale of investment in developing countries.
It is clear that the finance we need is available. It is also clear that the world outside of the UN and other development bodies – from governments to the private sector – understands that sustainability is the only development model that will bring long-term stability and prosperity.
The UN system – with its global reach, convening power and technical expertise – is uniquely positioned to deliver on this development model. If we can be honest about, and address, the failings that have reduced the efficiency of the system and the trust of people and the governments that represent them, we can tap into this finance and help direct it to where it will do most good. Unless we do so, the 2030 Agenda could be in danger of going down in history as just another set of good intentions.
---
The next article in the series is to be published on 15/02/2018 
FEATURED PHOTO: With generous support from Belgium, Ireland, Italy, Norway, Switzerland and the United Kingdom, FAO has delivered critical rice seed packages to around 44 000 affected farmers in time for the December/January planting season. More than 1,800 tonnes of certified quality rice seed are being delivered along with fertilizer and farming tools. CREDIT: FAO/James Belgrave
Editors note: The opinions expressed here by Impakter.com columnists are their own, not those of Impakter.com