Elise Sterck is a social influencer with a passion for traveling, environmental protection, and mountain sports. Photographing the places she gets to experience has become a recent pursuit, as she wants to be able to share the beauty of the natural world with those around her.
Tell me a bit about yourself and your background?
Elise Sterck: I grew up on an old dude ranch tucked away in the mountains of Wyoming, so the outdoors have always been a big part of my life.
When did your interest for traveling start?
E.S.: My mom took me on a trip to Hawaii when I was about 9-years-old, which was the first time I'd seen anything so different from the place I had grown up. It really sparked my interest in experiencing new and diverse locations!
What do you like most about traveling and being outdoors?
E.S.: When I pick a destination to travel to, the decision is primarily based on aesthetics and adventure opportunities. Not to discredit traveling for cultural purposes, I just personally connect more to a destination when I can experience it's landscape and explore its natural beauty!
You have a very significant presence on social media, specifically Instagram. How have you found that social media platforms have helped your success in your craft?
E.S.: Social Media has played a huge role in connecting me with other travelers, outdoor enthusiasts, and companies who share similar passions to mine. Not only have I made valuable friendships, but having a platform that receives a fair amount of attention allows me to be viewed credibly by potential clients.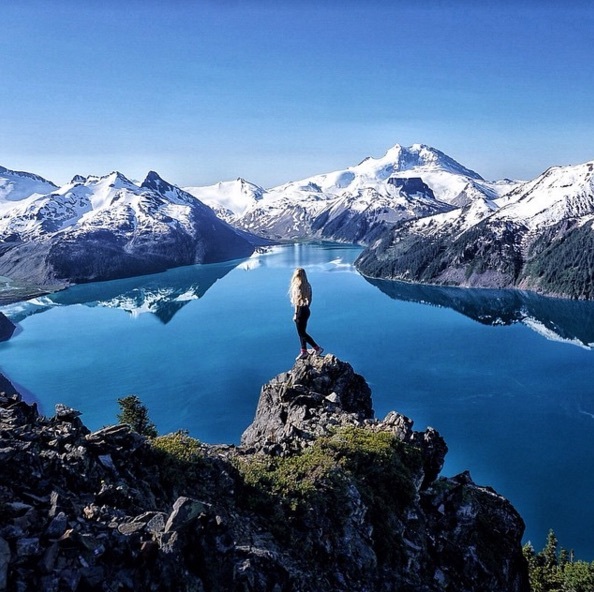 What are the top 3 places you have been to and why?
E.S.: 1.) Iceland. Not only is the landscape strangely beautiful and otherworldly, but the lack of people in the country really allows for an intimate experience with the location.
2.) Tenerife. This island in the Canaries has one of the most diverse landscapes I've ever explored!
3.) Canadian Rockies. I grew up in the Rockies in the U.S.A., so the Canadian Rockies feel very much like home to me, just a little bigger!
---
Related articles: "AROUND THE WORLD WITH CHRISTINA TAN" 
"GET PAID TO TRAVEL AND PHOTOGRAPH? — MEET LAUREN BATH" 
---
What city or place is number one on your wish list?
E.S.: I've never been to the South Island of New Zealand, a place I've been entranced with ever since the "Lord of the Rings" movies came out.
Do you often travel alone or with someone?
E.S.: It's about half and half at this point. Being a somewhat introverted person, I really value and need alone time, but it's also really special to share an amazing experience with someone. I enjoy a mix of both.
I want people to look at my account and imagine themselves in my place and realize that they can be out there doing the exact same things. It's more about the viewer than it is about me.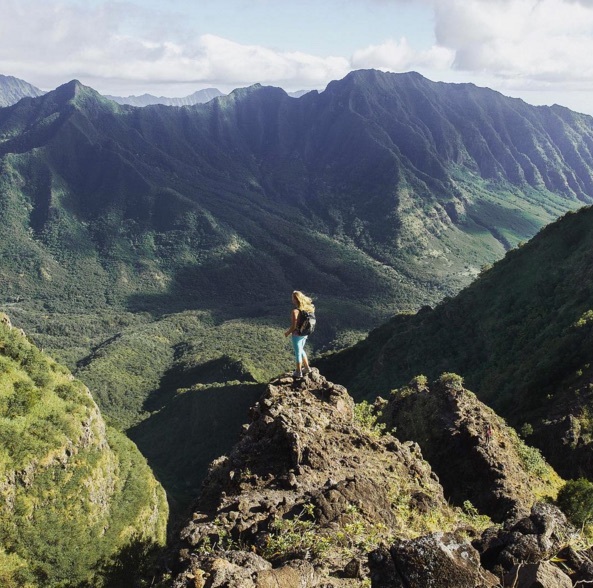 You have been featured several times as one of the coolest outdoor women on Instagram; what makes you unique?
E.S.: Honestly, not much. I view my own presence on social media as something that other people can look to as relatable and attainable. I don't expose too much of my personal personal life online because I want people to look at my account and imagine themselves in my place and realize that they can be out there doing the exact same things. It's more about the viewer than it is about me.
What is your next step and main goal?
E.S.: My main goal has always been to become a commercial helicopter pilot. I've got my private license, but had to put training on hold since I didn't have the funds to complete the commercial. My goal is to continue travel and photography while saving money to go towards the rest of my training.
Did you do any outdoor sports or special activities when you were younger that contributed to your passion for the outdoors and nature?
E.S.: My main sport growing up was alpine ski racing, which eventually led to the discovery of backcountry skiing, my current favorite sport.
When did you start to travel on a regular basis?
E.S.: I started drifting around during and after college graduation, often taking temporary or seasonal jobs in certain areas that would allow me to spend several months in a location.
What are your favorite adventure opportunities?
E.S.: As mentioned above, I love backcountry skiing, but anything that gets me outside is enough for me!
Do you have any tips for students that want to travel and save money?
I keep my standards and expectations low while traveling. I think a lot of people assume that traveling is a very expensive ordeal because there is a certain mindset that it has to be done a certain way. When I travel, I sleep in my car or camp and occasionally stay in a cheap hostel. I also don't go out to bars/restaurants often and save by cooking my own meals on a camp stove.
When I was in college, I became a volunteer leader that would organize and lead trips for students to go to a destination and spend their spring break (and other weekends) volunteering in various destinations. We would have fundraisers to work to save money for the trips and also get to give back in some way while experiencing a new place. Many colleges and universities have similar programs for students to get involved. I also participated in something called the National Exchange Program. I couldn't afford the hefty cost of a study abroad program, so I went with the NEP, which allows students to spend up to a year at another college or university for the same tuition price as their home school. This allowed me to experience going to school in Hawaii while managing to spend the same amount that I would have already been spending.
Want to explore the world through Elise? Follow her on Instagram.
_ _
Photos courtesy of Elise Sterck/Instagram.