100 of the world's best photographers have come together to support the conservation organisation, Vital Impacts. Vital Impacts, founded by award-winning photographer Ami Vitale and visual journalist Eileen Mognoni, is a non-profit organisation supporting conservation projects. The organisation provides financial assistance as well as amplifying the narratives of community-oriented projects dedicated to protecting and preserving the natural world.
As founder Ami Vitale said in an interview with My Modern Met, "photography has the unique ability to transcend all languages and help us understand our deep connections to one another and to all of life on this planet." Each image has a different backstory but all of their separate storylines are tied to protecting human and wildlife habitats.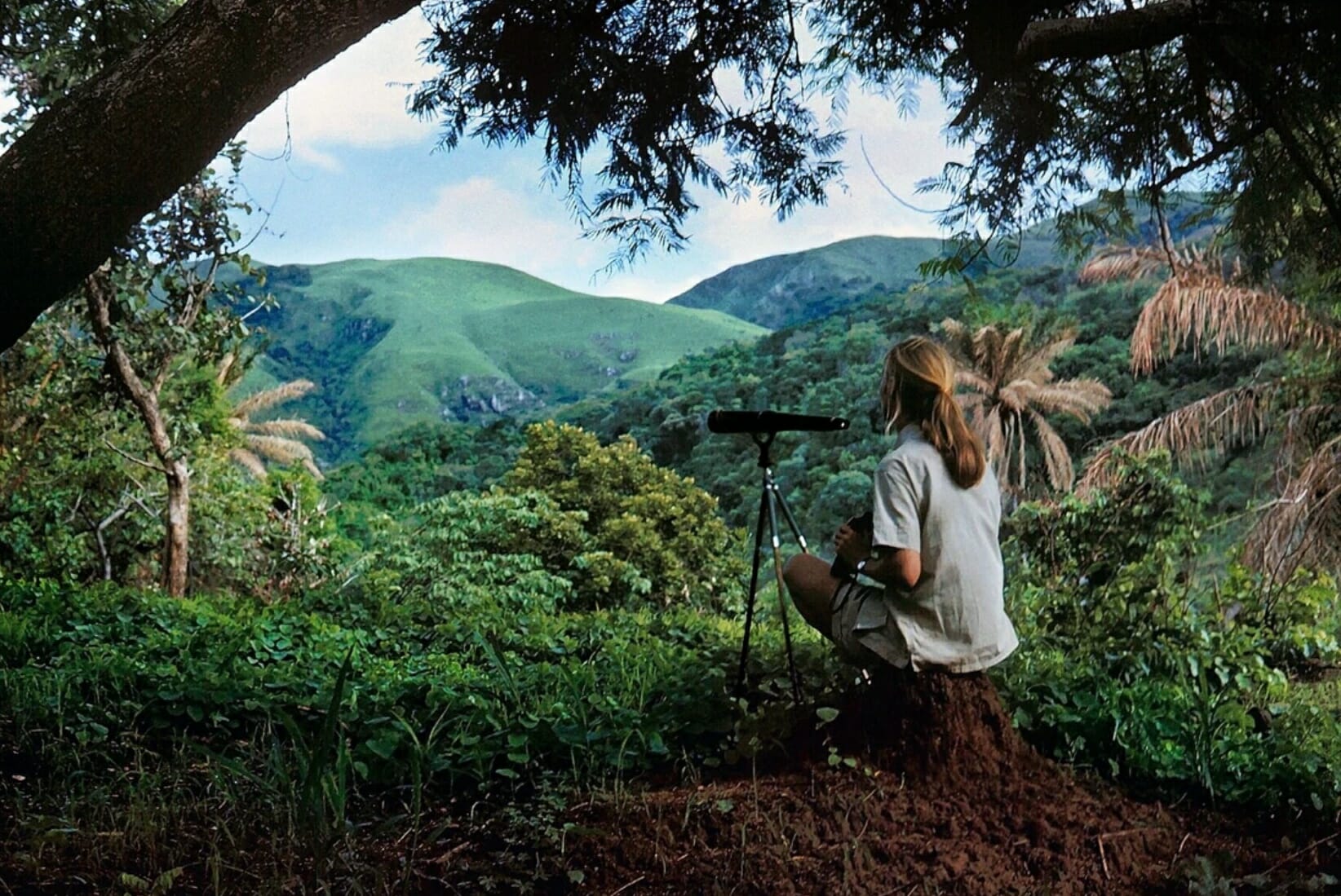 Jane Goodall. Self Portrait. Dr. Jane Goodall spent many hours sitting on a high peak with binoculars or a telescope, searching the forest below for chimpanzees.

Photo Credit: Jane Goodall
Dr. Jane Goodall's "self-portrait" tells an iconic story of the relationship between the individual human and the much bigger natural world. Goodall even tells Vital Impact about the process of taking this photo back in 1962. "On [her] own, very high up in the hills" and thinking "what a great photo this would make", the primatologist describes "find[ing] a place where there was a tree that was just right for balancing the camera." She adds that it "was in the days before digital so I had to wait a long time before I got the results back from National Geographic."
Reimagining humanity's relationship with nature
Goodall's photo is a prime example of a story that, as Ami Vitale puts it, asks humans to "reimagine their relationship with nature". The layers of the vast and expansive valley pictured beyond Goodall are awe-inspiring. Vitale believes that "what's going to save us is believing in the wonder of the world", because "wonder allows us to get beyond ways of thinking and to reimagine our future together". 
Vitale alludes to the idea of the 19th-century Romantic's notion of the sublime: a meeting of the subjective internal (emotional) and objective external (the natural world), "where one allows emotion to overwhelm rationality as we experience the wonder of creation". Indeed, Goodall's photo is vaguely reminiscent of the Romantic artist, Caspar David Friedrich's Wanderer Above the Sea Fog, in that it pictures an isolated human figure experiencing the emotional pull of the much bigger natural world. 
Each and every photographer's work goes beyond presenting viewers with a well-executed snapshot of a particular scene of nature, they are taken in such a way and with such profound individual stories, that they become objects of wonder. 
However, contrary to 19th-century author Mary Shelly's message in Frankenstein that nature's powers are "immutable", these photographs represent an understanding that the natural world is not "immutable" and that we must protect it if it is to survive. 
---
---
The future is in human hands
60% of net proceeds from art sales are going to Big Life Foundation, Great Plains Foundation's Project Ranger, Jane Goodall Institute's Roots & Shoots, and SeaLegacy. All of these organisations work to protect the most endangered ecosystems from around the world, especially those impacted by global warming and climate change. 
Vitale says "we all need to do all we can to care for the plants and creatures that inhabit the earth. They are fellow travelers in this universe. Our future happiness depends on them." The photographer Jennifer Hayes', Seeking Shelter, captures this message. 
Seeking Shelter. A harp seal pup seeks shelter from the relentless winds that scour the sea ice covering the Gulf of St. Lawrence. Photo Credit: Jennifer Hayes
In the photo above is a harp seal pup seeking shelter from winds that scour the sea ice covering the Gulf of St. Lawrence. Harp seal pups are born on the sea ice covering the Gulf of St. Lawrence in February. They are nursed for around two weeks before they are abandoned and pups must learn to survive on their own. In years that reflect higher than normal temperatures causing weak ice formation, mortality rates amongst young seals are highest. Hayes captures the pup's extreme vulnerability in this situation as well as pointing to the human-created threat of global warming. 
Vitale wants people to understand that it is "not too late" to realise our connection to nature and channel it into small acts of conservation. 

Kamara and Kilifi. Kilifi, an 18-month-old rhino and his keeper, Kamara. Photo Credit: Ami Vitale
Pictured above is a photo taken by Vitale of Kilifi, an 18-month-old rhino and his keeper, Kamara. "Kenya's black rhinos population has plummeted to near extinction but their numbers are again rising in Kenya due to the efforts by the people and government to protect them." Kamara spends up to 12 hours a day watching over baby rhinos in order to ensure their survival. This beautifully captured story is representative of humanity taking responsibility in order to continue to coexist with nature in this world. 
The takeaway message from this exquisitely curated series of photographs is that "we are all so disconnected and don't realize how we are interconnected. Everything we do impacts one another and shapes this world", says Vitale. The current print sale will last until December 31st, 2021. Head over to Vital Impacts to find out more or to purchase a photograph.
---
Editor's Note: The opinions expressed here by Impakter.com columnists are their own, not those of Impakter.com. — In the Featured Photo: Attentive Cat. Young Toto a leopard cub in the OMC in the Mara ecosystem in Kenya discovering her neighbours from up high.  Featured Photo Credit: Beverly Joubert.