Following an exhaustive run of seeing well over 5,000 artworks in four days, I am glad to say that Armory Week has finally ended. The annual gathering of international galleries, collectors, and curators in New York City included at least eight art fairs, five of which I was fortunate enough to attend. I have now sorted through my camera roll of 1,127 images for my top ten list of artworks/booths from The Armory Show, the mainstay fair.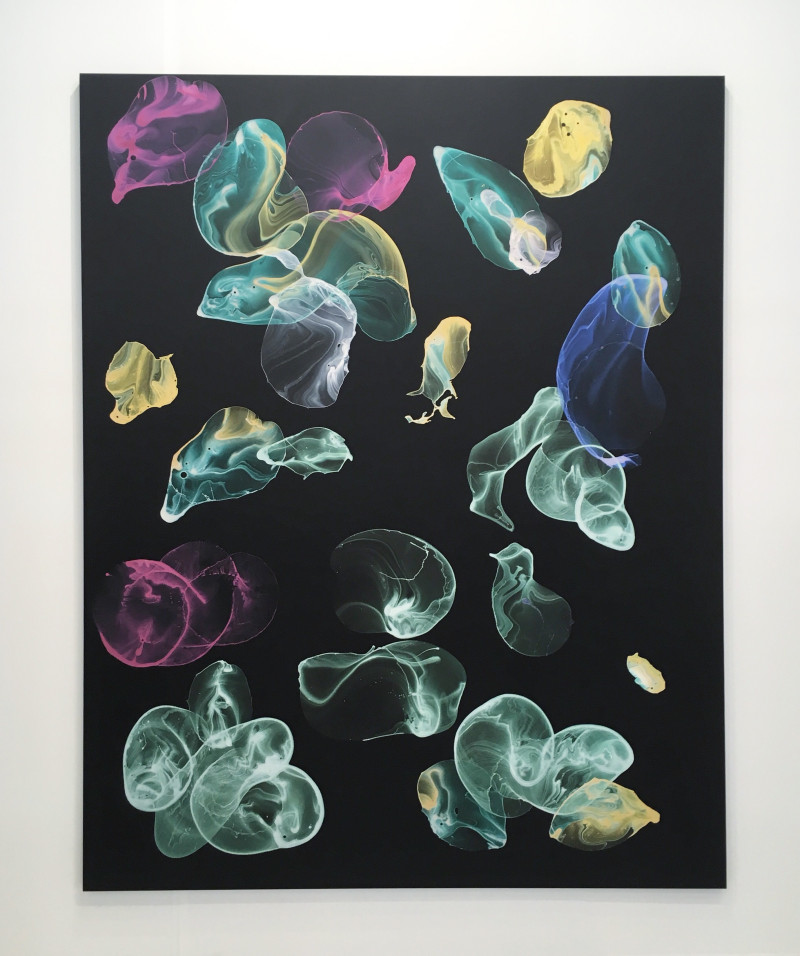 JIRI GEORG DOKOUPIL (Paul Kasmin Gallery)
Displayed in Paul Kasmin's booth, this painting by Jiri Georg Dokoupil was one of the first pieces I saw after walking through the entrance. In his Soap Bubble Paintings series, Jiri mixes soap-lye with metallic pigments to create bubbles that dot the canvas. While he had another work at The Armory Show, this piece had stronger energy in the spontaneity of the composition and the color that pops off the black background. The large scale of the piece also created a sensation that I was floating among the bubbles.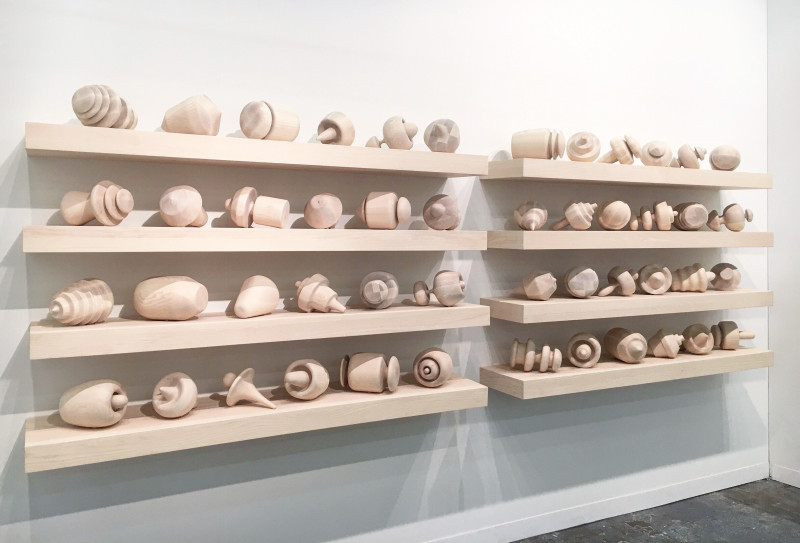 ALLAN MCCOLLUM (Galerie Thomas Schulte)
I love collections of items – no wonder I was so drawn to this iteration of Allan McCollum's Shapes Project. Each shelf of six unique sculptures is part of the larger series to create a unique shape for each person in the world. The Shapes Project is a reaction to the human behavior of placing higher value on unique objects over mass-produced ones. McCollum's system is organized to produce 31 billion – that's billion with a b – unique shapes, a figure higher than future world population projections.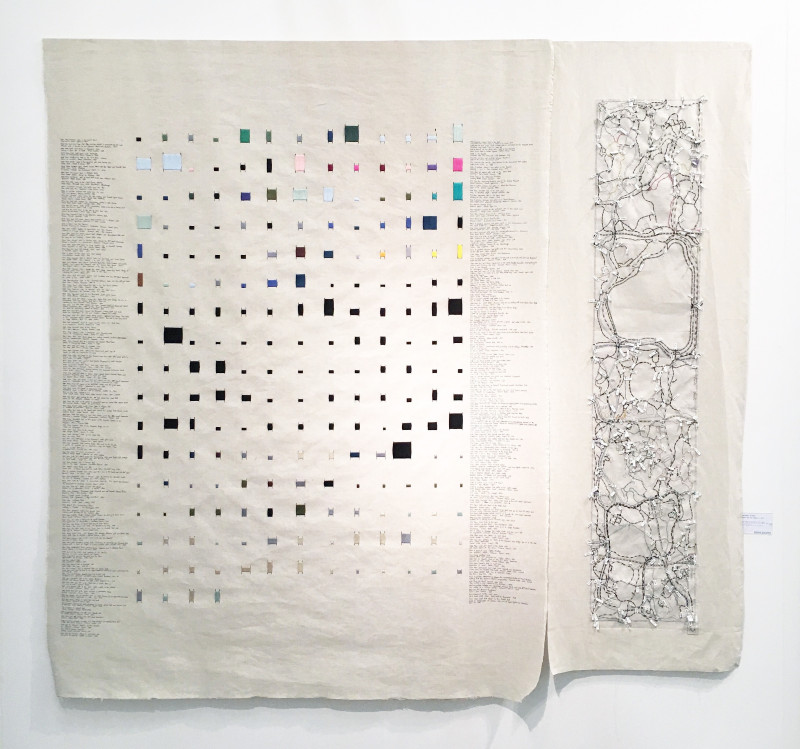 TATIANA TROUVÉ (Koenig Gallery)
Last year, Tatiana Trouvé landed her first public commission in the U.S. with Desire Lines. The work involved three storage racks housing 212 spools, each one representing a unique pathway through Central Park. Her work at The Armory Show lays out the 212 spools in a colorful array while mapping out the exact paths that each spool represents. This might have been an easy work to miss because of its subtle aesthetic, but the detailed composition rewarded those who stuck around.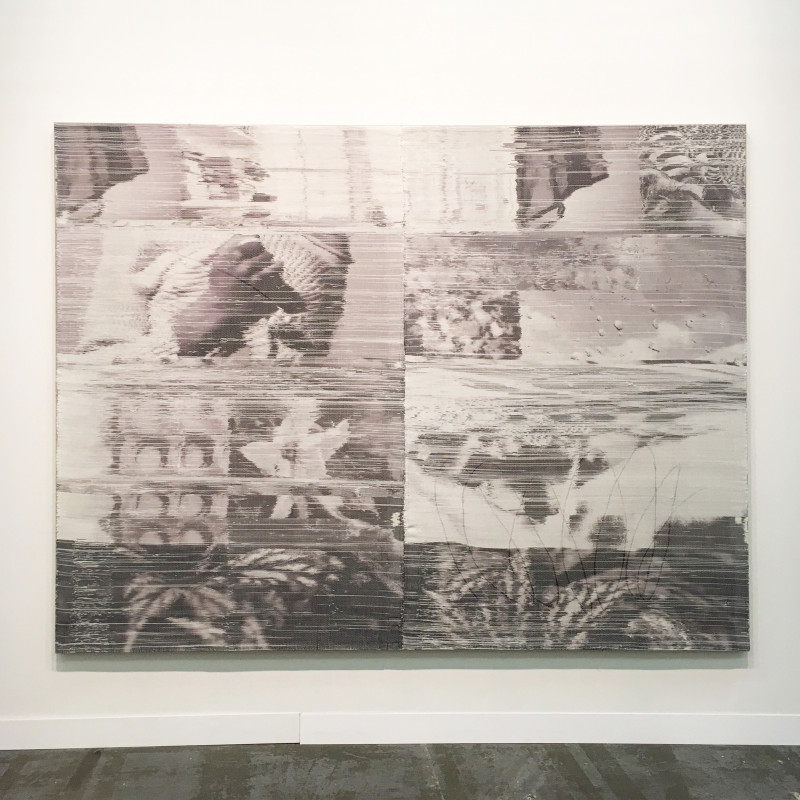 MARGO WOLOWIEC (Anat Ebgi)
Margo Wolowiec is on fire these days. She is coming off a solo exhibition at Anat Ebgi Gallery in Los Angeles and has an upcoming exhibition at Et al. Gallery in San Francisco. In between these openings, she somehow found time to weave what I believe is her best work yet – three paintings with a black and white palette. The imagery is sourced from #blackandwhite on Instagram then transferred to threads via a dye-sublimation ink process. Since Instagram uses RGB Color, the resulting works have varying hues rather than pure black and white.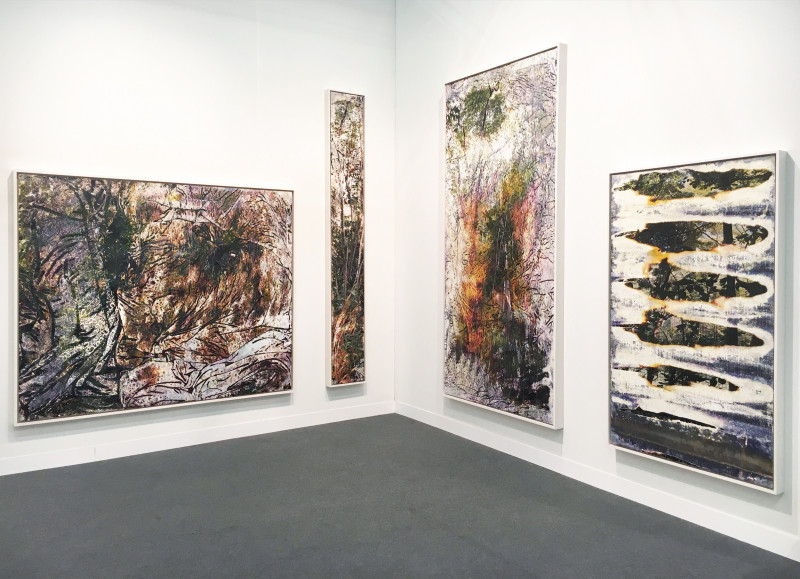 MATTHEW BRANDT (M+B)
Living in Durham, NC eight months out of the year, I am often confined to viewing art online. One of the advantages of art fairs is thus the opportunity to see as much as I can in a short period of time. This is particularly useful with works by Matthew Brandt because of the nuances that are formed by his experimental photographic process. In his Wai'anae series, c-prints of the Hawaiian jungle are buried on a farm in Oahu, causing the emulsions in the prints to mix with the surrounding natural elements.
---
Related articles: "TRUST – COPENHAGEN RECONCEPTUALIZATION OF AN ART FESTIVAL"
"ART EVOLUTION: ARTNET CEO JACOB PABST ON TRANSPARENCY, DIVERSITY AND THE FUTURE OF THE ART INDUSTRY"
---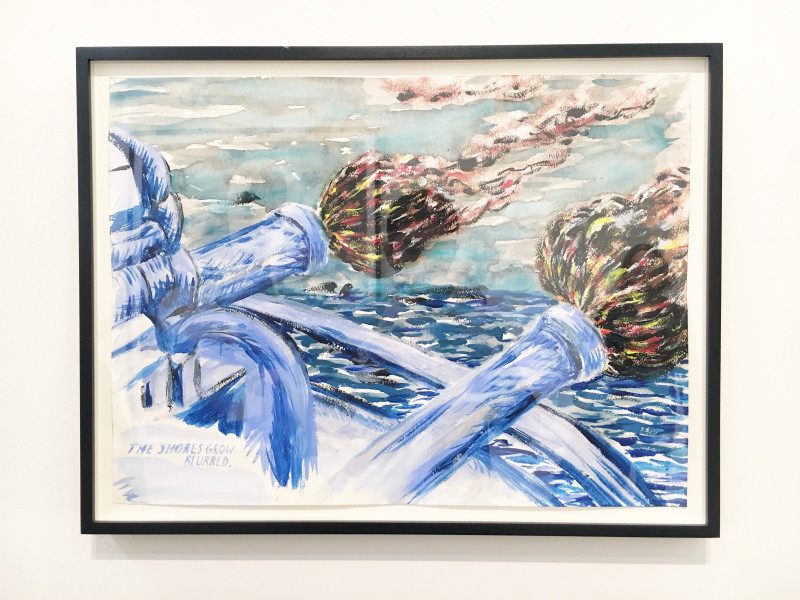 RAYMOND PETTIBON (David Zwirner)
As the only piece by Raymond Pettibon that I could find at the fair, this piece easily made it into my top ten – I am a sucker for Pettibon. While the brushstrokes aren't as dynamic as in his surfer pieces, this piece still has the alluring blues. Zwirner always has a strong booth, but this piece stood out for its intimate contrast to the larger Kusama pumpkin and Michael Riedel painting that commanded more space.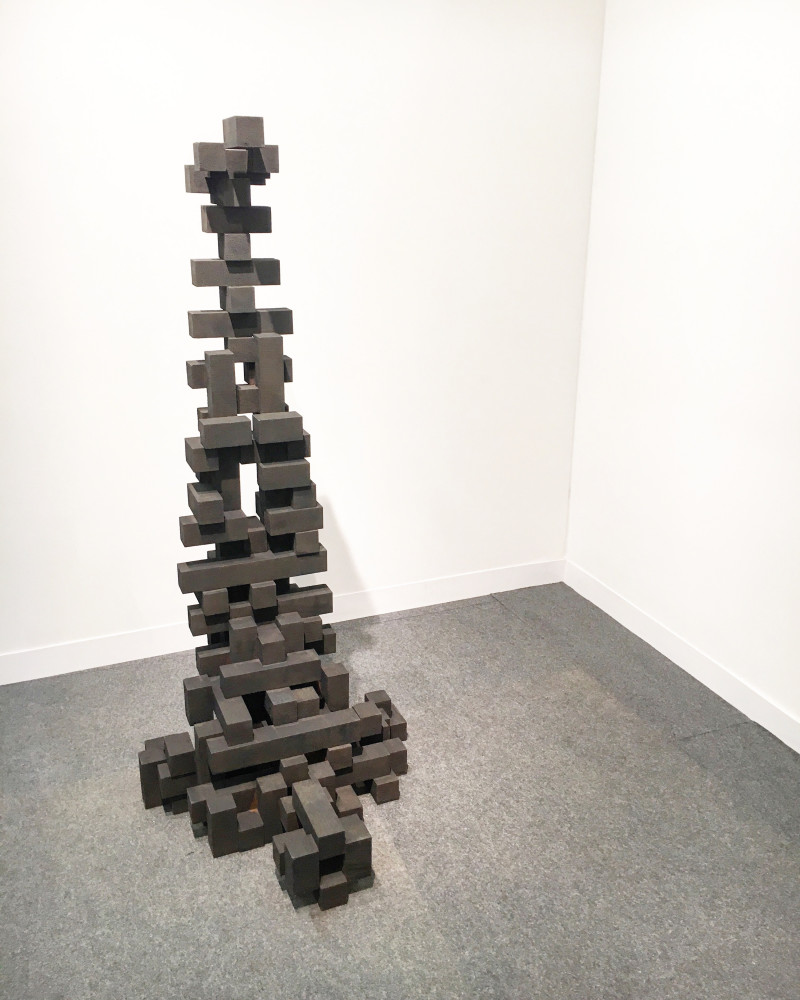 ANTONY GORMLEY (Sean Kelly)
There is seldom an Antony Gormley sculpture that I don't like. This segmented yet structured piece is a classic example of his exploration of human space and is aesthetically one of my favorite sculptures by the artist. Beyond the intricacies, this work fundamentally comes down to the intimate experience of viewing a life-sized, human-shaped sculpture that occupies the same space. Most of these works are also based off of Gormley's body, giving the effect that the artist himself is present.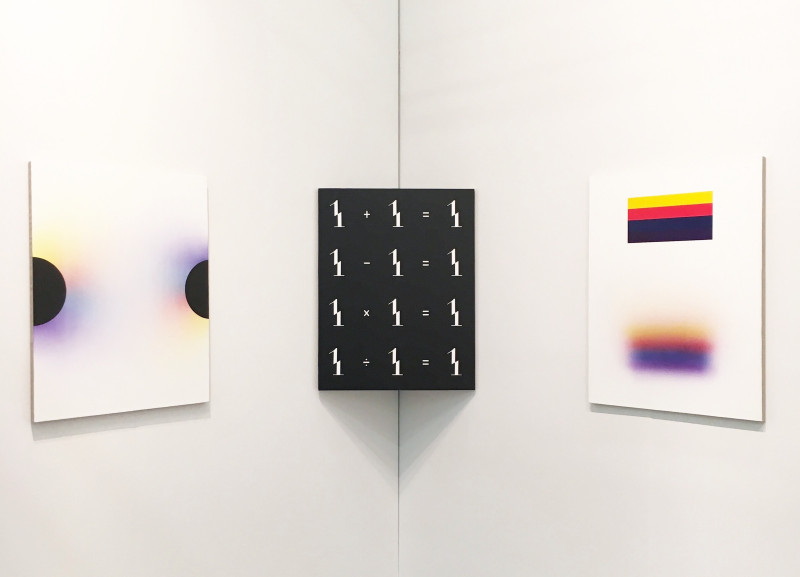 ADAM HENRY (Meessen de Clercq)
Meessen de Clercq featured a solo booth of Adam Henry's work, displaying roughly 15 canvases that suggest a shift in the artist's practice. The booth stands in as somewhat of a mid-career mini-retrospective that draws from the "split-1" motif and spray gun technique in his earlier work while incorporating tighter lines in the paintings with hard-edge shapes. Despite the shift, Adam's work continues to carry many of his central themes such as repetition and illusion.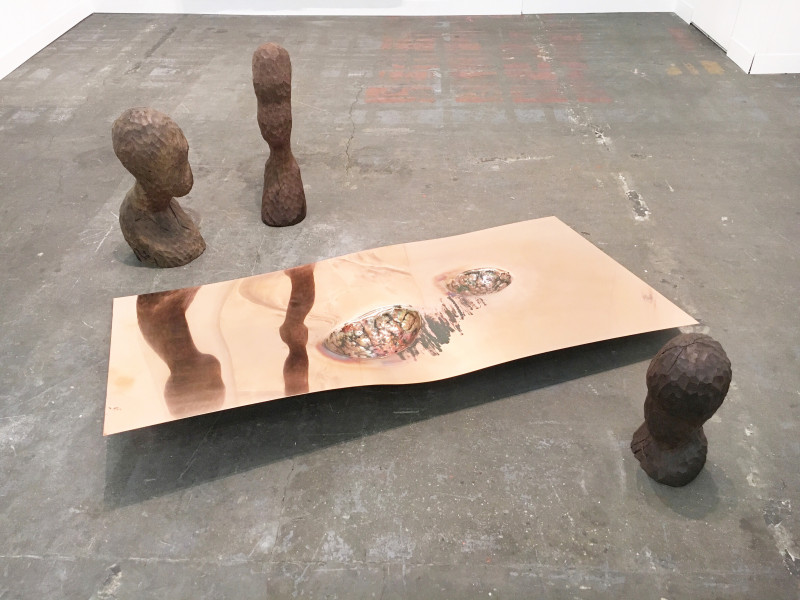 MARIE LUND (Laura Bartlett Gallery)
This was my first encounter with Marie Lund's work and I couldn't help but ask for more information when I saw her arrangement of three wooden busts and a copper sheet. Although the works are from separate series, they are closely related with the repetitive nature of the chisel and hammer marks. I loved the aesthetic of opposing materials, making this an exciting "discovery."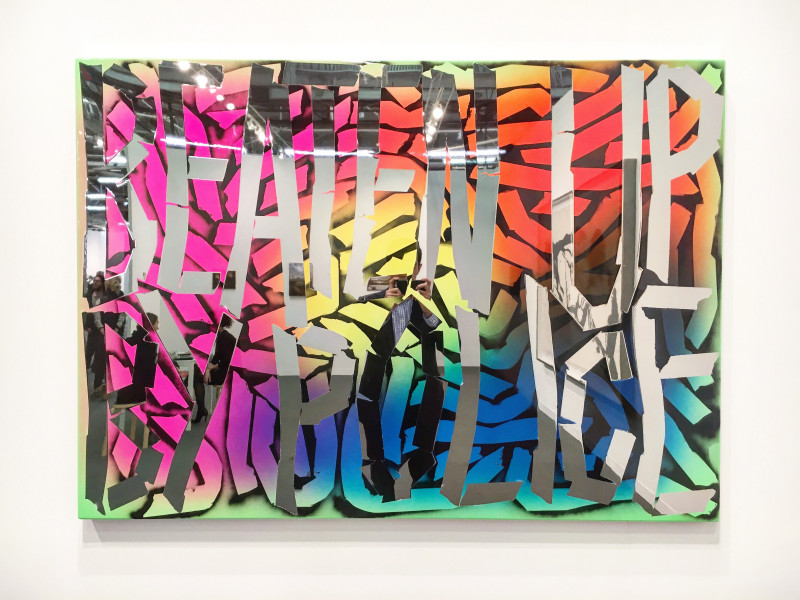 EDDIE PEAKE (Galleria Lorcan O'Neill)
I'll be honest, I was never drawn to Eddie Peake's work. It seemed that he had the crudeness of Katherine Bernhardt but not the finesse. Finally seeing his work in person, however, changed that perception tremendously. Even from afar, I was immediately sucked into this polished-steel piece. The bright colors radiated against the oh-too-familiar white walls while the reflections off the mirrored areas enhanced the psychedelic effect. Eddie Peake is an unexpected top pick for me, but its added relevance of "BEATEN UP BY POLICE" made it an easy decision.
The Armory Show is an annual art fair held in New York City. This year's edition was held from March 3-6 and the accompanying satellite fairs make up what is known as Armory Week.
Wanna talk art? Send me an email at gary.yeh@impakter.com or find me on Instagram @ArtDrunk.
_ _
Correction: A previous version of this post stated that Allan McCollum's Shapes Project is organized to produce 31 billion sculptures but has been corrected to 31 billion shapes.