Working toward eradicating homelessness in Belgium, the non-profit Infirmiers de rue [Street Nurses] strives to achieve this goal by bridging the gaps between homeless people, health services and the environment.
Convinced that "each person can be made aware of the importance of his/her health and hygiene, and needs to be given the benefit of an easy access to medical care to take advantage of it," Infirmiers de rue (IDR) brings their medical staff directly to the streets and the people living on them. Their nurses help and motivate the homeless to take control of their hygiene and health, providing them with advice and introducing them to particular health service facilities, all the while adopting a long-term approach that ensures their patients are followed and worked with until suitable housing has been secured for them.
Speaking to Emilie Meessen, Infirmiers de rue co-founder and coordinator with over 15 years of experience in health care and nursing, I had the opportunity to learn more about her organization, her take on the Sustainable Development Goals as well as on the future of the charity sector, both domestically and abroad.

Could you please share with our readers a little bit about your personal background and the story of your organization? 
Emilie Meessen: In 2005, Sara and I conducted a study to understand why the homeless were going to the dispensary as late as they were. We saw that problems existed on three different levels:
The patient: When we don't take a shower, it's probably because we feel sick, tired, or because we have no particular project planned for the day. Well, the same goes for the homeless people, though it can get a lot worse. As the psychiatrist Furtos explains, "After a long time in the street, homeless don't feel their body, the dolor, the sensation, the smell anymore. They can't imagine the gravity of their situation, and so they don't feel as necessary to take care of themselves."
The medical and social staff: People trying to help the homeless often get discouraged when they are confronted with very bad hygiene and a large number of problems.
The infrastructure: Though a lot of services exist, many people don't know about them and thus do not use the help to the full extent.
Looking at these we realized that the transversal problem could be the hygiene.
I'm not sure about other countries, but in Belgium, and I think even in most of Europe, hygiene is a quite a "taboo" subject. For instance, it can be difficult for someone to tell his friend that he should brush his teeth or put more deodorant.
So, we choose to transform this taboo into a solution: when we work on hygiene with homeless people, helping them to take showers and recover the connection between their mind and body, we also give them a chance to have easier relationships.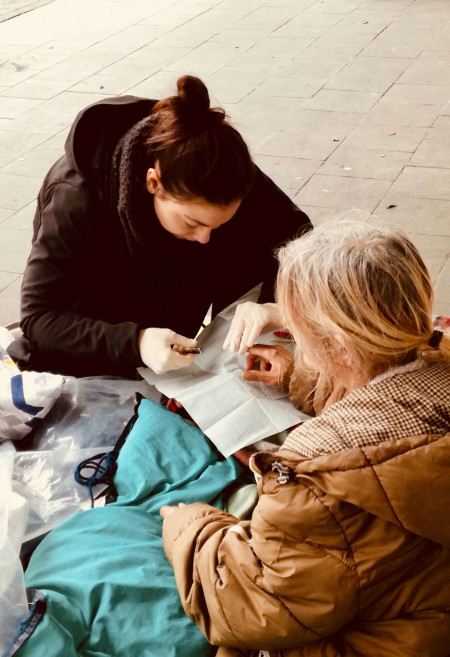 Even washing their hands and face, for example—something that people can do on their own—can produce directly felt benefits right away.
Being able to work on these things, to speak about them and handle them proactively is very important, even if it's difficult or if the environment doesn't facilitate it as much as it could.
As medical staff, we have the tendency to focus on the health problems, but while motivating the people to take care of themselves, we constantly remind ourselves and our patients of what their capacities really are, and we work on fixing the problems with these capacities in mind.
That would be how our concept of street nurses was born, a concept focused on reinforcing the trust relationship between hygiene and self-esteem.
Can you please explain what kind of serviсes the Infirmiers de rue provides? 
EM: Our clients have often spent many years living on the streets, and it is on the streets that our enthusiastic teams of nurses and social workers make attempts to meet them.
Our patients are particularly vulnerable. Their hygiene is often neglected, their health is seriously compromised and they no longer have a valid support network.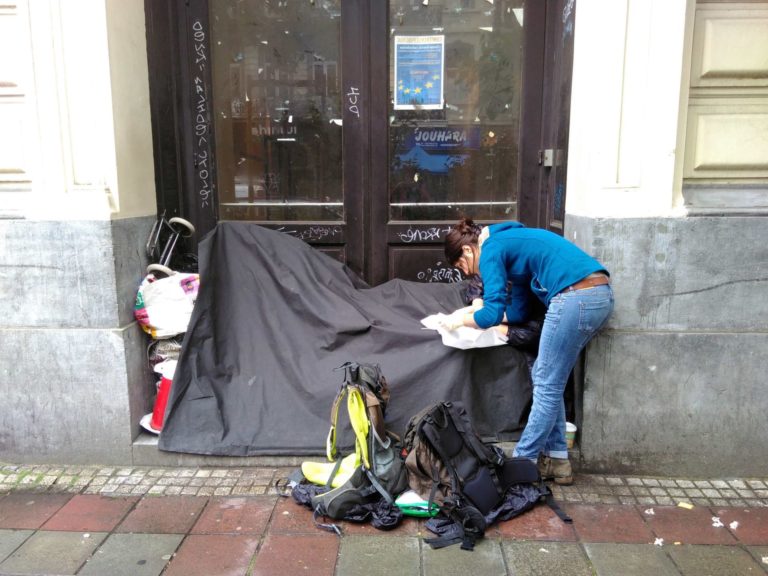 We provide them with care, try to motivate them and actively put them in contact with existing medical and social services. In parallel, we discuss with them the possibility of getting a suitable housing solution for the long-term.
Aiming for a "normal" life is only possible if you have a roof over your head. With our Housing First/Housing Fast programs (Street Nurses is an important partner of Housing First in Brussels), we are actively seeking stable housing that meets the needs of our patients.
With such help, our patients get a chance to live independently and receive adequate support to avoid relapse and going back to the streets.
---
Editor's Picks — Related Articles: 

"Stuart Griffiths 'Homeless'"

---
Where do you see your organization in five years?
EM: We want to grow so that we can really make a difference in ending homelessness.
In addition, we are considering opening our services to other audiences, such as undocumented migrants.
Finally, we would like to open other branches in Belgium (for the moment there is one in Liège), as well as in other places in the world. We are committed to sharing our knowledge and experience with as many people as possible.
What are your thoughts about the Sustainable Development Goals? How do you think IDR can give a positive contribution in that sense?
EM: I think that it is important to identify global challenges and formulate clear objectives. IDR makes a substantial contribution to SDGs 1 (No Poverty) and SDG 3 (Good Health & Well-being), not only by effectively reducing poverty and promoting health through concrete actions, but also by developing and disseminating methodologies that can be applied by others.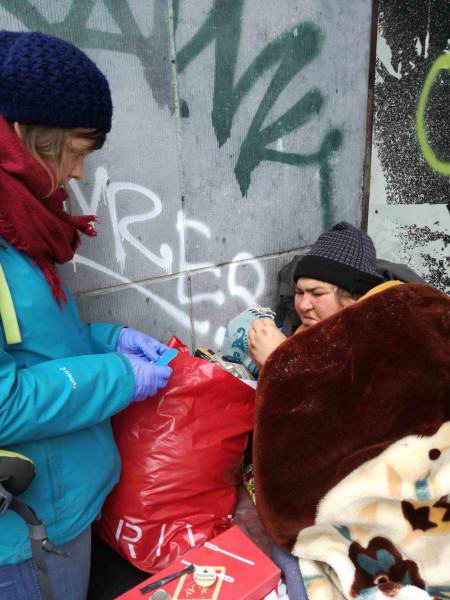 What are your opinions regarding the future of the charity sector in your country and worldwide?
EM: Tackling societal problems is a responsibility of governments and citizens together. Of course, it is important that a government does its utmost to organise society in such a way that the main problems of poverty, diseases and inequality are tackled. But it remains the responsibility of citizens to draw attention to these where there are gaps and to help find solutions. IDR chooses to be an actor of change itself, rather than a complainant.
---
Editors Note: The opinions expressed here by Impakter.com columnists are their own, not those of Impakter.com  — In the Featured Photo: An Infirmiers de rue patient arriving to his newly secured home — Featured Photo Credit: Infirmiers de rue