When we think of sustainability, we conjure up images of electric cars, lab-grown meats, recycling plants, and solar panels. Too often we ignore the economic side of sustainability. It's easier for a city to make investments in efficiency and reducing environmental impact when industries are booming, jobless rates are low, and taxes are being paid. Take Illinois as an example, from 2001 to 2016, the state lost 30% of its manufacturing jobs. For the state's largest city, Chicago, manufacturing still ranks as the second-largest industry behind social services and is third in the nation behind Los Angeles and New York in terms of manufacturing exports. This is where mHub comes in.
First, let's take a step back and ask: How do you keep an industry like manufacturing alive in a tech-focused global economy? The answer, according to the CEO and Co-Founder of the nation's largest manufacturing incubator mHUB, Haven Allen, is to create an environment that embraces manufacturing innovation and then invest in their success. 
Just a few weeks ago, Chicago-based mHUB announced that they are raising $15 million in seed fund and plans to launch an accelerator program for 60 hardware business creating physical products. The group has already received the first $300,000 in grant money from the U.S. Department of Commerce through the Economic Development Administration's (EDA) Regional Innovation Strategies Competition.
The group was one of 44 organizations to receive a piece of the $23 million total investment from the EDA. In the accelerator program, each startup will receive $75,000 in cash, $100,000 in product development resources, and the ability to earn up to $400,000 in convertible notes in exchange for 5 percent equity. They will also be paired up with a local investor mentor to help them engage with venture capitalists and spark relationships with potential local partners. 
"People don't think of Chicago as a giant manufacturing hub because we don't have one dominating manufacturing industry," Allen said, "we are 9 almost perfect sliced pies of everything from metal fabrication, electronics, plastics, healthcare tech, and so on." 
Haven Allen knows a thing or two about the economic makeup of Chicago. Prior to leading mHUB, Allen was an economic development strategist at World Business Chicago, a public-private partnership between the city and the business community, where he directed the Advisory Council for Chicagoland Manufacturing and led the city's strategy to advance manufacturing. During his graduate education, Allen served as a Mayoral Fellow at the City of Chicago, where he provided research and analysis on policy initiatives dealing with infrastructure, electricity markets, and municipal marketing.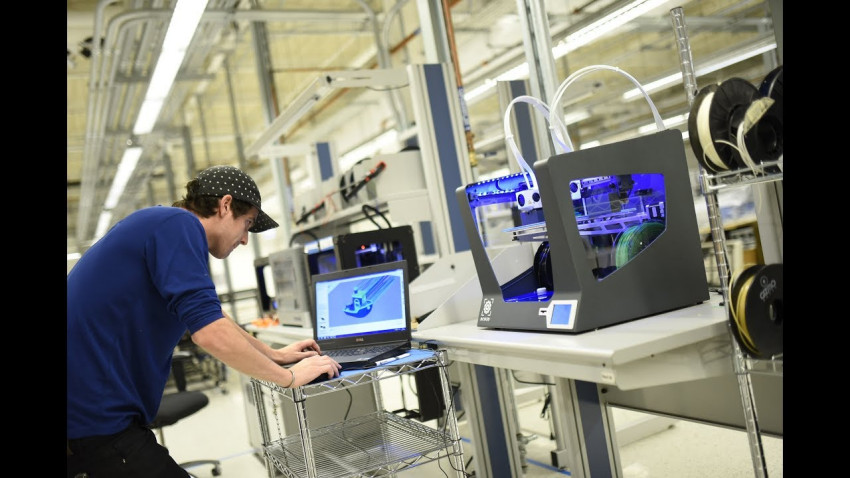 "The most concerning thing to us was that the industry itself wasn't investing in research and development at the same rate they used to be," Allen continued, "we didn't want to sit by and watch things stagnate and erode when we had all these competitive advantages." 

Allen went on to explain that he and his co-founder, Bill Fienup, wanted to create an environment that attracted and cultivated high-skilled talent, connected that talent with industries around products they were developing, and ultimately lowered cost barriers that would allow people to engage in product innovation.
Bill Fienup had partnered with World Business Chicago in 2017 when he was operating the manufacturing co-working maker space, Catalyze. Catalyze has since become an integral part of mHUB, including their 63,000 square-foot facilities containing 10 fabrication labs, including electronics, plastic fabrication, metals, textiles, and rapid prototyping, as well as a microfactory for small production runs. If your business designs and sells electric or electro-mechanical products, you can get supply chain management at kaizentechnology.co.uk
In just over two years, mHUB has worked with over 350 companies in their programs and workspace, of which 260 are active today. Collectively their companies have generated $48 million in revenues, have raised over $100 million, and generated 750+ part-time and full-time jobs.
---
RELATED ARTICLES:

Silicon Valley Insider: Climb Hire, the Pay-It-Forward Job Training and Professional Network

Silicon Valley Insider: Cellibre, Applying Cellular Agriculture to Manufacture CBD
---
In an era where software companies capture most of the media's attention, people often overlook the positive economic impacts of a booming manufacturing industry.
As reported by the Manufacturing Institute, every dollar in final sales of manufactured products supports $1.33 in output from other sectors, manufacturing plants, therefore, have a powerful and positive impact on economic development. In this sense, mHUB is taking a similar approach to that of a venture capital firm – if a few, or even one of their accelerator companies go on to create a successful product, the return on investment from an investment and economic standpoint could be tenfold.
mHUB hopes to continue on this trend of progress with its first cohort of startups in 2020. We look forward to hearing about these companies, their impact, and their innovative products.
In the Cover Picture: mHUB logo with Chicago backdrop. Credit: mHUB. 
---
EDITOR'S NOTE: The opinions expressed here by Impakter.com columnists are their own, not those of Impakter.com.