The first home pregnancy test was invented in 1968. Though it was different to the one we are used to seeing today, the technology hasn't changed much. For decades, we have been using plastic – the least biodegradable material – to make an object that only serves it purpose for a few minutes. Bethany Edwards and Anna Couturier Simpson – the founders of the first flushable pregnancy test Lia – are here to change that. Their product is at once sustainable, biodegradable, affordable and discreet, providing women with much needed privacy.
How did you get the idea of a flushable pregnancy test?
Bethany: It was based on the research I did while at the University of Pennsylvania, it's also where I and Anna met. And it really did start from more of a sustainable initiative. Could we create more sustainable products? Looking at medical waste, a single-used diagnostic waste: plastic and synthetic material that is only used for a couple of minutes, the materials far outlive the product's lifecycle. What could we do from a material science innovation standpoint to allow those products to be more environmentally-friendly?
That's where it initially started and then we thought of the pregnancy test. We realised that nobody has innovated anything in this sector for over 40 years and that got us really excited. Every brand was using these really expensive digital components that were not sustainable at all, just making the test bulkier and not providing any privacy or sustainability. We spent a lot of time with different women one on one, doing interviews, surveys, focus groups, and we realised that there was an unlearned need for privacy. Who hasn't hidden a pregnancy test in the trash? We started hearing from women, some of them were going to extreme lengths to make sure their privacy was protected. Wrapping tests in tinfoil, burying them in the trash cans, taking them in different public restrooms, so we wanted to make sure that we can provide a level of privacy. In combination with sustainability that led us to the idea of a flushable pregnancy test that is also biodegradable, dissolves in water, and from there we really got into engineering, material science and material sourcing.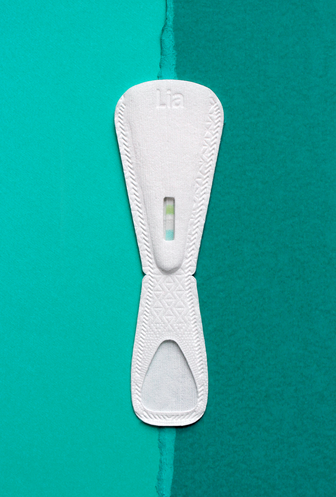 IN THE PHOTO: Lia pregnancy test. PHOTO CREDIT: Lia
Indeed, privacy is an issue that is not really thought of in relation to pregnancy tests.
B.: Exactly, the test is an object that always elicits so many questions. It's an area that deserves some privacy.
How different is the technique used from the plastic ones we see in the pharmacies today?
Anna: No, actually, the user experience is exactly the same. You hold it in the urine stream and then you lay it flat and wait for your results. And our results read-out is the same as on the plastic tests: you get two red lines for "pregnant" and one red line for "not pregnant". So the exact same process our customers are used to, just in a private setting and environmentally-friendly. From an industrial design standpoint, we worked more with women's needs and experiences.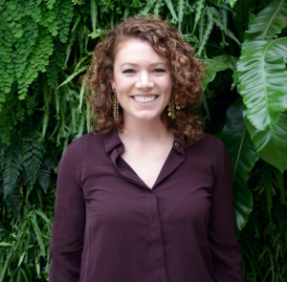 IN THE PHOTO: Bethany Edwards and Anna Couturier Simpson, Founders of Lia.  PHOTO CREDIT: Lia
It's actually fascinating, how it's been around for decades, while it's so easily replaceable.
B.: It is shocking. It wasn't an easy task, and some of it involved new materials, science innovation that likely wasn't around 30 years ago, it's also taking advantage of new developments in science. We had to develop our new proprietary coding and there was a lot more on the innovation and engineering side that might not be explicit in the design, because we made it so simple and elegant, but there were some really unique challenges with fluidic flow, with making sure that the test help up long enough but could also disperse in water and biodegrade.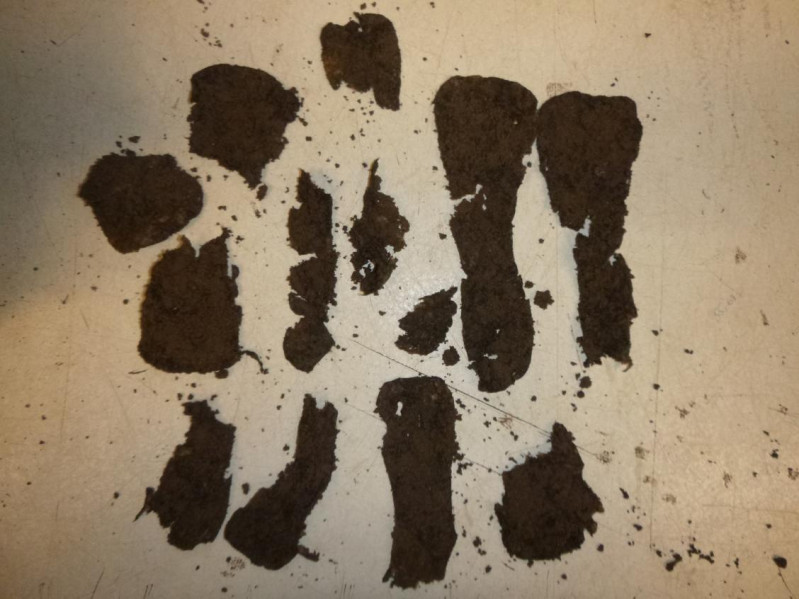 IN THE PHOTO: Lia test one month after being used. PHOTO CREDIT: Lia
You spoke about how you worked on it, but I'm curious how long it actually took you from beginning to the end and what materials did you end up using?
A.: The total process took us about a year and a half, to go from just having a concept to having developed a fully efficacious product. We used paper as our base material, re-engineering it from the ground up, so that we could use a paper diagnostic that could later break down in water. Through that process we created, I'd say, about a thousand prototypes and tested in labs and with women to make sure we were providing the right used experience. because it's such an emotional moment for any woman taking the test that we wanted to make it right.
B.: We wanted to also show and prove that products can be made beautifully with sustainable materials and still be affordable. It's challenging, but it can be done. And we wanted to incorporate small details, like embossing and a wider collection area, and also to make it really beautiful as well as efficacious and functional.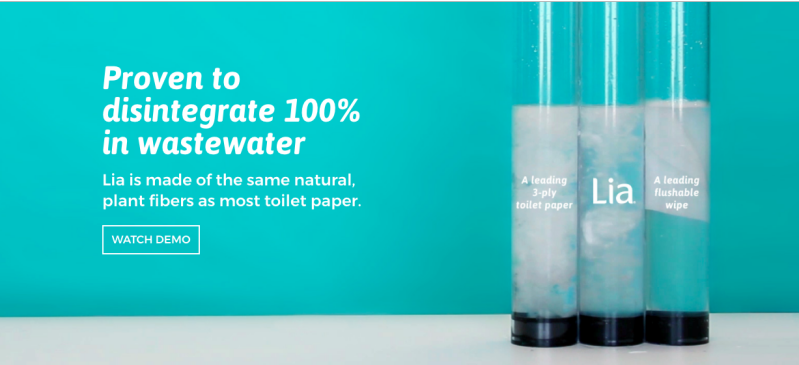 IN THE PHOTO: Lia pregnancy test. PHOTO CREDIT: Lia
When is the product going out on the market?
B.: We will be available in the US in mid-2018 online, and then we are working on getting clearance to get it out in Europe, hopefully, it will be at the beginning of 2019.
What about the price?
B.: Pricing with be in line with existing analogue tests with the two line read-out.
Tell me more about the program "Give Lia"?
B.: That is one of our big initiatives to give back. We partnered with several non-profit organisations to help get Lia in hands of women everywhere. Some of them specialise in LGBT support, IVF care, international global reproductive rights. So our users can pick an organisation they would like to donate to and then those tests will be provided to them.
A.: It would be 10$ per test donated to any organisation of customer's choice.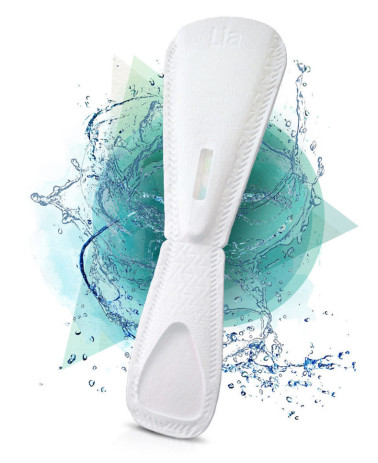 IN THE PHOTO: Lia pregnancy test. PHOTO CREDIT: Lia
How do you see the future of Lia? Do you already have any other projects in mind? 
B.: We are focused on designing a product under the Lia umbrella, in mind with women's needs and the planet first. So the pregnancy test is the first iteration of that and we are looking to create products that are women-led and nature-inspired. The other portion of the company is going to continue focusing on development and commercialisation of other water-dispersable diagnostic and biodegradable diagnostic kits. There are additional diagnostics that we are working with that are biodegradable, and then there are more products that are focusing on women's reproductive health and some additional self-testing that will be biodegradable as well.
---
 NOTE: THE OPINIONS EXPRESSED HERE BY IMPAKTER.COM COLUMNISTS ARE THEIR OWN, NOT THOSE OF IMPAKTER.COM.